Bauru is a very popular Brazilian sandwich, created by a student from the city of Bauru, São Paulo in 1934.
The traditional recipe for it calls for french bread, roast beef, mozzarela cheese, slices of tomato, pickles, dried oregano, and salt.  Nowadays, there are lots of different variations, with the Italian-Style Bauru being one of the most famous.  This variation calls specifically for Parma ham and sun-dried tomatoes in addition to the traditional french bread, roast beef, mozzarela cheese, and oregano.
Out of a multitude of different versions from which to choose– French, Italian, Portuguese, American, etc.,  I decided to make the Italian version.  This is not only because I am a big fan of Italian cuisine, but also it was a way to pay tribute to the Italian immigrants who have so profoundly influenced our culture and cuisine — especially in Southern and Southeast Brazil.
Instead of making the sandwich itself, I based my recipe upon a very interesting one from MdeMulher magazine which is baked, and more reminiscent of a casserole.  To make it my own, I added to that recipe chicken boullion powder, pepper, dried tomato, olives, artichoke, provolone cheese, and pesto sauce.  The result: the best brunch recipe casserole ever, if I do say so myself!!!!!!!!
I hope you enjoy this baked bauru sandwich cassrole as much as my husband and I did. 🙂
Bom apetite!
Baked Bauru Sandwich Casserole
 Serves 6 – 8
Segment: Brazilian Cuisine/ Inspired
Ingredients:
Dough
5 large eggs, at room temperature
2 cups olive oil
2 cups milk
2 cups all-purpose flour
1 teaspoon salt
1 teaspoon Knorr Chicken Bouillon (powder)
A pinch ground black pepper
1 tablespoon plus 1 teaspoon baking powder
Filling
8.8 oz (250g) deli smoked ham, sliced
4.4 oz (125g) mozzarela cheese, sliced
Dried oregano to taste
1 large tomato (skin and seeds removed), small diced
1/4 cup dried tomato, chopped
1/4 cup green olives, sliced
1/4 cup marinated artichoke hearts, chopped
4.4 oz (125g) provolone cheese, sliced
To sprinkle
1/4 cup bread crumbs plus extra to sprinkle on bottom of the baking pan
1/4 cup parmesan cheese, grated
To decorate
1/2 – 3/4 cup pesto sauce to drizzle on top
2-3 tomatoes (skin and seeds removed)
Directions:
Preheat the oven to 392° F ( 200°C).
Grease and sprinkle bread crumbs on the bottom of a  15 x 10 x 2 in (5.9 x 3.9 x 0.8 cm) rectangular baking pan.  Reserve.
Dough:  Blend all the ingredients (except the baking powder) together well in the blender,   until obtaining a homogeneous mixture.  Pour into a medium bowl, add the baking powder, and stir well.
How to arrange:  Pour half of the dough into the prepared baking pan. Layer half of the slices of ham, all the slices of mozzarela cheese, oregano, one diced tomato, the diced tomato, olives, artichoke, the remaining ham, and all the slices of provolone cheese.
Pour the other half of the dough on top, sprinkle 1/4 cup bread crumbs, and 1/4 cup grated parmesan cheese. Bake for about 35 minutes or until a toothpick inserted in the center comes out clean.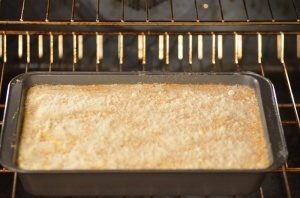 Serve warm drizzled with pesto sauce and topped with 2-3 diced tomatoes. It can be accompained by a fresh salad. Enjoy!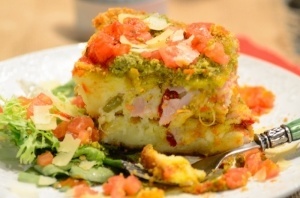 Note: This recipe baked bauru sandwich casserole was based on Bauru Especial de Forno  from MdeMulher Culinária by Editora Abril.
Bauru Especial de Forno de MdeMulher Culinária da Editora Abril.