Originally from Minas Gerais state, pão de queijo or Brazilian Cheese Puffs/Rolls is very popular as a breakfast item and also as a snack all over Brazil.
In my home as well, no special occasion is required to make and eat pão de queijo… Indeed, it has been part of our table for years.   
There are a lot of different recipes, in which the ingredients vary — as well as the final results.  However, what really sets pão de queijo apart from other breads is the manioc starch (tapioca flour) and cheese.
It is in fact the lightness of the manioc starch, which is finely milled, that gives the bread such a special texture.  Because the manioc starch or tapioca flour is gluten-free, this cheese bread is ideal for consumption by those on gluten-free diets.  This essential ingredient can be found in many Latin or Asian markets, or online.  Below are just 3 of the many different brands that commercialize this product.
In Brazil, the cheese of choice is most frequently either Minas cheese or parmesan cheese, although one can use other types.
Elise Bauer from Simply Recipes, for example, uses the Mexican queso fresco cheese in her pão de queijo recipe.  One of the recipes to be presented here is from her blog, namely the quick version of pão de queijo, which yields a more airy and puffy roll.
The other recipe is from me, which I will call the "traditional" pão de queijo because of the labor involved, and which yields a roll with a denser, chewier texture.
It is not always that I can spare the time to prepare my version, so for quite a while I had been searching unsuccessfully for a quick pão de queijo recipe that is both delicious and also not greasy — until I finally found hers.
I made some slight modifications, however.  Her pão de queijo recipe calls for olive oil, but I used a simple vegetable oil instead.  The baking time range was altered, too.  Also, I recommend that you warm up the milk a bit before adding to the recipe so that the mixture will blend better.  Finally, she uses queso fresco, while I used Parmesan in mine.
Oh, can you smell it baking already?
Enjoy!
Quick Pão de Queijo 
 (Based on the Easy Brazilian Cheese Bread Recipe from Simply Recipes)
Yield: 16 mini rolls
Segment: Brazilian cuisine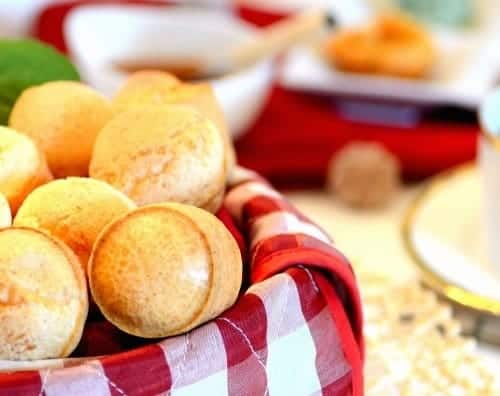 Ingredients:
1 egg, at room temperature
1/3 cup vegetable oil
2/3 cup milk (warm, preferably)
1 1/2 cups tapioca flour or manioc starch
1/2 cup grated cheese (Ms. Bauer uses the Mexican farmer's cheese queso fresco while I use Parmesan)
1 teaspoon of salt
Directions:
1.Preheat oven to 400°F.
2. Grease a mini-muffin tin.  Blend all the ingredients in the blender until smooth.  Use a spatula if you need to scrape down the sides of the blender so that everything gets blended well.  At this point, the mixture can be stored in a closed container in the refrigerator for up to 1 week.
3. Pour mixture into the tin and wipe clean any excess or drips. Bake in the oven for 13-18 minutes or until all the batch is puffy and just lightly golden (Mine were ready in 13 minutes — at least the plain ones).  Remove from oven and let cool on a rack for a few minutes before serving.  Serve pão de queijo warm (or save to reheat later, if desired).
Tips:
* 1/2 to 1 cup of roasted red bell peppers can also be blended with the other ingredients in the blender, or 1/2 cup of fresh basil leaves.  Because bell peppers contain water, it will take longer to bake.  They can be served with savory spreads or butter.
* The plain pão de queijo or cheese rolls can be served with savory spreads, butter, soft cream cheese, jams, nutella, dulce de leche, or guava paste. This is very common in Brazil. I spread a sweet potato jam and also a berry jam on mine, as you can see.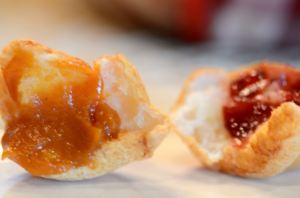 Traditional Pão de Queijo
(by me)
Yield: About 40 rolls
Segment: Brazilian cuisine
Ingredients:
1 cup sweet tapioca starch (polvilho doce)
1 cup sour tapioca starch (polvilho azedo)
1 tablespoon cornmeal
1/3 cup vegetable oil
1 tablespoon butter
1/2 cup water
1/2 cup whole milk
1/2 teaspoon salt
1 extra-large egg or 2 medium
1-1/4 cup grated parmesan cheese
Directions:
1. Sift the flours (especially the sour one) and mix them together.
2. In a pan over medium heat, combine oil, butter, water, milk, and salt.  Simmer the mixture.  Then, let cool down a little bit.
3. Mix the flour mixture with the warm liquid mixture very well with a wooden spoon.  Then, wait for this mixture cool down enough to add the egg(s) one at a time.  Knead well with your hands.  Add the cheese and mix well.  The more homogeneous the dough, the better  — but also the more difficult to roll. Let rest for about 15 minutes at room temperature. Grease your hands with oil before forming each ball (small lemon size).  Place them on a tray and freeze them for about 30 minutes.
4. When frozen, store the balls in a ziploc bag in the freezer for up to 30 days (in this case, let them thaw at room temperature for 5-10 minutes before baking) or bake them at 375 F (about 180 degrees C) on a parchment paper-lined baking sheet for 18 to 20 minutes, or until lightly golden.  Serve pão de queijo warm.
Storage: Once baked, rolls can be stored in an airtight container at room temp for up 2 days.