A quick and easy Chicken Pot Pie Baked Rice casserole made with pantry staples within about 30 minutes.  It has all the comforting flavors of the classic dish but without the pie crust.
Raise your hand if you are a fan of chicken pot pies… well, me too — and I've got both of my hands lifted high!  What if I told you that the filling from that classic dish is great for more than just filling a pie crust? Yep… you have it here, in a Chicken Pot Pie Baked Rice casserole.  It is dinner made easy, and quite comforting. How come? Check it out, hon!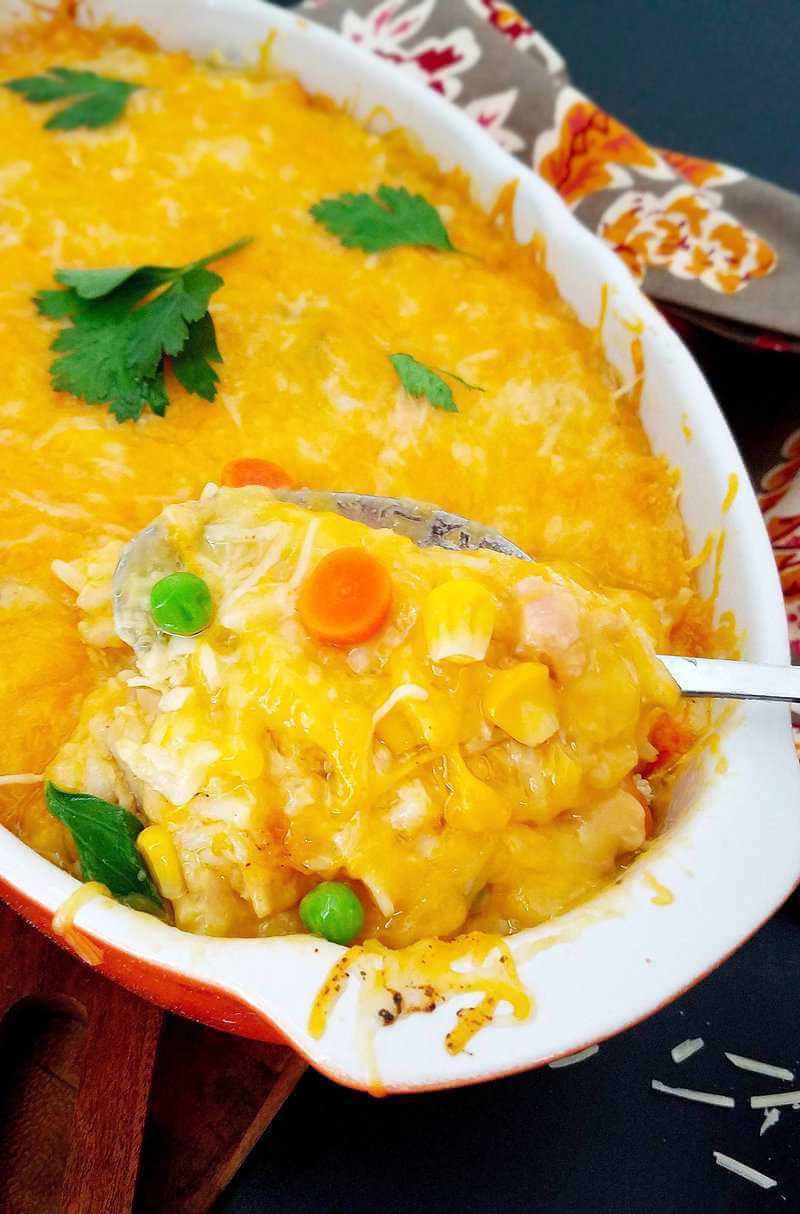 Pantry staples were used to make this gluten-free one-baking dish.   We simply mixed cooked long-grain rice with shredded roasted chicken, frozen mixed vegetables (corn, peas, green beans, and carrots), canned condensed chicken soup, egg yolks, seasonings, and cheese.
Then, we placed the mixture into a greased and floured baking dish… and baked for about 25-30 minutes.  In the meantime, you can feel free to spend some time on Facebook or reading your favorite magazine.  And voilá!  Dinner will be ready before you know it.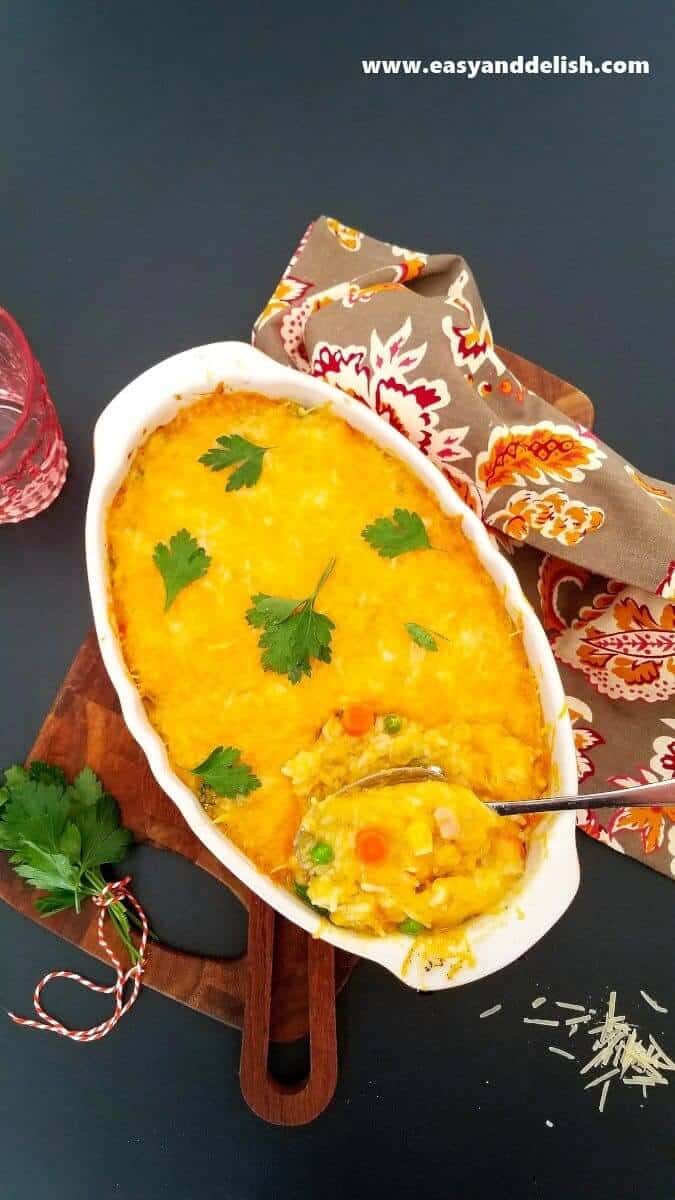 I know, I know… Our Chicken Pot Pie Baked Rice has it all, including the taste of life made easier for busy moms like us.
This dish has all the comforting flavors of the beloved classic — but without the pie crust.  It is perfect not only for busy weeknight meals but also for those lazy weekends. First of all, it doesn't require any special skill from the cook. Second, it is a complete meal all by itself.  It may not have "one-pot" or "one-skillet" in its name, but it is definitely part of that same family.  And you know what that means… mess-free! 😉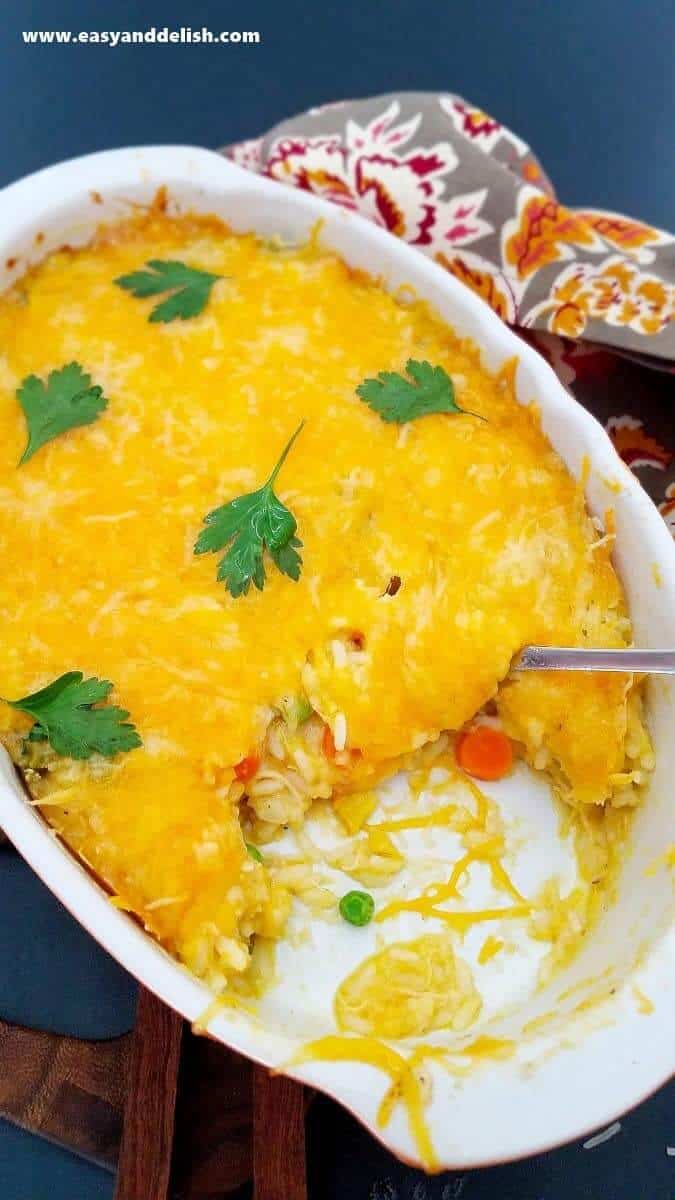 I confess my husband was a bit skeptical how good this dish would turn out… until he had a spoonful. Boy, no need to tell ya that the man came for seconds and thirds.  It made my day!  Even my eldest kid — who can be picky (grrrr!!!) approved.
If you double or triple some of the ingredients, you will have enough to also make the classic pot pie itself, or this Brazilian version .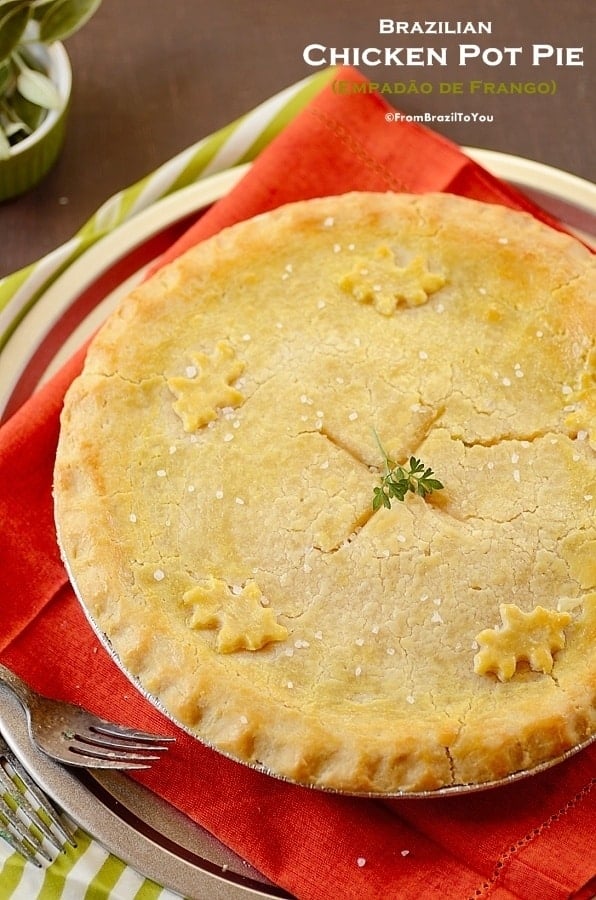 I will leave you now with the formula to one hero of a dish, and to your much-deserved rest.
TO PIN TILL YOU DROP: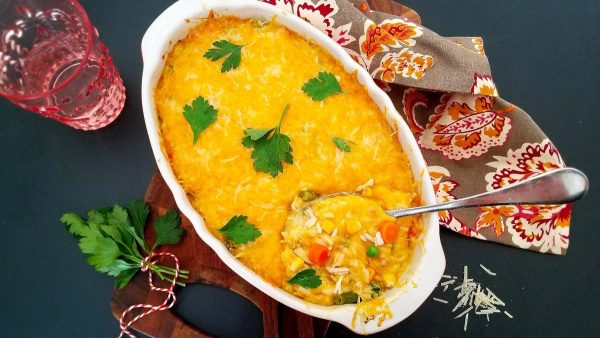 | | |
| --- | --- |
| | |
Preheat oven to 350 F. Butter and flour (it can be GF) in a medium baking dish; set aside.

In a large bowl, stir in well the condensed chicken soup with the egg yolks. Add the cooked rice, chicken, vegetables, seasonings, and cheddar cheese/mozzarella. Mix well until obtaining a homogeneous mixture. Place mixture into the prepared baking dish, sprinkle the Parmesan cheese on top, and bake uncovered for about 25-30 minutes. Serve warm with chopped parsley on top. Enjoy!