This homemade Caramel Pumpkin Spice coffee creamer can be prepared in 10 minutes and makes coffee taste like Autumn.
Coffee creamer? There are several brands that offer different flavors in the supermarket. But you can easily customize your own in 10 minutes, with no cooking required. Don't believe me? Well, try our Homemade Caramel Pumpkin Spice Coffee Creamer next time you drink a cup of coffee. You'll be hooked!  It tastes just like Autumn.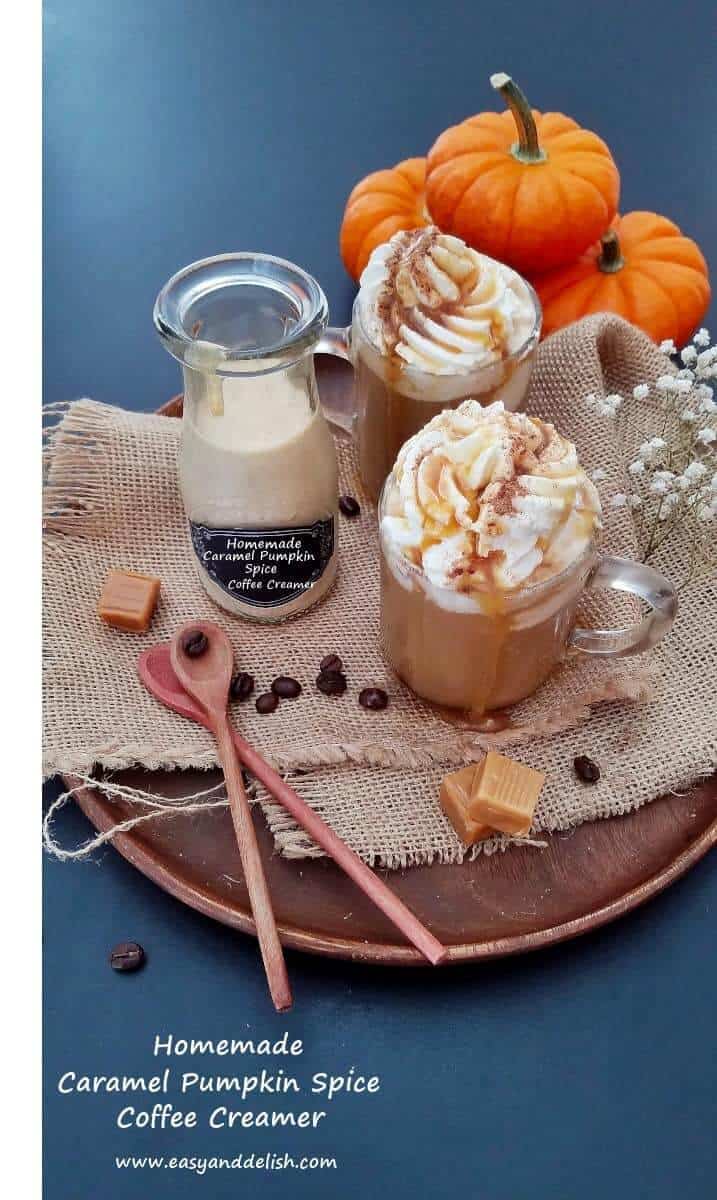 It is pretty easy to prepare. All you have to do is whisk heavy cream or half-and-half with canned pumpkin puree, pumpkin pie spice, caramel sauce, and vanilla extract. Then, store in a sealed jar in the refrigerator for up to 2 weeks.
And there you have it.  Any time you want to drink coffee, you can enjoy the delicious taste of the season in a cup.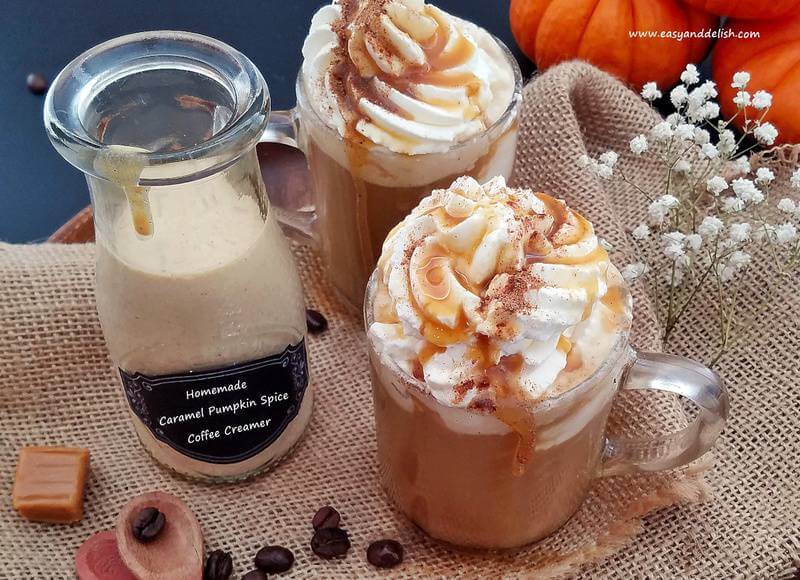 Easy peasy!
If you want, you can even develop new flavors using gingerbread spice, candy cane essence/extract, cocoa powder, and the list goes on and on. All you need is heavy cream or half-and-half mixed with a flavor of your choice and a touch of a sweetener — such as caramel sauce, maple syrup, sweetened condensed milk,  agave nectar, honey, etc.
My children were quite excited to enjoy morning coffee all jazzed up with homemade coffee creamer, along with buttered griddled French bread and seasonal fruits. It tasted like love, according to them.
Something that Mommy made especially for them. And you know what? You can pour some love into your coffee, too.  Make your own coffee creamer and you may never want to buy the one in the supermarket fridge ever again.
I hope you enjoy the fall season with all the goodies and the warm, comforting flavors that it has to offer.  If you like, you can enjoy a piece of bread or pie  while drinking coffee with our homemade caramel pumpkin spice coffee creamer.
See ya soon!
TO PIN TILL YOU DROP: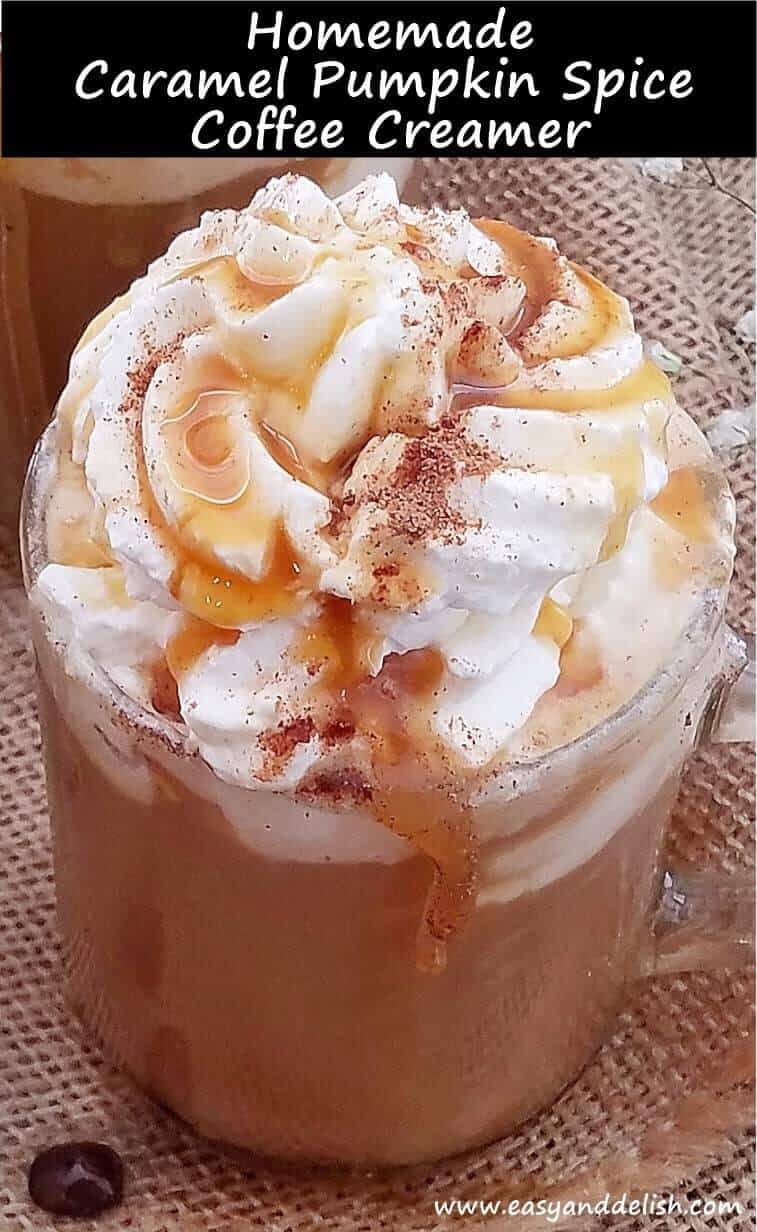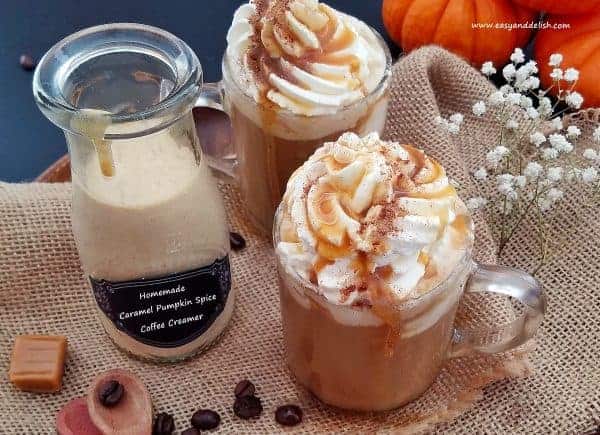 | | |
| --- | --- |
| | |
Whisk all ingredients well until obtaining a creamy, homogeneous mixture or blend them in a blender for about 5 seconds. Store homemade caramel pumpkin spice coffee creamer in a 1 qt sealed jar in the refrigerator for up to 2 weeks. Shake or stir before pouring into your coffee. Enjoy! If desired, serve topped with whipped cream, a sprinkle of pumpkin spice, and a drizzle of caramel.