FOLLOW ME ON INSTAGRAM  AND SEE WHAT I AM UP TO…
Ah, tamales… Who can keep from going crazy over such a delicacy?!  I know, I know…tamales are a Mexican dish — but Brazil also has its own version.  I bet you didn't know that!  So a Brazilian Tamale Casserole or Pamonha de Forno Goiana  is the dish that I am sharing with you today.  This is the modern version of the traditional, corn husk-wrapped Brazilian tamale or pamonha.  It is naturally gluten-free and as delicious as the traditional dish, but much quicker and easier to prepare.  Oh, it is comfort food on my plate!!!
The basic differences between the Mexican tamale and the Brazilian pamonha are:
1. Tamales are made from masa (a starchy dough, hominy-based) while pamonha is made from fresh yellow corn.
2. Tamales are wrapped in dry corn husks, while traditionally pamonha is wrapped in fresh corn husks (although our recipe is not wrapped but baked in the oven).
3. Tamales are usually steamed, while the traditional pamonha is boiled.
The similarity between them lies in the fact that both tamales and pamonha can be either savory or sweet.  Since I have already made a sweet Pamonha Cake last year, our recipe for today is a savory version.
As Wikipedia explains:
"Pamonha (Portuguese pronunciation: [paˈmõȷ̃ɐ]) is a traditional Brazilian food.  It is a paste made from fresh corn and milk, boiled wrapped in corn husks, turned into a dumpling.  Variations may include coconut milk.  Pamonhas can be savoury or sweet, the latter being the norm in Northeastern Brazil and in the state of Rio de Janeiro.  They can be filled with cheese, sausage, minced meat, minced chicken, pepper, or served plain.  Roadside restaurants specializing in pamonha and other corn dishes are common in Northeast Region Brazil.
The name pamonha comes from Old Tupi language pa'muña meaning "sticky."' 
I could have not explained it better!!!
Our modern, baked version is made from yellow corn as well, and filled with cheese and sausage.  It is an economical, versatile dish since it can be eaten anytime of the day.  Ready?!  Let's cook this baby together.
xx
Brazilian Tamale Casserole
(Pamonha de Forno Goiana)
Yield: About 6-8 portions
Segment: Brazilian cuisine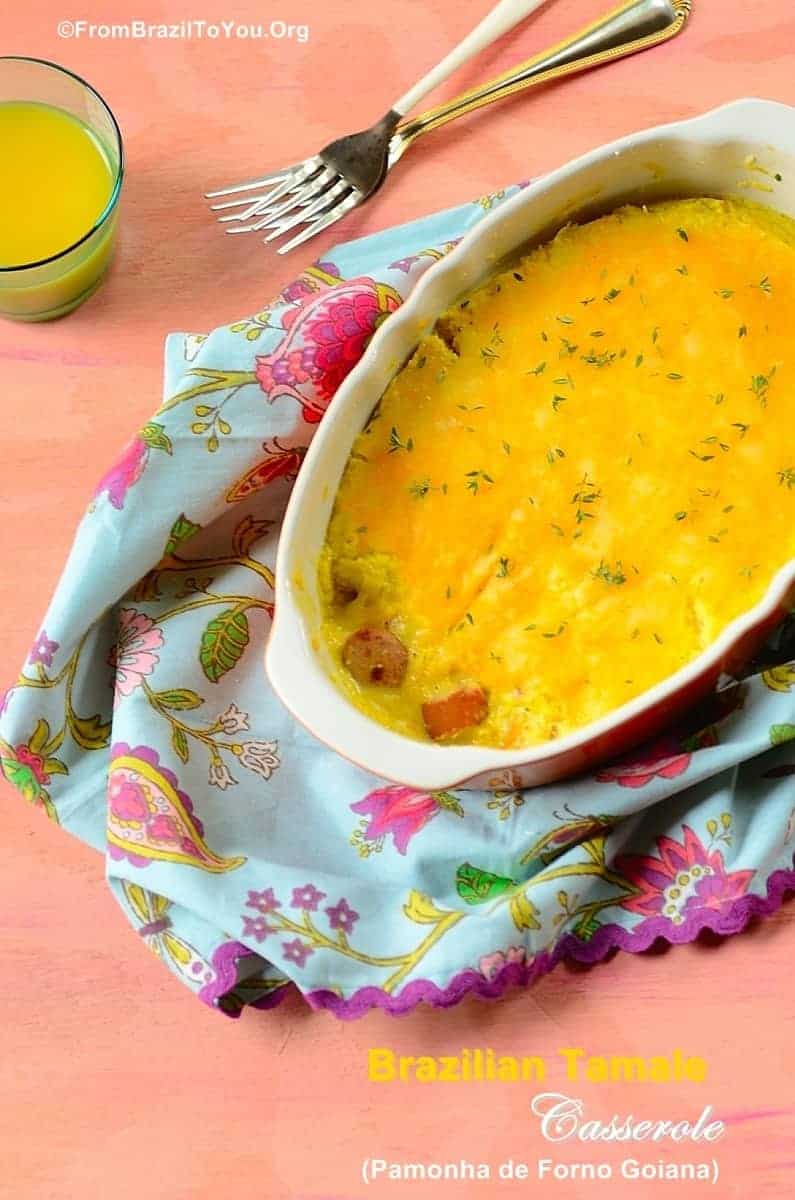 Ingredients:
5 cups yellow corn, fresh or canned (if you are using canned corn, please drain off all the water very well)
8.5 fl. oz (250 ml) whole milk
4 large eggs at room temperature
1 tablespoon Knorr vegetable or chicken bouillon powder
1 teaspoon salt
A pinch of ground black pepper
7 0z (200 gr.) smoked pork sausage, sliced in rounds, quartered, and cooked according to the instructions from the package
2-1/2 cups shredded cheese (mozzarella or any other that melts well.  I prepared mine with Fiesta cheese blend)**
** Although cubed cheese is usually added to the traditional pamonha goiana recipe, I do prefer to use shredded cheese in the casserole.
Note: If you are a fan of heat, you are welcome to add 1/2 to 1 chopped jalapeño to the casserole when you fill with the sausage and cheese.   You can also add chopped fresh herbs to the topping right before serving (I topped mine with fresh thyme).  Both  jalapeño and herbs are not customary ingredients in traditional Pamonha.
Directions:
1. Preheat oven to 325º F ( 163 º C).  Fill half of a larger baking pan with boiling water (this will serve as the bain-marie bath).
2. In a blender, blend together the corn, milk, eggs, bouillon powder, salt, and pepper until obtaining a homogeneous, creamy mixture.  Grease the bottom and sides of a 12 x 7-inch ovenproof dish ( 30.5 x 18 cm) and pour in half of the blended mixture. Distribute the cooked sausage slices and 1 cup of the shredded cheese over the mixture.  Pour over this the remaining blended mixture, reserving the remaining 1-1/2 cups of shredded cheese for later.
3. Bake in bain-marie for about 40-45 minutes or until center is firm yet jiggly.  Remove from oven and top casserole with the reserved cheese.  Increase oven temperature to 350º F (about 180º C) and bake casserole (no more bain-marie but dry-air heat oven) for about 5 minutes — just enough for the cheese melt.  Let cool down a bit and serve warm!
NEVER MISS A DELICIOUS RECIPE!!! SUBSCRIBE BY EMAIL:
_____________________________________________________________
Receita em Português:
Pamonha de Forno Goiana
Rendimento: Aproximadamente 6 a 8 porções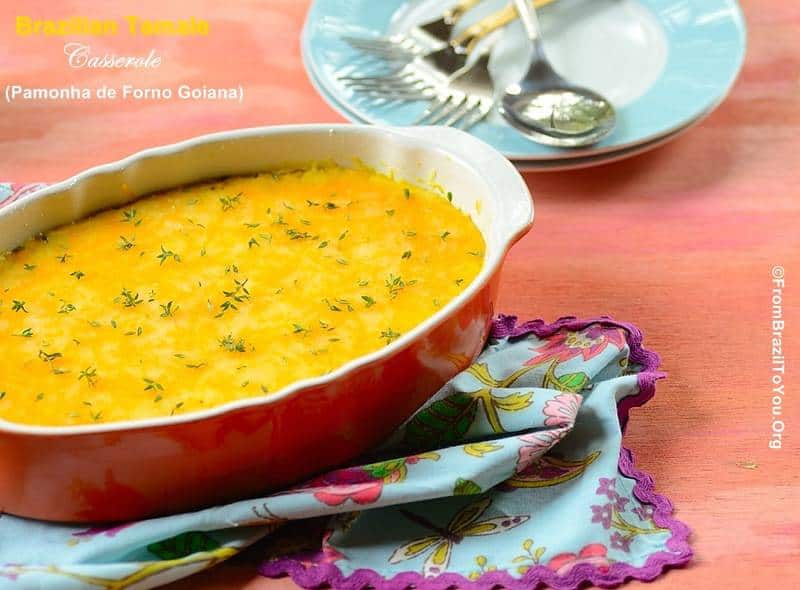 Ingredientes:
5 xícaras de (chá) de milho, fresco ou em conserva (se você estiver usando o milho enlatado, escorra bem toda a água)
250 ml de leite integral
4 ovos grandes à temperatura ambiente
1 colher de (sopa) de caldo de galinha ou de legumes Knorr em pó
1 colher de (chá) de sal
Uma pitada de pimenta do reino moída
200 g de lingüiça de porco defumada fatiada, picada em quatro e cozida de acordo com as instruções do pacote
2 e 1/2 xícaras de (chá) de queijo em tirinhas (mussarela ou qualquer outro que derreta bem)**
** Apesar de que o queijo em cubinhos é geralmente adicionado à receita tradicional de pamonha goiana, eu prefiro usar queijo em tirinhas para a pamonha de forno.
Modo de Preparo:
1. Pré-aqueça o forno a 163º C. Encha uma assadeira grande até a metade com água fervente.
2. No liquidificador, bata juntos o milho, o leite, os ovos, o caldo de galinha ou legumes em pó, o sal e pimenta até obter uma mistura cremosa homogênea. Unte o fundo e laterais de um refratário médio e despeje metade da mistura batida. Distribua as fatias de linguiça cozida e 1 xícara de queijo sobre a mistura. Despeje o restante da mistura batida por cima, reservando 1 e 1/2  xícaras de queijo para mais tarde.
3. Asse em banho-maria por aproximadamente 40 a 45 minutos ou até que o centro esteja levemente firme. Retire do forno e distribua o restante do queijo. Aumente a temperatura do forno para 180 º C e asse a pamonha (sem banho-maria) por cerca de 5 minutos para que o queijo derreta. Deixe esfriar um pouco e sirva morna.
_____________________________________________________________________