Hello, dearies!!!!  I am very happy to be sharing with you today these luscious Passion Fruit Mousse Cupcakes or Cupcakes Mousse de Maracujá… Soon we will be celebrating two important dates: The Two-Year Birthday of From Brazil To You on February 6th, and Valentine's Day on the 14th!!!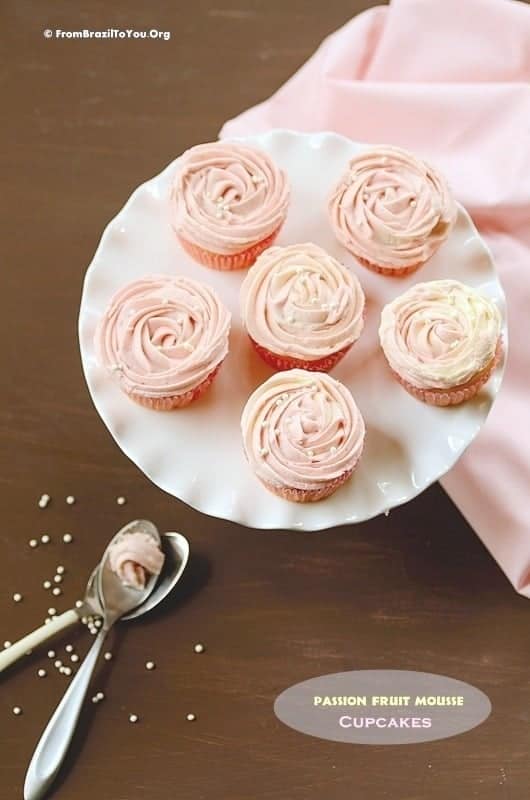 I cannot believe that almost two years have already passed by…. It seems like only yesterday when I first debuted this blog– my baby!!!  Well, the baby is a toddler now, that has changed and  grown in many ways, although its essence has remained the same: sharing the one-of-a-kind cuisine of Brazil with the world.  I am both happy and proud to be its Mom, but I could not have done without you, dear readers, who have supported FBTY over these years. Thank you very much for your interest in the wonderful cuisine of my beloved  Brazil, for following the blog on social media, and for putting a smile on my face with your questions and comments.  It means all the world to me!  Since last year we celebrated FBTY's first birthday with a Crazy Gal Cake (Bolo Nega Maluca) made with chocolate, this year we will be celebrating it with these passion fruit mousse cupcakes.
For FBTY's birthday, we just had to celebrate with cake — decorated with roses… especially for you!  These passion fruit cupcakes are dense yet fluffy, filled with a creamy passion fruit mousse (a staple in Brazilian cuisine), and frosted with vanilla butter cream… Yummmm!!!  They are also great for baby showers, weddings, Mother's Day, and of course, V-day!
I hope that you make these romantic passion fruit mousse cupcakes and share them with your Valentine … In fact, I hope you don't mind if I consider you as one of my valentines!!!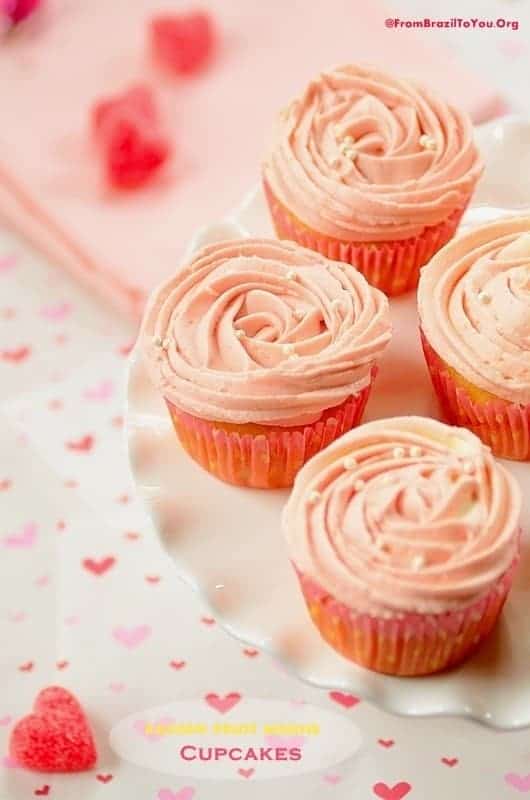 If you would also like to add a decadent chocolate treat to your list, try our Chocolate Raspberry Brownie Stacks or Beer Brigadeiros.
For now, deliciousness and roses are waiting entirely just for you…
Happy Birthday, From Brazil To You!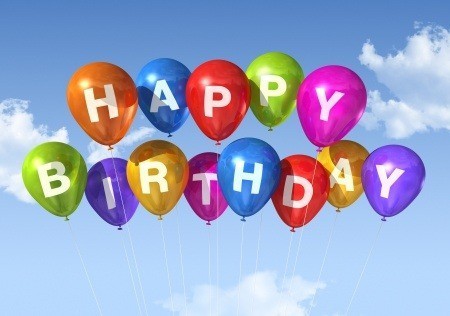 Happy Valentine's Day to all!!!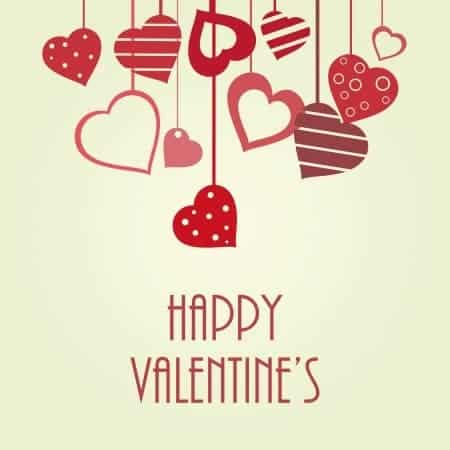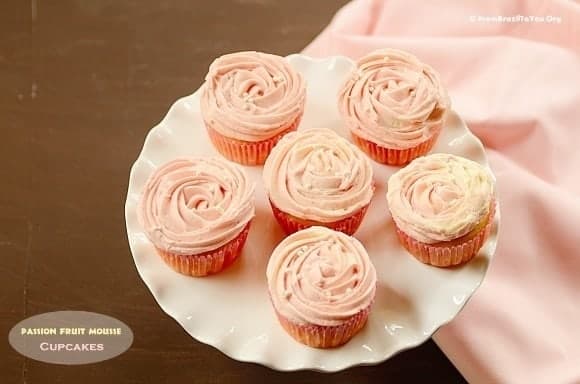 | | |
| --- | --- |
| | |
To make the passion fruit cupcake batter

, preheat oven to 350 degrees F (178 degrees C). Line a cupcake tin and reserve.

In a medium-sized bowl, stir in together the dry ingredients: flour, baking soda, baking powder, and salt. Set aside.

In a small bowl, combine the liquid ingredients: coconut milk or whole milk, passion fruit juice, and vanilla. Set aside.

In a large mixing bowl with paddle attachment, beat softened butter for about 1 minute on medium speed. Then add the sugar, beating at low speed until light and fluffy (about 3 minutes). Add eggs, one at a time, to the sugar mixture, beating well on low speed after each addition. Alternately, add the dry ingredients or flour mixture and the reserved liquid ingredients or passion fruit mixture to the egg mixture, beating well after each addition.

Using an ice cream scoop, fill cupcake liners 3/4 full with the batter. Bake for 15 minutes or until cupcakes are puffy and bounce back when lightly touched. Let cool completely on a rack before filling with passion fruit mousse and frosting.

To make the passion fruit mousse

, whisk all the 3 ingredients together until obtaining a homogeneous mixture. Fill cupcakes with passion fruit mousse by first cutting out a small plug in the center of each cupcake using a paring knife. The plug should be to about one half of the vertical depth of the cupcake. Reserve the cupcake plug. Pipe passion fruit mousse into each hole. Close the hole with the reserved plug -- this will require trimming off most of the bottom part of the plug so that when replaced in the hole the plug will be level with the rest of the top of the cupcake, and will not squeeze out the mousse. Place filled cupcakes in the refrigerator.

For the vanilla butter cream frosting:

In a large mixing bowl with paddle attachment, combine softened unsalted butter, sugar, and salt, beating well until mixture is homogeneous. Add the cream/milk and vanilla. Beat for an additional 3-5 minutes or until smooth and creamy. Beat in both gel food colorings.

Using a Wilton 2D closed Star tip, pipe a rose on top of each cupcake, starting from the center and making 2 steady circles around the center (This video explains well how to do it). I also used cupcake gems (white pearls) to decorate the cupcakes. Serve and enjoy!
Store frosted cupcakes in a clean airtight container (single layer) and let come to room temperature 15-20 minutes before serving.
Passion fruit mousse cupcakes are aphrodisiac and great for valentine's day, baby showers, and mother's day… I love these passion fruit mousse cupcakes. I hope you make these delicious passion fruit mousse cupcakes! Passion fruit mousse cupcakes….
Passion fruit mousse cupcakes are super delicious! Enjoy our passion fruit mousse cupcakes. 
__________________________________________________________________________________________
Happy Birthday Balloon Image credit: daboost / 123RF Stock Photo
Valentine's Day Image credit: wawritto / 123RF Stock Photo