Howdy, y'all!  A marvelous, two-in-one Pumpkin Pie with Gooey Pecan-Chocolate Topping  is what is on our menu today…  Happy?!  I sure am…
…Not only is this one of our Thanksgiving treats for this year, but it also serves as our latest Chocolate Party dessert recipe– for which the secret ingredient this month is pecans.  I couldn't be more pleased, because I am simply nuts for pecans. 🙂
Instead of simply making a chocolate-pecan treat for our party, I decided to incorporate pumpkins into our recipe as well.  Last year I shared with you a pie recipe based upon Chef Leah Chase's legendary Sweet Potato Pie….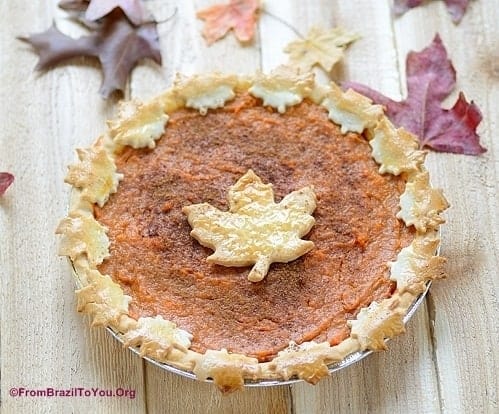 … so for this year, I am making a ridiculously easy, scrumpti-licious Pumpkin Pie with Gooey Pecan-Chocolate Topping…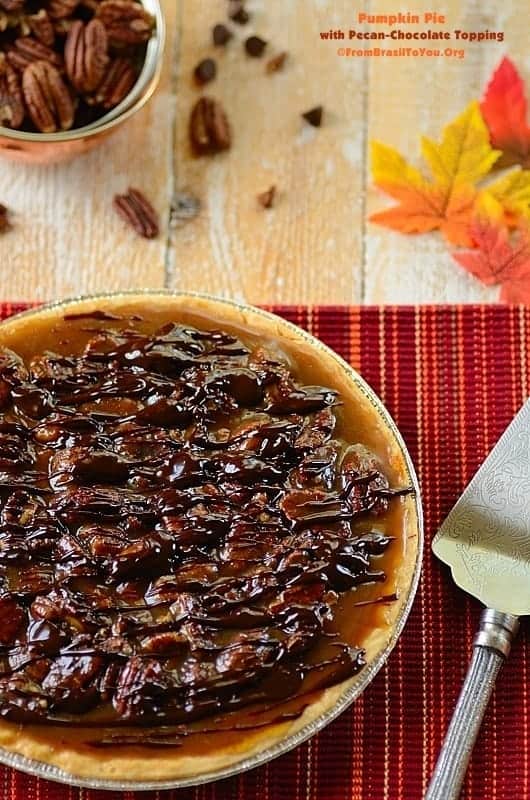 Why couldn't this be a simple pumpkin pie or perhaps a pecan pie?  Since there are so many pumpkin and pecan pie recipes everywhere, why not combine them all together and make something different?! I like different and scrumptious!!  I have this philosophy that if you are gonna bother to make something, make it the best you can, or don't make it at all… getting some rest would be a better option. 🙂
I wanted to give you the best of both pumpkin and pecan pies all in one — with chocolate added on top for some special charm!!!! 🙂   I am thankful for the blessing of having you here, following FBTY and trying our recipes.  I want to make a difference on your plate!!!!!!!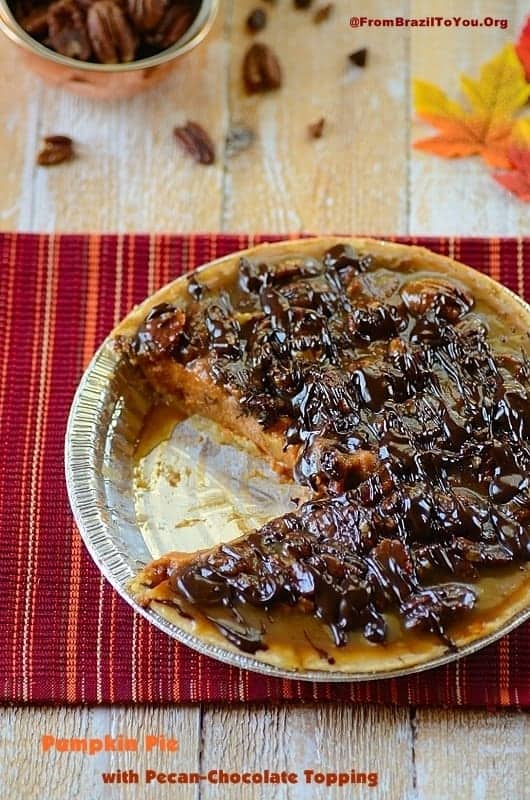 So pumpkin pie with gooey pecan-chocolate topping it is…
xx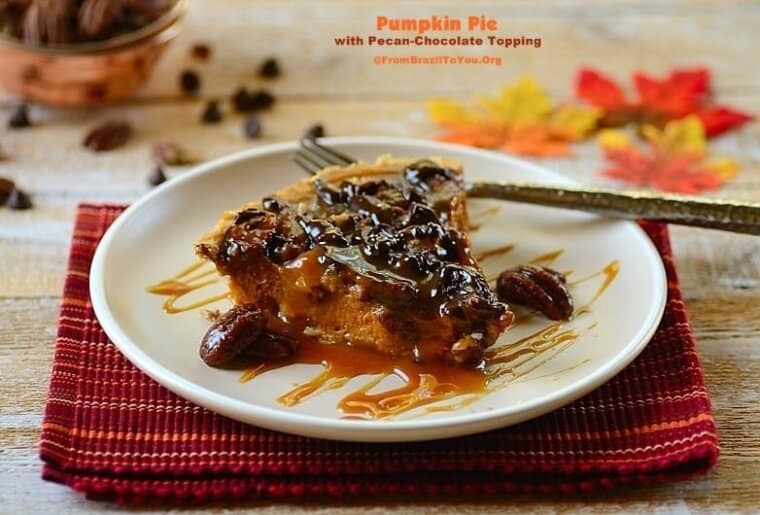 | | |
| --- | --- |
| | |
Preheat oven to 350 degrees F (about 177 degrees C).

Using a fork, prick bottom of the thawed, plated pie and then line all of the pie crust on top with parchment paper, letting ends extend over edges. Fill with pie weights.

Bake until lightly golden (approximately 15 minutes). Carefully remove pie weights and parchment paper. Let cool completely.

In a large bowl, whisk together pumpkin puree, brown sugar, lightly beaten eggs, melted butter, corn syrup or molasses, flour, vanilla, salt, pumpkin pie spice, and sweetened condensed milk. Pour mixture into cooled pie crust and cover pie loosely with aluminum foil to prevent excess browning of crust. Bake for 30-40 minutes or just until center is set. Let cool on a wire rack. Meanwhile, make the topping.

To make the Gooey Pecan-Chocolate Topping: In a small saucepan, heat brown sugar, butter, and corn syrup or molasses over medium heat, stirring until sugar dissolves and mixture just starts to boil. Add 1 tablespoon of heavy cream and vanilla, stirring constantly until incorporated. Stir in the chopped pecans and salt and bring mixture to a boil, stirring constantly. Remove from heat and pour hot gooey pecan topping over the pumpkin pie layer, spreading gently to cover edges of the pumpkin pie. Refrigerate pumpkin pie for at least 8 hours.

Right before serving the pumpkin pie with gooey pecan topping, melt the chocolate with 4 tablespoons of heavy cream and stir well until combined. Then, drizzle the warm chocolate sauce on top of the pumpkin pie and enjoy!
This recipe was adapted from Sweet Potato Pie with Gooey Pecan Topping from Taste of the South Magazine (Sept./Oct. 2013 issue).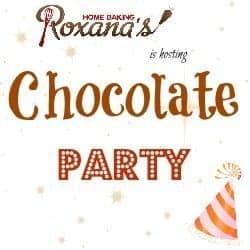 Roxana's Chocolate Party
How to participate (the rules):
1.) Blog about your chocolate treat. Your recipe must include the two ingredients we choose. It can be a simple no bake treat or a sophisticated layer cake, the complexity level of the recipe is totally up to you.
2.) Include a link back to the Chocolate party page. Optionally, add the Chocolate Party logo in your blog post or on your sidebar.
3.) Your recipe must be published during the current month. Please do not link old recipes, they will be deleted.
-add the linky code at the bottom of your post.
-have fun!!!
'); // ]]>