5-Ingredient Salted Caramel Apple Pie Cobbler made within 30 minutes or so, and served either by itself or with a scoop of ice cream.
Fall is almost officially here… which means that we have a great excuse to prepare this scrumptious and comforting 5-ingredient Salted Caramel Apple Pie Cobbler. Yep!!! You read  that right, honey!  Imagine a two-in-one treat that is super easy to prepare and will knock your socks off.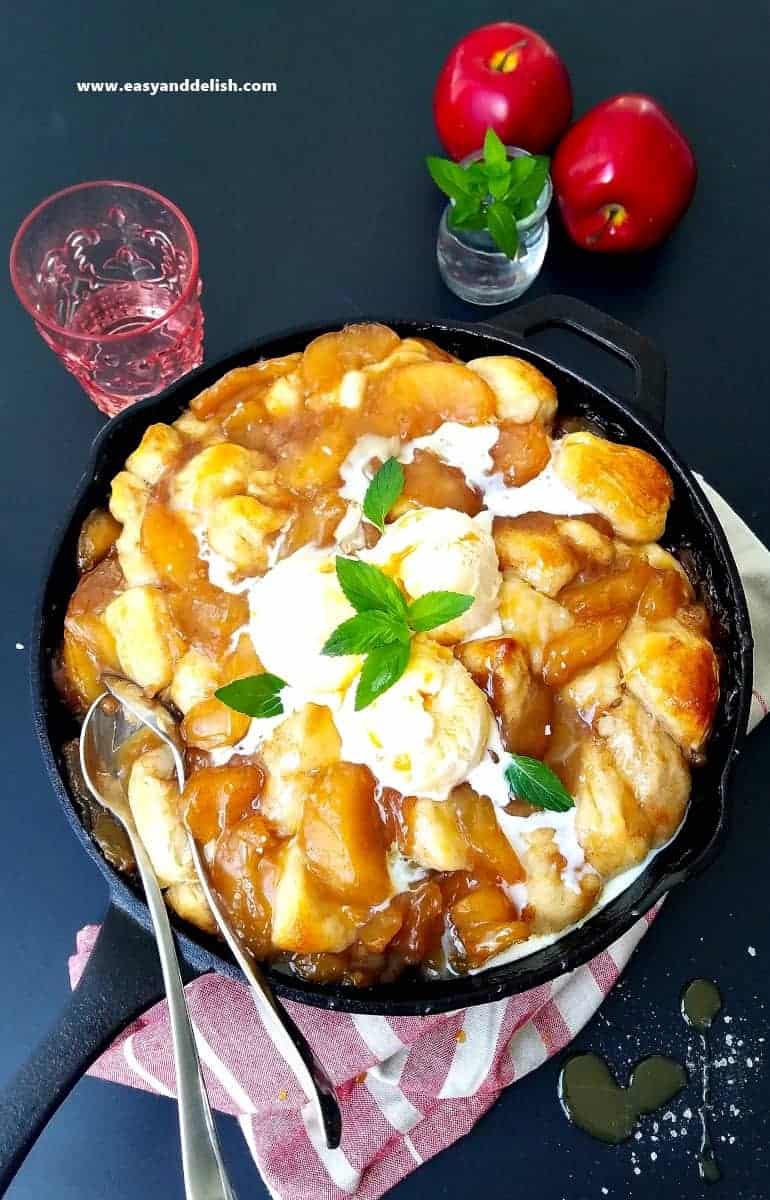 All one has to do is to cut refrigerated biscuits into fourths, place into a bowl and mix with canned apple pie filling and ground cinnamon.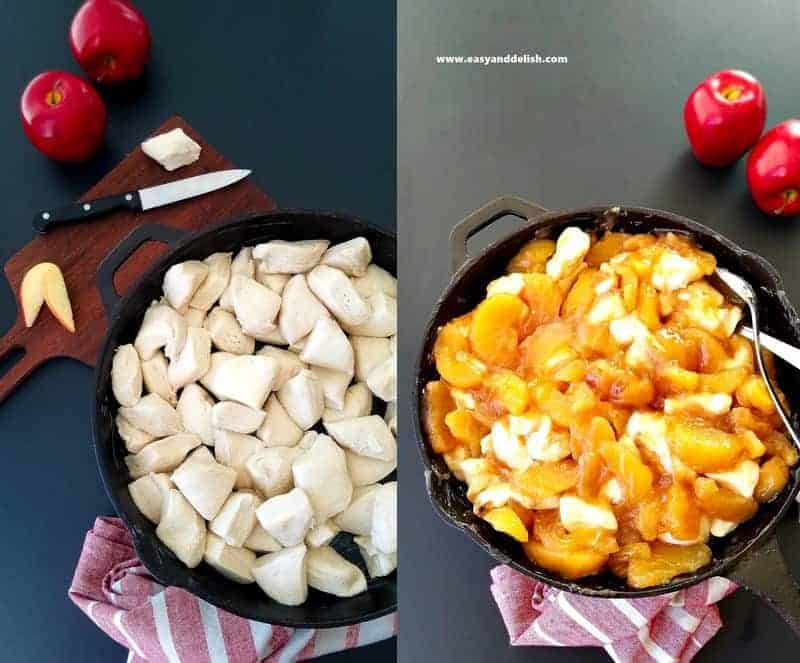 Next, place mixture into a buttered skillet or baking dish and bake for about 20-30 minutes. While it is still warm, drizzle your favorite caramel sauce on top, sprinkle with coarse sea salt, and serve with a scoop of vanilla ice cream. Voila!
A truly yummy treat is ready to be devoured by spoonfuls!!!!!! And it's so easy to put together that any child can help one to prepare.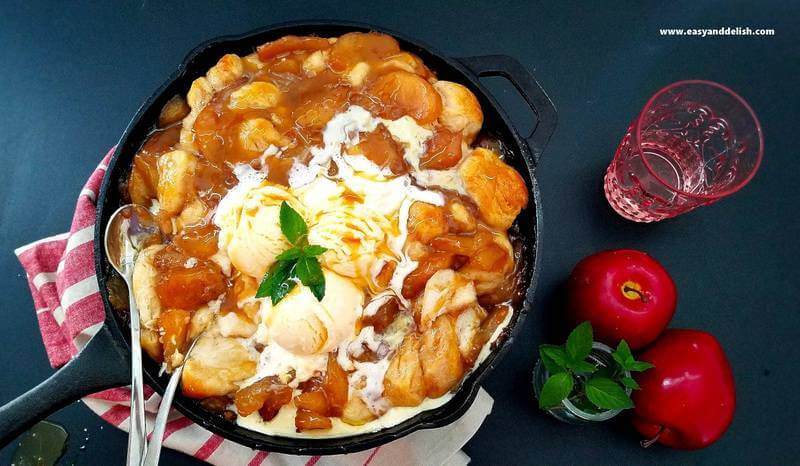 This Salted Caramel Apple Pie Cobbler makes a great afternoon snack or quick dessert. Back to school? Having a potluck or get-together? Perhaps receiving an unexpected visitor? Need to prepare a fuss-free treat that can be prepared without a mess? Our Salted Caramel Apple Pie Cobbler fits the bill for these or any other occasions!
It's tru;u a Fall dessert to please both adults and children — including this girl here and her family. 😉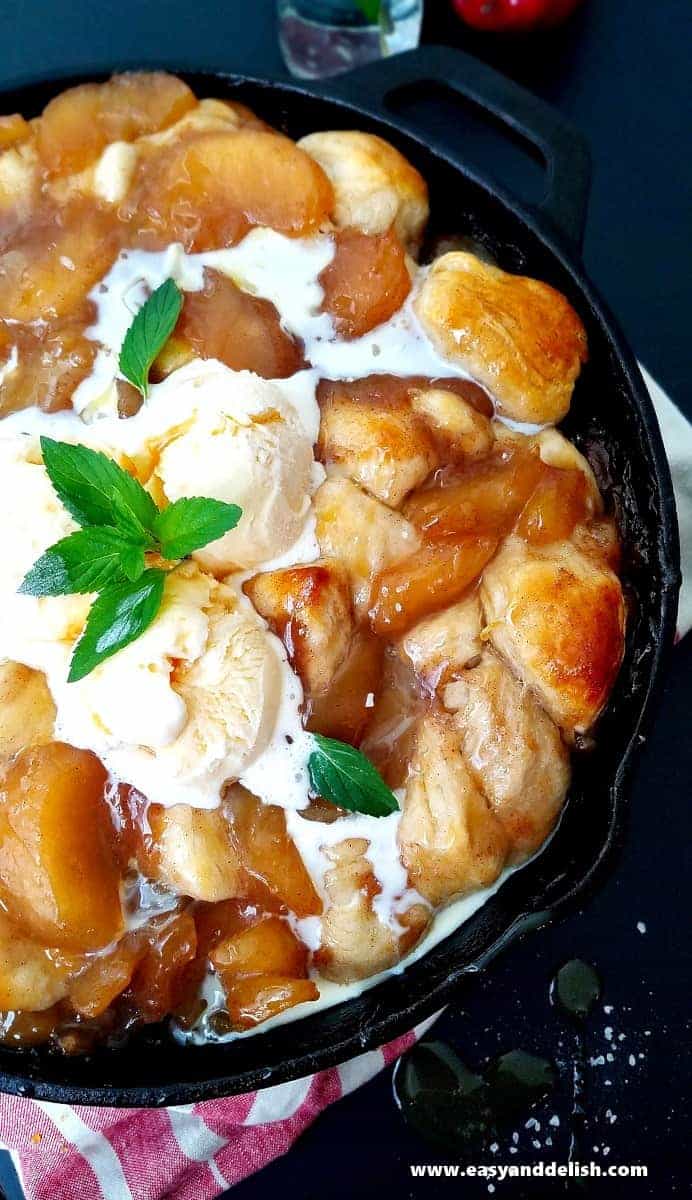 You can even use another fruit pie filling of your choice such as cherry, blueberry, or others.
Well, enjoy the upcoming baking season and all the goodies that it has to offer. By the way, these 4-Ingredient Dulce de Leche Apple Hand Pies are also an Autumn must-try!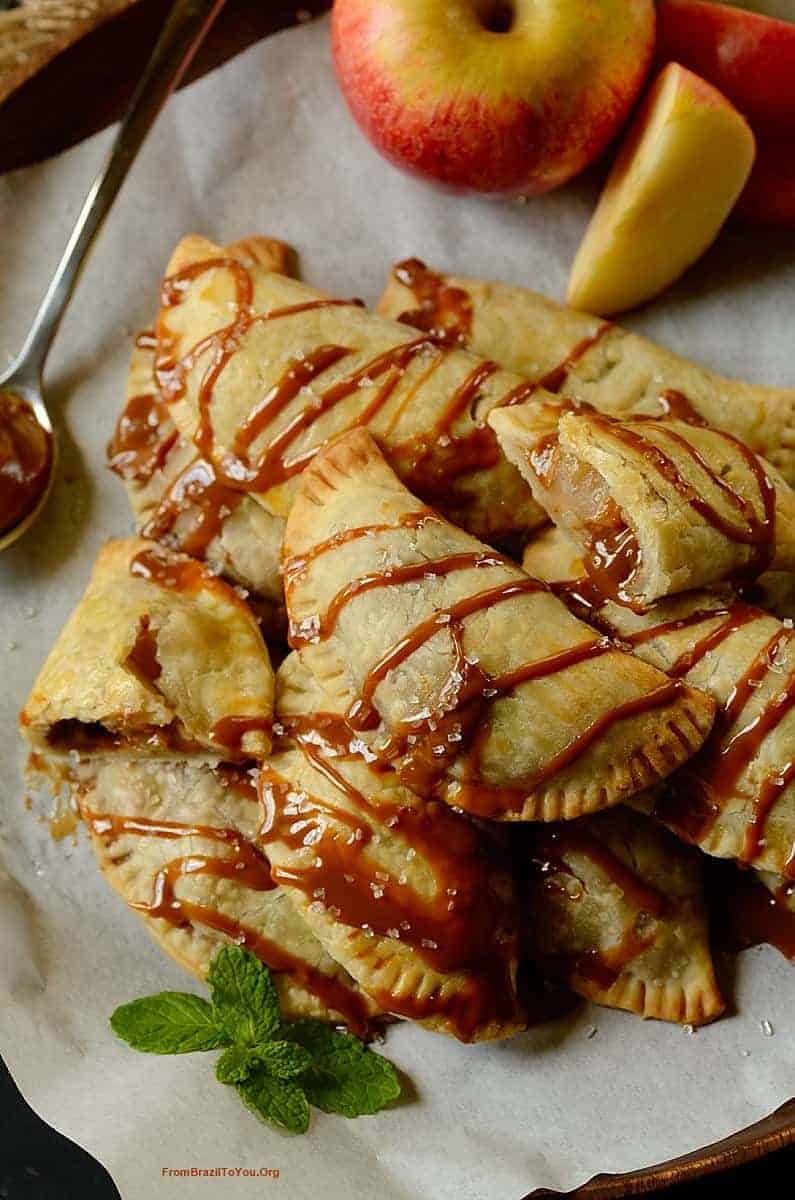 It is great being back to celebrate the upcoming Fall season — and my 45th birthday on September 6th, as well. 😉
xx
P.S.: What's your favorite Fall treat?
TO PIN TILL YOU DROP: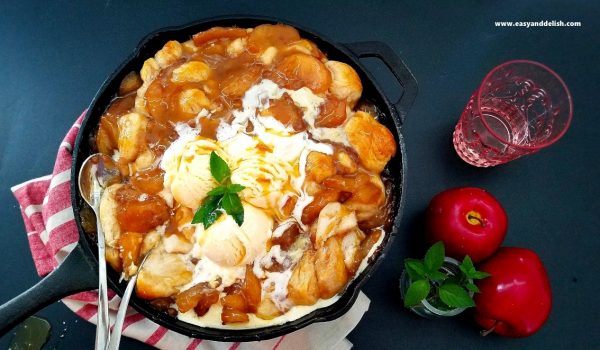 | | |
| --- | --- |
| | |
Preheat the oven to 350 degrees F. Grease a large cast iron skillet or large rectangular baking dish (13 x 9-inch) with unsalted butter; set aside.

In a large bowl, mix the apple pie filling with the cinnamon or apple pie spice. If you would like, you can mix in one teaspoon of fresh lemon/lime juice -- but only if you are not using a cast iron skillet. Then, gently mix in the pieces of biscuits. Pour mixture into the prepared skillet or baking dish, making sure to arrange everything into a single layer in such a way that biscuits will have space to rise. Bake for about 25-30 minutes or until biscuits are puffed, golden brown, and fully cooked.

Remove skillet/baking dish from oven, drizzle with caramel sauce, and sprinkle a bit of coarse sea salt on top. Serve Salted Caramel Apple Pie Cobbler warm with a scoop of vanilla ice cream. Enjoy!
Do not top the dessert with caramel sauce and salt if dessert will not be consumed right away and at once.  Leftovers should be refrigerated at an airtight container for up to 2 days. Make sure to warm up a bit in the microwave right before serving and then top with caramel sauce and salt.
***Recipe adapted from Shared Food.