A 30-minute Veal Marsala recipe for an easy weeknight meal. An authentic Italian dish, prepared with a few simple ingredients, that can be served with a crusty bread to soak up all the delicious sauce.
I feel both happy and honored to have one of my favorite food bloggers and friend, Manuela Zangara from Manu's Menu,   guest posting for us this week.  She has prepared a quick and easy Veal Marsala — a down-home dish, close to her heart. Manu, as we call her, is a native of Italy. So yes, I feel blessed to have her sharing her expertise in Italian cuisine with us. After all, there's nothing like learning from the pros, right?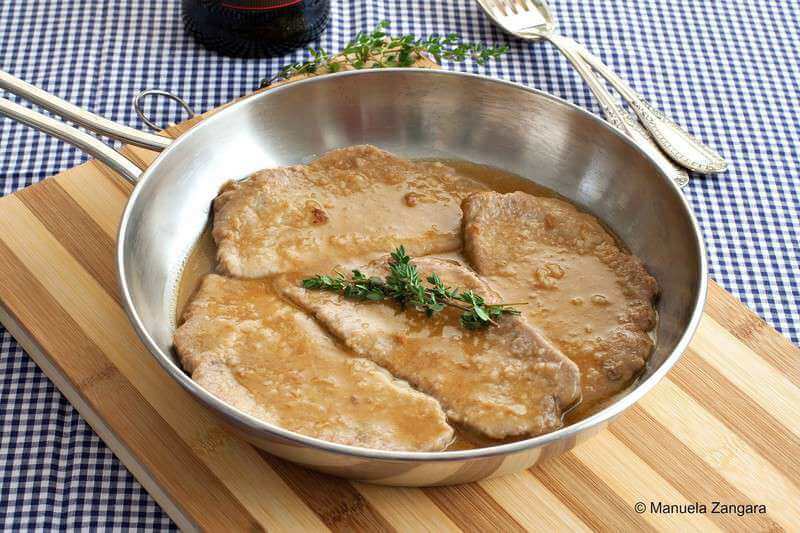 She is a star, folks! Manu is the author of one of the most popular blogs in Australia, where she lives with her husband and 2 daughters. She has been featured in many well-known publications and if that weren't enough, she is a soon-to-be published cookbook author. Her upcoming cookbook is about easy-to-prepare homemade pasta. Of course, I could not let this opportunity pass…
This girl here is honored to have been asked by Manu to review her cookbook. We will find out more about it in August… here on Easy and Delish!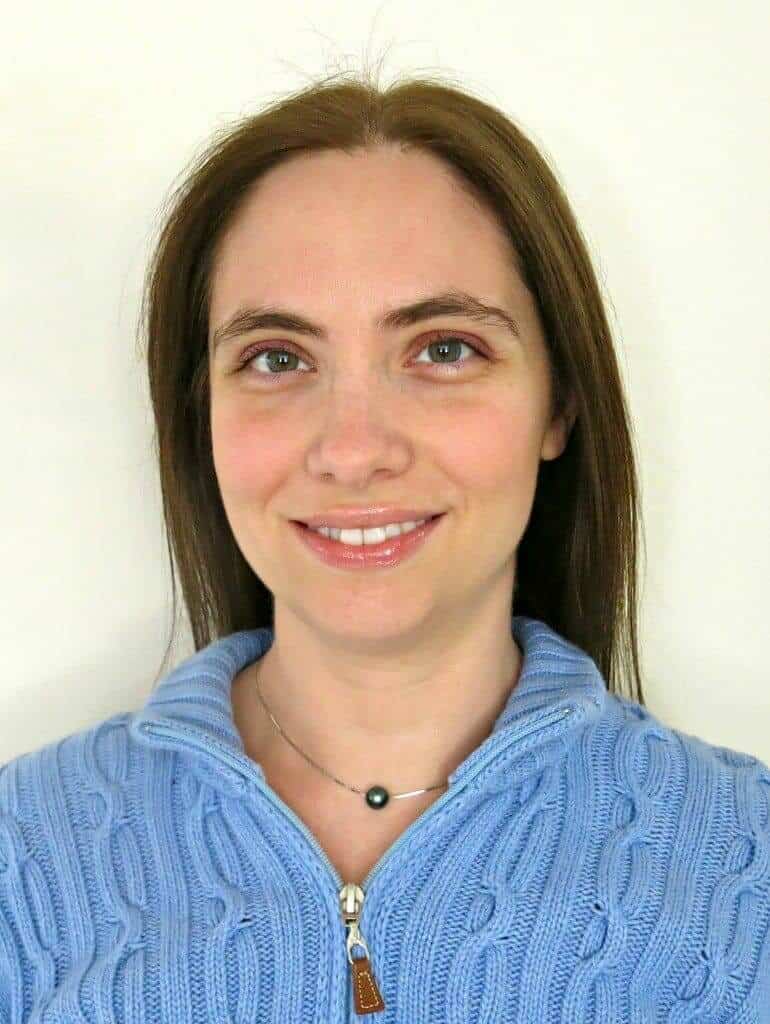 Thank you Manu for doing this for us! Please don't forget to stop by her blog that has the best Italian recipes ever, along with many other dishes from different cuisines.
And here is my dear friend Manu in her own words:
"I feel honored to be guest posting today for one of my favorite food blogger friends: Denise of Easy and Delish Recipes! Besides being what I would call an "artist" in the kitchen, Denise is also an amazing person! For such a special occasion, I wanted to make something that truly represents me and my blog. So it had to be an Italian dish, something easy to make and that tasted delicious. That's how I decided to make Veal Marsala.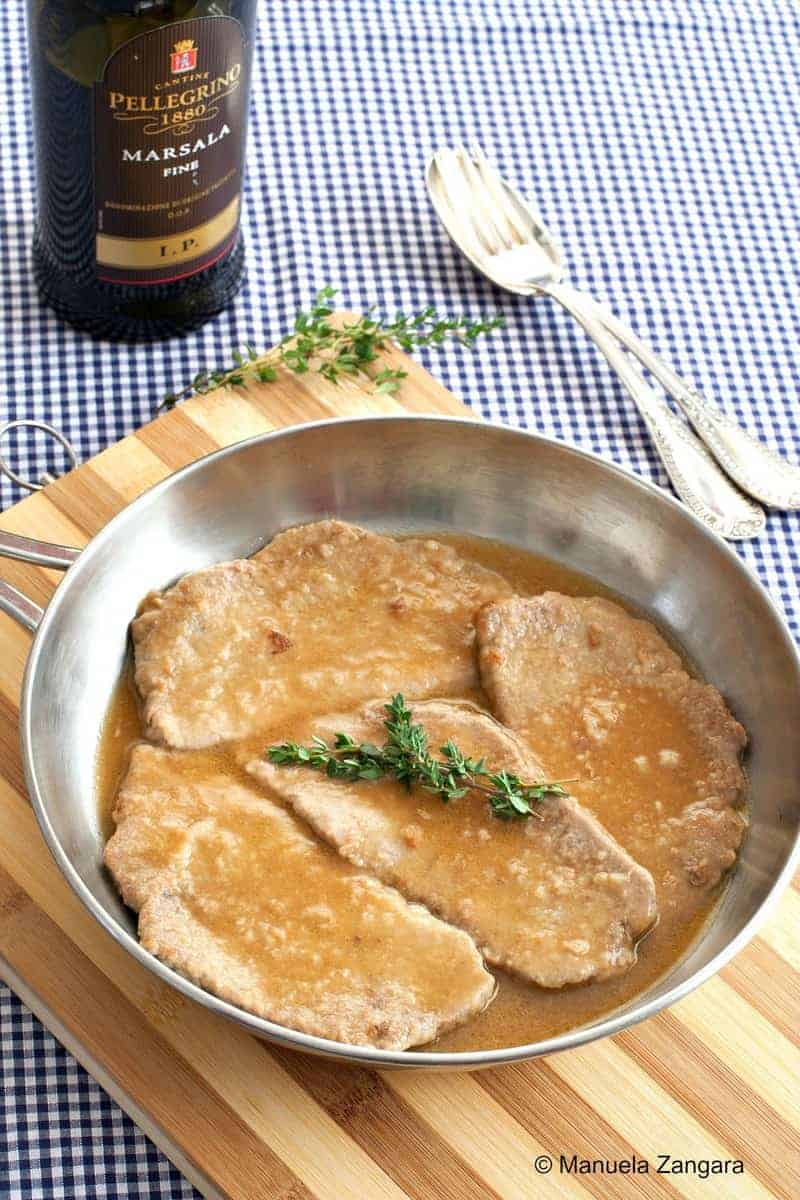 This recipe represents me on many levels. To begin with, it is a quintessential Italian dish. But that's not all, the main ingredient comes from Sicily, the place where my parents were born and where my roots are. In fact, Marsala wine is made in the town of Marsala, near Trapani, in the western coast of Sicily. And to top it all, this dish shows how easily you can make a tasty meal for your family with just a few ingredients. I always say, there is no need to use fancy (or too many) ingredients to cook an authentic Italian meal! Simplicity is the key.
I know many of you are probably familiar with Chicken Marsala, but the traditional Italian version is slightly different: it uses veal (or pork) and it is made without mushrooms. Veal Marsala is known in Italy as Scaloppine al Marsala, where the term scaloppine simply means "thin slices of meat". Scaloppine can be made in many different ways, but what sets this specific recipe apart is the sweetness that Marsala wine imparts to the sauce.
Make sure to serve Veal Marsala with some crusty bread to soak up all the delicious sauce.
Thank you Denise for having me here! Despite my crazy schedule, I haven't stopped smiling since the day you kindly invited me to guest post for you on your wonderful site."
Enjoy Manu's Veal Marsala– and have a great time with your family!
TO PIN TILL YOU DROP: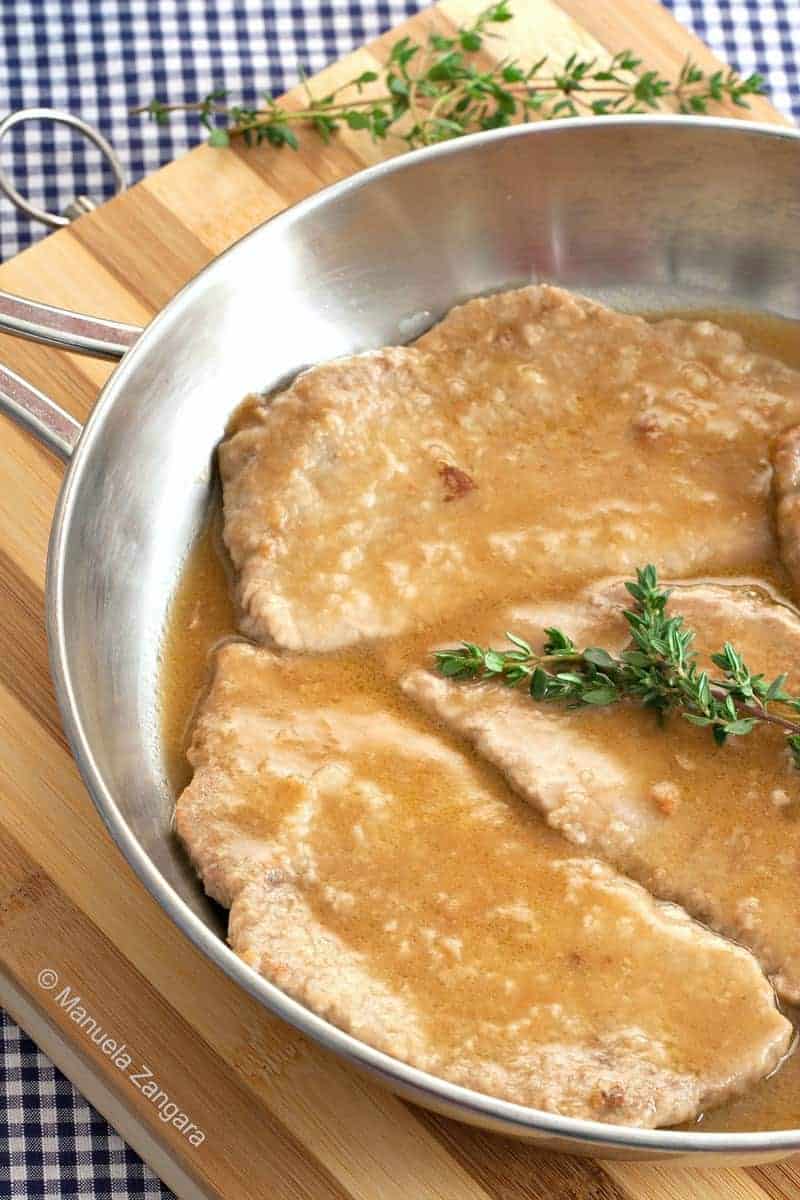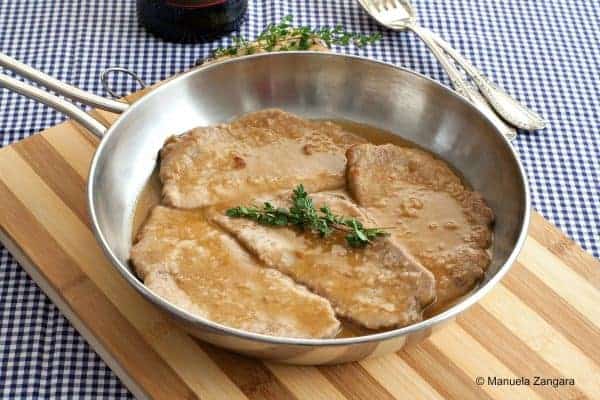 | | |
| --- | --- |
| | |
Using a meat mallet, tenderize the veal steaks. Season them with salt and pepper and lightly coat them with 2 tablespoons of flour. Keep aside. In the meantime, melt the butter with the extra virgin olive oil in a skillet over a medium flame.

Add the veal steaks and brown them well on both sides. Remove the meat from the skillet and keep aside. Pour the Marsala wine in the pan and let the alcohol evaporate.

Melt the remaining ½ tablespoon of flour in 1 cup of water and add it to the pan. Season with salt to taste and mix well. Add the veal steaks and thyme, and cook for 1 or 2 minutes on each side. You may need to add a little extra water if the sauce thickens too much. Serve warm.
Make sure to serve Veal Marsala with some crusty bread to soak up all the delicious sauce.