I have always loved cheesecakes -- and so does my husband. This Almond-Cherry Cheesecake is our favorite!
Since we will be celebrating his birthday soon, I decided to make this almond-cherry cheesecake instead of a regular birthday cake.
The marvelous Almond-Cherry Cheesecake recipe that I am about to share with you was tested and approved by both of us several years ago when we still lived in California. This Almond-Cherry Cheesecake is so special that we have never forgotten it.
Plus, it was also approved by a veritable cheesecake expert -- a British colleague of my husband at Stanford Hospital. According to her, this Almond-Cherry Cheesecake was the best cheesecake that she had ever eaten in her life (and she's tried lots of cheesecakes). Another of my husband's colleagues also enjoyed it so much that he even asked my husband why I didn't produce them for sale. With a young babe in arms, unfortunately I couldn't....
Well, I kept the Almond-Cherry Cheesecake recipe for myself up until now. Instead of selling it, I prefer to share with you. Although today may not be your birthday, your presence here is always very special to me. It's more valuable than money.
When you try it, I hope that it makes you smile as wide as it will certainly make my beloved husband smile. For him, always the best -- and for you as well.
Make this Almond-Cherry Cheesecake now. Make it for special occasions. Make it for the holidays... Because it's never too often to indulge yourself and your loved ones with such a culinary jewel.
Thanks again for stopping by!
xx
Almond-Cherry Cheesecake
Serves 8
(Segment: From My Table To Yours)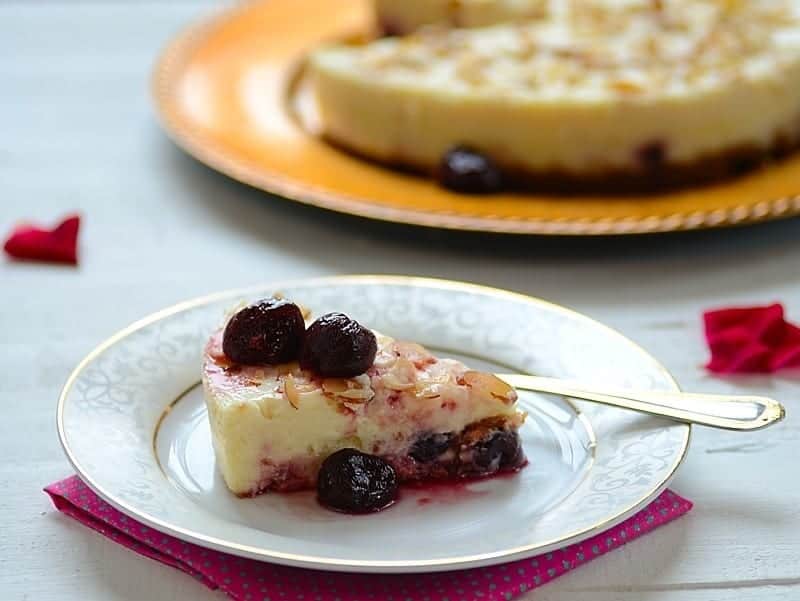 Ingredients:
For the Crust:
4 oz (110 g) almond biscotti or any other type of almond cookie
2 tablespoons unsalted butter, melted
Directions:
Butter  the bottom and sides of a 8-inch (20.5 cm) springform pan.
In a food processor, grind the cookies to a fine powder. Transfer to a bowl, add the melted butter, and mix until evenly combined. Place in the prepared pan and spread in an even layer over the bottom. Completely wrap the outside of the springform pan with a double thickness of wide aluminum foil. Reserve. Prepare the filling.
For the Filling:
2 tablespoons unsalted butter
15 oz (425 g) drained jarred Bing or other dark sweet cherries
2 tablespoons fresh lemon juice, divided
1-½ cups granulated sugar, divided
2 tablespoons almond extract, or amaretto
2 (8 oz or 227 g) cream cheese, softened
2 tablespoons cornstarch
3 eggs, at room temperature
¾ cup sour cream
1 teaspoon pure vanilla extract
1 teaspoon almond extract
¼ teaspoon salt
For the Topping:
1 cup sour cream
¼ cup granulated sugar
1 teaspoon  pure vanilla extract
1 teaspoon almond extract
¼ cup sliced almonds, toasted
Directions:
Preheat the oven to 300 degrees F ( about 150 degrees C).
In a saucepan over medium-high heat, melt the butter. Add the cherries and 1 tablespoon of the lemon juice. Cook for about 1 minute. Sprinkle with the ¼ cup of sugar and cook, stirring, for 3-5 minutes. Then, stir in the 2 tablespoons of almond extract/amaretto and cook for 1 minute. Let cool down.
Using a stand mixer, beat the softened cream cheese and 1 ¼ cups sugar with the paddle on medium-high speed until smooth. Beat in the cornstarch. Add the eggs one at a time, beating until incorporated. Beat in the sour cream, the remaining 1 tablespoon lemon juice, vanilla and almond extracts, and salt.
Pour the cherry mixture into the pan and spread it evenly, without marring the crumb layer. Pour in the filling and spread it to the pan edges.
Set the pan inside a large roasting pan and fill with about 1-inch (2.5 cm) of  hot water. Bake for 1 hour.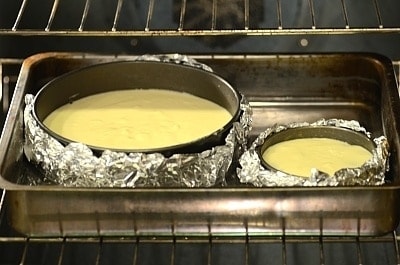 Turn off the oven and let the cheesecake cook in the warm oven, without opening the door, for 1 hour longer. Remove from the water bath and place on a wire rack. Meanwhile, prepare the topping.
In a bowl, whisk together the sour cream, sugar, and both vanilla and almond extracts. Spread the topping over the warm cheesecake. Sprinkle with the almonds. Bake at 300 degrees F (about 150 degrees C) for about 8 minutes or until the topping looks slightly set.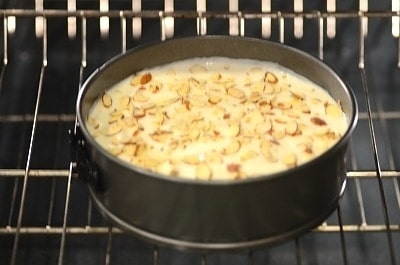 Remove from the oven and let cool for about 1 hour. Refrigerate the almond-cherry cheesecake for at least 8 hours or up to overnight. Run a knife around the edges of the pan gently. Remove the pan sides. Place the cheesecake, on the pan bottom, on a serving plate and refrigerate until serving. Enjoy our Almond-Cherry Cheesecake!!!
Note: This Almond-Cherry Cheesecake recipe is based on Almond and Cherry Cheesecake from Williams-Sonoma Cake book, p. 64. I made a few modifications to the original recipe. Enjoy our almond-cherry cheesecake!