This is our first ever giveaway… a giveaway to celebrate the first anniversary of From Brazil To You. This is also our first avocado dessert here — Avocado Crème Brûlée. I can hardly believe that almost one full year has passed. Can you? It certainly has been a busy year — adapting, creating, cooking, and editing recipes. Also, sharing stories and images of dishes and of Brazil. I thank you, my dear readers, for all your support and love– and for your interest in the cuisine of my home country, which I hope and dream will someday soon take its rightful place among the other great and unique cuisines well-known around the world. Without a doubt, the eyes of the world will soon be upon my dear Brazil once again, considering that the 2014 World Cup is to take place there next year, as well as the 2016 Olympic Games in Rio de Janeiro.
In my mind, I just knew that the giveaway prize for the blog's one year anniversary had to be something Brazilian. I am both happy and honored to announce that we will be giving away a signed copy of none other than The Brazilian Kitchen cookbook by Chef Leticia Moreinos Schwartz and also making her decadent Avocado Crème Brûlée, which recipe is in her book. This is the cookbook that won the 2010 Gourmand World Cookbook Awards in the category of Best Latin American Cuisine book in the world. I could not be more proud of Chef Leticia for such an accomplishment.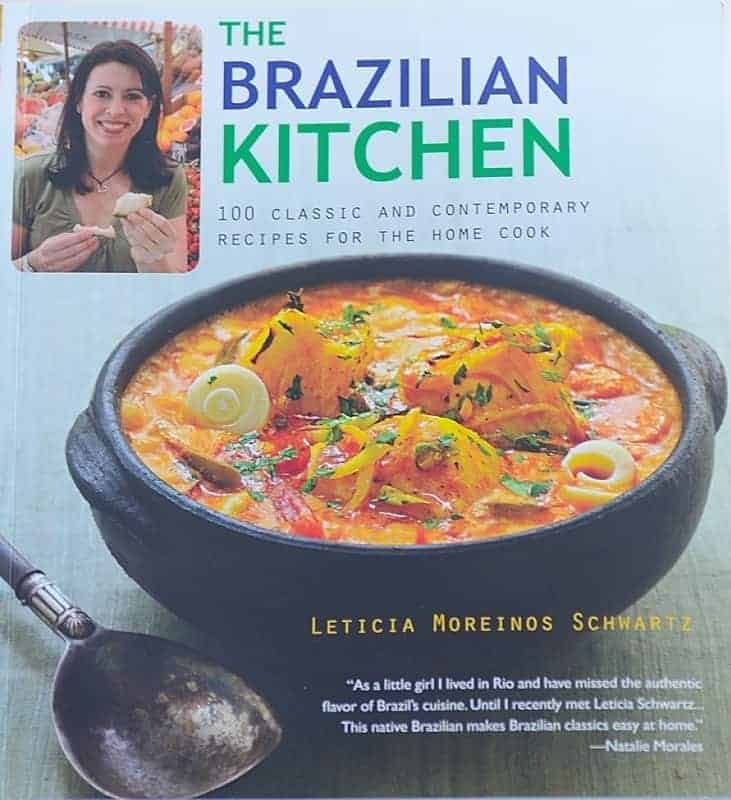 Her book is filled with 100 trustworthy, mouth-watering recipes (including this avocado crème brûlée) and beautiful photography of the dishes that she presents from her and my beloved Brazil. I love how she approaches Brazilian cuisine in a modern, more accessible way for those of us who cannot always count upon the ready availability of specific ingredients from Brazil. In fact, I love her book so much that I've not only added it to my private collection but  am sharing it with you now…because for you, I couldn't give anything other than the best!
Chef Leticia is a true star in the culinary field (her resume says it all), but not only impressed me with her quick reply when contacted about the giveaway, but also with how kind she was to send us her newly re-published cookbook personally autographed.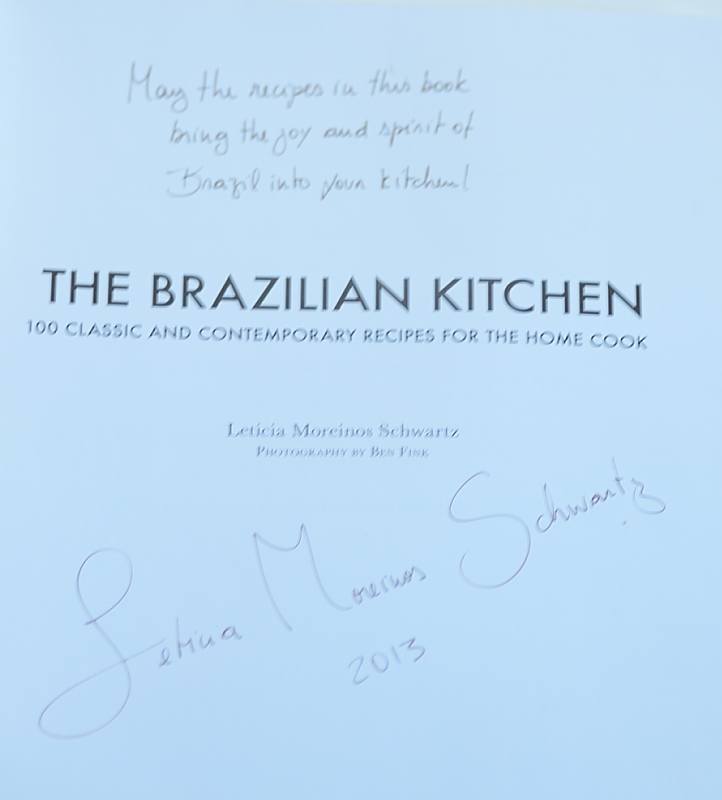 What a wonderful surprise! For me, her considerate gesture says a lot about her as a person. Once I read her book she had gained an admirer… now she has gained a friend in me. To her, I give a humungous thank you!
Because of this, I could not do other than to prepare one of the feature dishes from her book. The recipe that I am about to present to you is precisely one from her cookbook: the famous Avocado Crème Brûlée. Yes, you heard that right! As she explains in her introduction of this dessert in the book, "Most Americans think of only guacamole, salads, and maybe the adventurous hamburger when it comes to avocado, I really love to use avocados in desserts, the way that we do in Brazil."
Try this Avocado Crème Brûlée and you will see why!!!
Good luck! xx
Giveaway Rules:
This giveaway will be open Worldwide (I am honoring our audience from 164 countries) between January 22nd (12 am Central Standard Time) to February, 2nd, 2013 (12 am).
To compete for the prize book, all you have to do is leave a comment telling what recipe from our blog was your favorite so far (required) and to Like us on Facebook (not mandatory, but will increase your chances of winning). I'd like to ask you to share this link (https://www.easyanddelish.com/brazilian-recipes/avocado-creme-brulee-and-giveaway/)  with your friends on facebook, twitter, or any other social media informing them about our giveaway.
Enter the giveaway through the Rafflecopter below:
Once the winner is selected by Random.org, he/she will be contacted by e-mail and asked to send his/her mailing address (which will not be published). If he/she doesn't reply within 48 hours, another candidate will be drawn as the winner. Thank you and good luck!
Avocado Crème Brûlée
( Avocado Crème Brûlée recipe from The Brazilian Kitchen cookbook by Letícia Moreinos Schwartz,  page 139)
Servings: 4 (depending on the size of the ramekins)
Segment: Brazilian cuisine/Inspired
Ingredients: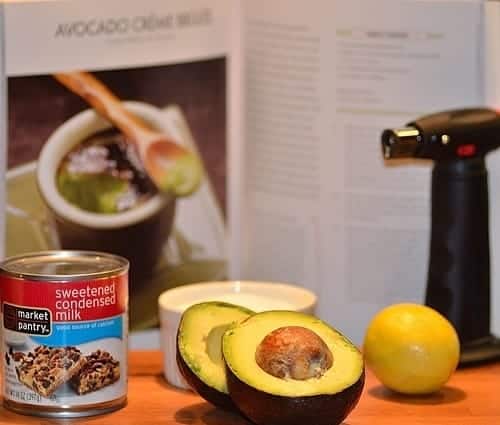 1 cup sweetened condensed milk
2 medium-firm ripe Hass avocados, peeled, pitted and cut into chunks
2 to 3 tablespoons fresh lemon juice
1/2 cup sugar, for topping
Directions (in Chef Leticia's own words):
" 1. Place the condensed milk and avocados into a food processor and process until the mixture is velvety smooth, 1 to 2 minutes. Add the lemon juice 1 tablespoon at a time, and pulse for a few more seconds after each addition. At this point, taste the avocado cream to check if the lemon juice is giving the right balance. I usually use 2 tablespoons of fresh lemon juice and add a drop or two more, if necessary.
2. Using a rubber spatula, scrape the mixture into four ramekins, making sure it is nice and flat inside the ramekin. Chill for 4 hours in the refrigerator.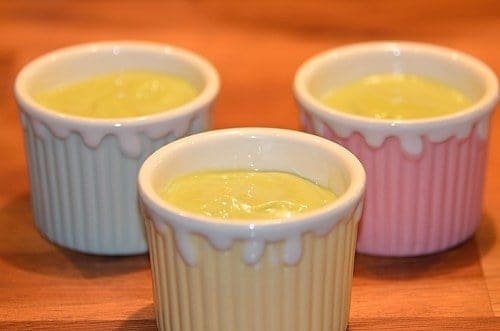 3. Right before serving, spread a thin layer of sugar evenly over the top of each custard. Ignite the torch to medium. Melt the sugar by moving the flame back and forth across the custard while maintaining a distance of 2 inches between the flame and the surface. The sugar will melt, bubble, then turn into a golden caramel.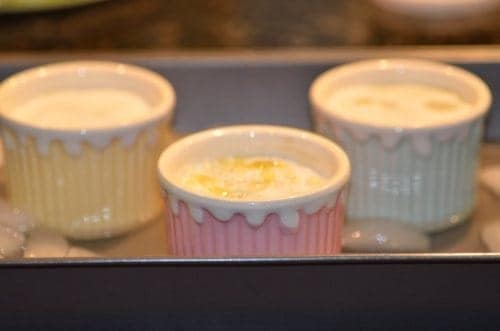 In less than a minute, it will harden to a delicious crust. Allow to cool for 3 to 5 minutes before serving. Do not brûlée the dessert more than 20 minutes in advance of serving."
Note from the book (Finding Blowtorches): " Because crème brûlée has become so popular, it is very easy to find blowtorches these days. If there are no high-end kitchen stores near you, most hardware stores carry them. However, if you can't find one, you can use a broiler. Preheat the broiler and place the ramekins in an ice bath in a roasting pan. Spread the sugar as described in the recipe, and place the pan in the broiler. Depending on your broiler, it can take seconds or minutes to caramelize the sugar, so stand by watching very carefully. When the sugar starts to bubble remove the roasting pan from the broiler, then remove the ramekins from the ice bath."
This was exactly what I did– as you can see in the image above– since my torch ran out of butane fuel!!!! I love this Avocado Crème Brûlée!!! I'd appreciate your your feedback about this Avocado Crème Brûlée.