Banana Pudding Breakfast Jars are a no-cook, easy and quick meal that can be conveniently transported anywhere you go. It is like having a healthy dessert at breakfast time!
A healthy yet dessert-like breakfast on the go is our latest creation!  Smiling from ear to ear? Believe me, I feel ya! Our Banana Pudding Breakfast Jars are a must… for their comfort factor, scrumptiousness, and of course ease of preparation. They are like sunshine in a jar! 😉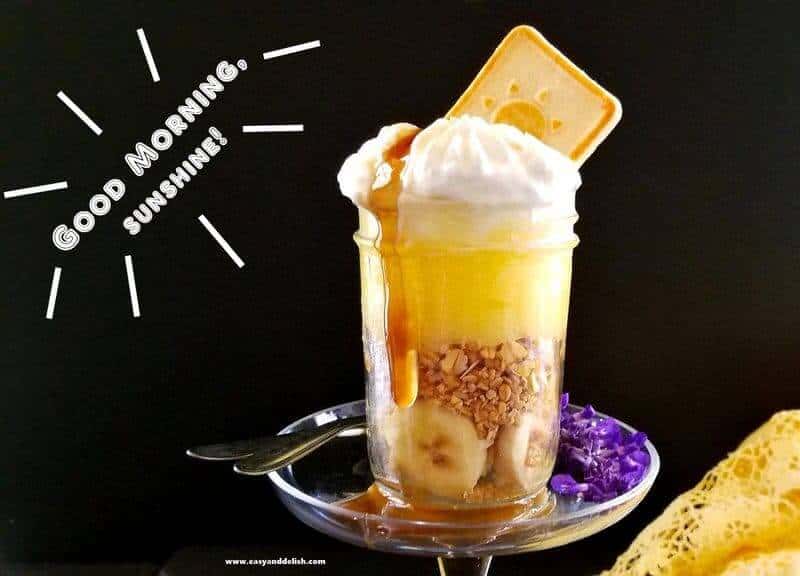 They fit pretty much anyone's lifestyle, especially those of us who are as busy as bumblebees.  I know that many folks don't have the luxury of sitting down and eating breakfast before heading off to work. Due to crazy traffic, many have to leave home earlier and earlier. Our Banana Pudding Breakfast Jars make a complete meal stored in a mason jar that requires no cooking at all, and can be prepared the night before and refrigerated, making it easy to transport to work or any other place that you go.
It consists of 4 layers of pure deliciousness: Sliced bananas, granola, prepared instant vanilla pudding, and Greek vanilla yogurt. To make it prettier, you can garnish the top with a cookie such as Nila, Oatmeal, Biscoff, or Chessmen Butter Cookies and drizzle with honey or maple syrup if desired. As you can see, our banana pudding breakfast jars are loaded with fiber, protein, vitamins, and antioxidants. This way, you can have a healthy, fulfilling, and yep, dessert-like meal… right in the morning! 😉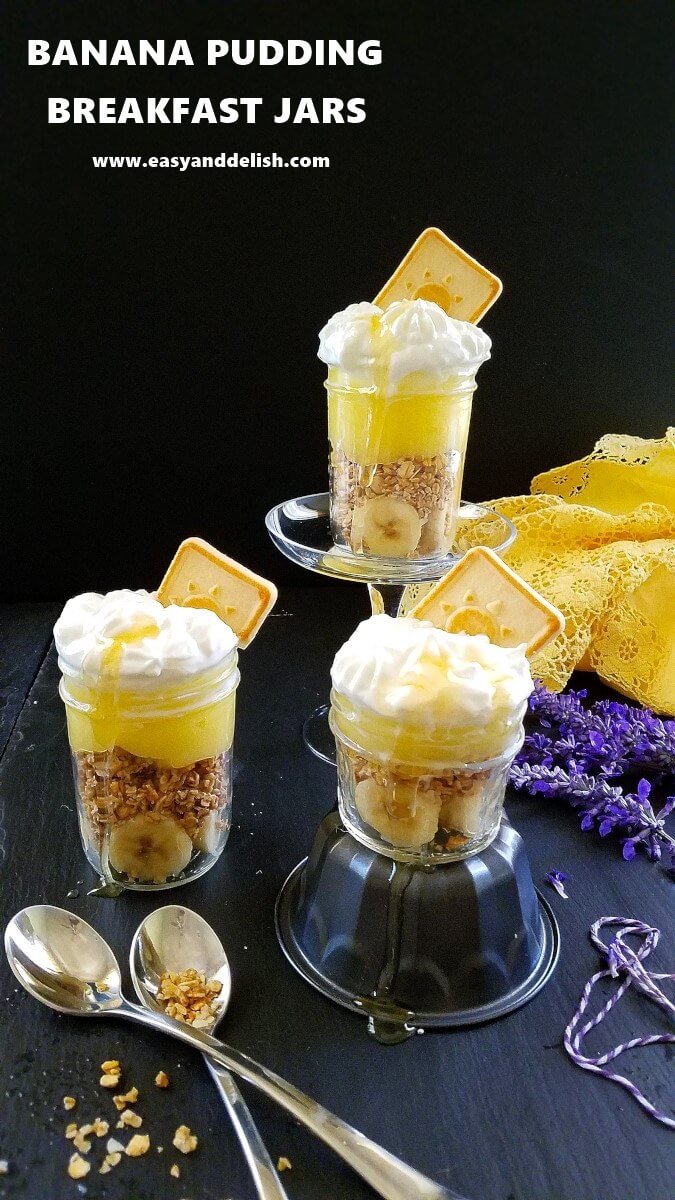 The only prep that one really has to do is to whisk the instant vanilla pudding mix with cold fat free milk for a couple of minutes and let it set for about 5 minutes. That's all! Then, itsis just a matter of layering the rest of the ingredients — sliced bananas, granola, and yogurt. It couldn't get any easier and quicker than this!
Another advantage is that you will be taking with you just the right-sized portion, avoiding overeating and excessive breakfasting/snacking. These are as good as our Brazilian-style healthy breakfast on the go.
Try them and fall in love!  Without a doubt, your waistline will thank you dearly…
Enjoy!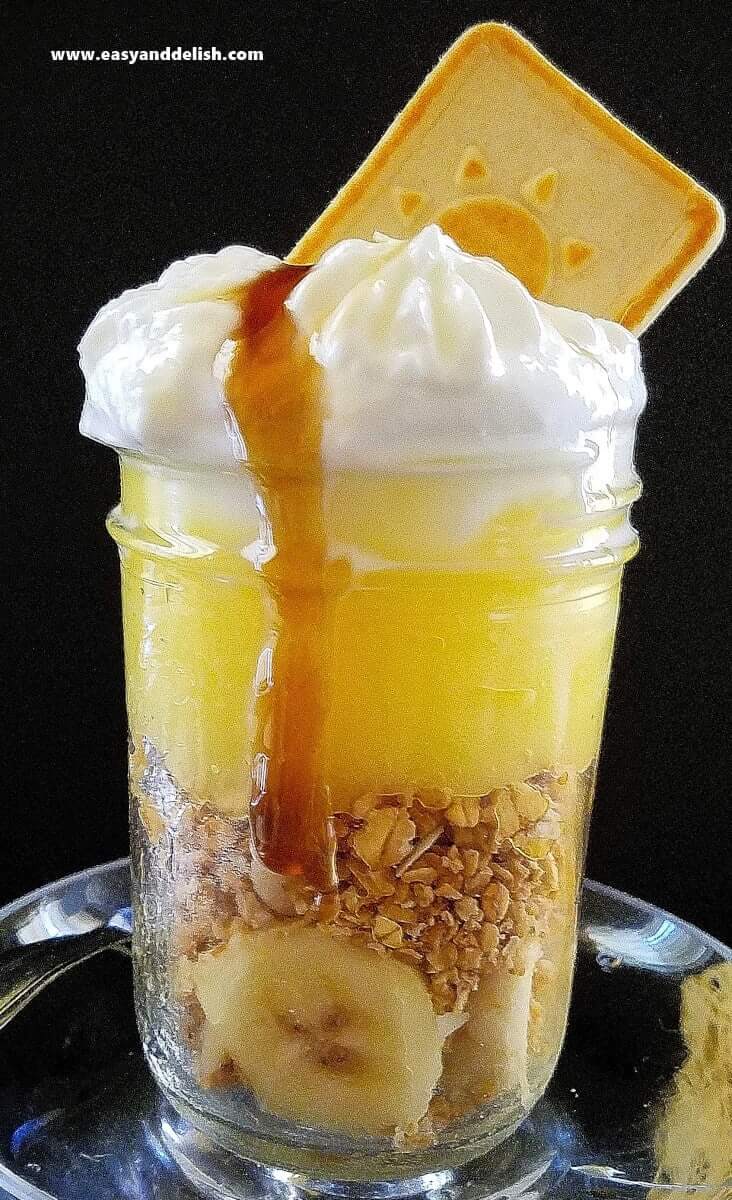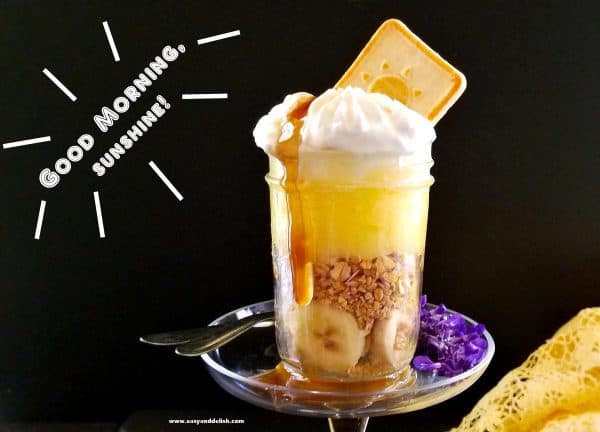 | | |
| --- | --- |
| | |
Place vanilla pudding mix into a large bowl. Whisk in cold milk for about 2 minutes or until obtaining a homogeneous mixture without lumps. Set aside.

Place about 4-6 slices of banana in the bottom of each 8-oz mason jar. Add about 1/4 cup granola to each jar. Spoon about 4-6 Tablespoons prepared vanilla pudding into each jar and top with about 1/4 cup yogurt. Refrigerate for at least 30 minute or until chilled. These can be prepared ahead and refrigerated overnight. Enjoy!
If desired, garnish banana pudding breakfast jars with Nila, Oatmeal, Biscoff, or Chessmen Butter Cookie and drizzle with honey or maple syrup.