Flambeed banana split drizzled with homemade dulce de leche sauce and chocolate sauce and garnished with chocolate thins.
So somebody gave me this idea of making a banana split. "OK!" I told myself.
But since a banana split by itself is something so simple (essentially "No recipe is necessary"), I decided to make my own unique Banana Split version.
Forget the fresh banana. Although I love this fruit very much, for my version I am flambeing. 🙂 Yes,  this is a French technique, but the warm bananas remind me of our fried bananas, besides adding a complexity and sauciness that our fried bananas don't have.
To incorporate a real Brazilian flair (and my own touch) into this American dessert, I am serving it with a popular, comforting flavor:  coffee ice cream as well as vanilla ice cream! Excuse me while I swoon!
If you are not a fan of coffee, you can replace the coffee ice cream with other ice cream flavors [e.g. vanilla, dulce de leche, chocolate, caramel, or caramel machiatto (Starbucks has a great one)].
To complement the flavor as well as for decoration, I am drizzling my Banana Split with both a dulce de leche (Doce de Leite) sauce and a chocolate sauce, as well as adding a chocolate top decoration for extra beauty. :):) I made it in a way that although this is mostly a cold treat, it's still comforting. 😉
Well, I hope you enjoy it as much as I did… I did not eat it, I devoured it… Yes, I have indulged myself, and up until the moment when I step on the scales, I won't "regret" it. Honestly, if I am going to eat a dessert, it had better be  good enough to make up for the extra hour of exercise that it will necessitate. Don't you agree?!
xx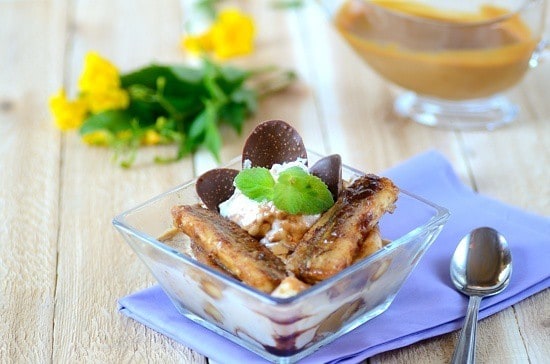 e
Flambeed Banana Split (Banana Split Flambada)
Ingredients
For the Bananas Flambee

3

tablespoons

unsalted butter

1/4

tablespoons

packed light brown sugar

1/8

teaspoon

ground cinnamon

1

vanilla bean

split lengthwise

1/2

cup

freshly squeezed orange juice

strained

1

pinch

Kosher salt

3

almost-ripe bananas

peeled, halved lengthwise and crosswise

1/4

cup

cognac

brandy, or dark rum

For the Ice Cream

9

scoops of coffee ice cream

homemade or store-bought (3 per bowl)**

** For this recipe

the coffee ice cream can be replaced with other ice cream flavors (e.g. vanilla, dulce de leche, chocolate, caramel, or caramel machiatto).

For the Dulce de Leche Sauce

Adapted from 'The Brazilian Kitchen' cookbook, page 149

1/2

cup

milk

1/4

cup

heavy whipping cream

1

tablespoon

unsalted butter

1/2

cup

store-bought dulce de leche

at room temperature

For the Chocolate Sauce

** Drizzles of a store-bought chocolate syrup or homemade chocolate ganache, recipe follows

3-4

tablespoons

heavy cream

2

ounces

good semi-sweet chocolate chips

For the Garnishes

Whipped cream

for serving

Any Chocolate Top Decoration e.g. shaved chocolate or Caramel Belgian Chocolate Thins.
Instructions
In a large skillet over medium heat, melt the butter. Stir in the sugar, and continue stirring until it dissolves. Add the cinnamon and the vanilla bean. Cook, stirring constantly, until the sugar caramelizes (1-2 minutes). Remove from heat and stir in the orange juice and a pinch of salt.

Return the skillet to medium heat, add the bananas, cut-side down, and cook until glazed and golden, 1 to 2 minutes. Remove from the heat and divide the halves into 3 bowls.

Add the brandy to the pan and return to medium heat (NB: in order avoid a fire, please add the cognac/brandy/rum away from the stove flame and then return the pan to the stove). Warm for a few seconds without stirring, then carefully tilt the pan or use a lit match near the sauce so that the brandy ignites. Let cook until the flame disappears. Spoon the sauce over the bananas. Top with the ice cream; then, with the dulce de leche sauce, and a drizzle of the chocolate sauce or syrup. Garnish with whipped cream and the chocolate top decoration. Serve immediately. Enjoy!

For the dulce de leche auce: In a heavy-bottomed saucepan, combine the first 3 ingredients and bring to a boil over high heat. Let boil for 60 seconds and remove the pan from the heat. Then, add the dulce de leche and whisk until smooth.

Return the pan to the stove. Over high heat, whisk the sauce constantly until it reaches a full boil. Reduce the heat to medium and cook for about additional 3 to 5 minutes, whisking constantly until the sauce thickens and becomes creamy.

Let cool down for about 10 minutes and spoon over the ice cream (1 tablespoon per scoop).

For the chocolate sauce: Cook the heavy cream and the chocolate chips in the top of a double boiler over simmering water until smooth and warm, stirring occasionally. Let cool down a bit and drizzle over the ice cream already topped with the dulce de leche sauce.
DID YOU MAKE THIS RECIPE?
Comment and rate the recipe. Also follow us on Pinterest at @easyanddelish for more delish recipes.