Beer braised chicken is an easy, creamy, and hearty stew that also takes bacon, mushrooms, vegetables, and herbs. So good!
Everything started when the apple of my eyes, my husband, asked me when I would  make  a chicken stew again.
Honestly, I had other dishes in mind to post here.  But I could not deny his request.  I bet he was thinking that I would make one of his favorite chicken stews:  Brazilian-style Chicken Stroganoff.  I took another route though. 😉 Why?  I do love to challenge his palate.   Ah, and because I get bored cooking exactly the same thing over and over again.
He hates beer.
So Frango na Cerveja (Beer Braised Chicken) was what I decided to make instead.  It is not a traditional Brazilian dish, but it is becoming more and more popular in Brazil nowadays.  Since I did not have the recipe for it, I searched for it on the Internet.  What a waste of time!
You have to know something important about me.  What I would not cook in my kitchen, I would never post here.  The majority of the recipes out there consisted of only 3 ingredients: chicken legs, onion soup, and dark beer.  With all due respect to those who would use the above recipe: not in my kitchen.  I think there is a difference between simplicity and simplicity.
Because of the lazy recipes that I found, I almost gave up on the idea of trying to make beer ,  when suddenly a lightbulb came on.  I remembered that one of the first dishes that I made for my husband when I was attending culinary school was Coq au Vin.  Oh, how he loved it!  I was enchanted to see his big smile when I served that dish for the first time (and I of course enjoyed exercising my expensive academic skills).  😉
"So why not make beer braised chicken using an adaptation of my Coq au Vin recipe?" I thought with a twinkle in my eye.  Of course, I made the necessary modifications to the traditional recipe.  Well,  I have no regrets for creating a dignified version of beer braised chicken, something that one might pay for to eat in a good restaurant.  The difference is that  in a restaurant, this dish would have been plated accordingly.
Truly, this stew lacks nothing — especially in terms of flavor…. And the apple of my eyes loved it.  Priceless!!!
Enjoy!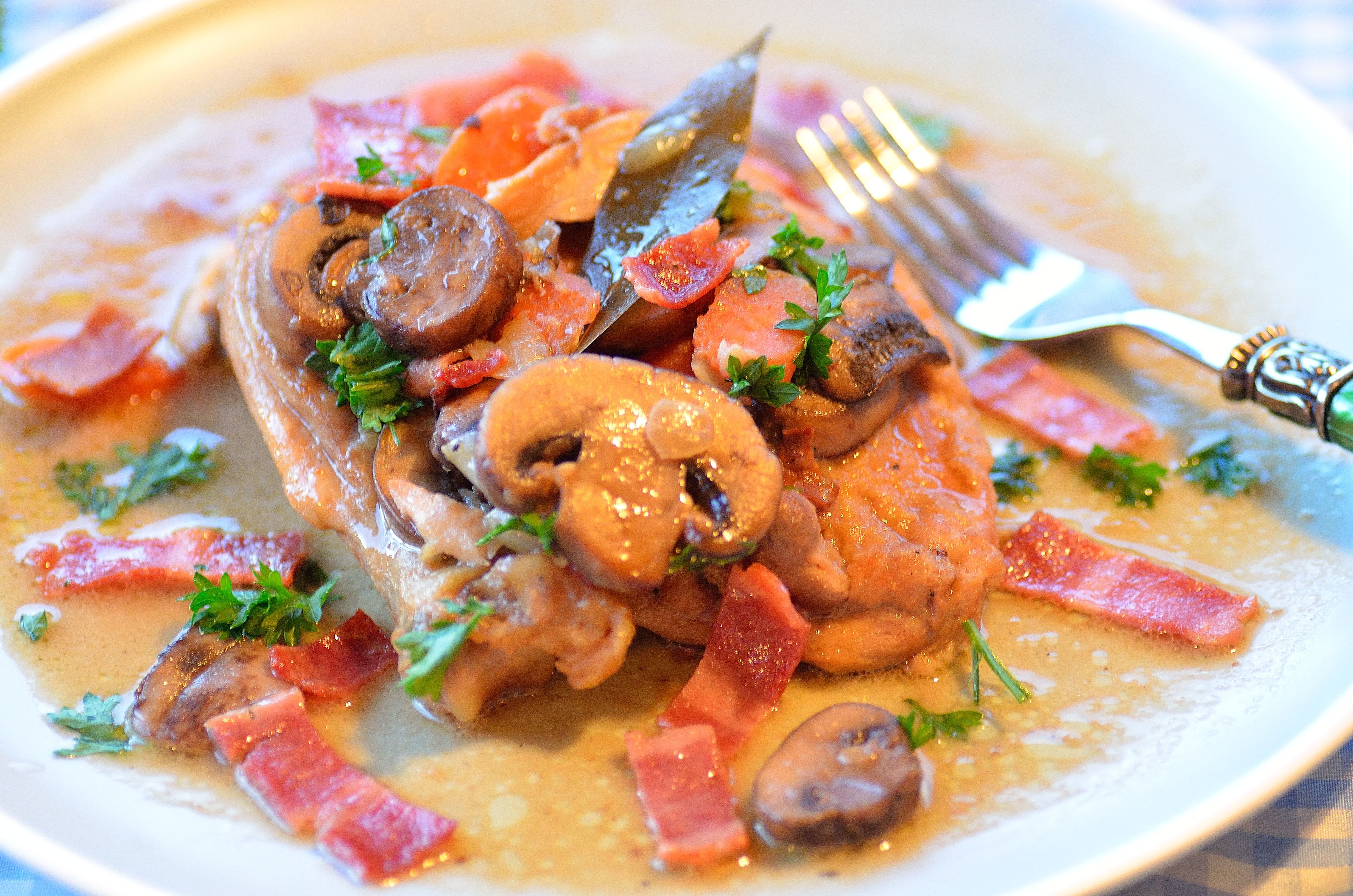 Beer Braised Chicken (Frango na Cerveja)
Beer braised chicken is an easy, creamy, and hearty stew that also takes bacon, mushrooms, vegetables, and herbs. So good!
Total Time
1
hour
30
minutes
Ingredients
6

strips

thick-cut smoked bacon

cut into ¼-inch pieces (I used turkey bacon, so I had to increase the amount of oil slightly)

1

shallot

peeled and small diced

8

ounces

baby portabella mushrooms

sliced, about 220 gr.

2-1/2

pounds

chicken leg quarters

about 1 kg

Salt and freshly ground pepper

All-purpose flour

for dredging

2 - 3

tablespoons

vegetable oil

24

ounce

dark or brown ale beer

about 700 ml

1-1/2

cup

chicken broth

1

cup

pearl onions

peeled

2

large carrots

peeled and sliced

2

tablespoons

ground mustard

4

tablespoons

packed dark brown sugar or honey

to balance the bitterness of the beer

3

bay leaves

1

string fresh thyme

1

tablespoon

tomato paste

1/4

cup

heavy cream

2

tablespoons

fresh parsley

chopped
Instructions
Heat a large dutch oven or heavy-bottom pan over medium heat. Add the bacon and cook until browned and crisp. Remove with a slotted spoon and transfer to a paper-towel-lined plate to drain.

Add the shallot. Sauté for about 1 minute. Then, add the mushrooms and sauté for about 2 minutes. Remove from pan with a slotted spoon and place on a plate.

Season the chicken legs with salt and pepper and dredge in flour, shaking off the excess. Add the oil to the bacon drippings. Add the chicken legs in batches and cook over medium-high heat until golden on the bottom (approximately 5 minutes), then flip and sear the other side for about 1 minute.

Next, add the beer, the broth, onions, carrots, mustard, sugar or honey, bay leaves, and thyme. Stir well. Cover and simmer over low heat for 60 minutes. Remove cover, add the tomato paste, and continue to simmer for 15 minutes to allow the sauce to reduce a bit.

Discard the bay leaves and thyme and stir in the heavy cream, bacon, and parsley. Serve hot with a hard crust bread or with polenta, which is greatly esteemed in Brazil.