Bife acebolado (pan-fried steak with onions) is one of my husband's favorite Brazilian dishes... from my Aunt (Tia) Graça!!!! He has been asking me to post this recipe here for almost 2 years. 🙂  I finally got a word with my aunt by phone past week, who kindly explained the details of her bife acebolado recipe -- a five-ingredient, super quick, homey, and delicious steak-and-onion dish that has won over many faithful fans in the family, including myself!!! Talking about my aunt's bife acebolado recipe always transports my thoughts to her paradise (mine as well): Porto de Galinhas Beach!!! She owns a house there, and divides her time between Porto de Galinhas Beach and Recife, the capital of my home state of Pernambuco.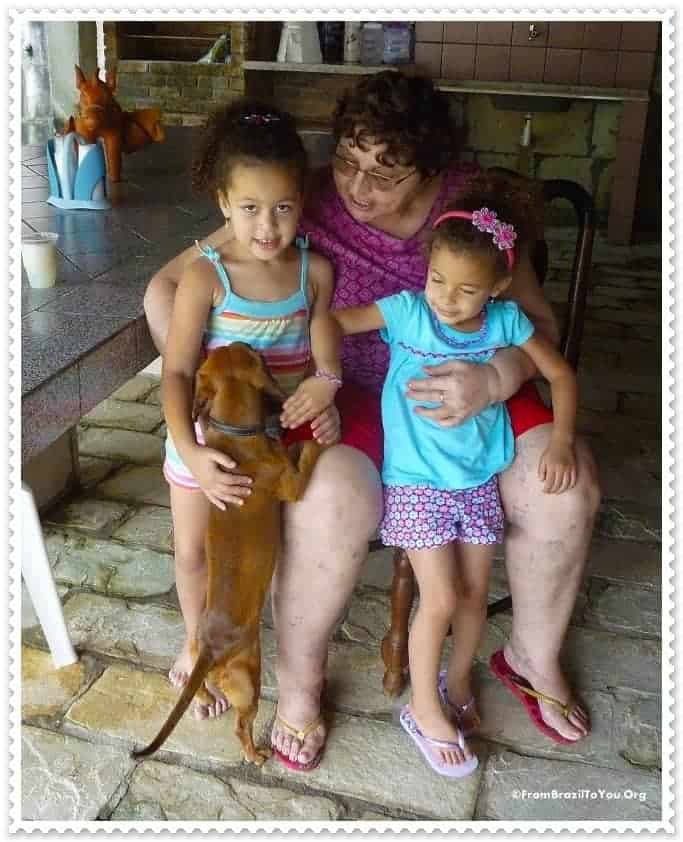 Tia Graça's bife acebolado recipe in its original form does not incorporate caramelized onions. Even though I tend to prefer my onions caramelized, I decided to post my aunt's recipe as it is. After waiting patiently for so long, I think my husband deserves to have a taste of a true favorite!!! I also know that many readers of mine appreciate quick, authentic recipes, and would not have the time to spend 45-60 minutes just to caramelize the onions.
Bife acebolado can either be accompanied by rice, beans, and a fresh salad (my aunt's way), be served up  simply with shoestring potatoes or French fries, or made into a sandwich. It's really up to you! Since we generally do not eat meats for breakfast in Brazil, bife acebolado is served at lunch or dinner time. But if you enjoy eating steak for breakfast, I won't stop you! 🙂  That could be a great way to start your day...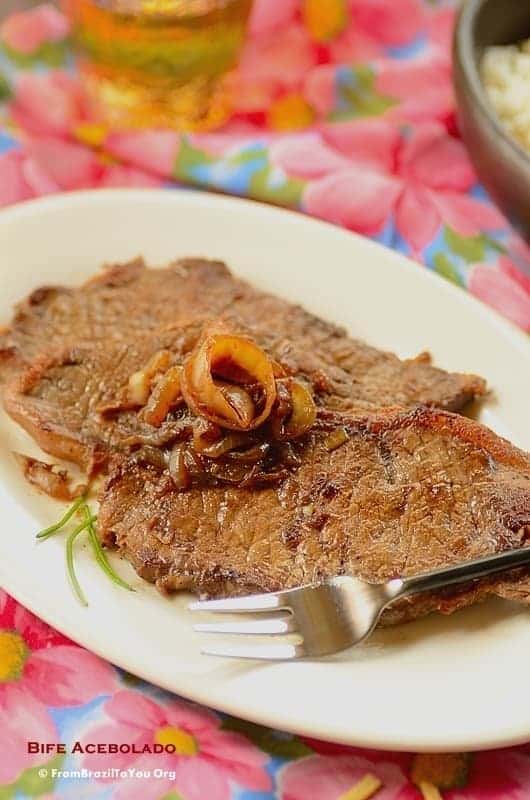 Now, come travel a little with me through some images of Porto de Galinhas, considered one of the best beaches in Brazil...with its lush tropical views, jangadas (traditional sailboats), typical handicrafts,  lively nights, and of course, its tantalizing tropical fruits (such as cajá, depicted below)...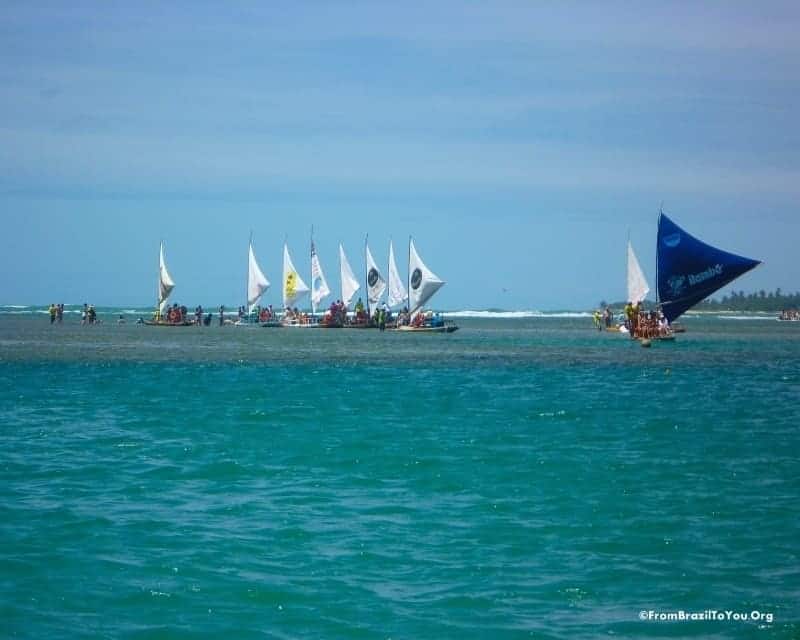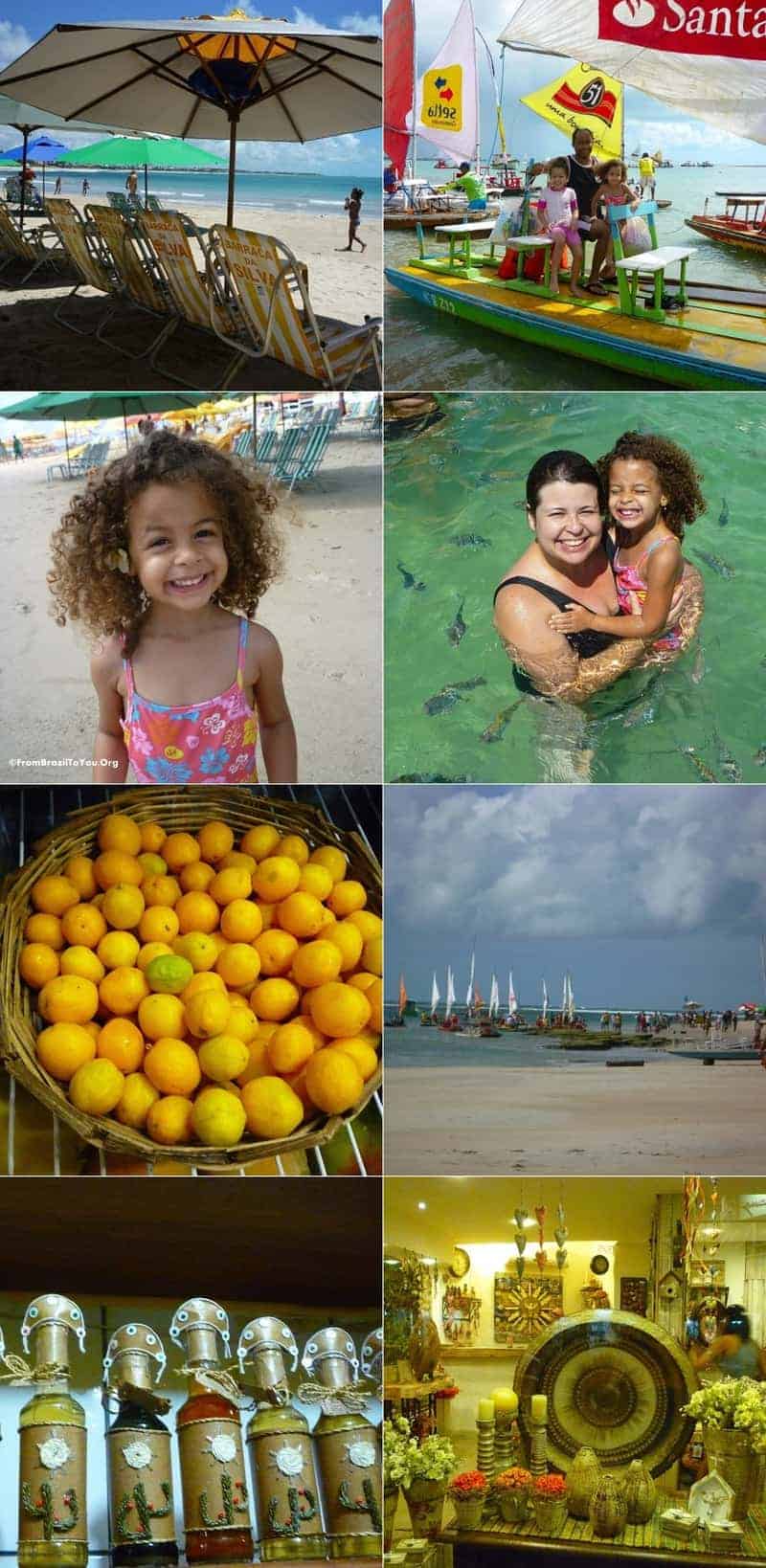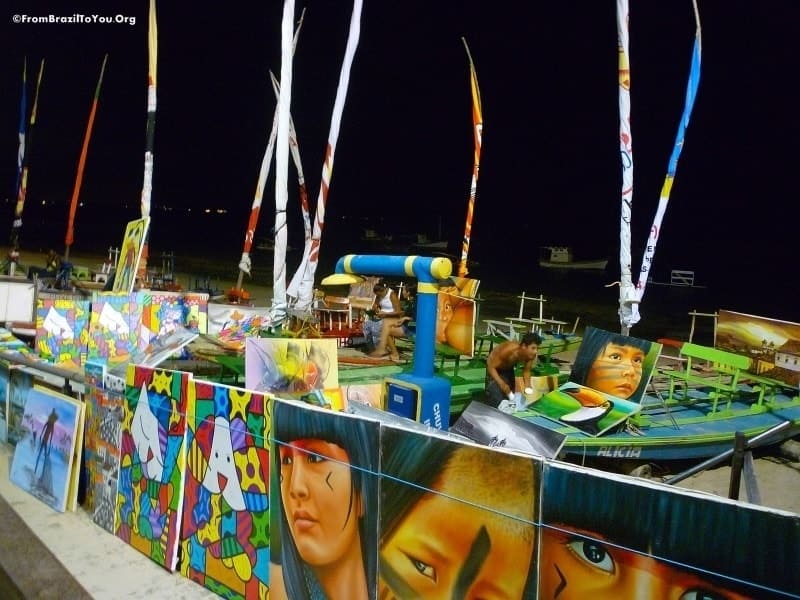 ... and also curiosities like this natural reef pool, in the shape of the map of  Brazil...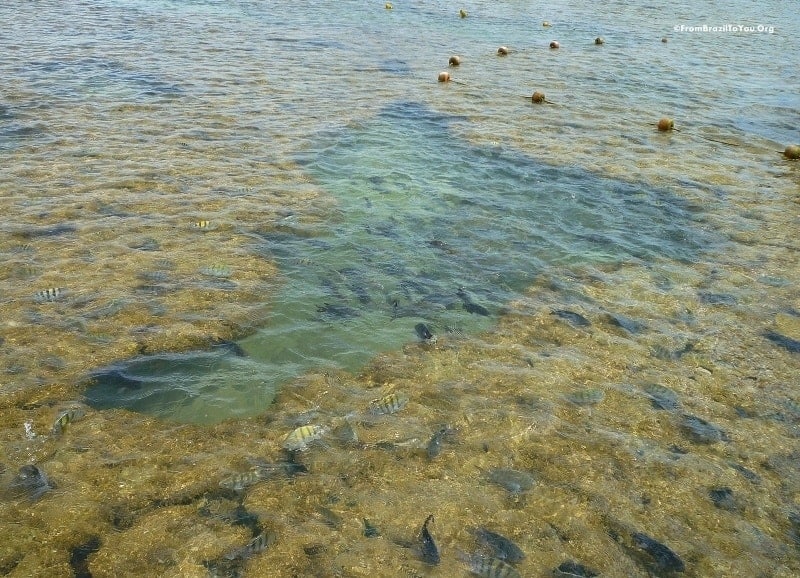 ... A true paradise, wouldn't you agree?
Well, enjoy the view, and Tia Graça's bife acebolado!!!
xx
Tia Graça's Bife Acebolado (Aunt Graça's Pan-Fried Steak and Onions)
A quick, easy, homey, and delicious Steak-and-Onion recipe...
Ingredients
1

lb

New York strip steak

thin cut (let steaks come to room temperature 30 minutes prior to cooking)

1-½ to 2

teaspoons

salt

Freshly squeezed juice of 1 lime

1

teaspoon

ground black pepper

optional

2

tablespoons

olive oil

divided

1

slice

large yellow onion

thinlyinto rings and separated
Instructions
Cover both sides of each New York strip steak (mine were 3 steaks, totalling 1lb) with a sheet of plastic wrap. On a flat surface, beat each side (not too hard!!) with a meat mallet to tenderize the meat. Note: Use the side of the mallet with the spikes on it.

Season all the steaks on both sides with salt, lemon, and pepper (optional). Cook immediately, or let seasoned steaks rest for 10-15 minutes at room temperature to absorb seasonings. It's up to you!

Heat a large, heavy-bottomed frying pan (don't use nonstick) over high heat. Place the steaks in the pan (single layer) and let cook undisturbed for about 2-4 minutes. Flip the steaks using tongs or a spatula and cook for additional 2-4 minutes (medium to medium-well). Transfer the steaks to a serving plate and let rest for at least 5 minutes before serving.

To cook the onions: In the same pan where steaks were just cooked, heat 1 tablespoon of oil over medium heat (large burner) and add the onion rings. Cook for about 5 minutes (season with a pinch of salt after cooking for an initial 2-3 minutes), stirring constantly. My Aunt likes to place one single steak on top of the onions and let cook undisturbed on medium heat for about 1 minute. According to her, this helps the onions to absorb the rich steak flavor. Serve onions on top of the steaks and enjoy!
Recipe Notes
If you would like to have your thinly sliced, onion rings caramelized, please follow only steps 2 and 3 of this recipe.
** Nutrition labels on easyanddelish.com are for educational purposes only. This info is provided as a courtesy and is only an estimate, since the nutrition content of recipes can vary based on ingredient brand or source, portion sizes, recipe changes/variations, and other factors. We suggest making your own calculations using your preferred calculator, based on which ingredients you use, or consulting with a registered dietitian to determine nutritional values more precisely.
Please note that health-focused and diet information provided on easyanddelish.com is for educational purposes and does not constitute medical advice, nor is it intended to diagnose, treat, cure, or prevent disease. Consult with your doctor or other qualified health professional prior to initiating any significant change in your diet or exercise regimen, or for any other issue necessitating medical advice.
DID YOU MAKE THIS RECIPE?
Comment and rate the recipe. Also follow us on Pinterest at @easyanddelish for more delish recipes.
My Aunt's bife acebolado... Bife acebolado!