Hello, dearies!!!! The famous naturally gluten-free Pão de Queijo (both the traditional and the quick versions) were one of the first recipes that I shared with you. Remember??? Well, our recipe for today is pão de queijo– but with a twist… Yes, we'll be making the ridiculously easy, super aromatic, puffy Brazilian Cheese Rolls with Kalamata, Basil, and Feta or Brazilian cheese rolls with a Mediterranean flair. 🙂 Excited? Oh, I totally am!!!
These rolls are excellent both for breakfast or a snack, and can be accompanied by a small cup of coffee (cafezinho). They are also very easy and quick to make!! The additional ingredients – kalamata olives, basil, and feta cheese –  make these already delicious cheese rolls something superb.
If you are on a gluten-free diet for any reason, these are the ideal rolls for you because these cheese rolls are naturally gluten-free. They are made from manioc starch, also known as tapioca flour, which is marketed under different brand names. It can be either purchased in Latin or Asian markets,  online, or at your local supermarket (Bob Red Mill tapioca flour).
Although Brazilian cheese rolls are traditionally made with either Minas cheese or Parmesan cheese, I will be using Parmesan and feta cheeses.
I love the plain pão de queijo or Brazilian cheese rolls, but I confess that I enjoy adding new flavors. You know how I love to play in the kitchen. I am also following a Brazilian trend: if you go to Brazil, the plain pão de queijo or cheese rolls is most certainly not the only thing that you will encounter. There are basil cheese rolls, roasted bell pepper cheese rolls, garlic cheese rolls, and so on. Brazilians are creative and love flavor. I hope do you, too.
Well, ready? Oh, I can already smell my wonderful rolls baking in the oven!
Bom apetite!!!
xx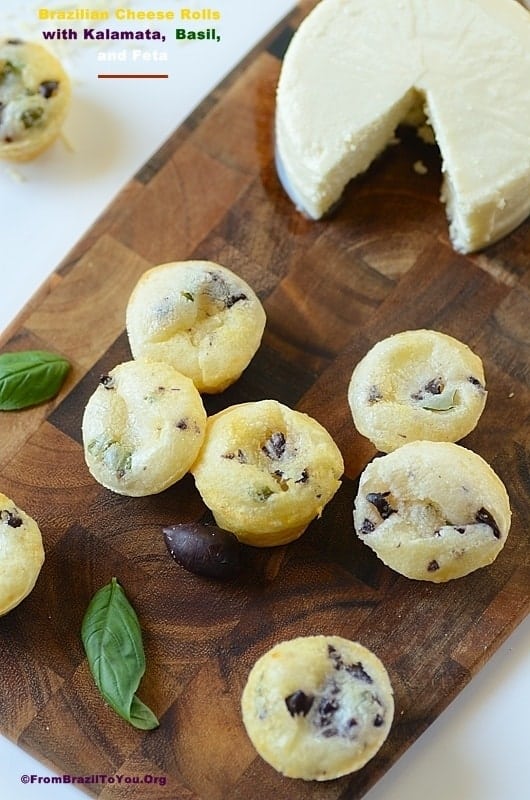 Brazilian Cheese Rolls with Kalamata, Basil, and Feta
Ingredients
1/3

cup

vegetable oil

1

large egg

at room temperature

2/3

cup

milk

(slightly warm, preferably)

1-1/2

cups

tapioca flour or manioc starch

1/4

cup

grated Parmesan cheese

1

teaspoon

salt

1/4

cup

feta cheese

crumbled

3

tablespoons

pitted

chopped kalamata olives

2-3

tablespoons

fresh basil

chopped
Instructions
Preheat oven to 400°F. Grease a mini-muffin tin and set aside.

Blend all the ingredients (except the feta cheese, kalamata olives, and basil) in the blender until smooth. Use a spatula, if needed, to scrape down the sides of the blender so that everything gets blended well. Stir in the crumbled feta cheese, chopped olives, and basil with a spatula or wood spoon.

Pour mixture into the greased tin and wipe clean any excess or drips. Bake in the oven for 13-15 minutes or until the whole batch is puffy and just lightly golden. Remove cheese rolls from oven and let cool a bit on a rack for a few minutes before serving. Serve cheese rolls warm by themselves, or with savory spreads or butter.
DID YOU MAKE THIS RECIPE?
Comment and rate the recipe. Also follow us on Pinterest at @easyanddelish for more delish recipes.