Papaya Cream with Cassis is a healthy, quick, delicious, and refreshing Brazilian dessert made from blended ice cream and papaya,  served with cassis (black currant liqueur). Papaya is a fruit native to Central America, but Spanish and Portuguese explorers brought it to many other tropical and subtropical lands to which they journeyed, including India, the Philippines, parts of Africa, and Brazil.
Brazil presently has become one of the most important growers and exporters of papaya. The largest plantations are found in the state of Espírito Santo and in the northeast region of the country. Because of the climate of these areas, papaya can be produced, harvested, and offered to consumers year-round.
The Brazilian papaya has a soft and very aromatic pulp, with colors ranging from orange to salmon, depending on the degree of ripeness. The skin is normally thin, smooth and fairly tough, sticking to the pulp,  with a dark-green color that turns orange-yellow as the fruit ripens. Golden, Formosa, and Calimosa are its most common varieties.
Healthy, low in calories and a rich source of vitamins, papaya is one of the most easily digested fruits. In Brazil, it is not only often consumed in its natural state, but also incorporated into ice creams, juices, fruit drinks, savory and sweet salads, smoothies, compotes (made with green papaya), and dessert creams.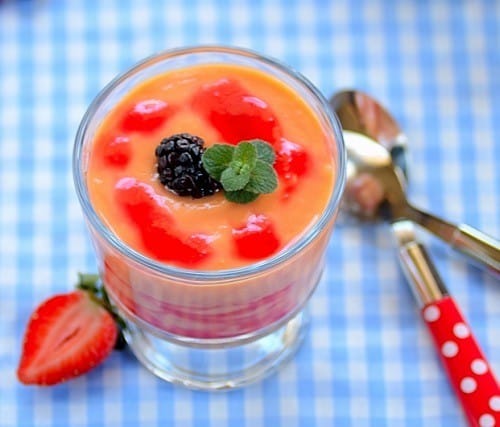 The healthy, delicious, and refreshing papaya cream with cassis liqueur (or with berry coulis) is the recipe that I have for you today, which I am a fan (as much as I am of our avocado cream)!!!
xx
Papaya Cream with Cassis or Berry Coulis
A healthy, quick, and delicious dessert recipe!!!
Ingredients
For the Papaya Cream:

2

cups

ripe papaya

peeled, deseeded and cubed

2

scoops

good quality vanilla ice cream

(for both vegetarian and dairy-free versions, use a soy-based ice cream; if you are on a diet or has diabetes, use a sugar-free ice cream)

2

tablespoon

cassis cream or berry coulis

or simply serve berries on top of the papaya cream., liqueur made of black currants, recipe follows

Note: If you prefer to use the coulis instead of the liqueur, make it first according the recipe below and refrigerate.

For the Berry Coulis:

⅓

cup

blackberries

fresh or frozen

⅓

cup

raspberries

fresh or frozen

⅓

cup

strawberries

fresh or frozen

4

tablespoon

powdered sugar

or sugar substitute ideal for cooking

1

cup

water

juice

½ lemon
Instructions
To make the papaya cream:

In a blender, blend well the papaya with the ice cream until obtaining a creamy mixture. Reserve.

Pour 1 tablespoon cassis cream liqueur or berry coulis into each tall chilled dessert cup, swirl, and top with the papaya cream (or simply serve the plain papaya cream with berries on top). Decorate and serve immediately.

To make the berry coulis:

Place the berries, sugar or sugar substitute, and water into a saucepan. Bring to a boil, then simmer for 5 - 10 minutes or until the fruits are soft. Stir in the lemon juice, remove from heat, and cool slightly.

Purée in a blender or food processor; then, strain through a sieve, rubbing it through with the back of a ladle or spoon. Refrigerate.
** Nutrition labels on easyanddelish.com are for educational purposes only. This info is provided as a courtesy and is only an estimate, since the nutrition content of recipes can vary based on ingredient brand or source, portion sizes, recipe changes/variations, and other factors. We suggest making your own calculations using your preferred calculator, based on which ingredients you use, or consulting with a registered dietitian to determine nutritional values more precisely.
Please note that health-focused and diet information provided on easyanddelish.com is for educational purposes and does not constitute medical advice, nor is it intended to diagnose, treat, cure, or prevent disease. Consult with your doctor or other qualified health professional prior to initiating any significant change in your diet or exercise regimen, or for any other issue necessitating medical advice.
DID YOU MAKE THIS RECIPE?
Comment and rate the recipe. Also follow us on Pinterest at @easyanddelish for more delish recipes.
Papaya cream with cassis or creme de papaya com cassis is healthy and refreshing... Enjoy our papaya cream with cassis! I am a fan of papaya cream with cassis...