I love hearty and cream-based soups with great contrasting flavors. Because of this, our recipe for today is the infamous Buffalo chicken-sweet potato chowder. Of course, these are not flavors typical of my home country, Brazil, but rather are from my American table. As a Brazilian who has been living for approximately 11 years in this country, I have learned to enjoy many American dishes.
Our dish is none other than a combination of two different dishes - buffalo chicken wings and chowder-- but with many contrasting flavors that wind up really complementing one another well: spicy, sweet, sour, and salty.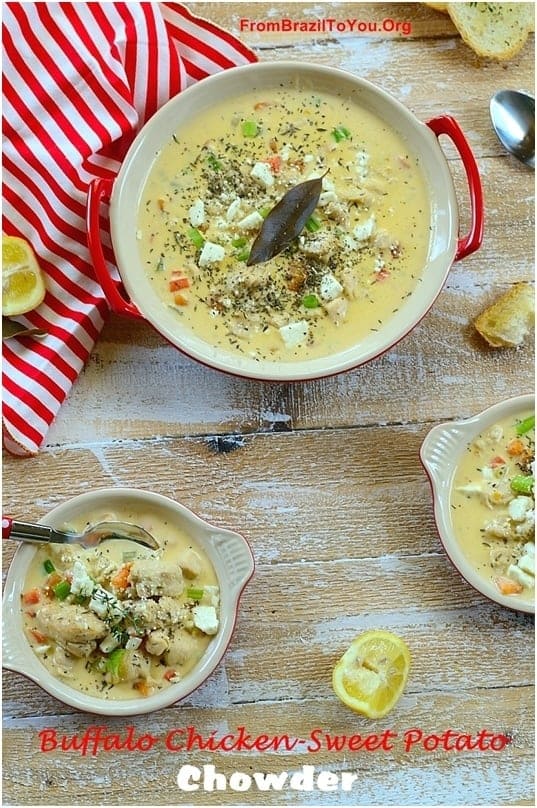 For those that have never visited the United States, Buffalo chicken wings are a spicy appetizer (or bar food) served along with celery sticks and blue cheese dressing or ranch dressing for dipping. The dish was created in the city of Buffalo, New York... And chowder? A chowder is a chunky potato and milk/cream-based, thickened soup that is often eaten with saltine crackers. The most well-known chowder here is New England clam chowder.
Since I am a fan of both dishes, I decided to combine both into a single dish. The result? A very happy husband, who usually is not a fan of chowders at all, but became a fan of this one. 🙂 Yay!!!
Enjoy...
xx
Buffalo Chicken-Sweet Potato Chowder
Serves 4
Segment: From My Table To Yours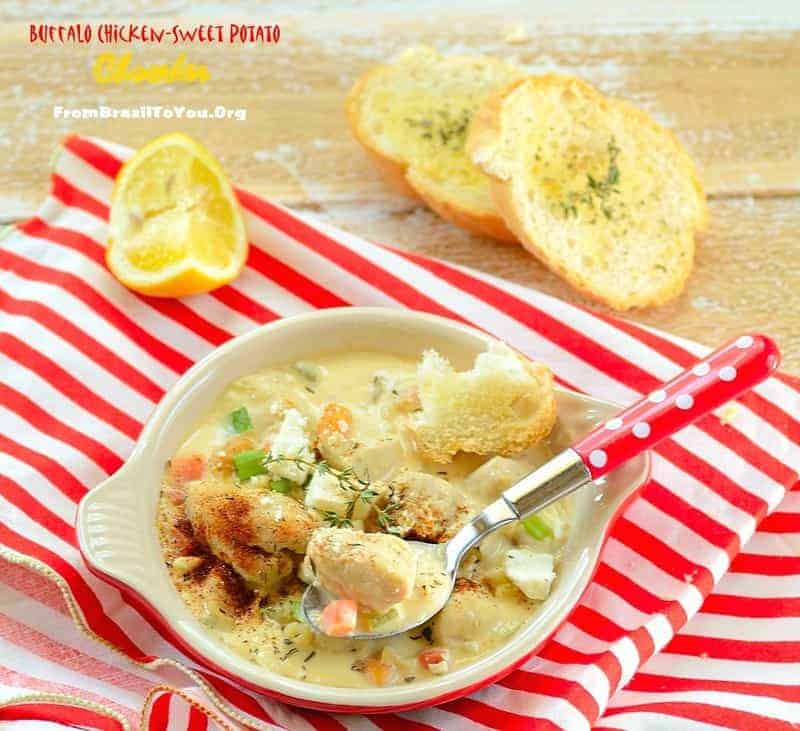 Ingredients:
3 tablespoons vegetable oil, divided
1 medium yellow onion, small diced
2 stalks celery, small diced
1 large carrot, small diced
1 pound chicken, cubed into bite sized pieces
3 cloves garlic, minced
A good pinch of cayenne pepper (if you are not a fan of heat, skip it)
⅓ cup dry white wine
3-¼ cups chicken broth or stock, divided
2 medium sweet potatoes, peeled and large diced (these give the chowder a mildly sweet taste. But they can be replaced by any variety of boiling potatoes)
1 bay leaf
½ tablespoon of fresh thyme
¼ cup flour (rice flour for gluten free)
1-2 teaspoons salt (I used 2 teaspoons in mine)
A pinch of ground black pepper
¾ cup heavy cream (for a dairy-free version, use a dairy-free milk such as rice or coconut milk)
4 tablespoons green onions, chopped
Juice of ½ freshly squeezed lemon
Sour cream or crumbled blue cheese to serve on top (or just crumbled saltine crackers or croutons)
Directions:
1. In a large non-stick saucepan, heat 2 tablespoons of oil over medium-high heat, add the onion, carrots and celery and cook until tender (about 7 minutes), stirring occasionally. Remove vegetables from the pan with a slotted spoon and set aside.
2. Add the remaining 1 tablespoon of oil and then the chicken, and sauté until golden brown, about 5-7 minutes. Add the garlic and cayenne pepper, and let cook for about 1 minute, stirring occasionally. Return sauteed vegetables to the pan. Add the wine and let evaporate until almost totally absorbed. Stir in 3 cups of chicken broth, the sweet potatoes, bay leaf, and thyme. Then, reduce heat to medium-low, and let simmer until potatoes are tender (approximately 12-15 minutes). Season with salt and pepper.
3. In a small bowl, dissolve flour in the remaining ¼ cup of broth and add to the mixture, stirring constantly until chowder has thickened, approximately 5 minutes. Stir in the heavy cream. Remove from heat, sprinkle chopped green onion, and stir in the lemon juice. Serve immediately with a dollop of sour cream or crumbled blue cheese on top. The chowder can also be accompanied by saltine crackers, biscuits, or toast.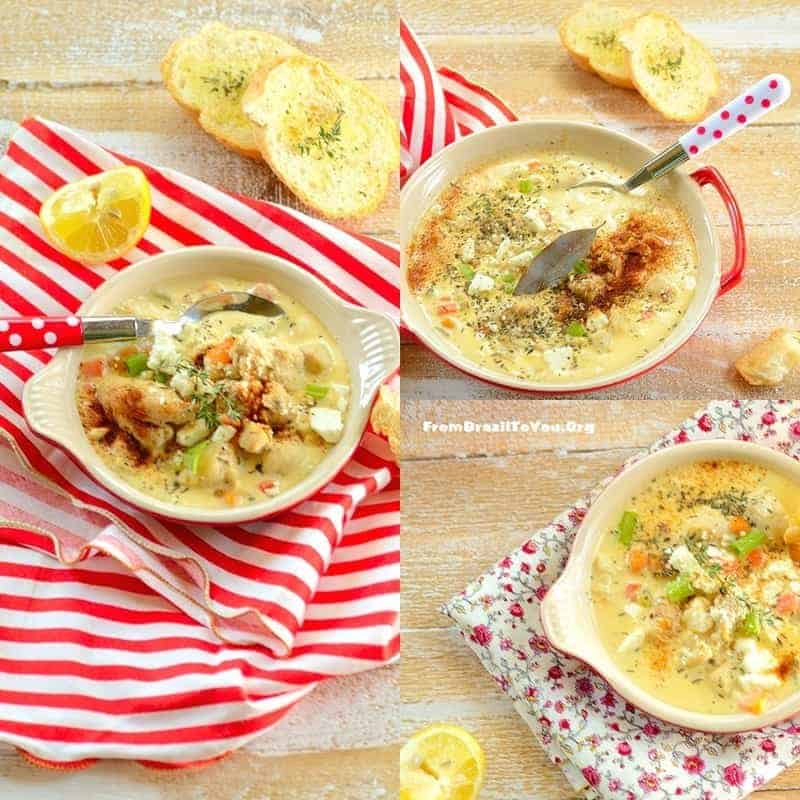 You might also enjoy: 
NEVER MISS A YUMMY RECIPE!! SUBSCRIBE BY EMAIL: