The recipe that I am about to present today is a staple in my state of Pernambuco and in several other states of the Northeastern region of Brazil: Carne de Sol com Queijo de Coalho. It is so beloved that it has become famous all over Brazil.
It's known in Portuguese as carne de sol (which can be translated as sun-cured beef), or occasionally as carne de sereno (dew-mist beef). It received these interesting names because a long time ago - before refrigeration was available - meat was salted with 5.5 to 6% of its weight in salt and placed outdoors to be cured and to tenderize during the night. This was in an area of Brazil that was hot during the day and refreshingly colder at night, just like in a desert climate. The meat would receive the first cool rays of the sun in the morning, and then be brought inside for cooking. In contrast,  nowadays for sanitary reasons the meat is kept salted under refrigeration.
Now there is one thing that I feel I must mention: when it comes to making carne de sol, forget coarse salt-- in Brazil, this is reserved solely for making churrasco (Brazilian barbecue). One of the most unfortunate, glaring mistakes that I have often noticed in many carne de sol recipes taken from the Internet is that they call for the use of coarse salt, which is not the authentic method of preparation. Don't let them deceive you! Here you will find the correct recipe and technique, along with detailed directions.
Well, carne de sol is generally served with a typical semi-hard cheese called queijo de coalho (rennet cheese), along with other side dishes (e.g. boiled cassava, pirão - a thick gravy made mostly from milk, coalho cheese, and coarse cassava flour. I personally enjoy carne de sol served with a fresh salad. Since coalho cheese is not readily available here in the US, I have substituted Halloumi cheese from Cyprus. Although Halloumi is made from a mixture of goats' and sheep milk and coalho is made from cow's milk, both cheeses are similar in taste and texture, and are both set with rennet. They also both have a high melting point, and thus can easily be pan-fried and grilled. But since Halloumi is much saltier than coalho cheese, it must undergo preparation by de-salting before grilling.
Well, I hope you appreciate our carne de sol as much as I do.
Enjoy!
xx
Brazilian Sun-Cured Beef topped with Grilled Coalho Halloumi Cheese
(Carne de Sol recipe was adapted from Chef Wanderson Medeiros from Carne de Sol do Picuí Restaurant)
Serves 8
Segment: Brazilian cuisine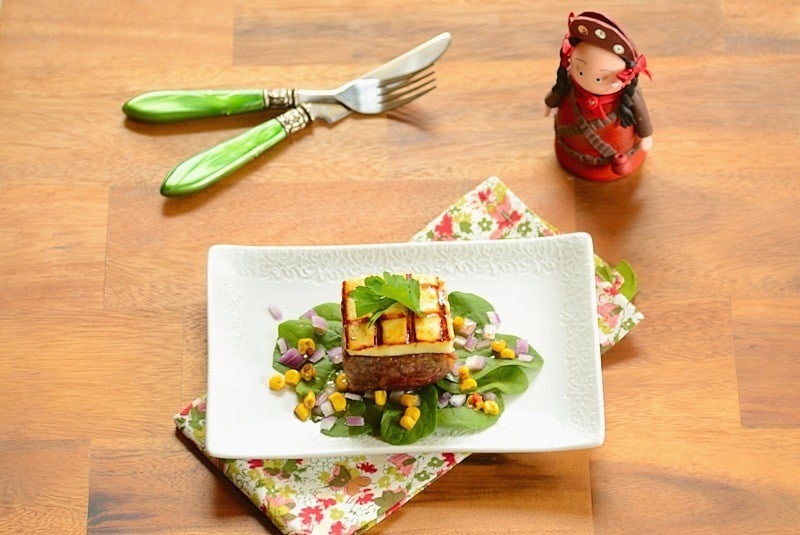 Ingredients:
35 ounces (about 1 kg) sirloin or rump beef (I used a cheaper cut called bottom round roast; in this case, for best results please use a generous  pinch of tenderizer mixed with the salt)
2 ounces (about 55 g) fine salt (always use 5.5 to 6% of the meat weight of fine salt)
6.8 fluid ounces (200 ml) clarified or unsalted butter, melted
8 slices Halloumi cheese, squared*
* Halloumi cheese is available in supermarkets like Whole Foods and Central Market, as well as at Middle-Eastern supermarkets.
Directions:
1. If you prefer a leaner cut of meat, remove the thin layer of fat which would be crispy and a bit chewy after cooked. Salt half of the meat with half of the salt and massage well in order for the salt to penetrate.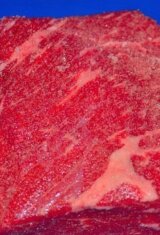 2. Place in a plastic bowl and refrigerate for 4 hours in the bottom shelf of the refrigerator, which is less cold. Then remove the meat from the refrigerator and salt the other half of the meat (only the red areas) with the other half portion of fine salt.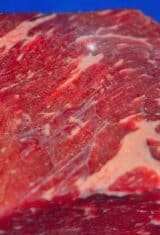 3. Refrigerate again, but this time for 12 hours. Water will be drawn out of the meat as you can see in the picture. After this time, put just the meat in a plastic bag and freeze for 5-8 days.**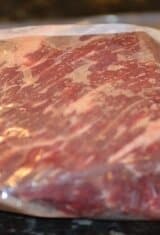 4. Let the meat thaw completely in the refrigerator. Put the meat in a plastic bowl and fill with enough water to cover the meat. Leave for 30 minutes, drain the water and repeat the process twice more. While the meat is being de-salted, de-salt the cheese as well in a separate plastic or ceramic bowl filled with enough water to cover the cheese. Let sit for 1 to 1-½ hours total, draining off the water and refilling the bowl with fresh water every 30 minutes during this period.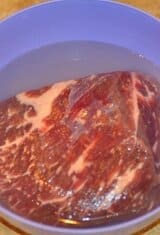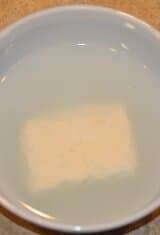 5. Pat dry the cheese and reserve. Pat dry the meat as well with a paper towel or a clean cloth. Divide the piece of meat into 4 thick slices (cut against the grain of the meat) and then cut each of these slices cut in half so that they are in the form of large squares or cubes, trimming excess if necessary (these trimmed little pieces of meat can be cooked along with the other large pieces). In a skillet over medium-high heat, melt half of the butter and then place the 8 large cubes of carne de sol into the skillet. Brown the 6 sides of the sliced carne de sol (about 1 minute on each side).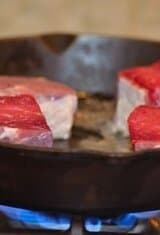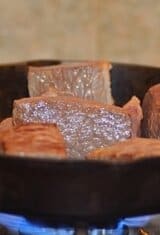 6. Pour the remaining half of the butter on top of the meat and finish cooking in a preheated oven at 350 degrees F (180 ° C) for approximately 4 to 5 minutes (rare to medium) or for about 7 to 9 minutes (well done).
7. While the carne de sol is cooking, grill the slices of cheese on both sides in a greased cast iron grilling pan over medium-high heat. Once the meat is cooked, place on a plate and top each of the carne de sol cubes (steaks) with one slice of grilled cheese and serve immediately.
** This process of salt-curing is used to preserve the meat with salt, which penetrates into the meat and draws out water from it. The water in which it sits dissolves the salt, which gets carried into the meat via osmosis. Salt relaxes the protein fibers of the meat, tenderizing it and adding flavor.