An easy, economical, and flavorful hot chicken with cilantro chimichurri sauce prepared in the oven to be enjoyed all year round.
I was watching Giada De Laurentis last Friday afternoon on the Food Network Channel. Among other dishes, she prepared one recipe that stood out as a must-cook dish:  Rosemary and Mustard Chicken with Vegetable Bolognese Sauce. Oh, boy! My mouth was watering from beginning to end. It inspired me to create this  Hot Chicken with Cilantro Chimichurri Sauce (Frango Assado com Molho Chimichurri).
When this happens, there is only one thing for me to do: cook the dish! 🙂
Since my husband is a big fan of chicken, I said to myself that not only must I cook this dish for us enjoy together, but I should also share it with my readers, too.
But here's the thing: the recipe ingredients sounded very French to me. "No problem," I said to myself, "I am going to Brazilianize this chicken (Sorry Giada!!!). I have replaced most of the ingredients from that recipe, besides adding new ones. In fact, from Giada's original recipe, the only things that remained unaltered were, of course, the chicken, and the Dijon mustard. 🙂
To accompany the chicken, I chose a wonderful sauce very popular in Argentina, Uruguay, and Southern Brazil: ah, yes, Chimichurri Sauce! Although it is classically made with parsley, I instead used cilantro, a herb commonly utilized in Brazilian Cuisine (even more than parsley). I also added a few extra ingredients as you can see below. After all, this is my kitchen! 🙂
Well, I hope that you approve of my changes to Giada's great recipe as much as we did here. 😉  Just the incredibly enticing aroma alone of Miss Hot Chicken as she bakes golden brown in the oven will be enough to make you say: " YES, I do!" :):):)
See ya soon and enjoy this hot chicken with cilantro chimichurri sauce. 😉
XX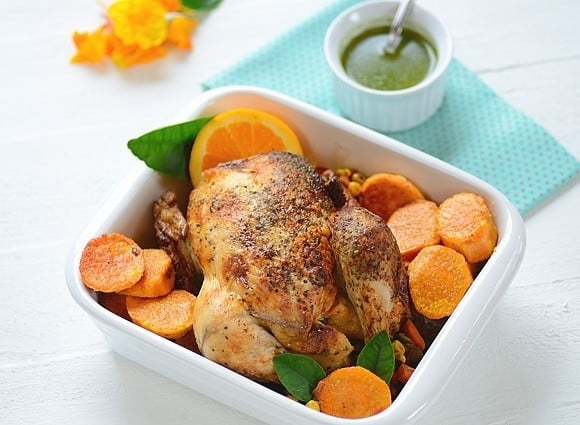 Hot Chicken with Cilantro Chimichurri Sauce
An easy, economical, and flavorful hot chicken with cilantro chimichurri sauce prepared in the oven to be enjoyed all year round. It can be served with steamed vegetables.
Ingredients
For the Chicken

1

stick unsalted butter

softened, 1/2 cup

1

tablespoon

fresh garlic

minced

1

tablespoon

Dijon mustard

2

teaspoons

Knorr chicken bouillon**

powder

1/2

teaspoon

ground cumin

1

teaspoon

salt

Freshly ground pepper to taste

1

teaspoon

dried cilantro

1/2

teaspoon

ground coriander

Juice of 1/2 lime

freshly squeezed

4

whole Amazon red peppers or malagueta peppers in vinegar**

1

4-1/2 to 5-pound chicken

rinsed and patted dry

although the Tabasco peppers are slightly milder.

** Malagueta pepper is a very popular ingredient in Bahian cuisine.

For the Cilantro Chimichurri Sauce

1

bunch

fresh cilantro*

1/4

cup

green olives*

1/2

cup

olive oil

3

tablespoons

red wine vinegar

1

clove

garlic

peeled

1/4

teaspoon

dried crushed red pepper

1/4

teaspoon

ground cumin

1/2

teaspoon

salt

1/2

teaspoon

sugar*

* These ingredients are not part of the traditional recipe.
Instructions
Position a rack in the center of the oven and preheat the oven to 400 º F (About 205 ºC).

In the food processor, process all the ingredients together well (except the chicken, of course) until obtaining a homogeneous, pasty mixture.

Place the chicken (breast-side up) on a rack in a large roasting pan. Using your fingers, spread half of the butter mixture under the chicken skin, and the other half over the exterior of the chicken and in the cavity (this way, we maintain our chicken moist while it cooks and also add flavor). After that, tie the chicken legs together with kitchen twine and tuck the chicken wings a bit under the back.

Roast the chicken for about 75 minutes or until a meat thermometer inserted into the thickest part of the thigh registers a safe 160 degrees F (About 71º C). Let the chicken rest for 15 minutes before slicing and serve with chimichurri sauce. Enjoy!

Note: A whole, non-stuffed chicken baked/roasted at 400 degrees F (ours) takes about 15 minutes per pound to be cooked.

Any leftover chicken and sauce can be used to make delicious sandwiches. Add cheese!

For the sauce: Puree all ingredients together well in a food processor. Serve with the Roasted Hot Chicken. Any leftovers can be transferred to an airtight container and refrigerated. It's great in sandwiches.
DID YOU MAKE THIS RECIPE?
Comment and rate the recipe. Also follow us on Pinterest at @easyanddelish for more delish recipes.