It has been a long time since I had the pleasure of devouring one of my favorite Brazilian desserts-- but we'll have to wait no longer...  Cocada Cremosa de Banana or Banana-Coconut Pudding is the recipe that I am sharing with you today. This is a tropical, gluten-free treat that is just to die for!!!! This recipe is also an excellent way to put to good use any bananas that might be getting soft, and an effortless way to entertain guests. What could be better than that?!
For those who are not familiar with cocada, I would describe it as a classic sweet or dessert very typical of the Northeast region of Brazil. According to the traditional recipe, cocada is made mainly from coconut, sugar, and water. However, that recipe has gone through many variations over time. Other ingredients have been added and/or substituted to such a point that nowadays all sorts of different flavors and textures of cocada are available.
As for flavors, there is a black cocada (made from brown sugar and burned coconut), yellow cocada (made from coconut, egg yolks, sugar, and either water, milk, or coconut milk), white cocada (the traditional one),  condensed milk cocada (made from condensed milk, sugar, and coconut), and fruit cocada (flavored with any fruit of one's choosing e.g. banana, passion fruit, guava, etc). Recently, I have also seen nuts, such as toasted chopped cashew nuts or peanuts, being added to cocada recipes.
Regarding textures, there are basically three types: cocada de corte (the traditional texture-- either a slighty chewy or crisp dessert bar), cocada de forno (baked in the oven),  and cocada cremosa, de copo ou mole (which has a pudding-like, creamy texture).
Our recipe today is of the last type and is on the modern side, both flavorwise and texturewise. I do hope you enjoy this cocada cremosa de banana as much as I did.
xx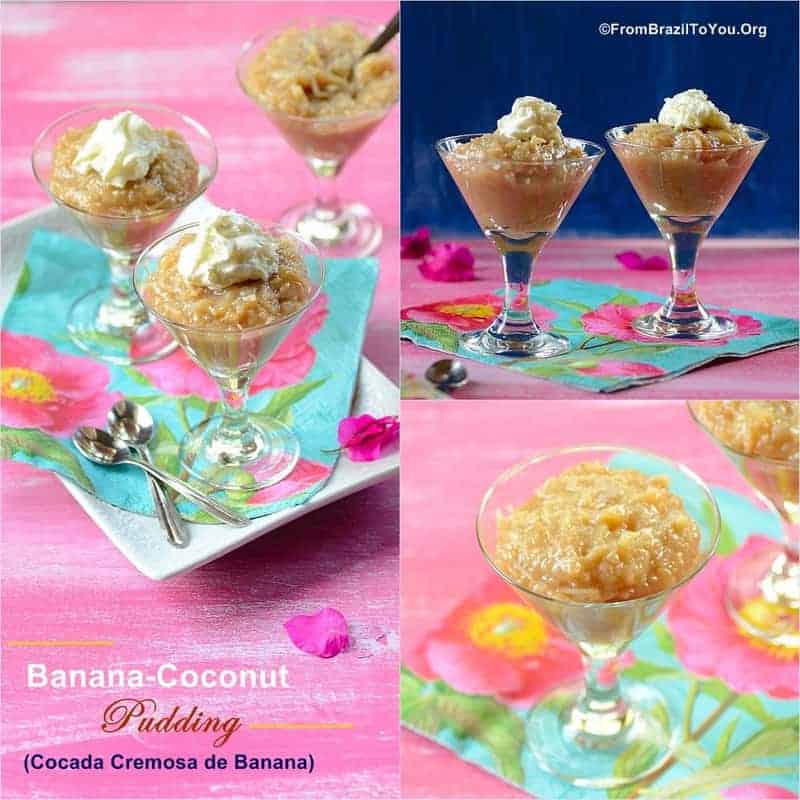 Cocada Cremosa de Banana (Banana-Coconut Pudding) -- A tropical treat to die for!
A tropical, delicious, gluten-free pudding (cocada cremosa), perfect for easy entertainment.
Ingredients
1

can

sweetened condensed milk

14oz or 396 g

2

measures brown sugar

use the empty condensed milk can as measurement

7

ounces

dehydrated or unsweetened coconut flakes

200 g

5

medium ripe bananas

mashed

½

teaspoon

ground cinnamon

⅛

teaspoon

ground nutmeg

½

teaspoon

pure vanilla extract

½

cup

heavy cream
Instructions
Place all the ingredients, except the vanilla and heavy cream, into a medium saucepan. Cook over medium-low heat, stirring constantly with a wooden spoon until mixture has thickened (approximately 15 minutes). Stir in both the vanilla and heavy cream. Pour mixture into small glasses and decorate as desired. The cocada cremosa (pudding) can be served warm, at room temperature, or even chilled. Because this is a very sweet treat, I serve it in small glasses.
Recipe Notes
Storage: This cocada cremosa can be kept into a well sealed glass or plastic container in the refrigerator for up to 5 days. If necessary, stir in a bit of heavy cream to soften.
** Nutrition labels on easyanddelish.com are for educational purposes only. This info is provided as a courtesy and is only an estimate, since the nutrition content of recipes can vary based on ingredient brand or source, portion sizes, recipe changes/variations, and other factors. We suggest making your own calculations using your preferred calculator, based on which ingredients you use, or consulting with a registered dietitian to determine nutritional values more precisely.
Please note that health-focused and diet information provided on easyanddelish.com is for educational purposes and does not constitute medical advice, nor is it intended to diagnose, treat, cure, or prevent disease. Consult with your doctor or other qualified health professional prior to initiating any significant change in your diet or exercise regimen, or for any other issue necessitating medical advice.
DID YOU MAKE THIS RECIPE?
Comment and rate the recipe. Also follow us on Pinterest at @easyanddelish for more delish recipes.