Coconut beans are beans made from scratch that are blended with coconut milk in the blender and served as a side dish. A real must-try vegetarian dish!
If you are not from Brazil or haven't yet had the opportunity of a visit, you may not know how crazy we are for beans. So crazy that we have them made in many ways -- including what we call coconut beans or feijão de coco.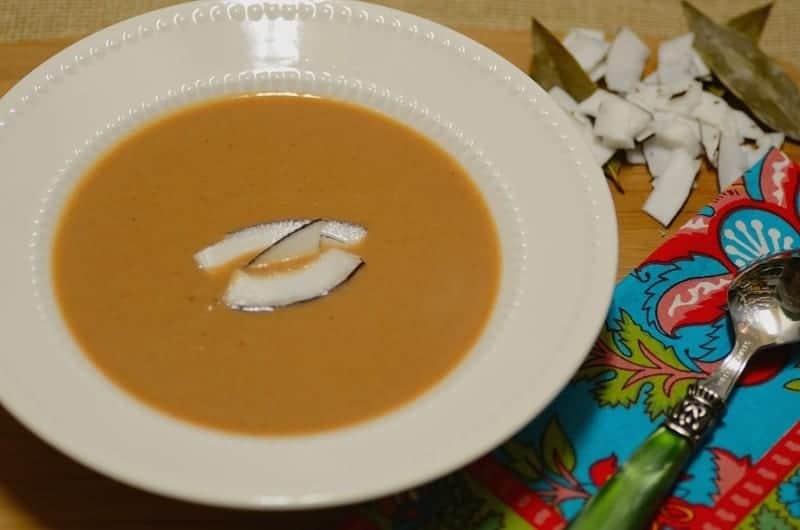 This is so true that our national dish is in fact Feijoada (Black Bean Stew). In Brazil, there are many different types of beans, as well as multiple different ways of preparing them. Besides stews made with beans, there are recipes that mix cooked and strained beans with farofa and kale (Feijão Tropeiro), while others turn them into soup (Sopa de Feijão com Bacon), form them into deep-fried cakes (Bolinho de Feijão), or blend them with coconut milk.
By the way, have you ever tried Coconut Beans?
If not, I do hope that you will give it a try.
The wonderful recipe that I am about to share with you comes from Bahia, a state in the Northeast of Brazil with a strong Afro-Brazilian cultural heritage.
Coconut Beans has a mild coconut taste and a creamy texture. It is often eaten with white rice, and Moqueca (a seafood stew made with vegetables, coconut milk, and palm oil) or a meat stew.
If you are a vegetarian, you can accompany it with white rice and a vegetable stew instead.
In fact, Coconut Beans is not only a vegetarian dish, but a dairy and gluten-free dish as well.
It is traditionally an Easter dish, although it is served all year round in Brazil.
Well, let's get our coconut beans cooked (and meanwhile, let's AXÉ with Olodum - Requebra and Alegria Geral).
Coconut Beans (Feijão de Coco)
Coconut beans are beans made from scratch that are blended with coconut milk in the blender and served as a side dish. A real must-try!
Ingredients
1

package

dry pinto beans

sorted, washed, soaked overnight and drained, 16 oz or 454 gr.

6

cups

water

1

tablespoon

olive oil

½

medium yellow onion

chopped

4

garlic cloves

minced

2

bay leaves

2

tablespoons

salt

plus 1 teaspoon

¼

teaspoon

ground black pepper

¼

teaspoon

cumin

⅛

teaspoon

ground coriander

1

teaspoon

red wine vinegar

improves taste and reduces gassy elements

10

fl. oz

coconut milk

or 300 ml

1

tablespoon

sugar
Instructions
Sort the beans, discarding any shriveled or broken ones. Wash them and soak beans in three times their volume of cold water overnight before cooking. Reserve.

In a large heavy-bottom pan over medium-high heat, bring the beans with 6 cups of water to a boil. Cover the pan and reduce heat. Let simmer over medium-low heat for 60 minutes. Remove from heat and reserve, covered.

In a skillet, heat the oil over medium-high heat and sauté the onion until translucent. Next, add the garlic and sauté both together a bit more (for about 30 to 60 seconds). Mix in with the cooked beans. Add the bay leaves, salt, pepper, cumin, coriander, and vinegar to the beans. Cover and let simmer over medium-low heat for 60 minutes more until beans are softened and tender. Stir and remove the bay leaves.

Blend the beans very well in a blender with the coconut milk and sugar until creamy (The beans must be completely homogenized). At this point, you can strain the beans, if desired (I prefer mine thicker so I do not strain them). Return mixture to the pan and just bring to a boil. Stir and then serve with white rice and any kind of meat or vegetable stew desired. Enjoy!
** Nutrition labels on easyanddelish.com are for educational purposes only. This info is provided as a courtesy and is only an estimate, since the nutrition content of recipes can vary based on ingredient brand or source, portion sizes, recipe changes/variations, and other factors. We suggest making your own calculations using your preferred calculator, based on which ingredients you use, or consulting with a registered dietitian to determine nutritional values more precisely.
Please note that health-focused and diet information provided on easyanddelish.com is for educational purposes and does not constitute medical advice, nor is it intended to diagnose, treat, cure, or prevent disease. Consult with your doctor or other qualified health professional prior to initiating any significant change in your diet or exercise regimen, or for any other issue necessitating medical advice.
DID YOU MAKE THIS RECIPE?
Comment and rate the recipe. Also follow us on Pinterest at @easyanddelish for more delish recipes.