Drunken Mocha Cake with Banana Foster Topping is a rich, chocolate mocha cake smothered in Bananas Foster Topping You'll love its sinfully rich flavor and moist, luscious texture.
What a beautiful day!!! Ideal for savoring the scrumptious Drunken Mocha Cake with Bananas Foster Topping that I have for you today. Wouldn't you agree?! 😉
This drunken mocha cake also represents our contribution for the month of August to the Chocolate Party hosted by Roxana's Home Baking. Our secret ingredient this time is coffee!!! Our drunken mocha cake, made from the combination of chocolate and coffee, is EXTREMELY moist, rich, and just as delicious as our previous Chocolate Party treats: Chocolate-Strawberry Slump, White Chocolate-Cherry Pie Bars, and Chocolate Pudding ice Cream Pie.
I called this mocha cake drunken not only because the batter contains alcohol, but also because it's so moist that it looks like it has been soaked in some. But don't worry!!! This drunken mocha cake can still be consumed by children since all alcohol content evaporates during the baking process. I intend to devour my drunken mocha cake with a good scoop of coffee ice cream .... although a cup of coffee or tea would pair great with this exciting drunken mocha cake as well. How about you? Any thoughts?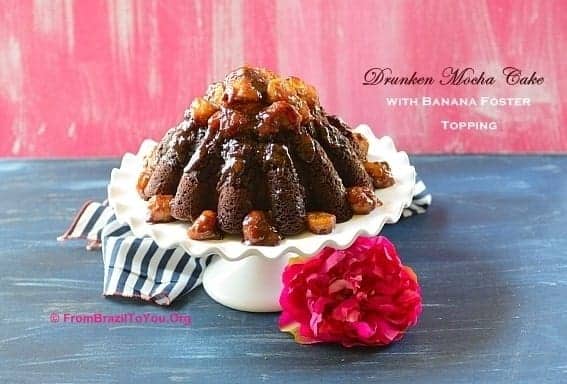 Have a stupendous week eating our Drunken Mocha Cake!!! And take a look also at the other recipes below prepared by my fellow bloggers. They are all to die for...
xx
Drunken Mocha Cake with Bananas Foster Topping
Yield: 1 (10 in) cake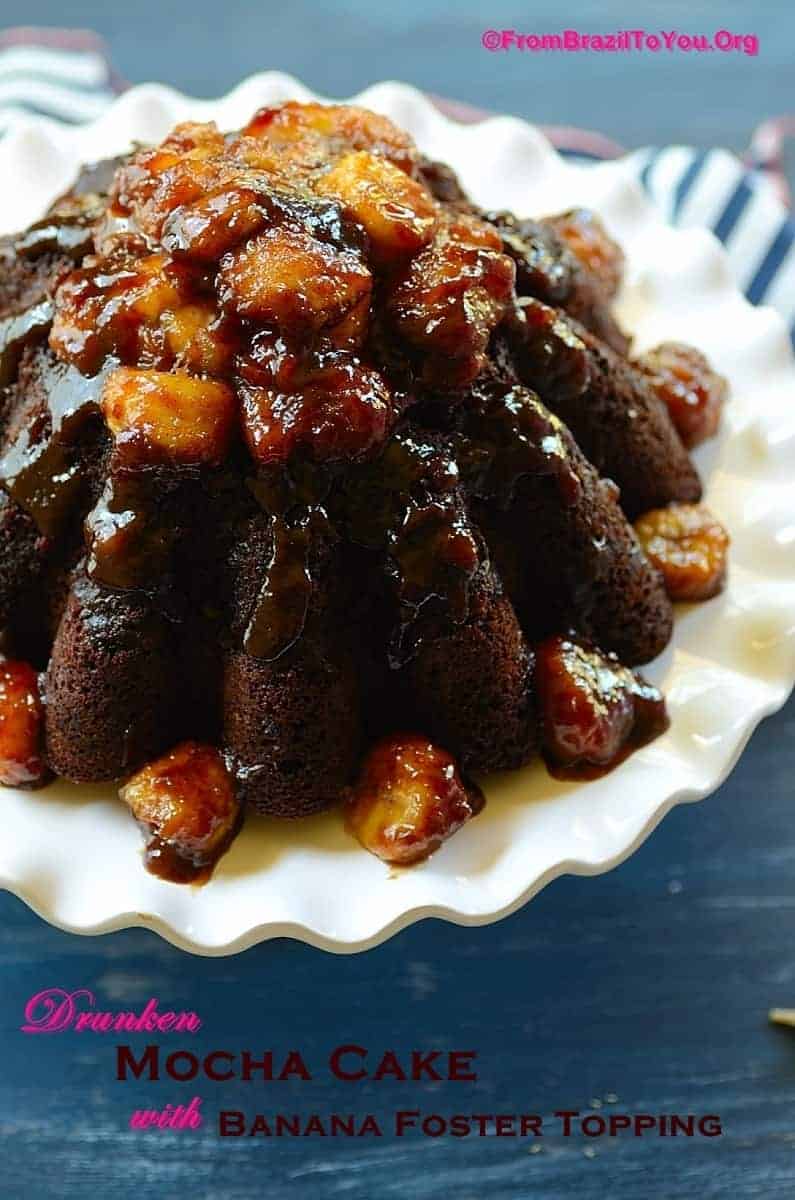 Ingredients:
For the Cake:
1 (1 lb 0.5 oz) devil's food cake mix (I used Duncan Hines mix)
1 (3 oz) instant chocolate pudding mix (I used Jello pudding)
¾ cup sugar
1 cup plain yogurt
3 large eggs, at room temperature
⅓ cup oil
1 cup brewed coffee, cooled
1 tablespoon coffee cream liqueur or dark rum
1 cup mini semisweet chocolate chips
For the Banana Foster Topping:
2 teaspoons ground cinnamon
1 tablespoon granulated sugar
3 tablespoons unsalted butter (1-½ ounces)
1 cup light brown sugar
5 ripe yet firm medium bananas, sliced
½ cup dark rum
1 tablespoon pure vanilla extract
Directions:
Preheat oven to 350°F. Grease a 10-inch bundt pan and set aside.
In a mixing bowl, combine both the cake and pudding mix, sugar, yogurt, eggs, oil, cooled coffee, and coffee liqueur or rum. Beat on low speed for 30 seconds and then beat for 2 minutes on medium. Stir in the chocolate chips by hand and pour the batter into the prepared bundt pan. Bake for 50-55 minutes or until toothpick inserted in the center comes out clean. Transfer pan to a rack and let cool completely. Run a knife gently around the edges if necessary. Place a plate over the top of the cake and flip the cake over.
Prepare the banana foster topping :

In a small bowl, combine the cinnamon and sugar, mix thoroughly, and reserve. In a large skillet, combine the butter and brown sugar; then, place the pan over medium heat. Stir with a wooden spoon until the sugar melts completely and the mixture caramelizes to a creamy, rich brown color. This process requires approximately 4-5 minutes. Then, add the sliced bananas to the skillet and cook for approximately 1 minute, stirring gently every now and then. Remove pan from the heat, pour rum into the pan, return pan to the heat, and carefully ignite with a long match, or just tilt the skillet to ignite. Note: Never pour the alcohol straight from the bottle if the pan is on the stove; any splash-back can ignite, and the flame can travel into the bottle. Finally, scatter the cinnamon-sugar mixture directly over the flame. As the flames die, stir gently to combine all the ingredients. Stir in the the vanilla extract. Use the warm Bananas Foster as a topping for the unmolded drunken mocha cake. Serve mocha cake with a cup of coffee or tea, or with a scoop of coffee ice cream. Enjoy!
Note: This cake batter recipe was adapted from Inside BruCrew Life.