Refreshing, both fuss-free and gluten-free Dulce de Leche Churro Trifle (Brigadeiro de Colher com Doce de Leite) ... the perfect treat for your next summer party! If you are crazy for churros and dulce de leche, this will easily become a real fave of yours too.
What to serve for guests at a summer get-together that is refreshing and homemade, yet won't take much time away from the kids? I say Dulce de Leche Churro Trifle. 😉 For me, it is the taste of childhood...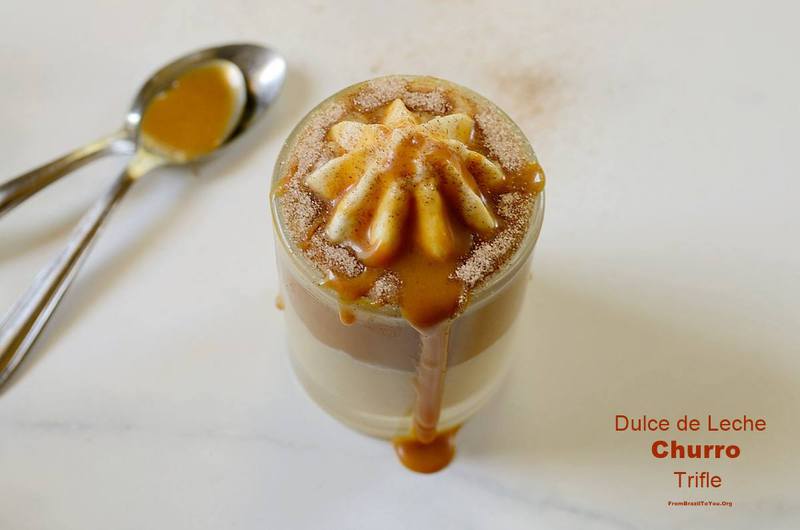 I still remember how churros filled with doce de leite (dulce de leche or caramel spread) used to be one of the most indulgent and fun treats to have as a child -- aside from brigadeiros, of course. Every trip to the mall or to a street market would easily turn into the perfect excuse to have churros with dulce de leche -- always bringing a smile to my face that spread from one chubby cheek to the other. 🙂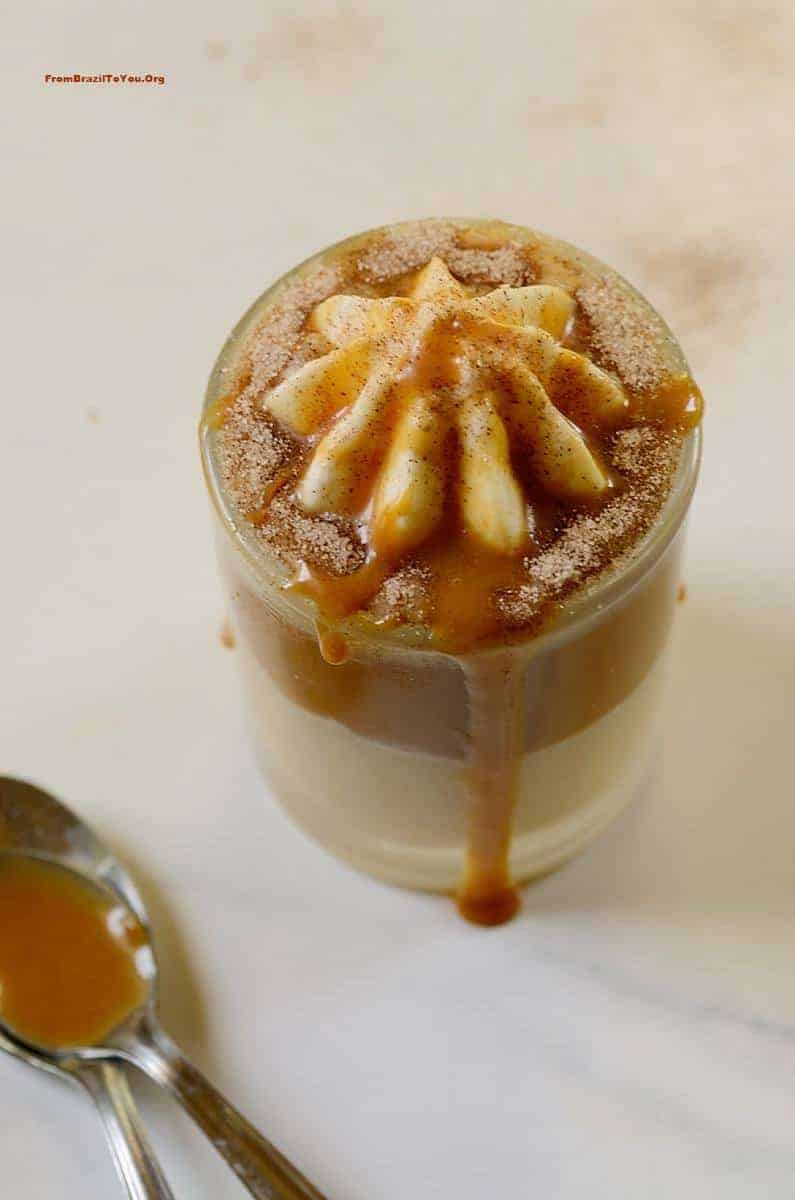 But you know, frying is definitely not one of my favorite things to do in the kitchen -- especially during hot weather. At this time of the year, I crave chilled treats more than anything else... but they still have to be comforting! So how to reconcile the two? I think I have found the perfect formula (at least in my mind ): layering soft vanilla-flavored brigadeiros, dulce de leche, and cinnamon sugar into shot glasses and serving them chilled. 😉 A dessert so easy to prepare and so rich too that even a child could make them and looove eating them...
So next time that you are as busy as a bee yet still want to reward your guests with something both summery and comforting, make this dulce de leche churro trifle. It is like raising a toast... with a dessert. And yes, it will be the talk of the party!
Stay cool and enjoy your sweet summer!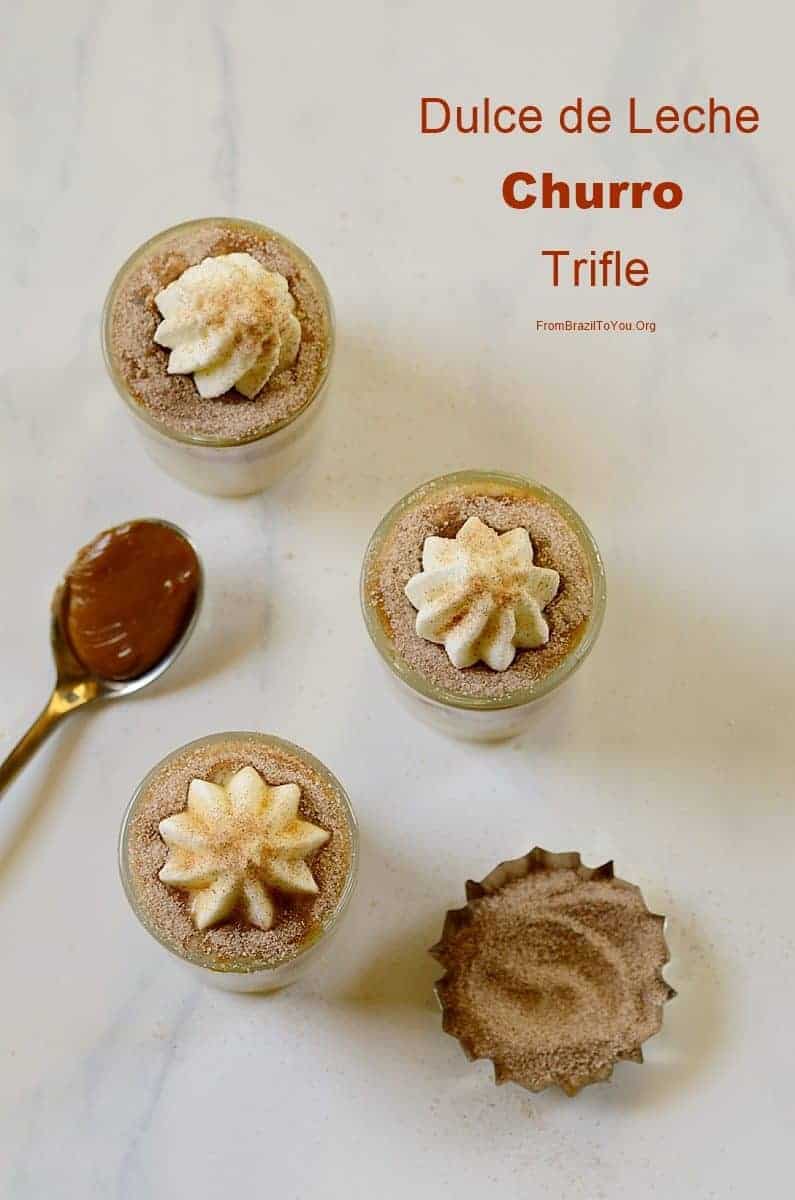 Dulce de Leche Churro Trifle
Refreshing, fuss-and-gluten-free Dulce de Leche Churro Trifle... the perfect treat for your summer party!
Ingredients
1

can

sweetened condensed milk

14 oz

1

tablespoons

unsalted butter

melted

1

teaspoon

pure vanilla extract

¾

cup

heavy whipping cream

or more to whip and garnish top of trifle

½

can dulce de leche or caramel spread

5-6

tablespoons

granulated sugar

1-2

tablespoons

ground cinnamon
Instructions
In a large non stick saucepan, stir well the sweetened condensed milk with the melted butter. Cook over medium heat, stirring constantly with a wooden spoon, for about 10-15 minutes or until mixture has thickened and starts pulling away from the bottom of the pan.

Remove from the heat and stir in both the vanilla and ½ cup of heavy cream until obtaining a creamy, homogeneous mixture. Let cool for about 10 minutes and then place 2 Tablespoons into each shot glass.

In a medium bowl, stir in the remaining ¼ cup of heavy cream with ½ can of dulce de leche until obtaining a homogeneous mixture. Place 1-2 tablespoons of the dulce de leche mixture into each shot glass. Top with 2 Tablespoons of the cooked condensed milk mixture.

Mix the sugar with the cinnamon in a small bowl. Sprinkle about 1-2 teaspoons of the sugar-cinnamon mixture on top of each trifle, and then pipe beaten whipped cream on top -- only if desired. Refrigerate and serve either as prepared or drizzled with any remaining dulce de leche/heavy cream mixture. YIELD: 7-9 shot glasses
** Nutrition labels on easyanddelish.com are for educational purposes only. This info is provided as a courtesy and is only an estimate, since the nutrition content of recipes can vary based on ingredient brand or source, portion sizes, recipe changes/variations, and other factors. We suggest making your own calculations using your preferred calculator, based on which ingredients you use, or consulting with a registered dietitian to determine nutritional values more precisely.
Please note that health-focused and diet information provided on easyanddelish.com is for educational purposes and does not constitute medical advice, nor is it intended to diagnose, treat, cure, or prevent disease. Consult with your doctor or other qualified health professional prior to initiating any significant change in your diet or exercise regimen, or for any other issue necessitating medical advice.
DID YOU MAKE THIS RECIPE?
Comment and rate the recipe. Also follow us on Pinterest at @easyanddelish for more delish recipes.