Spaghetti Aglio Olio is more than a  simple, fast-to-prepare, and budget-friendly dish. It's one of the most popular pasta recipes in all of Italy -- and in Brazil, too. But I like fettuccini better, so Fettuccini Aglio e Olio with a Twist is what I'll be making today!
Why in Brazil too?
Because of the influence of the Italian immigrants and their descendents, who settled mostly in Southern Brazil and also in São Paulo state.
You may not have known this, but Brazil has the largest population of people with Italian ancestry outside of Italy itself. This represents  about 10% of the Brazilian population. The Italian immigrants started arriving in Brazil after the unification of Italy... More precisely, the first groups of Italians arrived in 1875; however, the real Italian immigration boom only took place in late 19th century -- between 1880 and 1900.
Following in the footsteps of the Portuguese settlers and the German immigrants, they were a significant force in shaping Brazilian culture.
Brazilians also inherited their love for sausage (linguiça) from their European ancestors, particularly for Portuguese, Italian, German, and Polish sausages.
OK, you must be asking yourself by now what sausage has to do with Pasta Alio e Oglio... It appears here as part of our twist on this classic dish. In fact, sausage is so popular in Brazil that it is one of the standard items brought to table and served in our well-esteemed Churrascarias (Brazilian Steak Houses). The most popular are the Calabrese, Portuguese, Paio, and Toscana sausages. Which type of sausage to use in a particular dish varies from recipe to recipe. Feijoada , for example, calls for linguiça toscana and paio, while Calabrese sausage is the preferred topping for pizzas. The garlicky Portuguese sausage is more popular at churrascos (Brazilian barbeque). For our pasta dish today, I preferred to use the smoked Calabrese sausage because of its spiciness.
As part of our twist, I have added pumpkin to our fettuccini as well, in recognition of the many dishes in Brazil that combine pumpkin with either sausage or shredded jerked beef (carne seca). Both tomato and basil were also added to the fettuccini  to really bring out the dish's fresh taste. All of the ingredients integrated into this fettuccini  make it simultaneously smoky, spicy, sweet, and salty. Sorry! I am getting hungry...
If you are, too,  let's go prepare our Fettuccini Aglio e Olio with a Twist now.
Buon appetito/ Bom apetite!!!!
Fettuccini Aglio e Olio with a Twist
Serves 4-6
(Segment: From My Table To Yours/ Brazilian Inspired)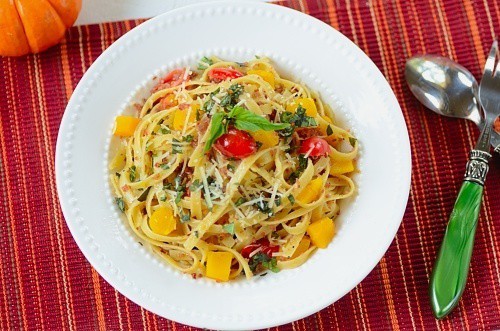 Ingredients:
1 lb (about 450 g) fettuccini, or your favorite pasta**
1-¼ tablespoons salt
½ cup olive oil
7 oz (about 200 g) smoked Calabrese sausage, ground**
2-½ tablespoons garlic, minced
¼  to ½ tablespoon crushed red pepper flakes
1 cup pumpkin (peeled, deseeded, cubed, and cooked)
½ cup cherry tomatos, sliced in half lenghtwise
3 tablespoons basil, chopped
Parmesan cheese to sprinkle **
** For a gluten-free version, use a gluten-free pasta.
** Calabrese Sausage (or Linguiça Calabresa) is a very popular product in Brazil,  originally from Italy. It contains exclusively pork meat and its spicy flavor is characteristic, resulting from the use of calabresa peppers. It may be offered for sale stuffed into sausage casings or not, dried and/or cooked, and either smoked or unsmoked. If not available in your area, use a smoked jalapeño sausage or any other smoked spicy sausage. 
**For a VEGETARIAN version, use ground soy instead.
** For a dairy-free version, omit the parmesan cheese.

Directions:
Cook fettuccini  in salted boiling water (1 tablespoon salt) until al dente, according the instructions on the package. Reserve.
While fettuccini  is cooking, heat olive oil in a saucepan over medium-high heat. Add the sausage and brown for about 6 minutes. Add the garlic and red pepper flakes, and sauté for approximately 2 minutes. Add ¼ tablespoon salt and stir. Remove from heat.
Drain fettuccini , but reserve ¼ cup of the fettuccini  cooking liquid in a bowl for tossing and serving if necessary. Add the olive oil-sausage-garlic mixture to the drained pasta and toss. Add the reserved cooking liquid -- only if mixture seems dry. Then, add the cooked pumpkin and the tomatoes. Mix gently. Sprinkle the basil and serve fettuccini immediately. Enjoy!