Easter is just a few days away, and dishes made with cod fish-- such as this Fresh Cod with Onions, Garlic, Potatoes, and Broccolini (Bacalhau à Lagareira)-- are a must at any Easter Brazilian table. This recipe is from Chef Leticia Morenos Schwartz, author of The Brazilian Kitchen and My Rio de Janeiro. If you're looking for an easy, healthy, complete dish,  this is it.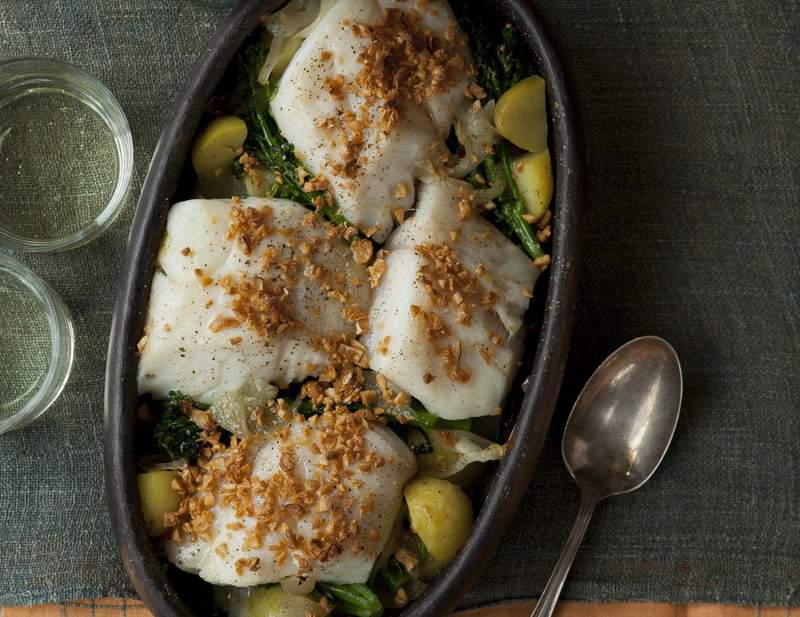 As Chef Leticia explains in her last cookbook My Rio de Janeiro, "Lagareiro is the Portuguese word for a person who owns an olive oil press, and indeed, olive oil is an important ingredient in this recipe. This recipe is incredibly simple, yet it delivers flavors in a brilliant way. At the restaurant Adegão Português, the recipe is prepared using salt cod, but here I make it with fresh cod since it is widely available in the United States. Every time I make this dish, without fail I am asked for the recipe. It is healthy and very easy to put together -- everything can be prepared ahead of time and refrigerated for up to 2 days, with the dish assembled just before baking. "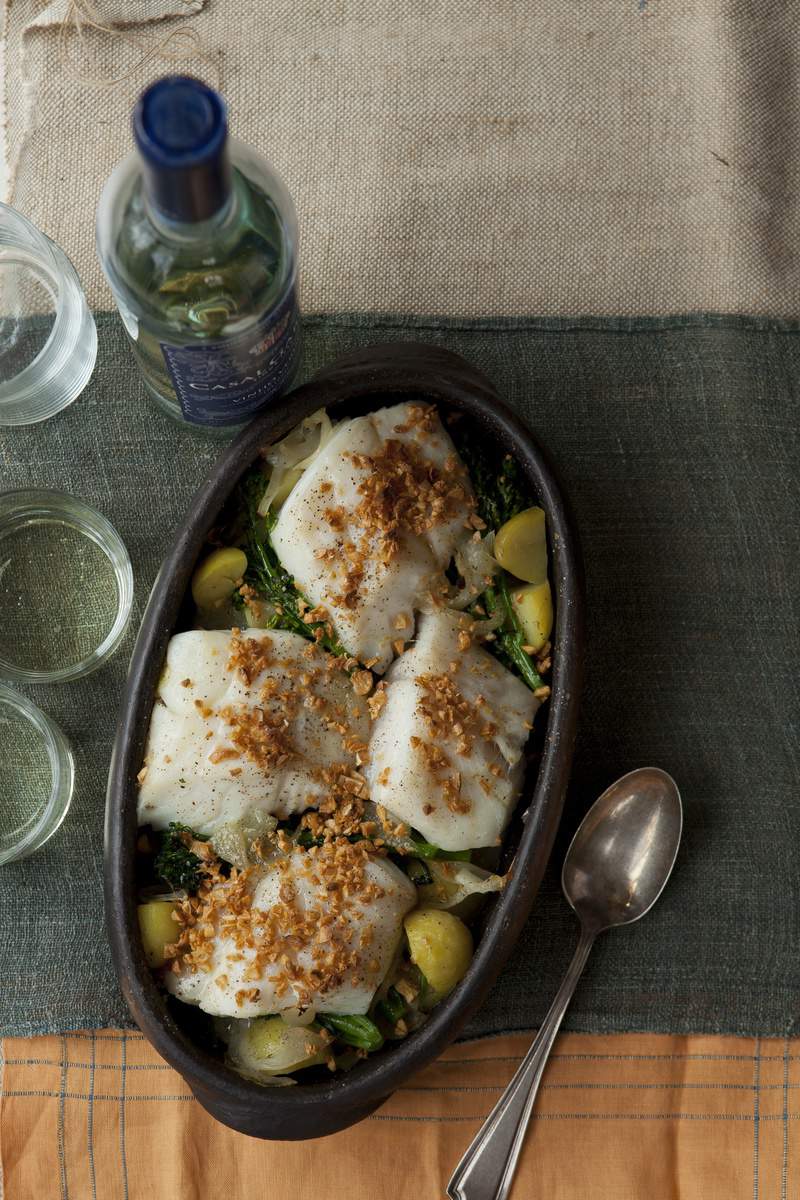 Another advantage is that all the ingredients of this dish -- fresh cod, new potatoes, onion, garlic, broccolini, extra virgin olive oil, white wine, salt,  and pepper -- are available at any local supermarket.
It is literally Easter made easy -- and quite flavorful!
For more options, visit our Easter recipe index -- which includes a delicious Codfish Shepherd's Pie (Bacalhau a Zé do Pipo), as well as many Easter desserts such as Easter Chocolate Cake, Chocolate Braid, and cookies bars, among others.
As a Christian, I celebrate the resurrection of my Lord, Jesus Christ -- and His gift of eternal life. If you do also --   Happy Easter!!!  If you don't, I wish you a great time as well... may love and hope rise anew in your heart.
P.S.: Thank you to Chef Leticia for allowing us to feature her amazing recipe here. These gorgeous photos are from the talented photographer Kate Sears.
Cod with Onions, Garlic, Potatoes, and Broccolini (Bacalhau à Lagareira)
Fresh cod with onions, garlic, potatoes, and broccolini makes for an easy, healthy, and complete dish that celebrates Easter in style.
Ingredients
1½

pounds

small new potatoes

Kosher salt

1

pound

broccolini

thick lower stems removed

6

tablespoons

extra virgin olive oil

2

medium onions

thinly sliced

4

garlic cloves

minced

1¼

pounds

fresh cod

cut into 4 equal pieces

¼

cup

white wine

water, or fish stock

freshly ground black pepper
Instructions
"Place the potatoes in a large heavy saucepan and cover with cold water by at least 1 inch. Add a large pinch of salt and bring to a boil. Reduce the heat to medium and simmer until the potatoes are fork-tender, 12 to 15 minutes. Drain in a colander and spread onto a plate. When cool enough to handle, peel and quarter the potatoes. Set aside in a bowl.

Preheat the oven to 350°F. Lightly coat a large shallow baking dish with cooking spray.

Place broccolini in a steamer or pot fitted with a steaming basket over simmering water. Season with salt, cover the pot, and steam until stalks are just tender, about 5 minutes. Transfer the broccolini to a plate and set aside.

Heat 2 tablespoons of the olive oil in a large skillet over low heat, add the onions, and cook, stirring occasionally, with a wooden spoon, until softened and translucent, about 10 minutes. (resist the temperature to turn the heat to high, or onions will brown; the slower you cook the onions, the sweeter they get.) Transfer to the bowl with potatoes and toss together; season lightly with salt and pepper.

In a small skillet, heat 1 tablespoon of the remaining olive oil over low heat and add the garlic. Cook until it just starts to turn golden, 1 to 2 minutes. Immediately transfer to a plate lined with double thickness of paper towels.

Arrange the potato-onion mixture on the bottom of the baking dish and place the broccolini on top.

Season the cod with salt and pepper and arrange on top of the vegetables. Sprinkle the garlic on top, drizzle the remaining 3 tablespoons olive oil all over, and bake until fish is just cooked, 12 to 15 minutes.

Remove the baking dish from the oven; spoon the cod onto warm plates and serve immediately."
Recipe Notes
FBTY NOTE: The author of the recipe omitted to mention the wine, water, or fish stock in the instructions. Since the ingredients are listed in their exact order of use, I believe the wine, water, or fish stock to be added on top of the cod right before it is seasoned with salt and pepper. Then, the cod is sprinkled with the cooked garlic on top, drizzled with the remaining 3 tablespoons of olive oil all over, and baked. I also believe that once cod is baked and removed from the oven, extra freshly ground peeper can be sprinkled on top of the dish.
** Nutrition labels on easyanddelish.com are for educational purposes only. This info is provided as a courtesy and is only an estimate, since the nutrition content of recipes can vary based on ingredient brand or source, portion sizes, recipe changes/variations, and other factors. We suggest making your own calculations using your preferred calculator, based on which ingredients you use, or consulting with a registered dietitian to determine nutritional values more precisely.
Please note that health-focused and diet information provided on easyanddelish.com is for educational purposes and does not constitute medical advice, nor is it intended to diagnose, treat, cure, or prevent disease. Consult with your doctor or other qualified health professional prior to initiating any significant change in your diet or exercise regimen, or for any other issue necessitating medical advice.
DID YOU MAKE THIS RECIPE?
Comment and rate the recipe. Also follow us on Pinterest at @easyanddelish for more delish recipes.