It has been a while since I last made pudim (caramel flan)... Pudim (flan), including this easy and delicious coffee flan, has always been one of my favorite desserts. If you are a coffee lover, this coffee flan will become a favorite!
There is something so comforting and enjoyable about both caramel and coffee flans that I can't find words to describe it. I love not only its sweet taste, but most of all its smooth, creamy texture. For me, eating coffee flan or pudim de café is a totally out-of-this-world experience. The most popular custard in my home country is pudim de leite (or caramel flan), although it can be made with other flavors e.g. coffee, orange, chocolate, corn, coconut, or cassava flan, among others.
Since Brazil is responsible for about a third of all coffee produced worldwide-- the largest coffee producer in the world for the last 150 years-- I decided to make a pudim de café (coffee flan) this time, in its honor -- instead of the traditional caramel flan or pudim de leite. It is really something that I as a Brazilian am very proud of. I think this explains why coffee is the most popular beverage in Brazil.
About 74% of the coffee produced in Brazil is arabica coffee.  The states of São Paulo, Minas Gerais, and Paraná are the largest producers in the country due to their well-suited landscapes, climate and rich soil. I would like to note that although Colombian coffee is more well-known in the U.S., one of the most renowned coffee brands in the world, the Italian brand Illy, uses mostly Brazilian coffee in its blend. Hooray, Brazil!!!
In contrast to the coffee that you might be familiar with here in the U.S., Brazilian coffee is very strong. This is why it is often served in a small/mini cup,  called cafezinho. The coffee flan recipe that I am about to introduce to you today can either be enjoyed by itself or, even better, accompanied by a small cup of coffee or cafezinho.
Enjoy our delightful coffee flan!!!!
xx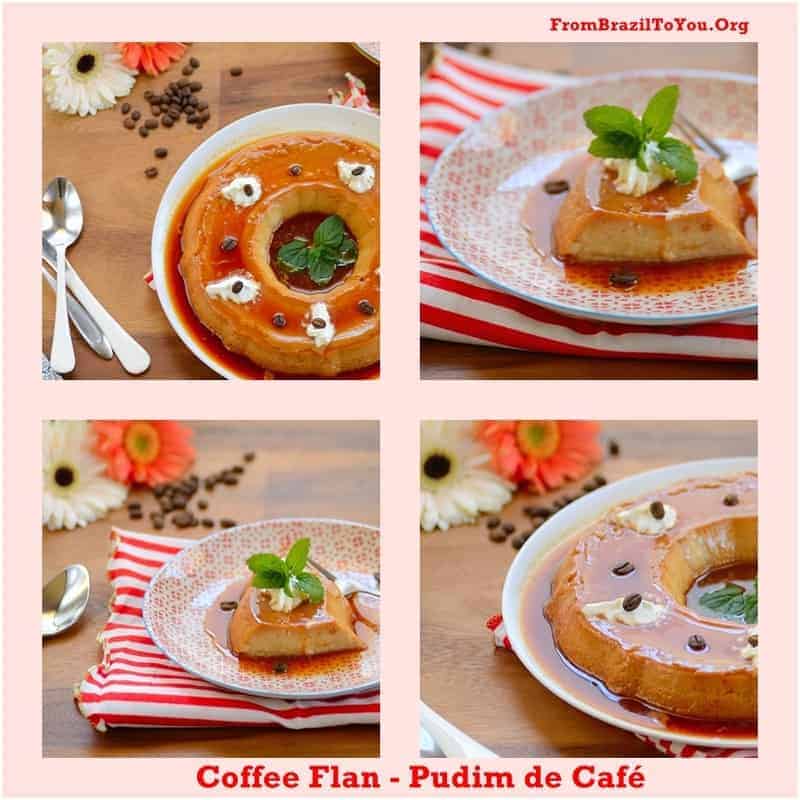 Coffee Flan (Pudim de Café)
An easy and delicious coffee flan adored by coffee lovers!
Ingredients
For the Coffee Flan:

1

can

sweetened condensed milk

14 ounce/396 g

4

eggs at room temperature

1

can

whole milk

use the empty can of condensed milk to measure

1

tablespoon

instant coffee dissolved in 1-2 tablespoons of warm water

For the Caramel:

1

cup

granulated sugar
Instructions
Preheat oven to 350 º F (180 º C).

Prepare the caramel:

Place sugar in the bottom of a medium pan, evenly distributed. Over high heat, let sugar melt for 1-2 minutes or until caramel starts to form. Then, stir sugar in a circular motion with a wooden spoon until sugar is completely melted and caramel is lump free. Pour caramel into a round baking pan with a central hole (i.e. a Bundt cake pan, 8.7 inches or 22 cm diameter). Using gloves, rotate pan in a circular motion so that the caramel uniformly distributes on both the bottom and sides of the baking pan. Keep turning the pan for about 3 minutes and you will notice that the caramel is getting thicker. Let rest for about 5 minutes on a rack; meanwhile, prepare the coffee flan mixture.

In a blender, blend the condensed milk, eggs, milk and dissolved coffee until homogeneous. Use a toothpick to pop the bubbles on the surface or skim off the foam. Pour into the caramelized pan and bake in preheated oven, in a bain-marie, for about 25-30 minutes or until set (be careful not to bake too much or it not will have a smooth consistency). Let coffee flan cool on a rack and then refrigerate for about 6 hours. Unmold coffee flan and serve!
Recipe Notes
If using a regular round baking pan (no ring pan), it will take longer for the flan be cooked (about 40 minutes instead of 25-30 minutes).
** Nutrition labels on easyanddelish.com are for educational purposes only. This info is provided as a courtesy and is only an estimate, since the nutrition content of recipes can vary based on ingredient brand or source, portion sizes, recipe changes/variations, and other factors. We suggest making your own calculations using your preferred calculator, based on which ingredients you use, or consulting with a registered dietitian to determine nutritional values more precisely.
Please note that health-focused and diet information provided on easyanddelish.com is for educational purposes and does not constitute medical advice, nor is it intended to diagnose, treat, cure, or prevent disease. Consult with your doctor or other qualified health professional prior to initiating any significant change in your diet or exercise regimen, or for any other issue necessitating medical advice.
DID YOU MAKE THIS RECIPE?
Comment and rate the recipe. Also follow us on Pinterest at @easyanddelish for more delish recipes.
You might also enjoy: