If you are frequent reader of mine, you already know that I started participating in the Secret Recipe Club - SRC as of last month. Every month, each participant is assigned to a different  participant's blog, from which we can pick one of their many recipes to prepare. Well, this month I have been assigned to Teaspoon of Spice . Its authors, Serena Ball and Deanna Segrave-Daly, are two registered dietitians. From their blog's many delicious, healthy recipes, I picked one that really popped, both to my eyes and stomach. Once adapted, it  became our Gnocchi with Greens, Bacon, Grilled Corn, and Tomatoes -- a quick yet nutritious family meal!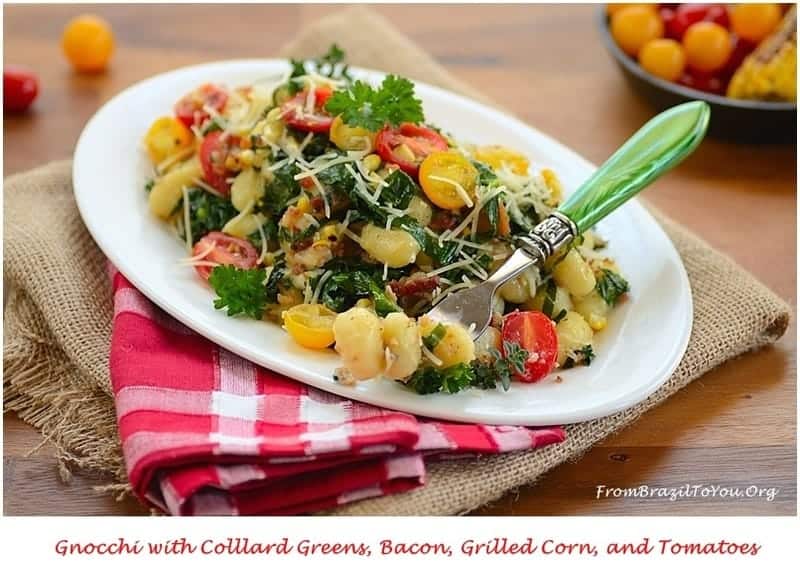 I specifically picked gnocchi dish not only because I am a 'pasta'/dumpling lover, but because it is a nutritious and complete meal. I think this fits the spirit of their blog!
I have to confess that although their gnocchi is simple yet very flavorful-- and I do enjoy it that way that it is, I have modified the gnocchi recipe a bit to accommodate a typical dish from Brazil -- Collard Greens a la Mineira -- as well as frequent ingredients from my Brazilian table-- e.g. corn and tomatoes. Yes, you can say that I have Brazilianized Deanna's amazing gnocchi! I just hope that you don't mind, Deanna!!! In my take on Deanna's recipe, you will be eating two dishes in one: Gnocchi and Collard Greens a la Mineira.
I do recommend you to try both gnocchi, hers and mine! 😉 It's a win-win game... Thanks for stopping by again! See you soon in the kitchen.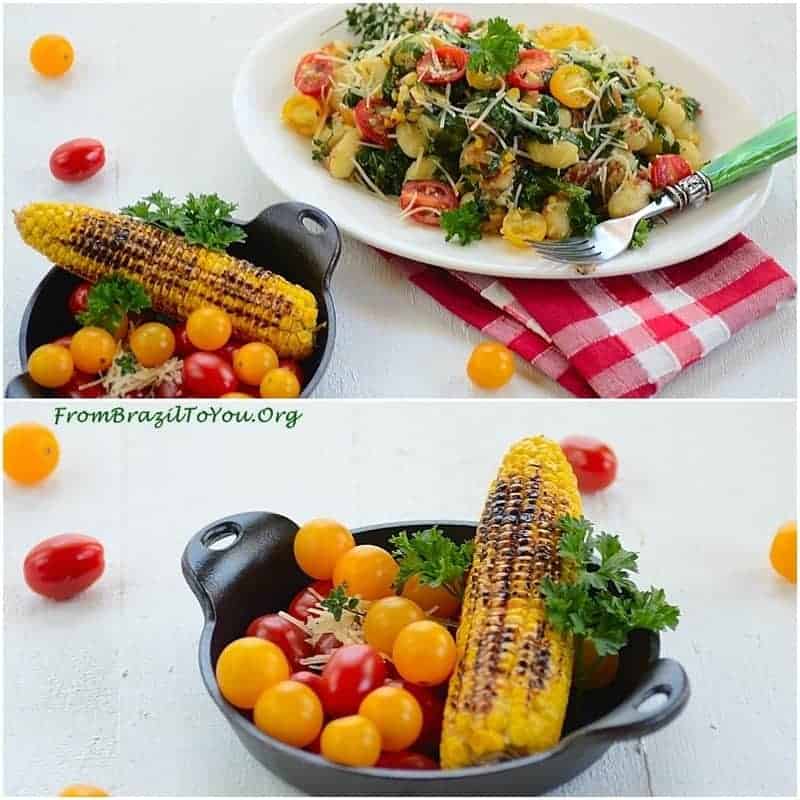 Gnocchi with Greens, Bacon, Grilled Corn, and Tomatoes
A quick yet nutritious and full of flavor family meal!
Ingredients
1

bunch

collard greens or kale

3-4

strips

smoked bacon

diced

2

cloves

garlic

minced

Salt and ground pepper to taste

1

teaspoon

Knorr chicken bouillon powder

optional

1

pound

potato gnocchi

about 450 g

½

cup

grilled corn kernels

6-8

yellow sunburst tomatoes

halved

6-8

red grape tomatoes

halved

4

ounces

Parmesan cheese

grated, about 115 g
Instructions
Wash the collard greens or kale under cold running water. Shake to remove the excess water. With a sharp knife or your hands, cut off the leaves from their tough stems. Gather them together into piles. Take each pile and roll it tightly. Cut the rolled leaves into thin strips crosswise (about ¼-inch strips).

In a medium pot, bring 6 cups of water to a boil over high heat. Place the trimmed leaves in a colander. Pour the boiling water over the leaves to slightly wilt and then drain well to remove all the added liquid (you can shake the colander or press down gently on the greens with a spoon). Reserve.

In a large pot of boiling salted water, cook gnocchi according to directions on package (shaving a minute off of cooking time).

Meanwhile, cook the diced bacon in a large, heavy skillet over medium heat until there are no more pink, white, or translucent areas on the bacon. If necessary, add 1 tablespoon oil to sauté garlic, stirring often, until it starts to become lightly browned. Add greens and salt, pepper, and the bouillon powder. Cook, stirring often, for about 2 to 3 minutes or until greens are tender but bright green. Taste and adjust seasonings.

When gnocchi is done, remove with slotted spoon and add to skillet and toss well. Stir in ¼ cup of pasta/dumpling water to keep the pasta moist. Cook for 1 -2 minutes, stirring frequently yet gently. Add the grilled corn kernels and tomatoes. Toss well. Remove gnocchi from heat and toss with cheese. Serve immediately!
** Nutrition labels on easyanddelish.com are for educational purposes only. This info is provided as a courtesy and is only an estimate, since the nutrition content of recipes can vary based on ingredient brand or source, portion sizes, recipe changes/variations, and other factors. We suggest making your own calculations using your preferred calculator, based on which ingredients you use, or consulting with a registered dietitian to determine nutritional values more precisely.
Please note that health-focused and diet information provided on easyanddelish.com is for educational purposes and does not constitute medical advice, nor is it intended to diagnose, treat, cure, or prevent disease. Consult with your doctor or other qualified health professional prior to initiating any significant change in your diet or exercise regimen, or for any other issue necessitating medical advice.
DID YOU MAKE THIS RECIPE?
Comment and rate the recipe. Also follow us on Pinterest at @easyanddelish for more delish recipes.