Disclosure: This is a compensated campaign in collaboration with Kikkoman and Latina Bloggers Connect. Herein, all opinions are honest and my own, as always.
Who loves homemade potato chips? In my household, everyone's hand is raised. 🙂 In honor of all those who appreciate life's simple pleasures, I prepared these purple potato chips... and folks, they are 5 thumbs up!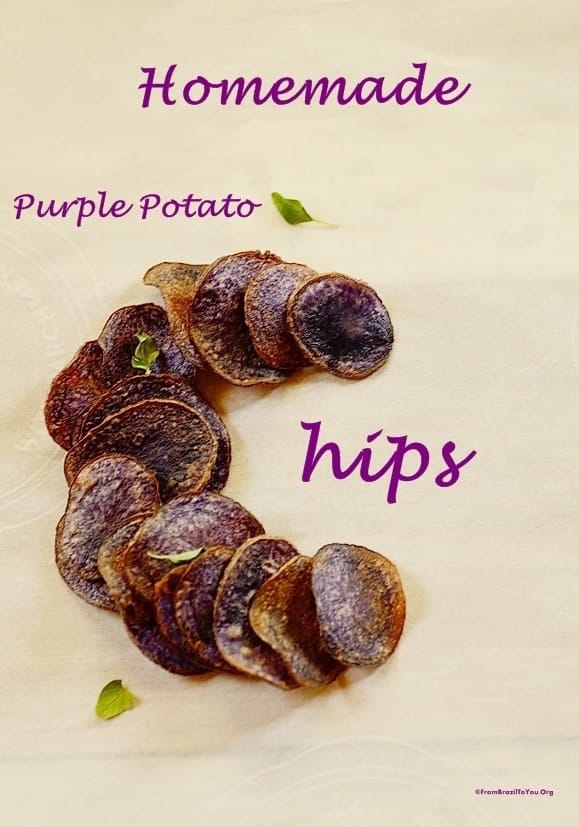 They are a quick, four-to-five ingredient dish that can be served either as a side for fish and other meats, sandwiches and burgers, crushed on top of salads for a crunch... or simply eaten as a snack accompanied by ketchup, soy sauce, guacamole or a dip.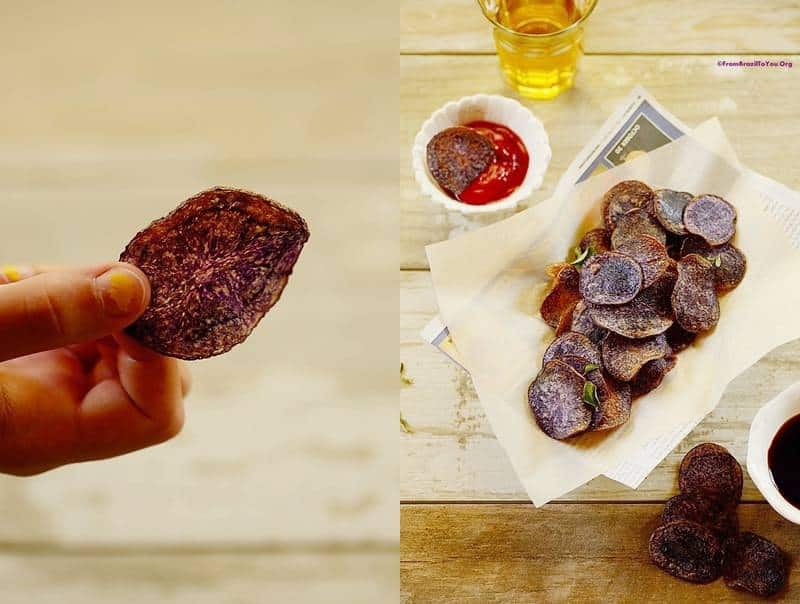 Speaking of soy sauce, I used Kikkoman Soy Sauce to marinade our purple potato chips. It works both as a flavor booster and an agent to extract excess moisture, guaranteeing a crispy final product. All I had to do was slice potatoes thinly with a mandolin, marinade them with soy sauce and salt for about 10 minutes, drain off the liquids in a colander, and then fry. It couldn't be any easier!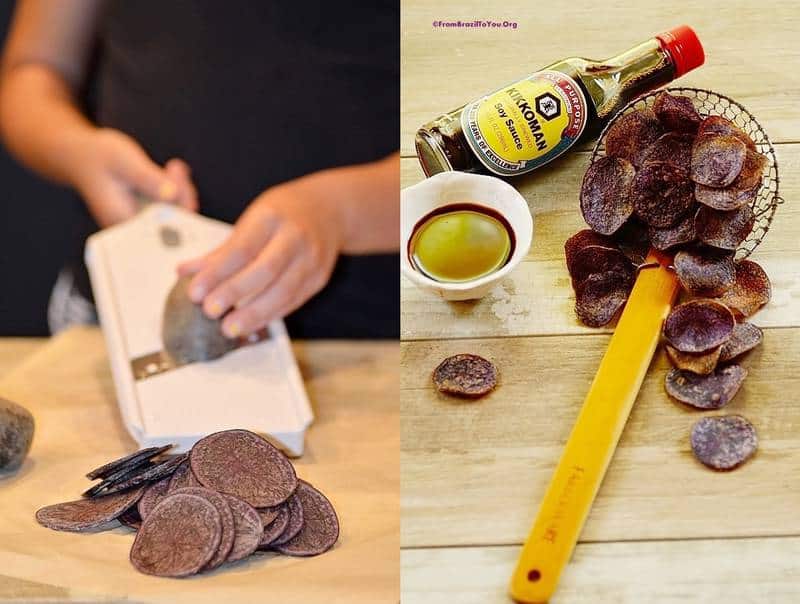 Although Kikkoman soy sauce is traditionally used to prepare or accompany Asian dishes, it is actually a versatile ingredient that can be used in cooking many different types of cuisines, as you can see. Don't believe it? Well then try these purple potato chips, our grilled peaches with teriyaki sauce, and our gaucho-style flatbread...
... So for excellent results, go ahead and consider using Kikkoman Soy Sauce in marinades like we did, as well as for a natural browning sauce and flavor enhancer. It is brewed... and just like a fine wine, Kikkoman Soy Sauce is aged over several months to develop its characteristic rich yet mellow flavor, appetizing aroma, and distinctive reddish-brown color.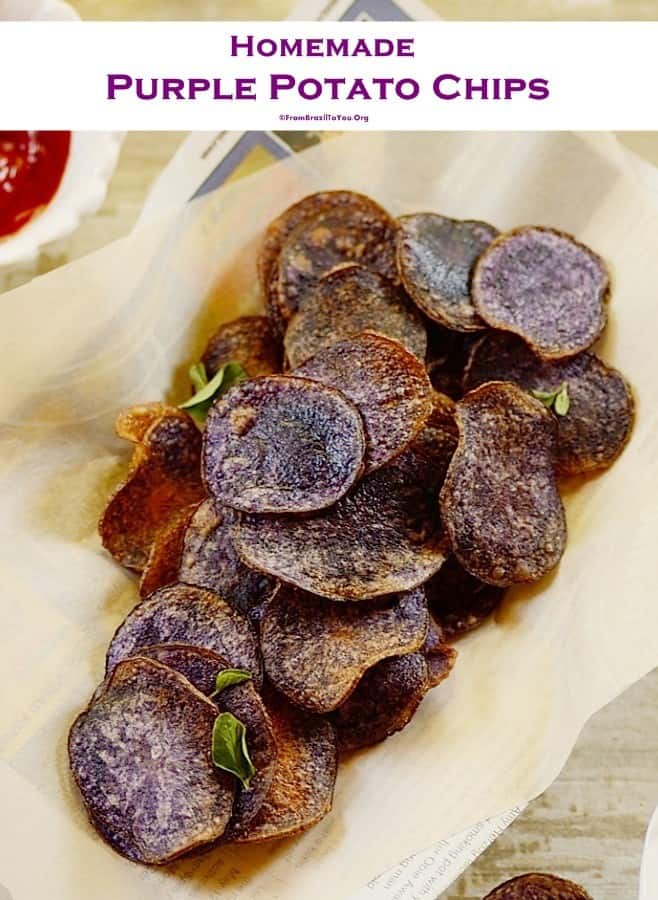 To find out more about Kikkoman products (e.g. Teriyaki and Soy Sauce) and to get great recipe ideas, click HERE.
For now, enjoy our addictive purple potato chips... eating and having fun with them -- like we did!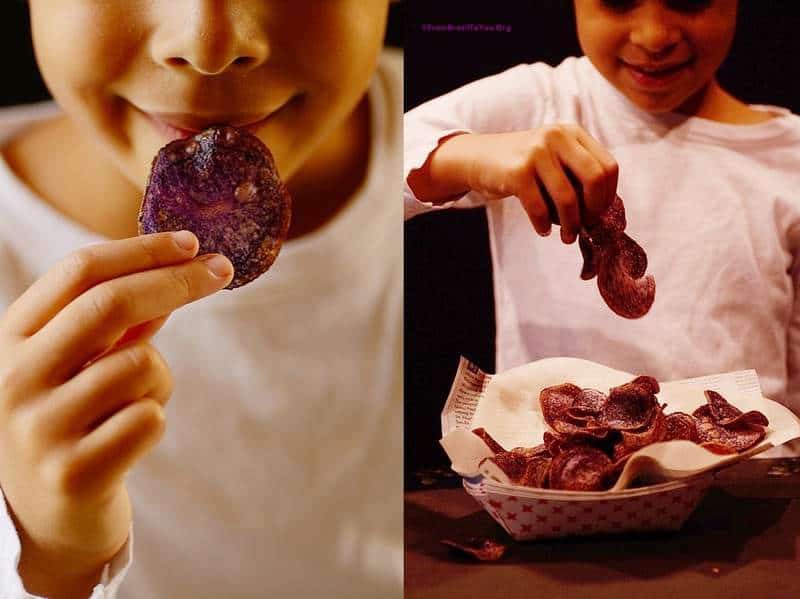 Homemade Purple Potato Chips
Homemade purple potato chips are easy to prepare, contain NO preservatives, and can be served as a snack or a side for meats, sandwiches and burgers, crushed on top of salads, and other uses.
Ingredients
6

purple potatoes

3

tablespoons

Kikkoman Soy Sauce

½

teaspoon

salt

plus more to sprinkle on the potato chips

Vegetable oil

enough to deep fry

2

sprigs fresh thyme or other herb of your choice

divided, optional
Instructions
Scrub the potatoes well with a veggie brush, pat dry, and cut off the tops. Do not peel them!

Using a mandolin, slice the potatoes paper-thin (1/16 inch.) Hold the potato end while dragging across the mandolin-- watch your finger tips closely.

Place the potato slices in a large bowl and pour on the soy sauce and salt over top of them. Toss well! Let the potatoes sit in the soy sauce-salt mixture for about 10 minutes to marinate/flavor and release their natural juices.

Then place them in a colander in order to drain off the liquid, about 10 minutes. Meanwhile, heat oil over medium-high heat in a medium to large heavy bottom pan at high heat (to 300 degrees F or until a droplet of water makes it sizzle). If desired, drop one sprig of thyme or other herb into the oil and let fry for 5-10 seconds (please, don't let it burn). Remove it with a spider and discard. Working in small batches (don't overcrowd the pan), drop in potato slices making sure one is not glued the other. Fry each batch for about 3-4 minutes or until edges turn golden and center doesn't look so bright and moist, constantly moving the slices. First batch will need to cook longer than the second, and subsequent batches will be ready faster. Adjust the heat as necessary to maintain 300 degrees F as much as possible.

Remove with a spider and place on a sheet pan lined with paper towel in order to absorb excess oil, and sprinkle a bit of salt. Remove leaves from the remaining herb sprig and sprinkle on top of the purple potato chips before serving, if desired. These can be served as a snack or as a side for fish and other meats, sandwiches, burgers, crushed on top of salads, and other uses. Purple potato chips can be accompanied with ketchup and/or soy sauce, salsa, guacamole or a dip, and your favorite soda or beer.

NOTE: Prep (active time): 12 minutes; Prep (inactive time): 20 minutes. Cook time: 3-4 minutes per batch. Yield: 4 portions.
Recipe Notes
If making this recipe with potatoes of 2 or more different colors, make sure to prepare them separately.
** Nutrition labels on easyanddelish.com are for educational purposes only. This info is provided as a courtesy and is only an estimate, since the nutrition content of recipes can vary based on ingredient brand or source, portion sizes, recipe changes/variations, and other factors. We suggest making your own calculations using your preferred calculator, based on which ingredients you use, or consulting with a registered dietitian to determine nutritional values more precisely.
Please note that health-focused and diet information provided on easyanddelish.com is for educational purposes and does not constitute medical advice, nor is it intended to diagnose, treat, cure, or prevent disease. Consult with your doctor or other qualified health professional prior to initiating any significant change in your diet or exercise regimen, or for any other issue necessitating medical advice.
DID YOU MAKE THIS RECIPE?
Comment and rate the recipe. Also follow us on Pinterest at @easyanddelish for more delish recipes.
This is a sponsored conversation written by me on behalf of Kikkoman. The opinions and text are all mine.