Brazil? Stories? Food? Recipes? No, not today!!! Today was chosen to say THANKS… TO YOU. I may not have met many of you in person, but you are a dear part of my life. You choose to lend me your eyes and ears when you could be anywhere else. You have given me the opportunity to share my home country with you, and also a part of my life as a foreigner in the great state of Texas… Your increasing readership has boosted my confidence to voice my thoughts and feelings about food more and more, you have given me free rein to just be me, you have made me feel useful… and above all, you have given me hope.
Yes, hope! Hope because you are living proof there are still people in this world with curiosity, with interest in diversity, ready to learn about something new and to venture a little bit out of their comfort zone. Every time that you try one of our recipes, ask about substitutions or where to find this or that ingredient, inquire about Brazil and its culture, or simply just send me an email or leave a comment saying hello, my face lights up with joy. I just wish you could see it! Yes, I am thankful for you!
I might be quite busy because there is so much going on behind the scenes, but I am never unavailable to you. Never get the feeling that you are bothering me. I'll always be happy to hear from you — seriously! Every time that you feel like it, stop by to say hello… and never be shy to ask questions — no matter how simple or complex you think they are. I'll do my very best to help you.
Please know that you are cherished and thought of. Know that I am thankful for you, for the many gifts you have given me, but most of all, know that from the heart…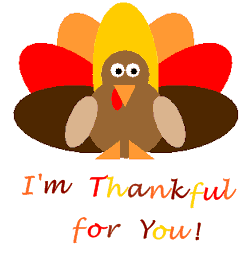 From me, my hubby, and my rays of sunshine, we say: