Nanny's beef stew is homey, rustic, and flavorful. It consists of beef steaks cooked with vegetables in broth. It is so comforting!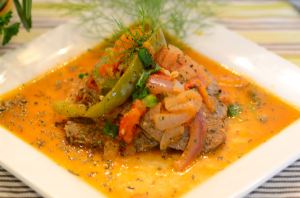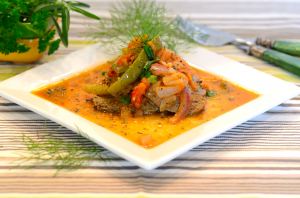 Odete was my nanny and also our cook. She first came to my home when I was only 2 years old.
Well, I grew up and left. She stayed.
In fact, she has been working for my mother for about 38 years so far. That's right! I said thirty-eight years.
When I was a child, she took care of me, walked me to school, often supervised my homework, and sometimes received the shocking surprise of my sneaking home chocolate candy fish from a street cart close to my school without having paid. Odete -- or simply Dedé as I used to call her -- also used to dress me after giving me a bath, but not without watching me repeatedly hit with a sandal the dresses that I so hated.
Many years later, she attended my law school graduation, my wedding, and most recently finally met my children -- a dream come true for her. This reminds me of how she also spoiled them, too. 🙂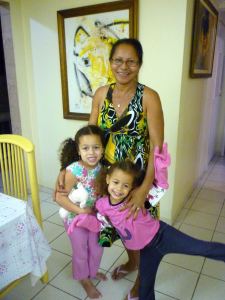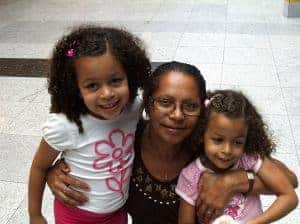 All this time she has been there, doing much more than she has been paid for.... She did and still does this because of her big heart-- because she loves us. How blessed we have been to have her as a help! After all these years, she has become more than that. She has become part of our family, someone that we so much love, too.
There are so many great memories about Odete that would not fit here. One of the most memorable things about her is her self-taught cooking. From all her dishes, the one that I remember the most is her beef stew. It is so reminiscent of her that I named it Nanny's Beef Stew. It is homey, rustic, hearty, full of flavor...
Because it is Odete's, I was as faithful as I could possibly be to the recipe. So there won't be diced vegetables, blanched tomatoes, deglazing the pan with wine, or flour to thicken the stew sauce today. What you will see -- and hopefully taste -- is the passion of a home cook, her recipe of love... Enjoy!
Nanny's Beef Stew (Bife de Odete)
Nanny's beef stew is homey, rustic, and flavorful. It consists of beef steaks cooked with vegetables in broth.
Ingredients
1-½

pound

eye of round steak

(about 700 gr.) hammered thin on both sides

2

tablespoon

cumin

1

tablespoon

salt

divided

1

teaspoon

ground black pepper

4

tablespoon

vegetable oil

divided

1

tablespoon

red wine vinegar

1

cup

beef stock

½

tablespoon

tomato paste

1

large yellow onion

sliced

2

large green bell peppers

deseeded and sliced

4

cloves

garlic

minced and pasted

4

medium tomatoes

sliced
Instructions
Hammer each one of the steaks on both sides. Mix the cumin, half of the salt, and the pepper together. Season the steaks. Reserve for about 30 minutes.

In a large pan, sauté the onion and the bell peppers in 2 tablespoons of oil over medium-high heat. Then, add the garlic and sauté for about 30 seconds. Add the tomatoes and let sauté for 2 minutes, stirring occasionally. Reserve.

In a separate large heavy-bottom pan, brown the steaks in 2 tablespoons of oil over medium-high heat. Add the vinegar and let evaporate a little bit. Add the stock, the tomato paste, and the other half of the salt. Stir. Add all the vegetables and press a little bit with a smasher.

Reduce the heat to low and cover the pan. Let cook for about 1 hour or so, stirring occasionally.

Serve with mashed potatoes or with a hard-crust bread, or -- the way that we use to eat it at my mother's house: with white rice, beans, and potato cakes (the recipe for which will be posted soon).
** Nutrition labels on easyanddelish.com are for educational purposes only. This info is provided as a courtesy and is only an estimate, since the nutrition content of recipes can vary based on ingredient brand or source, portion sizes, recipe changes/variations, and other factors. We suggest making your own calculations using your preferred calculator, based on which ingredients you use, or consulting with a registered dietitian to determine nutritional values more precisely.
Please note that health-focused and diet information provided on easyanddelish.com is for educational purposes and does not constitute medical advice, nor is it intended to diagnose, treat, cure, or prevent disease. Consult with your doctor or other qualified health professional prior to initiating any significant change in your diet or exercise regimen, or for any other issue necessitating medical advice.
DID YOU MAKE THIS RECIPE?
Comment and rate the recipe. Also follow us on Pinterest at @easyanddelish for more delish recipes.