An easy, healthy, and delicious Okra tomato salad dressed with a balsamic vinaigrette sauce. A recipe from the cookbook 'The Brazilian Table'.
I had been hearing a lot about the Brazilian Chef Yara Castro Roberts and her extraordinary cookbook 'The Brazilian Table,' but only recently did I have honor of meeting her in person. Her okra tomato salad is the dish that we are sharing with you today.
I was invited to an event for professional chefs at the Culinary Institute of America (CIA)- San Antonio this past Tuesday, August the 7th, featuring the signing of her book, followed by a presentation about her work.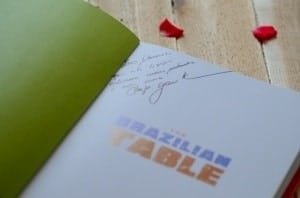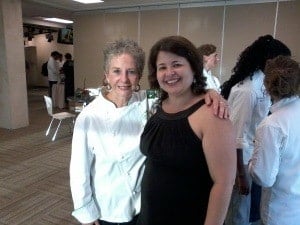 Then on Saturday the 11th, I had the opportunity to attend a dinner at NAO, CIA's new restaurant, located at the Pearl Brewery. The menu was entirely Brazilian, highlighting recipes which can be found in Chef Roberts' cookbook. The completely packed house had the pleasure of tasting a six-course meal as follows: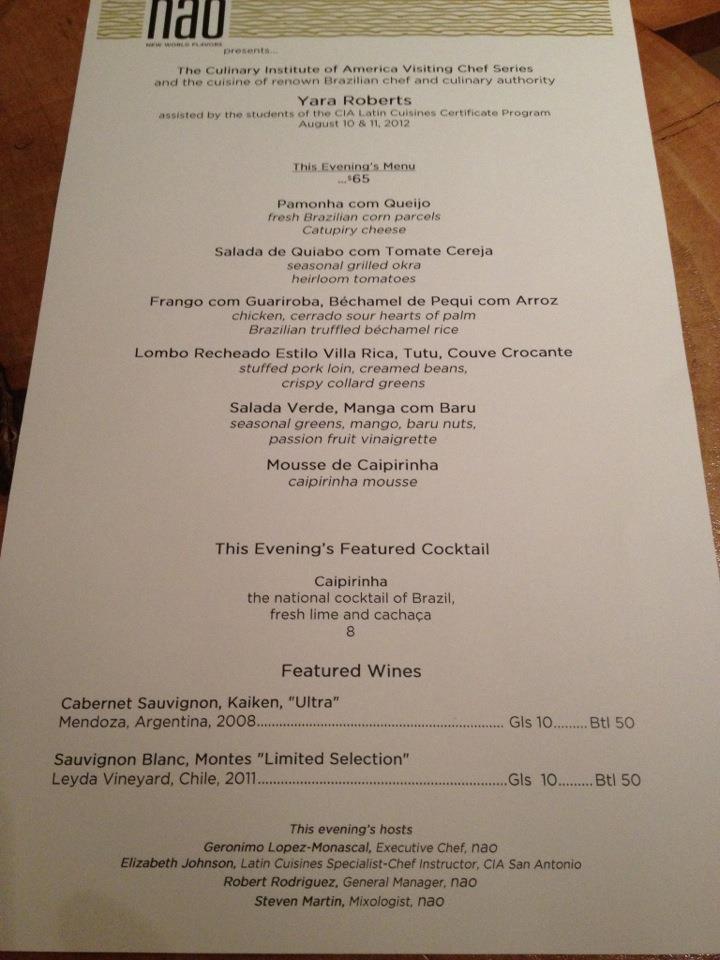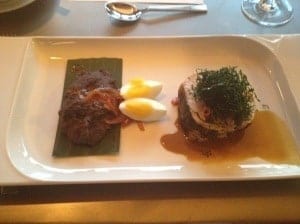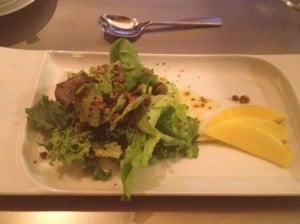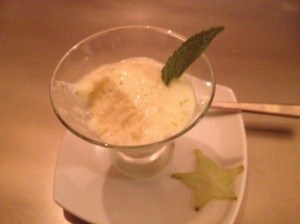 Every single dish, without exception, was an absolute delight to the senses, although I do have to confess that there was one that impressed me most of all: the Okra Tomato Salad. Why?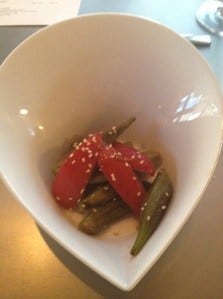 Professional chefs know that it is much easier to impress with a sophisticated dish than with a simple one. That's right! As incredible as it might sound, the simplest dishes are often the most difficult ones to present. This is due to the amount of thought and skill needed to bring out their outstanding qualities in spite of their simplicity.
Well, I can say that at table after table, the diners that evening were highly impressed with the Okra Tomato Salad, including myself.
Forget any preconceived idea that you may have about okra...
This one was cooked al dente and perfectly seasoned. It was interesting to experience the balance between its acidic and alkaline elements and the contrast of textures (the softness of the tomatoes and the crunchiness of the okra).
The best thing of all: I can enjoy this and the many other dishes served there again and again, since the recipes for them are all in her cookbook. Oh, I am telling you, this is a must-have cookbook for its ultra-delicious recipes, for the culinary history and personal stories that fill its pages, and of course for the stunning pictures. Page after page, I felt as though I was being transported back home, with the advantage of not having to take an airplane. 🙂
The hardest moment of all was pulling myself away from gazing at her vibrant book-- a book that made me smile wide, but also filled me with nostalgia...
I don't have words enough to thank Chef Yara Roberts for putting together such a masterpiece, for presenting and representing Brazil with such dignity and sensibility, and for being the friendly and fascinating person that she seems to be. After this memorable experience, she became more to me than an icon of the culinary world, she earned my respect and admiration.
Well, this is not all. I got a taste for more! So, see you next year at your school in Brazil, Chef Roberts!
And you, my dear reader, see you real soon in order for us to prepare together the best-tasting okra tomato salad dish ever.
xx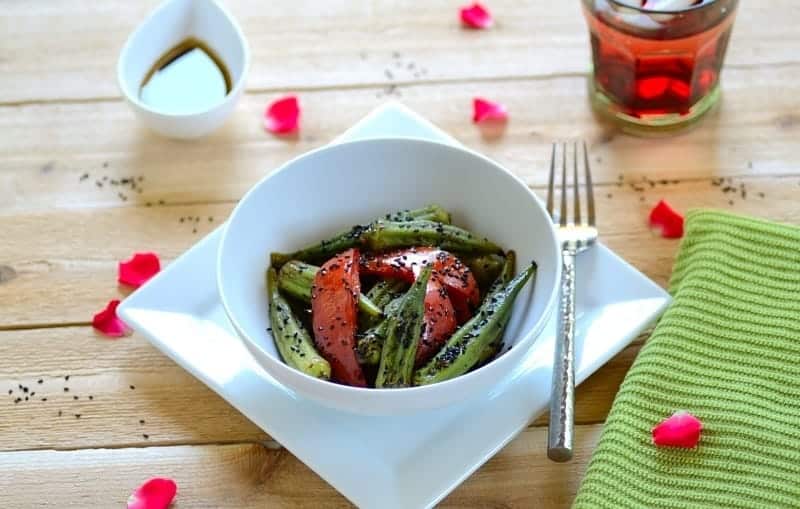 Note: A special thanks to Claudio and Juliana Martins for several of the pictures shown here, and for their friendship. I love you, guys!
Okra Tomato Salad
An easy, healthy, and delicious Okra tomato salad dressed with a balsamic vinaigrette sauce. A recipe from the cookbook 'The Brazilian Table', authored by Chef Yara Roberts.
Ingredients
3

cups

medium to small okra

4

cups

water

4-½

teaspoons

salt

divided

2

tablespoons

vinegar

3

ripe tomatoes

½

teaspoon

sugar

Black pepper to taste

2

tablespoons

balsamic vinegar

3

tablespoons

olive oil

¼

cup

toasted sesame seeds
Instructions
Clean the okra with a paper towel and set aside. In a large saucepan, bring water, 1-½ teaspoon salt, and vinegar to a boil. Blanch ½ of the okra for 3 minutes, strain, and immerse in a bowl with ice and water. Strain well and set aside. Do remaining batch in same water.**

Quarter the tomatoes. Seed and remove the center parts. Cut the tomatoes lengthwise into 8 pieces, similar to the size of the okra. You should have about 1-½ cups.

Place the cut tomatoes in a strainer and sprinkle with 2 teaspoons salt. Let drain for 15 minutes.

In a small bowl, place 1 teaspoon salt, sugar, and black pepper. Whisk in the balsamic vinegar and olive oil.

Toss the okra with the tomatoes and ⅔ of the dressing. Spread the rest of the dressing in the center of a decorative plate. Make a mound with the vegetables and sprinkle with the toasted sesame seeds.

** This technique (step 1) will avoid okra getting mushy after cooked. Recipe from 'The Brazilian Table' cookbook, page 90.
** Nutrition labels on easyanddelish.com are for educational purposes only. This info is provided as a courtesy and is only an estimate, since the nutrition content of recipes can vary based on ingredient brand or source, portion sizes, recipe changes/variations, and other factors. We suggest making your own calculations using your preferred calculator, based on which ingredients you use, or consulting with a registered dietitian to determine nutritional values more precisely.
Please note that health-focused and diet information provided on easyanddelish.com is for educational purposes and does not constitute medical advice, nor is it intended to diagnose, treat, cure, or prevent disease. Consult with your doctor or other qualified health professional prior to initiating any significant change in your diet or exercise regimen, or for any other issue necessitating medical advice.
DID YOU MAKE THIS RECIPE?
Comment and rate the recipe. Also follow us on Pinterest at @easyanddelish for more delish recipes.