The June Festivals (known as Festas Juninas), are popular Brazilian festivities that take place in the month of June... And this year we will be celebrating the June Festivals with a five-ingredient, naturally gluten-free, refreshing Paçoca Mousse (Paçoca Cremosa) -- made from roasted peanuts or paçoca candy, sweetened condensed milk, heavy cream, sugar, and salt.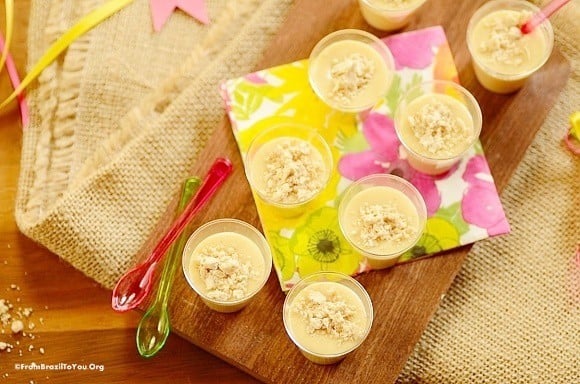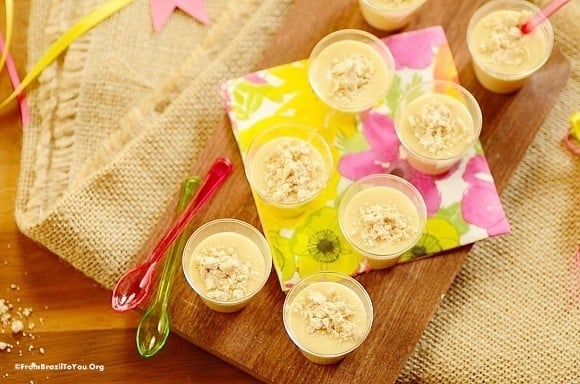 During the June Festivals, celebrants thank Saint John for the rain and the abundant harvest of corn (maize). A huge event space is set up called an arraial, which is merrily decorated with strings of colorful flags and paper balloons, and filled with tents or rough-hewn stalls. The festivities are illuminated by floating paper lanterns, dazzling fireworks, and bonfires... There is lots of lively music, as well as quadrilha folk dances that center around a mock bride and groom -- as you can see in this VIDEO.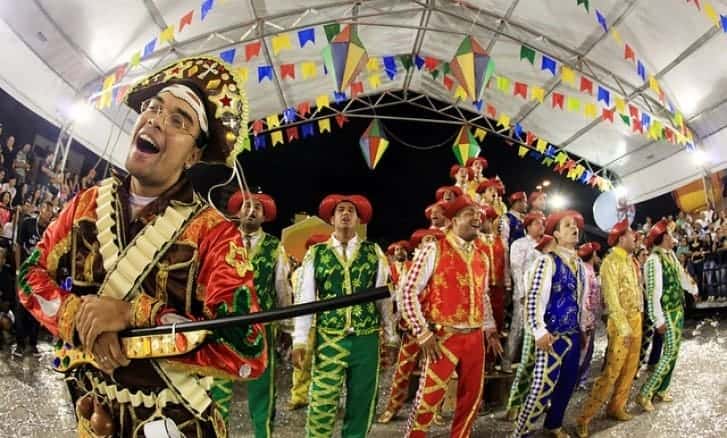 As part of the fun, people dress up in typical country yokel outfits with straw hats, painted-on freckles, and gap-teeth. Women often wear checkered gingham dresses and pigtail braids.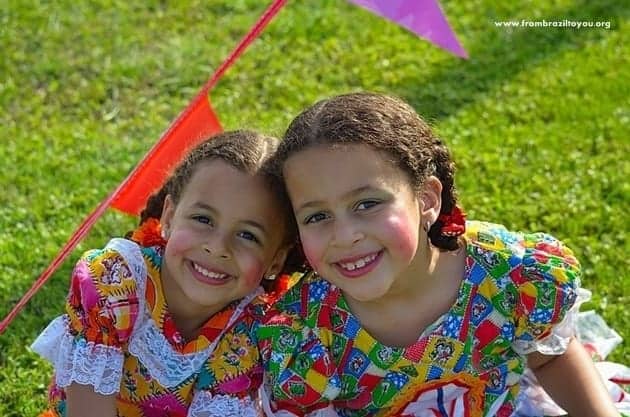 And how can we forget all the delicious food! The most typical items are usually made from yellow corn (maize), and include such dishes as Boiled or Grilled Corn on the Cob, mungunzá doce (sweet corn-coconut pudding), canjica nordestina or curau (creamy corn pudding), pamonha (a type of Brazilian Sweet Corn Tamale), cuscuz de milho (Brazilian cornmeal couscous), sweet popcorn, and Bolo de Milho (corn bundt cake). Further, there are many other dishes that are made from rice (arroz doce or rice pudding), spices, coconut (such as cocada or Brazilian coconut bars), and peanuts (such as our paçoca mousse). And one of the most popular drinks for the June Festivals is quentão de vinho (a hot cider made with spices, orange, and red wine)!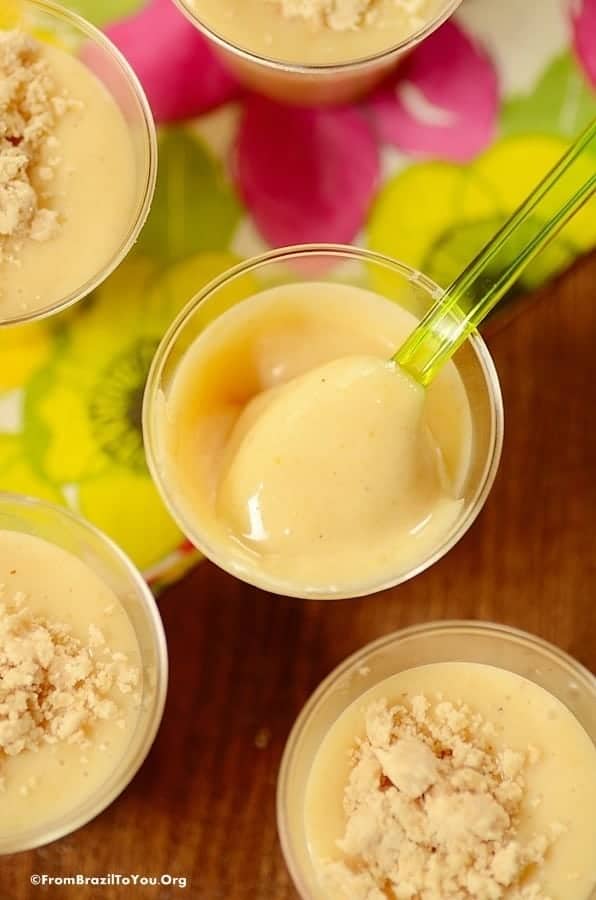 Paçoca is a typical candy of Brazilian caipira (hillbilly) cuisine, made out of ground peanuts, cassava flour, sugar, and salt. It is most prevalent in the interior of the southeastern states of Minas Gerais and São Paulo, and is known for its dry texture and sweet taste.
If desired, you can transform our paçoca mousse into popsicles (ice lollies) by simply inserting popsicle sticks and freezing the paçoca mousse cups.
As you can see, you don't have to be there in Brazil celebrating the Festas Juninas in order to enjoy our paçoca mousse, or any of the other dishes mentioned above.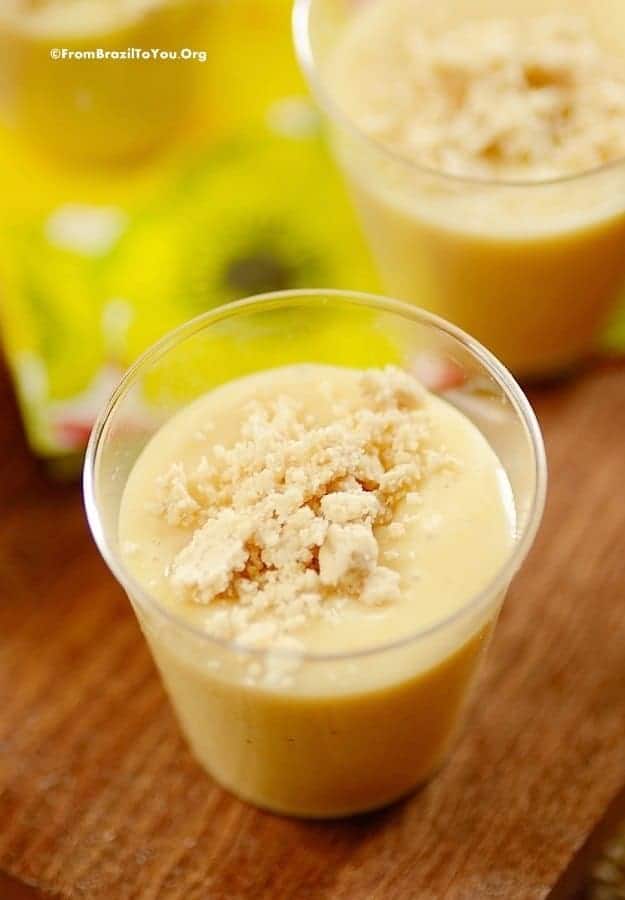 Enjoy!
Roasted Peanut Mousse (Paçoca Cremosa)
Paçoca mousse is a five-ingredient, creamy dessert made from peanut candy or roasted peanuts, sweetened condensed milk, heavy cream, sugar, and salt.
Ingredients
1½

cups

unsalted roasted peanuts

or 10-12 (1-ouce) paçoca candy

1

can

sweetened condensed milk

14 oz

1

cup

heavy whipping cream

(if using paçoca candy, use only ¼heavy cream)

⅓-1/2

cup

sugar

1

pinch

salt
Instructions
Blend all ingredients in a blender until obtaining a smooth, homogeneous mixture.

Pour mixture into mini shot cups (about 3 tablespoons per cup) and refrigerate for at least 4 hours before serving.

If desired, the top of the paçoca mousse can be garnished with chopped roasted peanuts or ground paçoca candy. Yield: 3 (8-ounce) cups or 16 mini shot cups.
Recipe Notes
If desired, you can transform our paçoca mousse into popsicles (ice lollies) by inserting popsicle sticks and freezing the cups.
** Nutrition labels on easyanddelish.com are for educational purposes only. This info is provided as a courtesy and is only an estimate, since the nutrition content of recipes can vary based on ingredient brand or source, portion sizes, recipe changes/variations, and other factors. We suggest making your own calculations using your preferred calculator, based on which ingredients you use, or consulting with a registered dietitian to determine nutritional values more precisely.
Please note that health-focused and diet information provided on easyanddelish.com is for educational purposes and does not constitute medical advice, nor is it intended to diagnose, treat, cure, or prevent disease. Consult with your doctor or other qualified health professional prior to initiating any significant change in your diet or exercise regimen, or for any other issue necessitating medical advice.
DID YOU MAKE THIS RECIPE?
Comment and rate the recipe. Also follow us on Pinterest at @easyanddelish for more delish recipes.
Credits:
"Arraial" image from EBC under Creative Commons Atribuição 3.0 Brasil.