An easy and velvety Peach Caramel Nice Cream made with simple ingredients which, unlike ice cream, requires no steeping or churning. A summer must-try!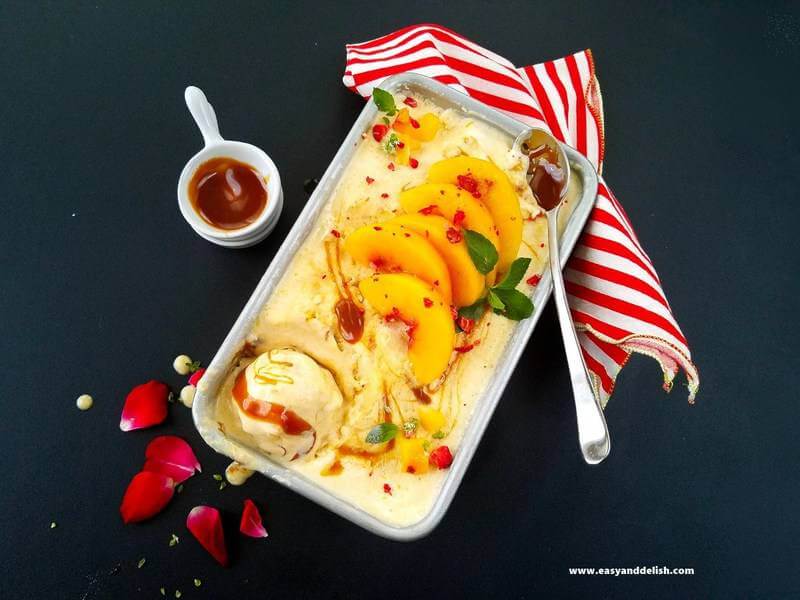 Are you a fan of ice cream? How about something as tasty as ice cream, yet much easier to prepare? Yep! That's our recipe for today, honey.
This girl here is sharing a SUPERB Frozen Peach Caramel Nice Cream — you read that right: (N)ice cream. What's the difference? Well, let's find out!
Usually ice cream recipes like this sorvete nata goiaba (guava and cream ice cream) require steeping the cream in order to flavor it and/or churning… and must be frozen!
On the other hand, Nice cream is quickly made by blending fruit with a sort of cream or creamy ingredient such as heavy whipping cream, canned coconut milk, etc. Unlike ice cream it can be served either frozen or just chilled in a glass.
In this last case, it has the consistency of a suuuuuper creamy milk shake, but instead of sipping, you gotta eat it by the spoonful. 😉 In any case, it is a super duper refreshing treat and A.D.D.I.C.T.I.V.E!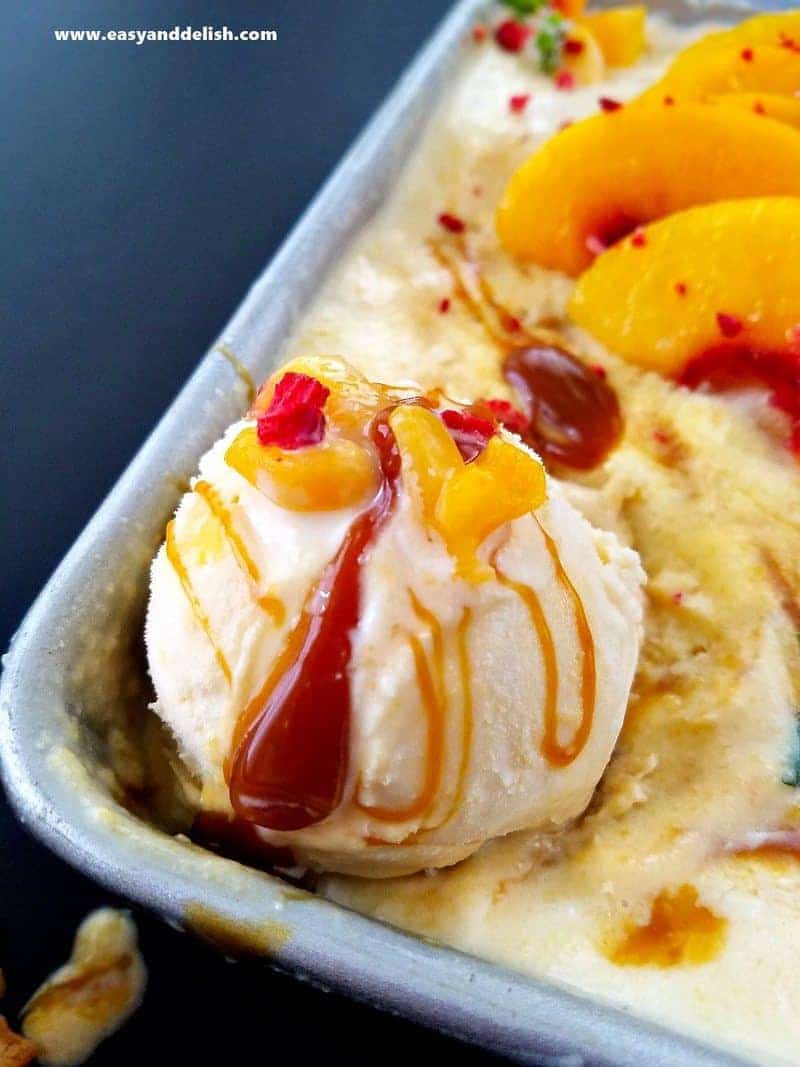 HOW TO MAKE PEACH CARAMEL NICE CREAM
To make this peach nice cream, blend frozen peaches with sugar, lemon juice, heavy whipping cream, and sweetened condensed milk until smooth and creamy.
Next, fold whipped cream into the mixture, adding a lighter texture and then pour mixture into a container, swirl store-bought caramel into the mixture, and freeze it. See, easy, hon!
Right before serving, top with sliced or chopped frozen peaches and drizzle with a bit of caramel, if desired.
If you prefer our Peach Caramel Nice Cream chilled instead, pour mixture into glasses instead, swirl in a bit of caramel, top with peaches, and serve chilled like you would with a milkshake or "mousse."
Our Peach Caramel Nice Cream is gluten-free and a favorite among adults and children. They will make your snack/dessert time much more flavorful, fun, and happier. My family and I are hooked 🙂
As you can see, it is something that can be whipped up in a few minutes and served chilled to your surprise guest. You can also take it to your picnic, barbecue, or get-together and people will love it.
ABOUT OTHER PEACH RECIPES:
Our Peach Caramel Nice Cream is also part of a blogger challenge (#summerlovespeaches) — and I am pretty excited at having been invited by Annie from What Annie's Eating and Rebecca and Ruth of Square Meal Round Table to participate, along with many other great bloggers and Instagrammers.
Yep, that means that instead of just one recipe, you can also get many other amazing peach recipes to enjoy this summer. You will find the list of participants and their respective recipes below.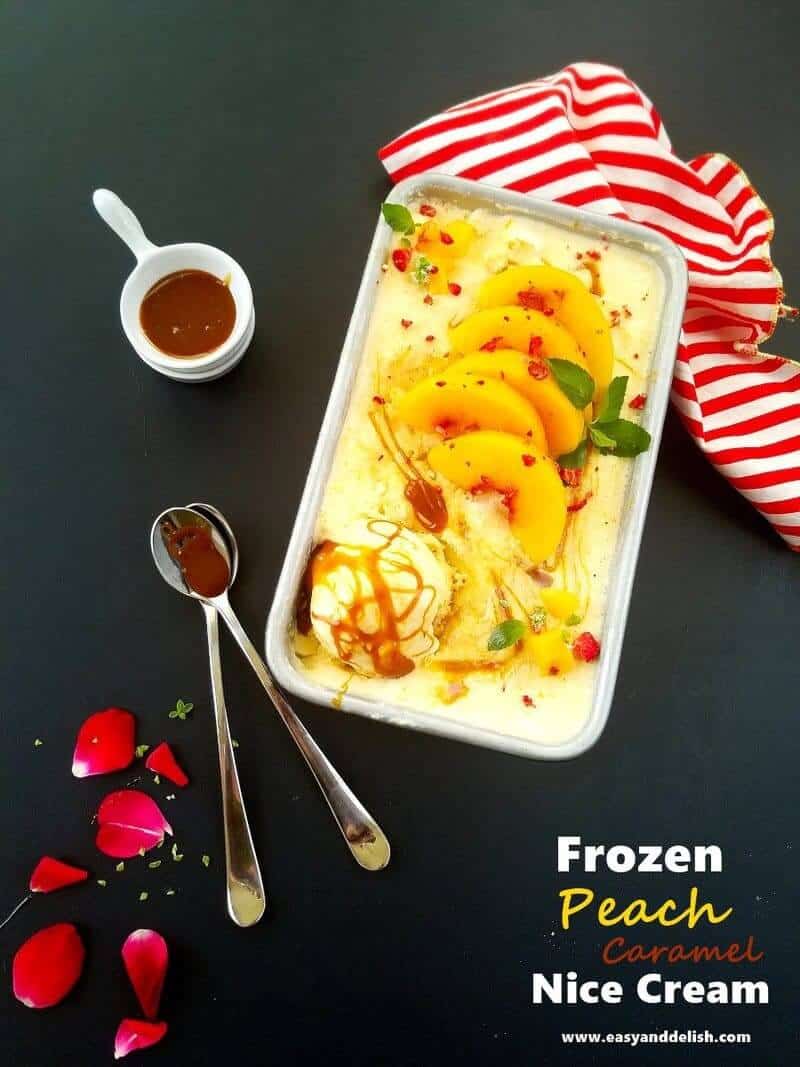 I am not kidding… it's pure deliciousness, to be devoured without guilt. I must confess, I am overjoyed to have just a scoop. Haha! Get your sugar cones lined up ready!
Enjoy and stay cool!
TO PIN TILL YOU DROP: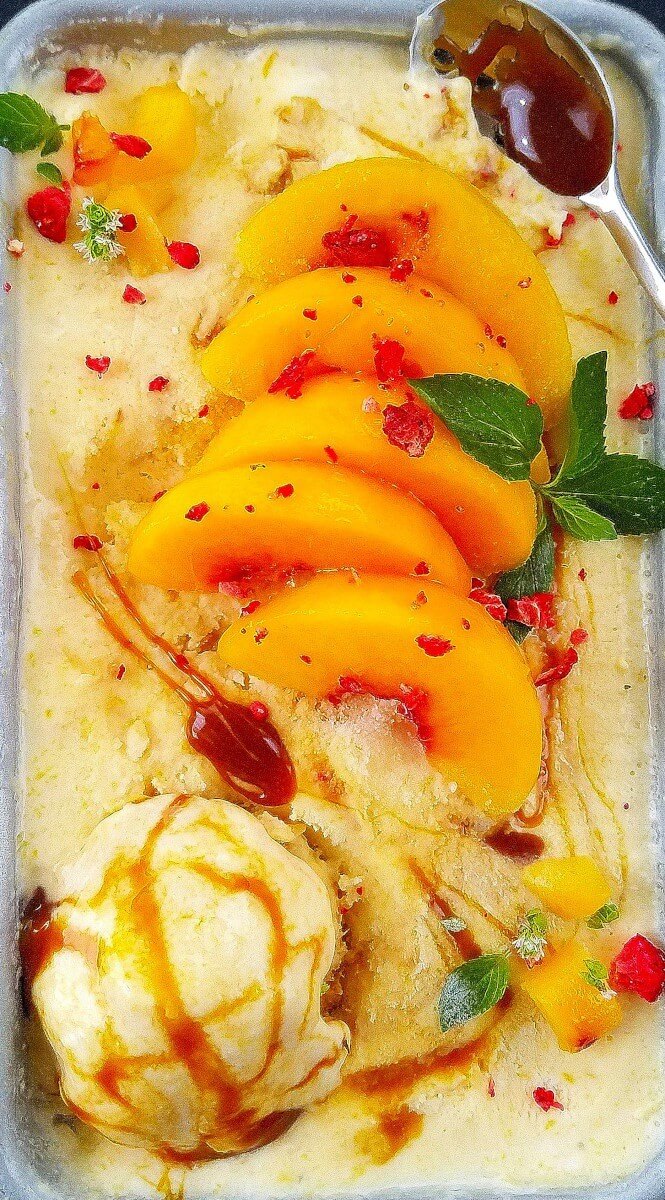 For other delicious Peach recipes visit the following blogs who participated in this project as well. Head to Instagram and check out our hashtag, #summerlovespeaches – and use this hashtag for your own peach recipes!
www.lemonthymeandginger.com
www.mindyscookingobsession.com
www.sproutingradiance.com
www.thewholeelchilada
www.foodfash.com
www.especiallysoutherndishes.com
www.playzwithfood.com
www.teebsie.com
www.saltyspicybitterandsweet
Did you make this recipe?
I would love to see your delicious creation! Please , leave me a comment below, and share a photo and tag me on Instagram with the hashtag, #summerlovespeaches!
Peach Caramel Nice Cream
An easy and velvety Peach Caramel Nice Cream made with simple ingredients which, unlike ice cream, requires no steeping or churning.  A summer must-try!
Ingredients
2

(16-ounce) bags

frozen sliced peaches

1

(14-ounce) can

sweetened condensed milk

1

cup

heavy whipping cream

2

lemons, juiced

1/2 to 3/4

cup

sugar

1

(8-ounce) container

light whipped cream, thawed

1/3

cup

your favorite store-bought caramel

I used Trader Joe's
Instructions
Separate a few slices of frozen peach to top nice cream later. Blend frozen peaches, sweetened condensed milk, heavy cream, lemon juice, and sugar in a blender until creamy and smooth.

Fold thawed whipped cream into the blended mixture with a spatula until obtaining a homogeneous mixture. Transfer mixture to a freezer container or glasses, swirl caramel, cover, and either freeze or chill in the refrigerator (you can also serve immediately if desired).

Peach Caramel Nice Cream can be topped with (sliced or chopped) peaches and drizzled with a bit of caramel for a nice presentation if desired. Enjoy!
Recipe Notes
If serving chilled in glasses, make sure to top with thawed peaches.
Nutrition
Calories:
171
kcal
|
Carbohydrates:
27
g
|
Protein:
1
g
|
Fat:
7
g
|
Saturated Fat:
5
g
|
Cholesterol:
27
mg
|
Sodium:
30
mg
|
Potassium:
45
mg
|
Fiber:
1
g
|
Sugar:
21
g
|
Vitamin A:
295
IU
|
Vitamin C:
9.7
mg
|
Calcium:
21
mg
|
Iron:
0.1
mg
DID YOU MAKE THIS RECIPE?
Comment and rate the recipe. Also follow us on Pinterest at @easyanddelish for more delish recipes.