Ready?! This is SRC-Secret Recipe Club day! As you know, once a month on this day a recipe from a designated member of the SRC club is featured here. This time it is a kid-friendly breakfast recipe adapted from Alli-n-Sons: Peanut Butter and Berry Waffles with Nutella Sauce!!!
Whoo, hoo!! I am so excited. Waffles are one of my favorite things. But this is not just any common waffle. Allison's recipe is none other than the addictive, scrumptilicious Peanut Butter and Nutella Waffles. Yes, you read that right!!!
Allison is a chocolate lover, blogger, freelancer graphic designer, and mother of two precious sons, for whom she makes many creative dishes. I completely understand that, since I have two amazing daughters whom I try to please in the kitchen — sometimes desperately. 🙂
If you follow this blog, you know how I love to put my twist on others' recipes and make them my own. Most of the time there is nothing at all wrong with them (as is the case with Alli-n-Son's waffles)– it is just a personal thing. You are welcome to try Alli-n-Sons', mine, or to be inspired by this recipe but create your own. I love both Alli-n-Sons' and mine, and if you come up with something new, I wish I could try yours, too.
Well, I have used the same ingredients called for in her recipe. The differences are that I added a few additional ones to the recipe, and also did not combine the peanut butter and nutella together in the waffle batter and serve with a blueberry syrup. Instead, I used only the peanut butter in the batter and added raspberries to it, making peanut butter and berry waffles. The nutella was reserved to make a sauce for drizzling over the waffles. I am both a nutella and peanut butter lover… because of this I like to taste them by themselves so that their flavors do not compete with each other. I call my twist Peanut Butter and Berry Waffles with Nutella Sauce.
A big thanks to Allison for her creativity and excellent recipe… From yours, I was able to get something that I can call my own.
So breakfast is served! Grab your plate and enjoy…
xx
Peanut Butter and Berry Waffles with Nutella Sauce
Yield: About 10-12 waffles
Segment: From My Table To Yours/Secret Recipe Club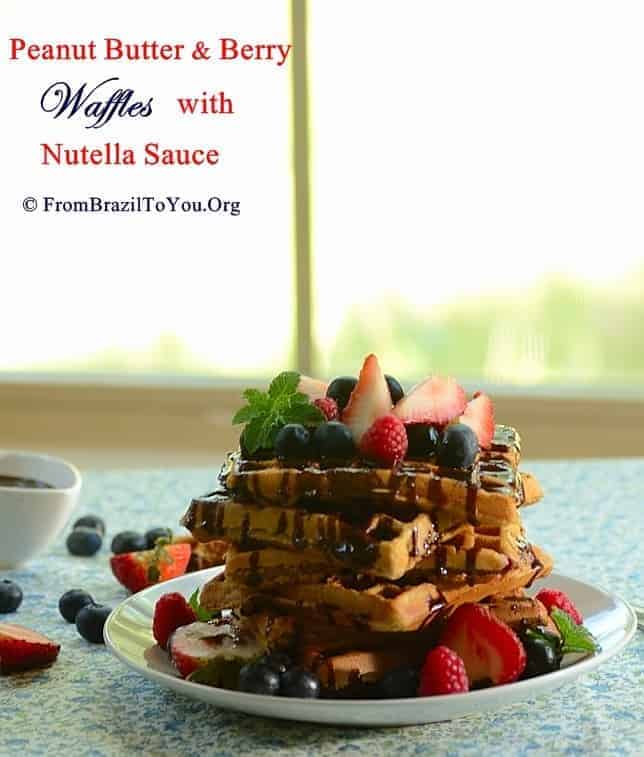 Ingredients:
For The Waffle Batter:
1-3/4 cups whole-wheat flour
1 teaspoon baking soda
3 teaspoons baking powder
1/8 teaspoon salt
1/4 cup sugar
2 large eggs, beaten
1-1/4 cup buttermilk
1 cup milk
1/4 cup vegetable oil
3/4 cup creamy peanut butter
1/2 cup raspberries, mashed
1/4 cup blueberries, halved
Nutella Sauce
For the Nutella Sauce:
1/2 cup Nutella
1/3 cup milk
Directions:
1. In a mixing bowl, add the flour, both the baking soda and powder, salt, and sugar; stir to mix.
2. Add in the beaten eggs, buttermilk, milk, and oil, mixing very well until combined. Stir in the peanut butter, and mashed raspberries; then, fold in the blueberries.
3. Preheat a waffle iron on high heat, if your waffle iron has heat settings. When the waffle iron is hot, spray surface lightly with no-stick butter-flavored cooking spray.
4. Pour the batter into the waffle iron, being careful not to over fill. Cook until the waffle is golden brown. Serve hot with the nutella sauce and fresh berries.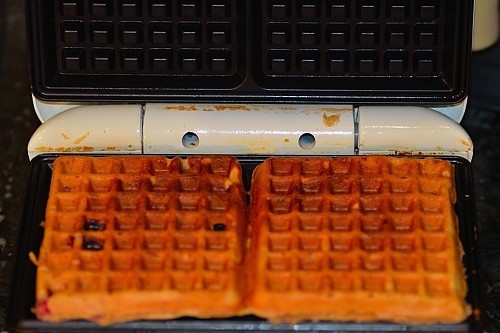 5. To prepare the Nutella sauce: In a microwaveable bowl, whisk together Nutella and milk until smooth. Microwave on high for about 30 seconds, whisk again, and thin sauce with additional milk if necessary. Drizzle sauce over the waffles.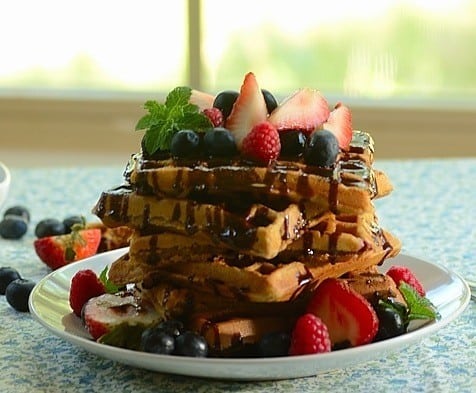 Note: This recipe has been adapted from Alli-n-Sons' Peanut Butter and Nutella Waffles.
You may also enjoy at breakfast time: 
Glazed Guaraná Cake Topped with Toasted Cashew Nuts (Bolo de Guaraná Glaceado com Castanha de Caju)
Banana Coffee Chai Smoothie (Brazilian Inspired)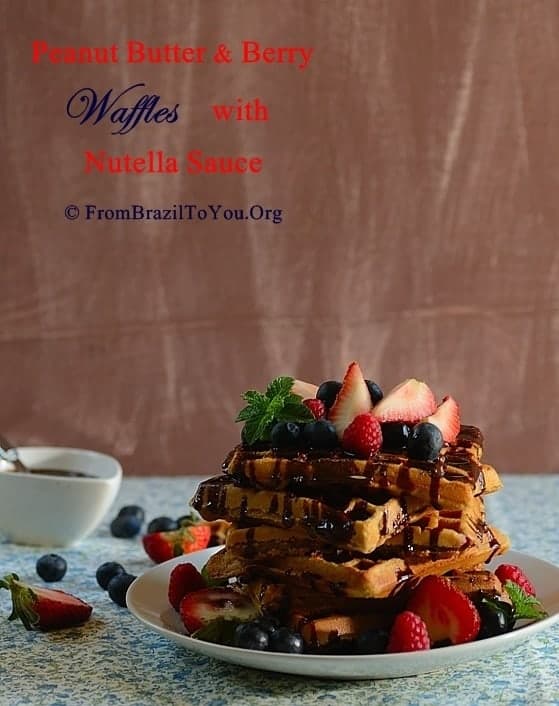 SUBSCRIBE BY EMAIL: