Creamy polenta with rustic chicken stew is an easy, hearty, and comforting meal. A rewarding dish for those lazy days.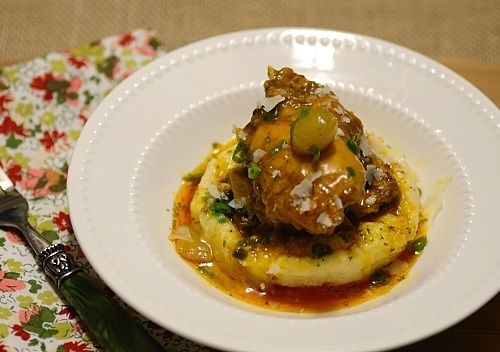 This month, the traditional Festas Juninas (June Festivals) are celebrated in Brazil. At this time I decided to share with you a typical dish associated with the spirit of these festivals: Polenta with Rustic Chicken Stew (Xerém com Frango Ensopado).   I will explain these festivities in more detail in one of my next posts.
Interestingly, even after having lived in the USA for about 10 years so far, my body still yearns for foods made with corn this whole month long.  It's like, once it is announced that the time has arrived, my body for some reason immediately starts craving them all.  🙂
Because of this, I intend to introduce to you several dishes typical of the Festas Juninas, which once upon a time crowned me as its Corn Princess…. Yes, get ready to enjoy along with me its many wonderful delicacies.  Believe me: you won't regret it!
These are rustic, homey dishes, both savory and sweet, prepared mostly with corn, coconut, nuts, and spices.  Above all, flavor is the real star here!
Because Festas Juninas highlight the character and traditions of the Brazilian hillbilly, I will start off with a very substantial dish often prepared by field workers: Polenta, as well as its poultry accompaniment, Frango Ensopado.  Although these are not considered typical dishes of the Festas Juninas, they still reflect its spirit because this pairing is a commonplace meal enjoyed by the hillbillies.
Italian polenta — so typical in Southern Brazil, where most of the Italian immigrants were initially concentrated– is known simply as Angú or  Xerém in Northeast Brazil.  It is often served accompanied by a rustic chicken stew called Frango Ensopado.  This poultry dish is made with frango caipira, or chicken raised on farms by the country folk.  The ingredients for these two dishes are available most of the year on farms.  Also, because they are hearty, stout dishes,  they are ideal for feeding those who perform hard physical labor out in the fields.
Yet these dishes are so delicious that people from the city started eating them together, too.  I am a big fan!  What can I say: they put a huge smile on my face!
I hope they put one on yours, too…. For now, enjoy our Polenta with Rustic Chicken Stew.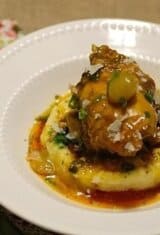 Polenta with Rustic Chicken Stew
Creamy polenta with rustic chicken stew is an easy, hearty, and comforting meal. A rewarding dish for those lazy days.
Cook Time
1
hour
5
minutes
Total Time
1
hour
35
minutes
Ingredients
For the creamy polenta:

6

cups

water

1

tablespoon

salt

1

teaspoon

garlic powder **

optional

2

cups

corn grits polenta

2

tablespoons

unsalted butter

4

cup

tablespoons mascarpone cheese

or 1/2shredded mozzarella cheese ** optional

4

tablespoons

shaved parmesan cheese **

optional

** These ingredients are my personal touch to the traditional recipe.

Note: This recipe is gluten-free. For both a vegetarian and dairy-free version, omit the butter and the cheeses.

For the chicken stew:

3

pounds

boneless skinless chicken thighs

the skin and bones are kept in the traditional recipe (1,350 kg)

1

tablespoon

cumin

2

teaspoons

salt

1/4

teaspoon

freshly ground white pepper

1

tablespoon

annatto powder

2 - 3

tablespoons

vegetable oil

1/4

large white onion

small diced

4

garlic cloves

minced

1/4

cup

white wine **

1

cup

chicken broth

1-1/2

tablespoon

tomato paste

1

bay leaf**

3

bottled malagueta peppers **

optional

1

cup

baby (pearl) onions

peeled**

1/2

cup

green onions

chopped

** These ingredients are my personal touch to the traditional recipe.

This recipe is both dairy and gluten-free.
Instructions
For the polenta: In a large pot over high heat, bring water, salt, and garlic powder to a boil; gradually stir in the polenta. Reduce heat and simmer gently, stirring frequently with a wooden spoon to prevent sticking, until mixture is very thick and fully cooked, about 30 minutes.

Stir in butter. Then, mix in well the mascarpone or mozzarela cheese, if desired. Serve hot with 1 tablespoon of shaved parmesan cheese (for each cup of polenta) on top.

To prepare the chicken stew: Season the chicken thighs with cumin, salt, pepper, and annatto. Let rest for about 30 minutes.

In a large heavy-bottomed pan, heat 2 tablespoons of oil over medium-high heat, and in 2 different batches brown the thighs for about 5 minutes, turning at least once. Remove thighs from pan, add 1 more tablespoon oil, if necessary, and sauté the diced onion until translucent, about 2 minutes. Add the garlic and sauté for about 30 seconds. Return thighs to pan and add the wine. Let evaporate. Then, add the stock, the tomato paste, the bay leaf, and the malagueta pepper. Stir. Bring to a boil, cover the pan, and reduce heat to low. Let simmer for approximately 35 minutes. Then add the baby onions, cover again, and let the stew simmer for an additional 10 minutes. Remove from heat, add the chopped green onions, and serve piping hot over the polenta. Enjoy!