Ah, Prestígio Cheesecake Bars…  A bottom layer of dark and fudgy chocolate brownie, contrasting with the second layer of mildly sweet, creamy coconut cheesecake, and the third layer of bittersweet, smooth chocolate frosting… This is our contribution for the Chocolate Party this month – hosted by Roxana's Home Baking!!!  Our secret ingredient? Heavy cream!
If you follow me for a while, you already know well how I am such a fan of prestígio — I mean, the combination of chocolate and coconut. Our previous treats, flourless ooey gooey prestígio cookies and prestígio cheesecake, can confirm it.
I must say that I could not have chosen a better dessert containing heavy cream… A fusion between Brazilian (combination of flavors) and American (brownie and cheesecake) cuisines.  Man, oh man… These are one of the best cheesecake bars that I have ever had.
Could you blame me for enjoying these cheesecake bars so much?  Just thinking about them makes me drool over the keyboard.  Yes… These cheesecake bars are SUPER addictive — and perfect for parties or as a snack on those occasions when only a rich treat can save the day…
These are also one of those treats that I should not have very often – I must say. 🙁 But for now, I will enjoy these super duper infamous cheesecake bars, and may the Lord help me tomorrow when I step onto the scale.  Yes, cover your ears…
JOIN THE CONVERSATION!
What's your favorite chocolate-coconut treat and how often you eat it?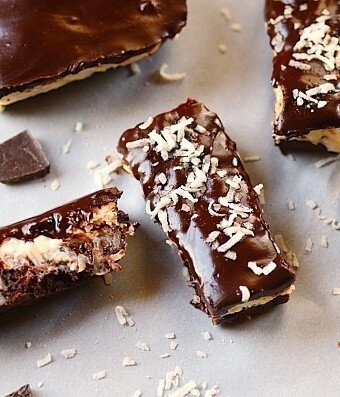 Prestígio Cheesecake Bars
Prestígio Cheesecake Bars contain a bottom layer of rich and fudgy chocolate brownie, contrasting with the second layer of mildly sweet coconut cheesecake, and the third layer of smooth, bittersweet chocolate frosting.
Ingredients
For the Chocolate Bar Batter:

6

tablespoons

unsalted butter

softened

1

cup

white granulated sugar

1/2

cup

unsweetened cocoa powder

1

teaspoon

pure vanilla extract

2

large eggs

at room temperature

1-1/2

cups

all-purpose flour

1/2

teaspoon

salt

4

ounces

plain Greek yogurt

For the Coconut Cheesecake Filling:

1

package

cream cheese

softened, 8-ounce

1/4

cup

coconut cream

1

cup

white granulated sugar

1

teaspoon

coconut extract

1

large egg

1/2

tablespoon

all-purpose flour

1

cup

sweetened coconut flakes

plus extra for garnishing

For the Chocolate Topping:

6

ounces

bittersweet baking chocolate bar

chopped

2

tablespoons

unsalted butter

softened

2

tablespoons

heavy whipping cream
Instructions
To prepare the chocolate bar batter: Preheat oven at 325° F. Line both the bottom and sides of an 8-inch square baking pan with aluminum foil. Set aside.

Working with a double boiler, add about 1-2 inches of water to the bottom pan. Heat pan over low heat until water begins to simmer. Set top pan over the bottom pan and melt the butter. Stir in a mixture of a mixture of sugar and cocoa powder until combined. Remove from the heat and stir in the vanilla (mixture will be gritty). Transfer mixture to a large bowl and whisk in the eggs, one at a time, just until combined. Whisk in half of a flour-salt mixture and then half of the yogurt. Whisk the other half of flour-salt, and then the remaining half of the yogurt until obtaining a homogeneous mixture.

Spread chocolate bar batter in the prepared baking pan. Set aside.

Prepare the coconut cheesecake filling: With an electric mixer, beat cream cheese, coconut cream, sugar, and coconut extract on medium speed until mixture is both smooth and creamy. Beat in egg just until incorporated. Then, beat in flour on low speed. Stir in coconut flakes. Pour coconut cheesecake filling over chocolate bar layer.

Bake for about 28-30 minutes or until cheesecake filling is set. Let cool on a rack for about 30 minutes.

Prepare the chocolate topping: ln a medium non-stick saucepan, stir in chopped bittersweet chocolate, butter, and heavy whipping cream over medium heat until completely melted and smooth. Then, immediately pour chocolate mixture over baked chocolate-coconut bar, spreading to edges gently. Let chocolate topping set while cooling. Cover and refrigerate for at least 6 hours.

Using the edges of the foil, lift uncut bar out of pan. Using a large, sharp knife, cut into 10 rectangles, wiping clean after each cut. Sprinkle coconut flakes on top of the cheesecake bars and enjoy!
Recipe Notes
Storage: Store cheesecake bars in a clean, airtight container in the refrigerator for up to 3 days.
 ____________________________________________________________________________________________________