Disclaimer: This is a compensated campaign in collaboration with BUSH'S Cocina Latina™ and Latina Bloggers Connect. As always, all the opinions expressed here are honest and my own. 
Do you love beans? How about empanadas? Since I am craaaazy for both, I decided to combine two favorites of mine in one single dish: Quick Feijoada Empanadas or Pastel de Feijoada... a bar food that can be served as a snack, a party starter, or finger food for sports games. I am so excited to share this with you!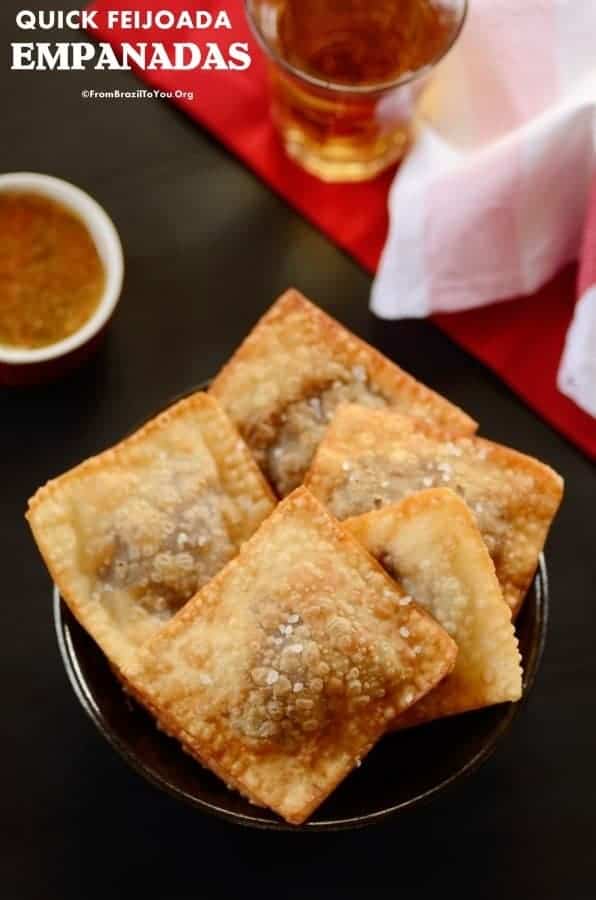 Our feijoada empanadas consist of small fried empanadas filled with a quick-and-easy feijoada, the savory black bean and pork stew that is considered Brazil's national dish. These are quick to prepare, without compromising on flavor. There's no need to make empanada dough because we will be using store-bought wonton wraps. Plus, you don't even have to make a feijoada from scratch because we will be using BUSH'S Cocina Latina™ Frijoles Negros Machacados (smashed black beans seasoned with poblano chiles, tomatoes, and a touch of bacon). I am telling you, folks, these beans are so good, don't be surprised if you find yourself eating them by spoonfuls right out of the can -- just like I did!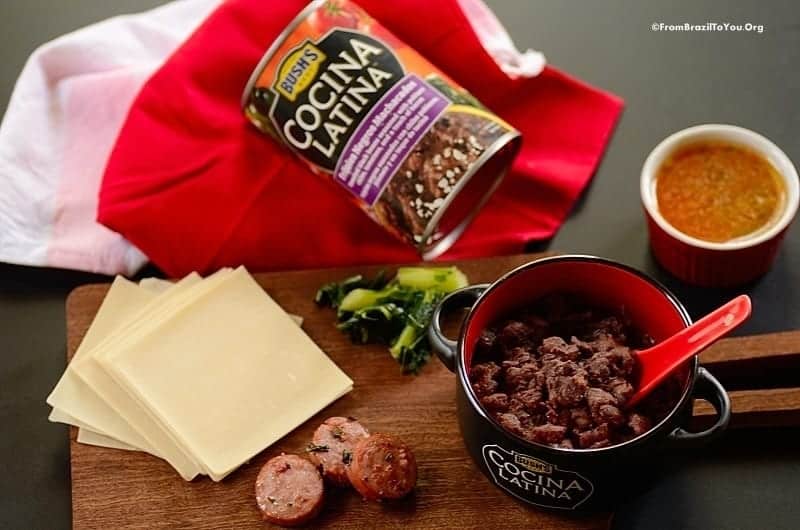 If there is a language that Brazilians speak fluently it is BEANS. They are a staple dish in my home country... something that I grew up eating every single day except Sundays. BUSH'S Cocina Latina™ Smashed Black Beans are so well seasoned, so flavorful, that I couldn't stop eating them -- directly from the can. If only you could have seen the scene in my kitchen: me attacking the can of beans and my husband looking on in disbelief, because he knows how demanding I am when it come to beans. But these are not your ordinary beans, these are LATIN beans, full of SABOR!  I am already looking forward to opening the other 3 cans in the Bush's Cocina Latina™ line, each with a different type of beans and flavor profile...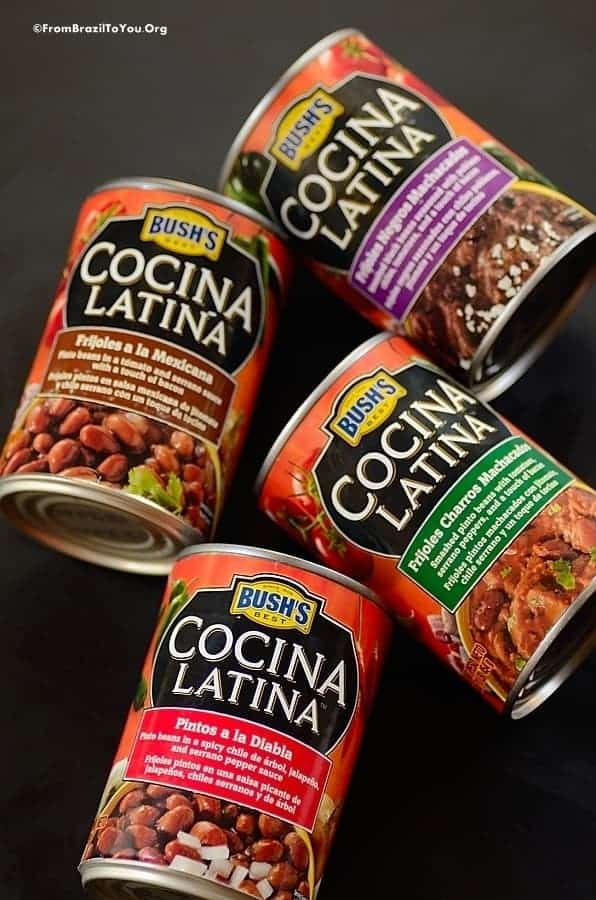 BUSH'S Cocina Latina™ is a line of beans inspired by regional recipes and the kitchen wisdom handed down from the real experts – mothers, grandmothers, and aunts. This is why those delicious black beans had the power to transport me right back home!
As a Latina, it was truly rewarding to experience their authentic flavor, and to bring some of the true taste of home to the table all by simply opening a can of beans. I was so impressed with the traditional flavors of BUSH'S Cocina Latina™ that they gave me inspiration to be even more creative in the kitchen! Our feijoada empanadas are proof positive...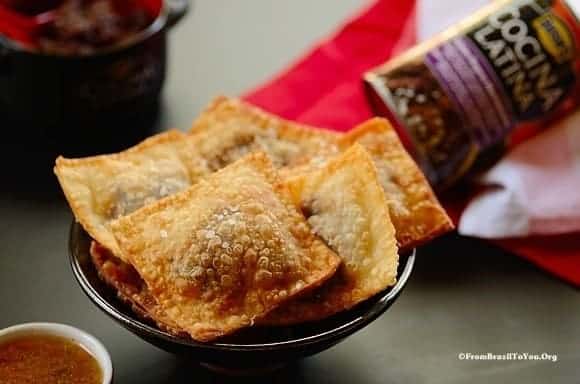 My husband and I ate the whole batch of feijoada empanadas except for two of them. We were kind enough 🙂 to save one for each of our two daughters. When they got home from school, tasted the feijoada empanadas, and discovered that there was only one apiece left, my eldest started crying -- literally! Need I say that she made me prepare more for her?
Save the drama and  just double the batch. Happy Feijoada Empanadas! 🙂
xx 
Quick Feijoada Empanadas (Pastel de Feijoada)
Quick Feijoada Empanadas consist of small, fried empanadas filled with canned, smashed black beans, sausage, and collard greens. Great as a snack, a party starter, or finger food for sports games!
Ingredients
2

tablespoons

vegetable oil

plus as much as necessary to deep-fry empanadas

4

oz

paio sausage or Kielbasa smoked pork sausage

ground, 115 g

½

cup

fresh or thawed chopped collard greens

⅓

can

BUSH'S Cocina Latina™ Frijoles Negros Machacados

30

wonton wraps
Instructions
In a medium non-stick skillet, heat oil over medium-hight heat and cook ground sausage for about 1-½ to 2 minutes, stirring now and then. Add chopped collard greens and sauté for about 2 minutes. Add beans and stir. Place mixture into a medium bowl and set aside.

Place about 15 wonton wraps on preparation surface. Fill center of each with about 1 Tablespoon of the bean mixture and brush water around the edges. Place another wonton wrap on top. Seal all edges together, pressing well with your fingers and then crimping around the edges with a fork.

Heat oil at 350 degrees F (180 degrees C). If you don't have a thermometer to measure the temperature, dip a small piece of a wonton wrap into the heated oil. If you hear a sizzling sound, the oil is ready. Fry feijoada empanadas, a few at a time, turning them while frying so that they brown evenly on both sides. It will take about 2 minutes to fry each batch. They should be lightly golden and crispy. They will darken further while draining on paper towels. Serve hot either by themselves, or accompanied with an

orange vinaigrette

sauce or ketchup. Beer or guaraná soda are great drinks to accompany them.
Recipe Notes
For 15 feijoada empanadas, triple the amount of the orange vinaigrette (see link for recipe). Or, as an alternative dipping sauce, mix together ⅓ cup store-bought orange marmalade, 2 Tablespoons honey, 1 teaspoon Dijon mustard, and a few drops of hot sauce.
** Nutrition labels on easyanddelish.com are for educational purposes only. This info is provided as a courtesy and is only an estimate, since the nutrition content of recipes can vary based on ingredient brand or source, portion sizes, recipe changes/variations, and other factors. We suggest making your own calculations using your preferred calculator, based on which ingredients you use, or consulting with a registered dietitian to determine nutritional values more precisely.
Please note that health-focused and diet information provided on easyanddelish.com is for educational purposes and does not constitute medical advice, nor is it intended to diagnose, treat, cure, or prevent disease. Consult with your doctor or other qualified health professional prior to initiating any significant change in your diet or exercise regimen, or for any other issue necessitating medical advice.
DID YOU MAKE THIS RECIPE?
Comment and rate the recipe. Also follow us on Pinterest at @easyanddelish for more delish recipes.