Today we are celebrating my daughter Hannah's 7th birthday with none other than a gorgeous, moist, and delicious Rainbow Butterfly Cake with Cloud Buttercream Frosting -- made especially for her!!! Oh, happy day...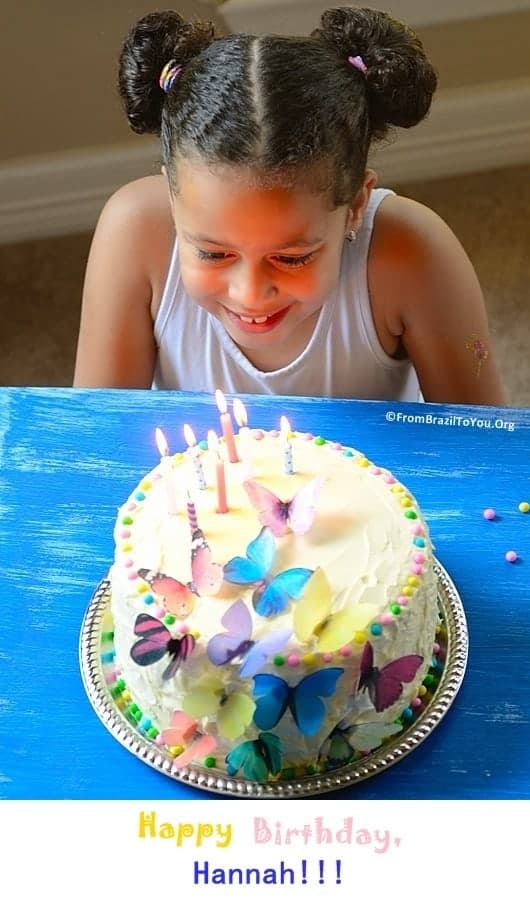 It seems like only yesterday when I first saw her chubby little face and vivid eyes at the hospital where she was born. Imagine my eyes brimming with tears of joy when I held my miracle, my little bundle of joy... Yes, she's my miracle, whom God sent to me after being diagnosed with infertility. God is great at all times. He defies science and delivers miracles!!! And oh what a miracle...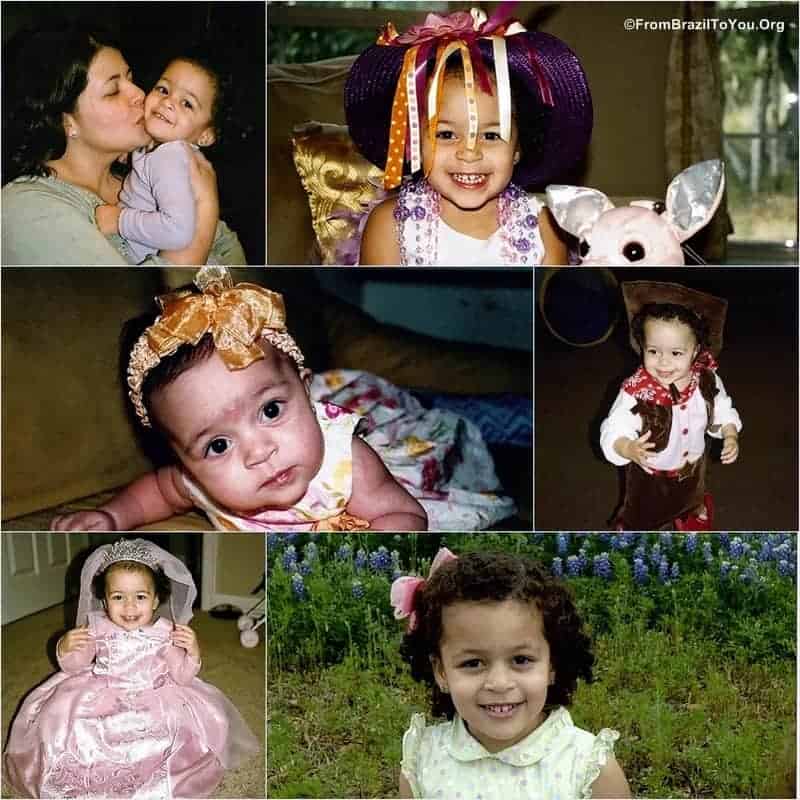 My husband and I have been blessed with a healthy, happy, and very sweet girl who has filled our world with pride and joy. To celebrate such an important day, I knew I had to make something beautiful-- something reminiscent of her in many ways... something that represents her colorful, happy world. Rainbows (for both the cake and decoration) and butterflies seemed to be the most fitting themes. As for flavors, this rainbow butterfly cake combines both vanilla and pink lemonade flavorings, which are two of her three favorites (chocolate is the third, which I made as a separate, smaller cake).
I have to say that I really enjoyed this rainbow butterfly cake-- both the adult 'me' and the inner child that still lives within... But my real prize was in seeing my baby's happy face! She ate the rainbow butterfly cake and asked for more... and more.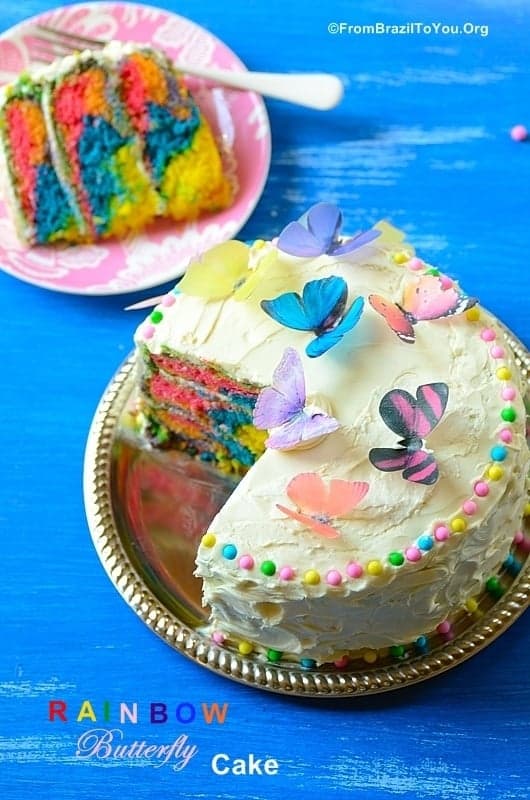 Happy Birthday, Hannah!!! May your life be nothing less than beautiful and happy. We love you " bigger than the sky!!!"
xx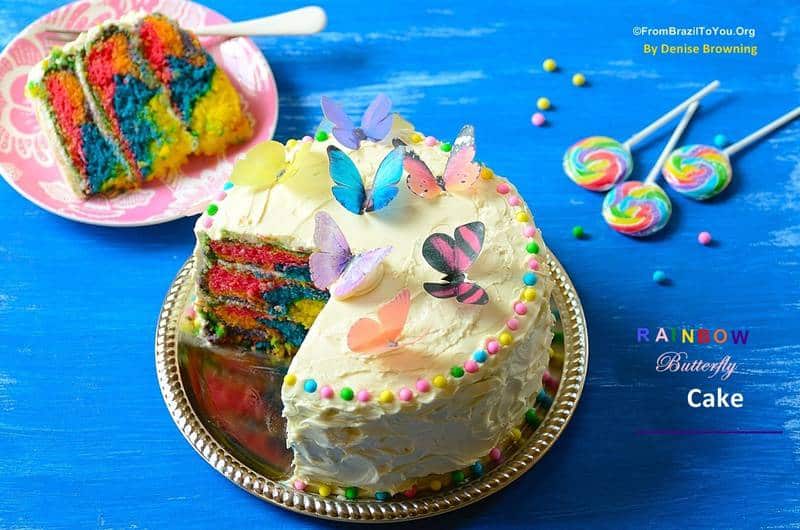 Rainbow Butterfly Cake with Cloud Buttercream Frosting
A gorgeous, girly, and delicious birthday cake that will make many happy!
Ingredients
For the Rainbow Butterfly Cake Batter:

3

Super Moist Yellow Cake Mix

15.25 oz/432 gr, I used Betty Crocker

3

cups

whole milk

1

cup

plain yogurt

1-½

cups

vegetable oil

9

large eggs at room temperature

1

tablespoon

lemonade powder and 1 teaspoon lemon extract

Wilton gel food colors

(blue, yellow, pink, violet, orange, and green)

2-½

teaspoons

pure vanilla extract

For the Cloud Buttercream Frosting:

3

Duncan Hines Creamy Home-Style Buttercream

or 2 batches of homemade buttercream (white).

For Decorating the Rainbow Butterfly Cake:

Edible rice paper butterflies

Link: http://a.co/44bCUJV

Skittles
Instructions
Preheat oven to 350º F (180º C). Grease both the bottom and sides of 3 (9-inch) round pans. Cut 3 (9-inch) circles out of parchment paper and cover bottom of each pan. Set aside.

In a large bowl, combine the cake mix, milk, yogurt, oil, and eggs. Beat on low speed for 30 seconds and then on medium for 2 minutes, scraping bowl occasionally.

Divide batter into 6 small bowls (about 1-½ cups into each small bowl). Mix 1 tablespoon of lemonade powder and 1 teaspoon of lemon extract into one of these divided batter batches and add a bit of pink icing gel until obtaining a bright pink. Set aside.

Pour ½ teaspoon of pure vanilla extract into each of the other 5 small bowls and stir to combine. Mix in the following icing gel colors to color each batter individually: Bright blue, yellow, violet, orange, and green.

See photo of the gel food coloring colors that we used.

Using an ice cream scooper or small cups, divide each of the six colored batters into the 3 prepared baking pans, first pouring one color into the center of the pan, and then sequentially pouring the next color into the center of the pan on top of the first, and so on, in a concentric bullseye pattern. Bake for about 36 - 42 minutes or until a toothpick inserted in the center comes out clean. Cover each pan loosely with a sheet of aluminum foil after half of the baking time has elapsed, in order to avoid browning of the top of the cake layer.

Remove pans from the oven and place on a rack to cool completely. Remove each of the 3 cake layers carefully from their pans, as well as from the parchment paper on the bottom. Assemble the layers of the rainbow butterfly cake, frosting between each layer with the buttercream and then frosting the top and sides of the cake (For the second layer of frosting, spread the frosting in swirls to make a cloud effect). Decorate as desired, and serve with a scoop of ice cream.
** Nutrition labels on easyanddelish.com are for educational purposes only. This info is provided as a courtesy and is only an estimate, since the nutrition content of recipes can vary based on ingredient brand or source, portion sizes, recipe changes/variations, and other factors. We suggest making your own calculations using your preferred calculator, based on which ingredients you use, or consulting with a registered dietitian to determine nutritional values more precisely.
Please note that health-focused and diet information provided on easyanddelish.com is for educational purposes and does not constitute medical advice, nor is it intended to diagnose, treat, cure, or prevent disease. Consult with your doctor or other qualified health professional prior to initiating any significant change in your diet or exercise regimen, or for any other issue necessitating medical advice.
DID YOU MAKE THIS RECIPE?
Comment and rate the recipe. Also follow us on Pinterest at @easyanddelish for more delish recipes.