Happy Chinese New Year!!!! This is just one way to thank my significant and growing number of Chinese and other Asian subscribers -- as well as to make mention of a recent trend of Chinese immigration to Brazil (including to my home city, Recife). It is also my opportunity to wish all of you happiness, wealth, and longevity. And for this Year of the Goat, I am making a special treat for the occasion: a tasty and mildly sweet Rice Cake (Bolo de Arroz in Portuguese or Bāxī Mai Fàn Gāo in Chinese)!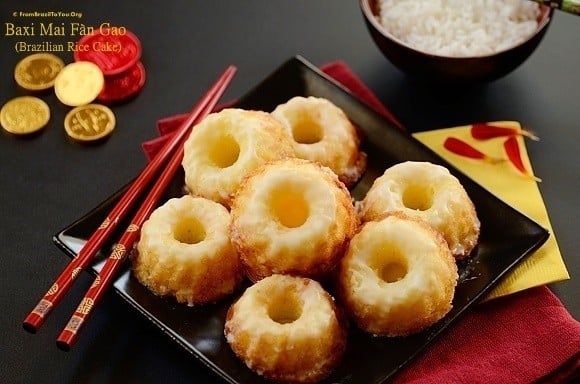 Our rice cake (or rice cakes since I decided to bake in a muffin tin instead of the traditional large ring cake pan) is not a typical Chinese treat, but a traditional Brazilian one. Since rice is a staple in both Brazilian and Chinese cuisines, I thought it would be the perfect ingredient to select. If baked in a mini muffin pan, our rice cake(s) can be eaten with chopsticks. 😉
For those who are not familiar with the Chinese New Year, also known as Spring Festival, it is an important traditional holiday celebrated at the turn of the Chinese calendar. The start and end dates vary from year to year according to the Chinese lunar calendar. This year  it will be celebrated between February 19 and March 5. Many cultural activities take place during the festival, such as setting off firecrackers, ancestor worship, and dragon dances. Every street, building, and house is decorated with red, a color associated with good fortune. Red lanterns hang in the streets and red poetry couplets are pasted on doorways. Banks and official buildings are also decorated with red New Year pictures depicting images of prosperity. There is also the exchanging of gifts,  red envelopes with money being the most common present.
And of course, certain foods with symbolic meanings will be consumed during the festival such as fish, dumplings, spring rolls, sticky rice cakes and sweet rice balls. I hope that our rice cake have a chance, although they are different than the traditional ones in China and other countries with significant Chinese populations such as Taiwan, Thailand, the Philippines, and others. It would be a new treat to bring wishes of prosperity!!!

Rice Cake (Bolo de Arroz)
A gluten-free, moist, and mildly sweet rice cake, prepared in the kitchen blender, to wish for prosperity. It has a sticky texture while is hot, and a grainy texture once it comes to room temperature -- similar to cornbread.
Ingredients
For the rice cake batter:

2

cups

RAW white long grain rice or rice flour

not parboiled

¾

cup

vegetable oil

3

cups

sugar

4

large eggs

at room temperature

1

cup

whole milk

or rice milk or coconut milk

⅓

cup

grated Parmesan cheese

1

tablespoon

baking powder

For the icing :

optional

1¼

cups

powdered sugar

2½

tablespoons

fresh lime juice

or juice of 1 large lime
Instructions
IN ADVANCE: Soak rice in water for about 8 hours. Then drain the water in a sieve. Skip this step if using rice flour!

Preheat oven at 350 degrees F (180 degrees C). Grease and flour a standard-size or mini muffin tin (or a 10-inch ring pan if desired) and reserve.

Prepare the rice cake batter: Blend oil, sugar and eggs in a blender just until mixture is homogeneous. Add the rice (or rice flour) and milk and blend well until smooth. Finally, add the cheese and baking powder and beat rapidly to mix in.

Pour rice cake batter ¾ full into prepared baking pan and bake for about 13 minutes (mini muffin pan), 18-20 minutes (for standard-size muffin pan) or 35 minutes (medium ring pan), or until a toothpick inserted in the center or close to the center comes out clean. Let cool on a rack, run a knife around the edges carefully, and then unmold rice cake(s). YIELD: 52 mini muffins/cakes (ideal to eat at one bite and using chopsticks), 26 standard-size muffins/cakes, or 1 bundt cake.

Meanwhile, prepare the icing if desired. Using a whisker, mix the sugar very well with the lime juice in a medium bowl until smooth. Drizzle icing over rice cake(s) and let set. Enjoy!
Recipe Notes
In Brazil, rice cake (bolo de arroz) is a coffee cake commonly served without a topping. However, some add a topping such as a citrusy icing or a mixture of sweetened condensed milk and coconut milk.
** Nutrition labels on easyanddelish.com are for educational purposes only. This info is provided as a courtesy and is only an estimate, since the nutrition content of recipes can vary based on ingredient brand or source, portion sizes, recipe changes/variations, and other factors. We suggest making your own calculations using your preferred calculator, based on which ingredients you use, or consulting with a registered dietitian to determine nutritional values more precisely.
Please note that health-focused and diet information provided on easyanddelish.com is for educational purposes and does not constitute medical advice, nor is it intended to diagnose, treat, cure, or prevent disease. Consult with your doctor or other qualified health professional prior to initiating any significant change in your diet or exercise regimen, or for any other issue necessitating medical advice.
DID YOU MAKE THIS RECIPE?
Comment and rate the recipe. Also follow us on Pinterest at @easyanddelish for more delish recipes.