Disclosure: This is a compensated campaign in collaboration with Flatout Bread and Society Culinaria. Thank you, friends, for supporting the brands that I work with and love!
This is the last day of school... Hooray! To celebrate in style yet without taking much time from my busy schedule, I made this Strawberry and Cream Flatbread Roll. It's inspired by a popular Brazilian dessert, strawberry and chantilly cream jelly roll (rocambole de morango com chantilly) -- but is much easier and quicker to prepare... and oh, so beautiful that my girls fell in love with it (and my hubby too!).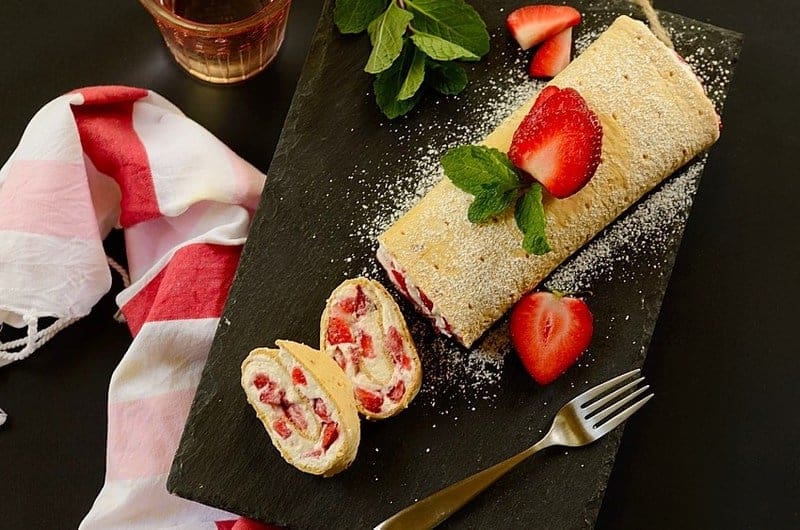 I am not kidding! It only took me about 15 minutes to prepare our strawberry and cream flatbread roll. The reason why is I didn't have to make a jelly roll batter and then bake it: I used Flatout flatbread instead, which has less calories and carbs, and is a blank canvas. It's the perfect partner for helping people of all ages to make healthier choices... and helping us all to prepare delicious snacks and desserts without fuss.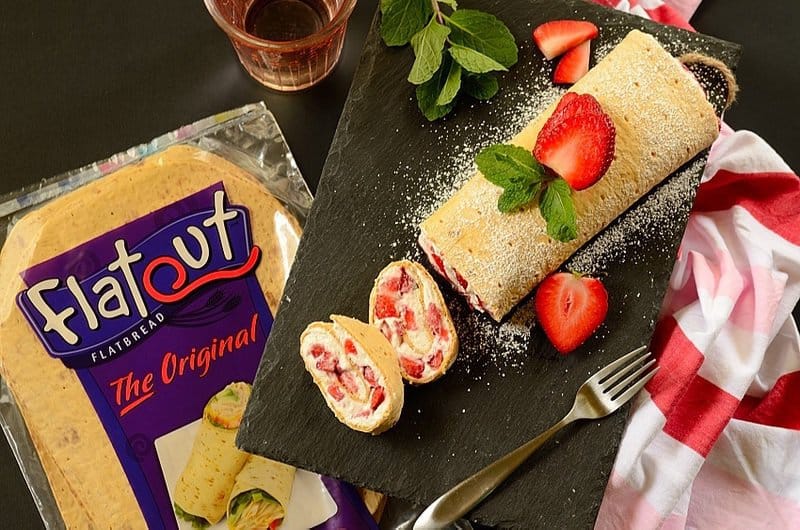 This is a 6-ingredient summery treat made with Flatout bread, chopped fresh strawberries, and a mixture of light whipped cream, cream cheese, powdered sugar, and vanilla extract.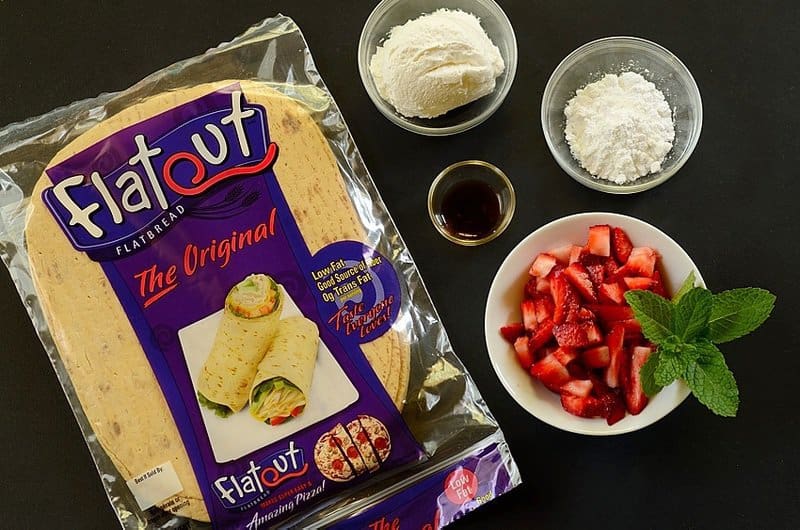 And all I had to do was to spread the creamy mixture onto the flatbread, top with chopped strawberries, roll up, refrigerate, and enjoy. Easy-peasy... with a great result, as you can see.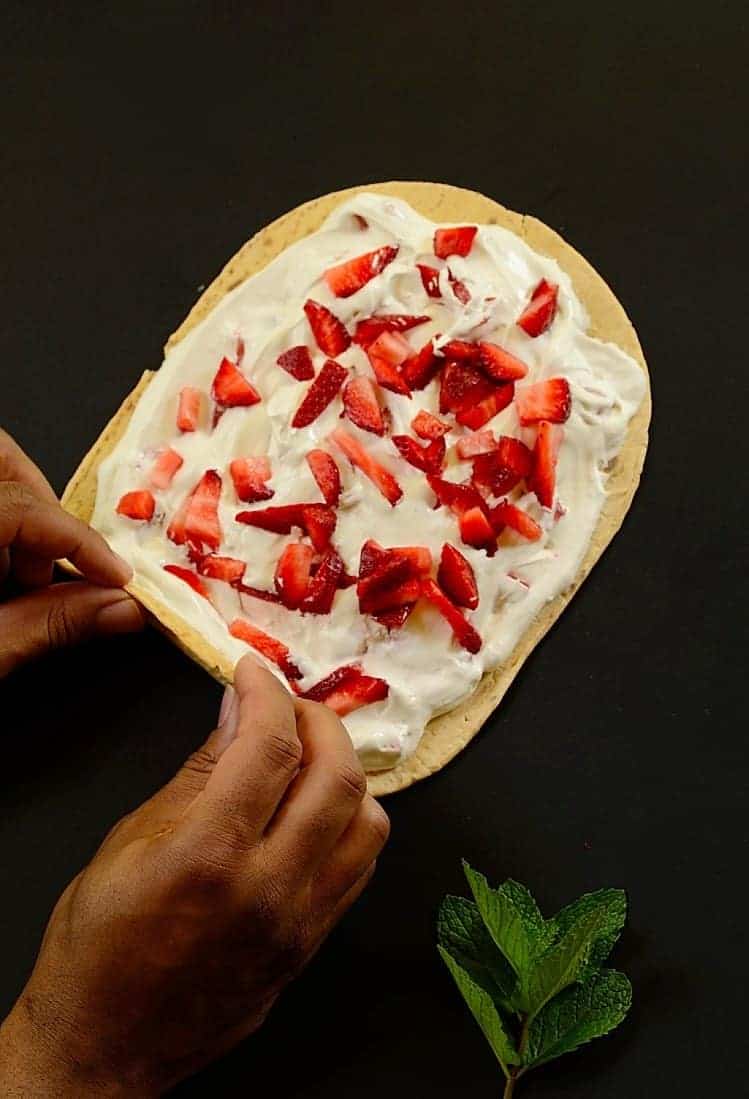 All ingredients are available in local supermarkets but you can use this store locator to see where Flatout bread is available near you.
My grads enjoyed this strawberry and cream flatbread roll with milk and a huge smile on their faces. Mommy had to sweetened their palates in the same way they delighted me with good grades and behavior the entire school year. I cannot believe they will be heading to third and fifth grade next year... tell me, where does the time go?!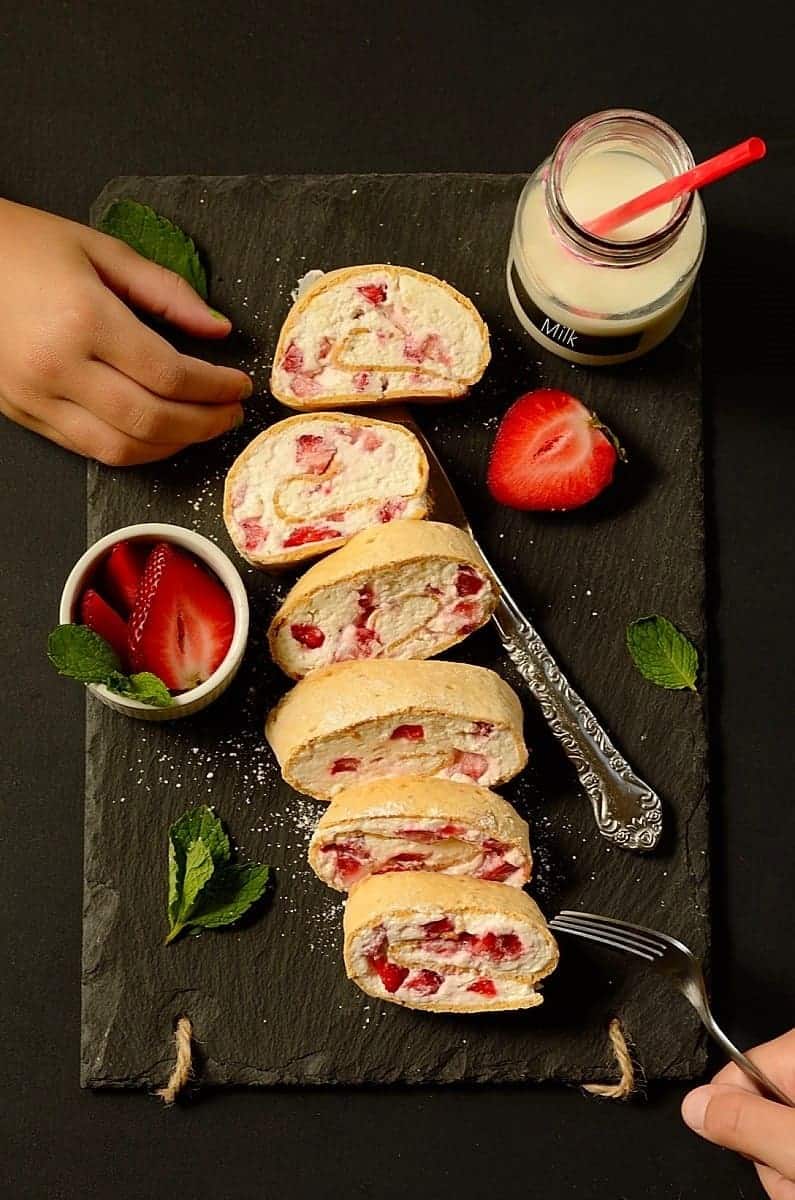 It will be a summer full of activities, including some cooking with Mommy. They're already planning to put together some quick snacks/desserts such as cookie butter and chocolate hazelnut pinwheels, peanut butter and apple flatbread pizza, and the list goes on and on. And I will celebrate and support their creativity! 😉 There is nothing like having children occupied on their own with delicious activities such as cooking -- while you rest for a few minutes and can still get a yummy bite too! 🙂
We are open to suggestions as well... what flavors would you come up with for you and us?
For now, enjoy our happy treat!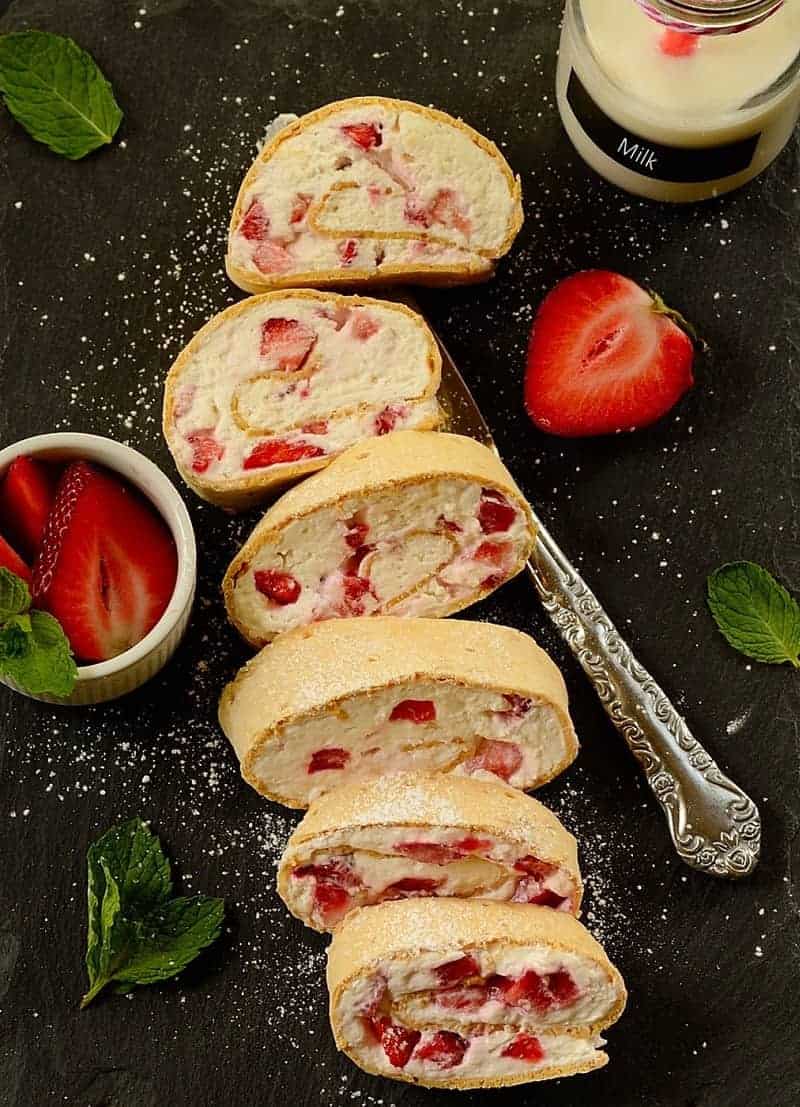 Strawberry and Cream Flatbread Roll
Strawberry and Cream Flatbread Roll is a quick, delicious snack/dessert made with flatbread, sweet cream, and chopped strawberries.
Ingredients
2

Flatout Flatbread The Original

4

oz

cream cheese

softened, light

½

cup

powered sugar

plus extra to sprinkle on top

1 ½

cups

whipped cream

light

2

teaspoons

pure vanilla extract

1 ½

cups

chopped strawberries

divided
Instructions
Place 2 flatbreads on a cutting board. In the bowl of an electric mixer, beat softened cream cheese and sugar together until obtaining a creamy, homogeneous mixture. Add the whipped cream and beat just until mixture is homogeneous. Stir in the vanilla.

Spread half of the cream on one flatbread and the remaining half on the other. Place half of the chopped strawberries on top of one of the flatbreads and the remainder of the strawberries on top of the other flatbread. Roll up each roll. Wrap each roll with plastic wrap and refrigerate for at least 30-60 minutes. Unwrap, sift extra powered sugar on top of the rolls, slice, and serve. Enjoy! Yield: 2 rolls.
Recipe Notes
This recipe is inspired by Rocambole de Morango com Chantilly (Strawberry and Chantilly Cream Swiss Roll).
** Nutrition labels on easyanddelish.com are for educational purposes only. This info is provided as a courtesy and is only an estimate, since the nutrition content of recipes can vary based on ingredient brand or source, portion sizes, recipe changes/variations, and other factors. We suggest making your own calculations using your preferred calculator, based on which ingredients you use, or consulting with a registered dietitian to determine nutritional values more precisely.
Please note that health-focused and diet information provided on easyanddelish.com is for educational purposes and does not constitute medical advice, nor is it intended to diagnose, treat, cure, or prevent disease. Consult with your doctor or other qualified health professional prior to initiating any significant change in your diet or exercise regimen, or for any other issue necessitating medical advice.
DID YOU MAKE THIS RECIPE?
Comment and rate the recipe. Also follow us on Pinterest at @easyanddelish for more delish recipes.