A summer food series featuring food blogger stars sharing easy and delish recipes every week during the summertime.
Hello, y'all! I've got some amazing news! Several of our favorite food blogger friends will be stopping by to share easy and delish recipes and a bit about themselves here… yep, with us right here on Easy and Delish! They are all friends, and some are also award-winning bloggers and cookbook authors — just for you to see how blessed we are! This is all coming to you courtesy of our new summer food series…
We will have cookbook authors such as my Texan friend Vianney Rodriguez from  Sweet Life Bake  and Chilean Pilar Hernandez from En Mi Cocina Hoy … soon-to-be cookbook author, the lovely Italian Manuela Zangara from Manu's Menu, my favorite Greeks Panos and Mirella from Little Cooking Tips, and of course our new friend, Barbara Whitney from Kitchen Byte— all sharing their food expertise on Easy and Delish.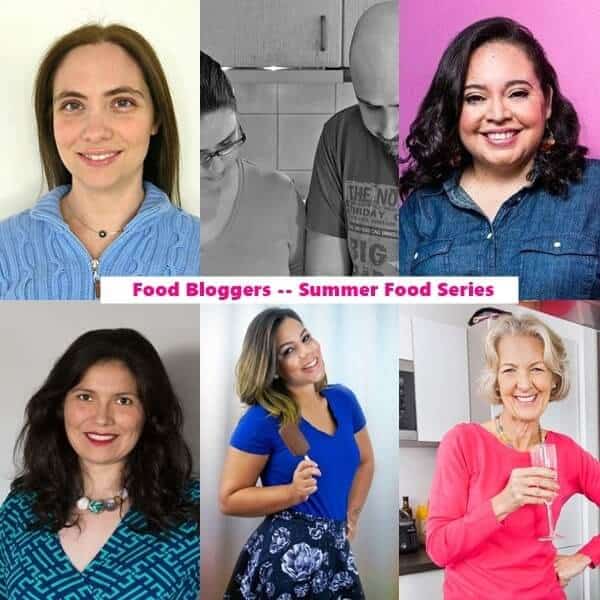 That means that there will be plenty of Latin, American, and Mediterranean food recipes this summer to delight our eyes and palates — the type of delicious indulgence that we all want, right?
Every week, from July 17th to August 28th, one of these guests will be sharing mouthwatering dishes with us. American, Latin, Tex-Mex, Italian, Greek… you name it! And of course, it will be ME in between. 🙂
If you miss me a little, I will be jumping around and bouncing like a child — because I will miss y'all a ton.
But I know you guys will be in the best of company.
Yet, please don't be shy– stop by to say hello to me as much as you want.
Also, feel welcome to stop by on our guests' blogs and discover a world full of deliciousness and enthusiasm — just like I did and continue to do.
Well, I hope you enjoy our summer food series… all while I will be packing and moving to another house. Wait! I didn't tell you before that we are downsizing, did I? Now you know…
Love you always! I will be watching y'all from here and chatting on our social media channels. See ya around!
xx