Takeout Southwestern Taco Hand Pies are easily prepared at home and can be carry out wherever you go. They make a great comforting meal as well as a fun alternative to tacos.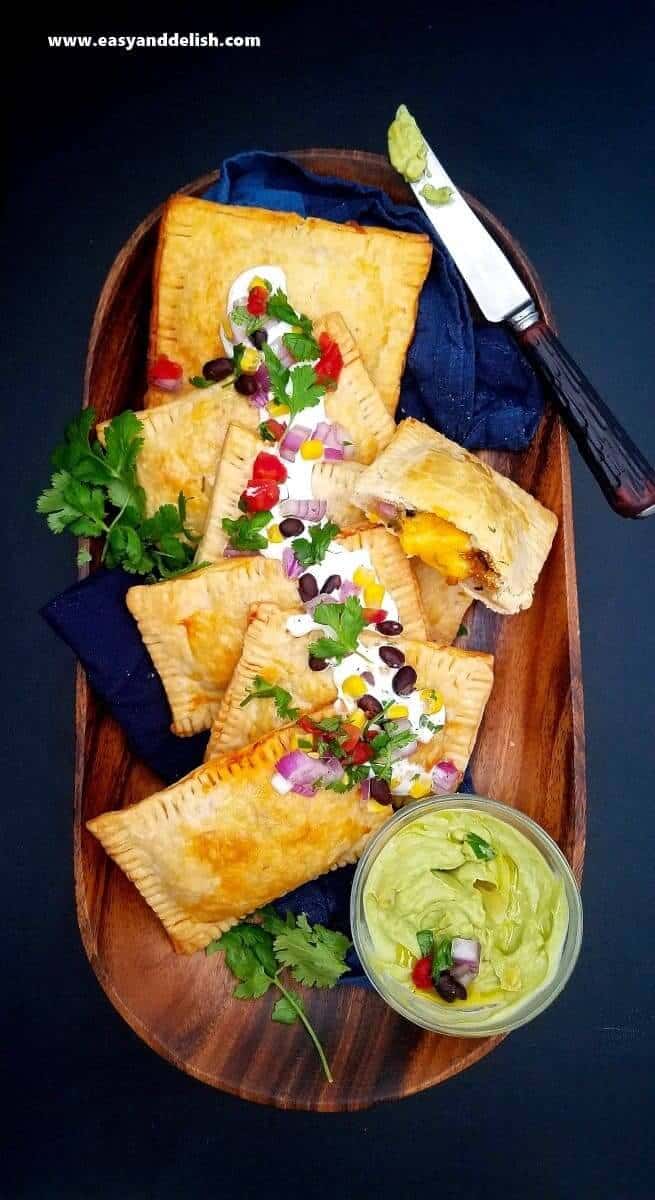 Lunch at the office? Back to school after Spring Break? We've got you covered!
These Takeout Southwestern Taco Hand Pies are easily prepared at home and can be carried wherever you go. They make a great comforting Latin meal, and a fun alternative to tacos.
They can be enjoyed by both children and adults. And you know what? They are prepared with staple ingredients such as store-bought refrigerated pie dough, ground beef, taco seasoning mix, cheese, canned black beans, and a few vegetables.
My family are already hooked on them!
How To Make Southwestern Taco Hand Pies
All we have to do is to roll out the pie crusts on a lightly floured surface, cut into rectangles, and fill with a mixture of cooked ground beef, cheese, and vegetables.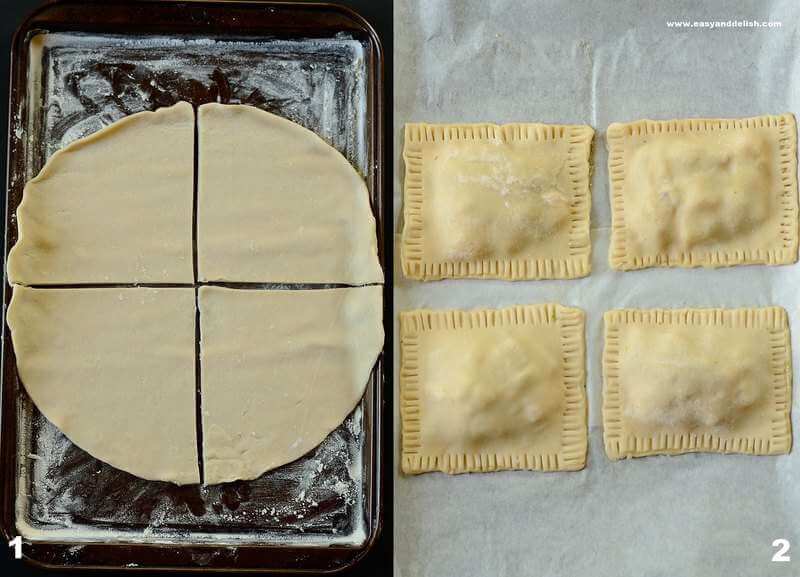 Then, brush on an egg wash for an appealing, lightly golden color, and bake them for about 12-15 minutes.
Then, our Southwestern taco hand pies are ready to be taken wherever you go and served either by themselves or accompanied by sour cream and guacamole.
In contrast to tacos, they are mess-free because the filling is enclosed in the pie dough.  You can handle and eat them easily, just as you might eat a good-sized empanada.
These pies are a fusion between tacos and hand pies, with a Southwestern touch. I mean, they are filled with ground beef seasoned with taco seasoning and a Southwestern salsa, all wrapped in pie dough.  You see?
The only problem that you may encounter is eating too many of them!  😉 I confess that I couldn't resist… well, you have been warned! 🙂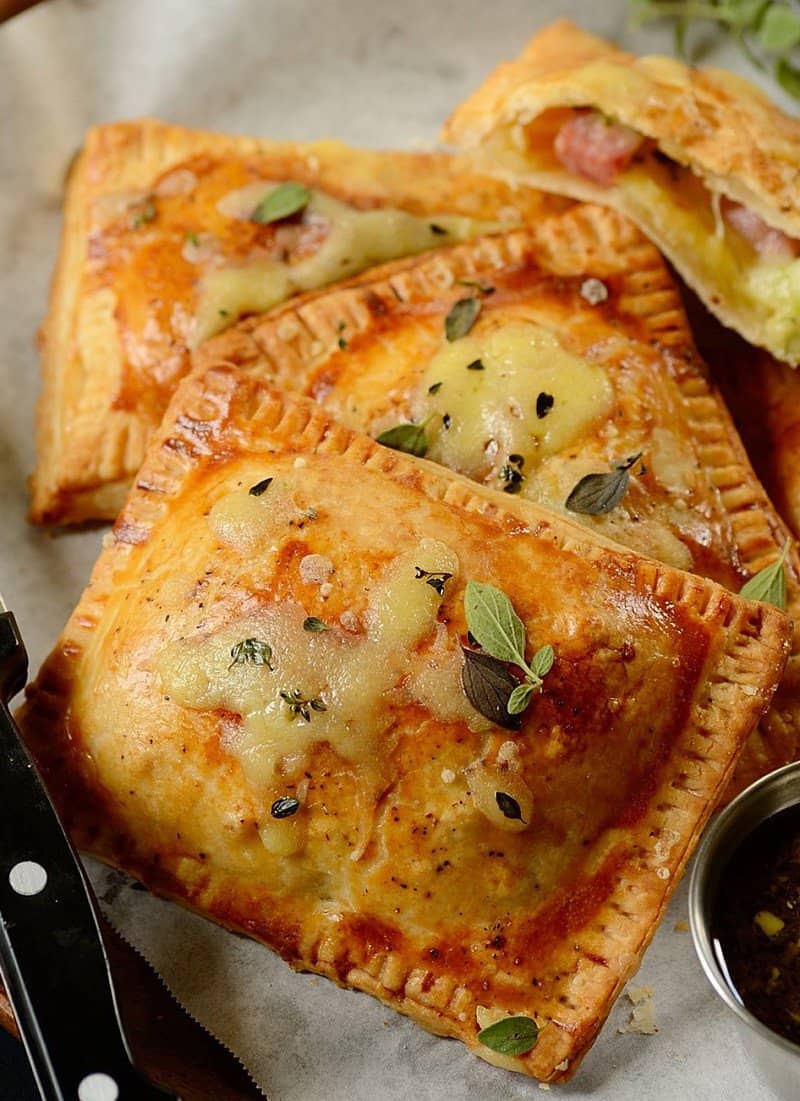 These follow the same concept as our Broccoli, Ham, and Cheese Pop Tarts.
Well, enjoy both the taste and convenience of our takeout Southwestern Taco Hand Pies. In addition, ENTER OUR AWESOME GIVEAWAY below!
PIN & ENJOY!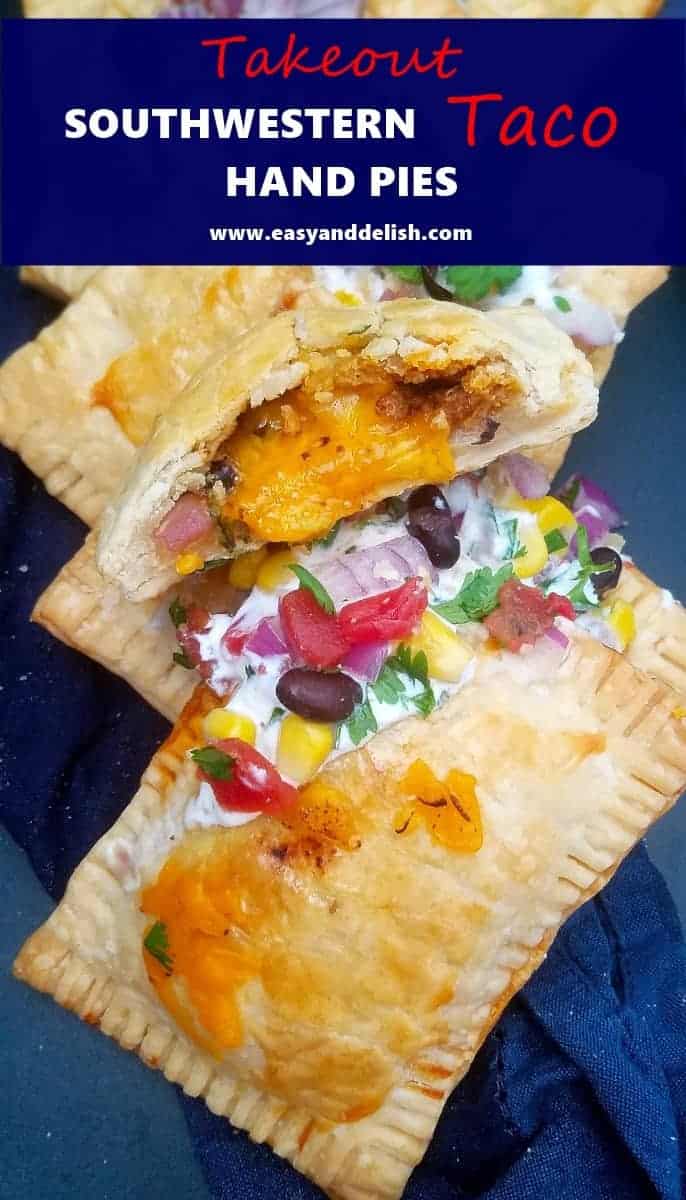 GIVEAWAY RULES:
Would you to like to win a Customized Embroidered Chef Coat?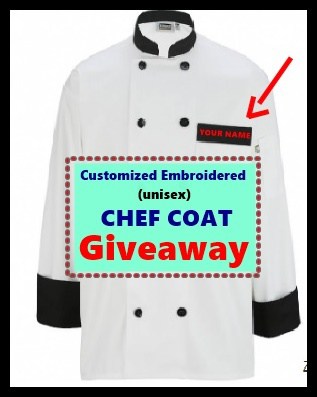 How would you like the chance to win our Chef Coat with your own name on it, and impress all your friends at your next get-together?  Enter using the Giveaway Tools form below! 
Good luck! 
Giveaway Begins: March 20th 12:00 am CST
Giveaway Ends: March 27th 12:00 am CST
Prize: 

Customized Embroidered Chef Coat (Unisex)
Disclaimer: This is an All Season Uniforms sponsored Giveaway, which begins 03/20/2018 at 12 am CST and ends 03/27/2018 at 12 am CST. All Season Uniforms is responsible for both chef coat name embroidery customization and prize delivery.  One winner will be chosen randomly. The winner has 48 hours to respond to the congratulatory email and send us his/her name to be embroidered on the Chef coat, size (X-Small to 6XL), and address shipment which will not be publicly published. If the winner does not respond, a new winner will be randomly chosen by Giveaway Tools.   If you have any questions, please email Denise Browning at  [email protected]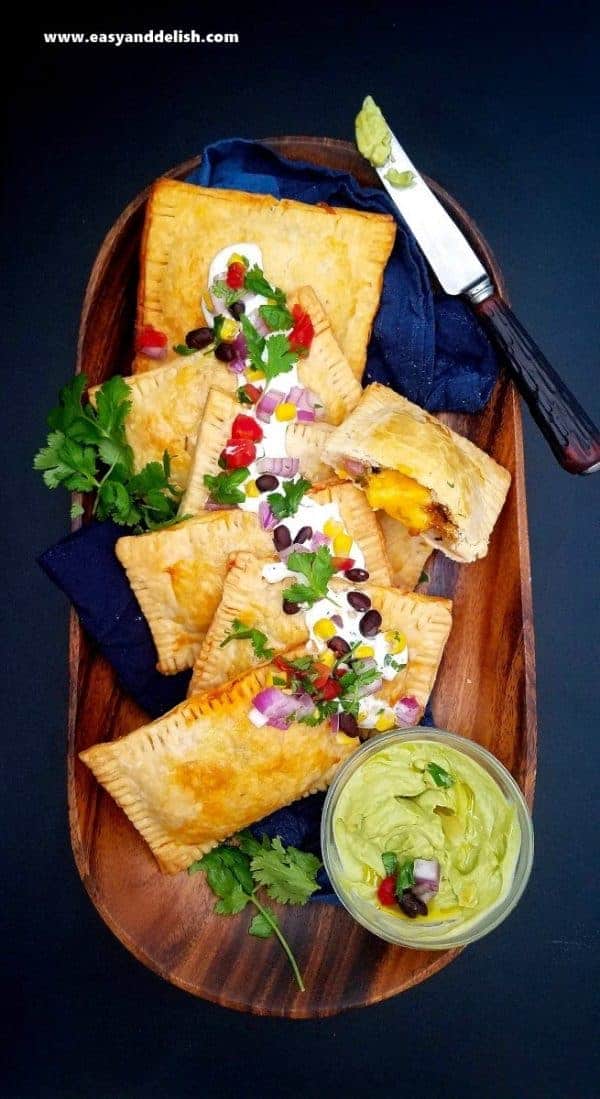 | | |
| --- | --- |
| | |
Preheat the oven to 400 degrees F. Line a large baking sheet with parchment paper and set aside.

Heat a large non stick skillet over medium high heat, add the oil, and then cook the ground beef, stirring occasionally, for about 4-5 minutes.

Stir in the taco seasoning mix until combined. Let cook for 2 minutes and stir in the vinegar.

Let cook for about 2 minutes or until vinegar has almost evaporated. Reserve.

In a medium bowl, combine the onion, corn, black beans, tomatoes, and cilantro . Season with a pinch of salt and pepper if desired. Reserve.

Unroll all pie crusts on a lightly floured surface according to the directions on the package. Equally divide each crust into fourths.

Next, trim all edges to form rectangles. Use all the trimmings to make a ball of dough, roll out on a floured surface, and cut into 4 rectangles.

You will end up with a total of 20 rectangles. Reserve.

Using 1/4 cup as measure, fill the measuring cup a third of the way full each with the following three components: cooked ground beef, vegetable mixture, and cheese, respectively.

Place contents of the filled 1/4 cup measure onto the center of one rectangle. Repeat the process for the other 9 rectangles.

Make sure that there is at least a 1/2-inch margin from the edges of the rectangle. Sprinkle salt and pepper on top of the mixture if desired.

Brush the edges of the crust with the egg wash, then fold the empty side of the crust over the top of the filling.

Pinch your fingers along the edges to seal and then use a fork to make marks all the way around.

Transfer the 10 hand pies to the lined baking sheet and brush the top of each tart with more egg wash. Sprinkle a bit of salt and pepper on top if desired.

Bake for 10-12 minutes, then rotate the baking sheet 180˚.

Bake another 2-3 minutes or until the crust is lightly golden brown.

Let cool for 5-10 minutes on the baking pan, then remove hand pies with a large spatula and serve by themselves or with sour cream and guacamole.
If necessary, let baked hand pies cool completely and store them in a Ziploc bag in the refrigerator. Heat in the microwave for about 30-40 seconds right before eating.
Use any extra ground beef and Southwestern salsa left over to make enchiladas, tacos, rice, or other dish.