Disclaimer: Thanks to Fiji Water for sponsoring this post about the best eats in Recife and Olinda. All the opinions expressed here are my own. Click on the image below to share your hometown!!
Have I ever told you that I have two Brazilian hometowns? They are the cosmopolitan city of Recife and the age-old, charming town of Olinda, both in the state of Pernambuco!!! Although each has its own distinctive architecture and identity, they are located so close to one another that they seem to blend into one metropolis.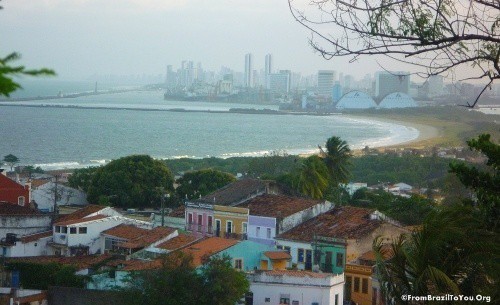 On every trip back home to Recife-Olinda, I just have to visit my favorite culinary spots, of course! Although I can think of so many, there are 5 that always evoke day-dreams of their one-of-a-kind food and unique settings. Whether visiting for a regular vacation or travelling there specifically for the World Cup soccer games later this year, I can recommend at least these 5 best eats in Recife-Olinda (listed in no particular order of preference):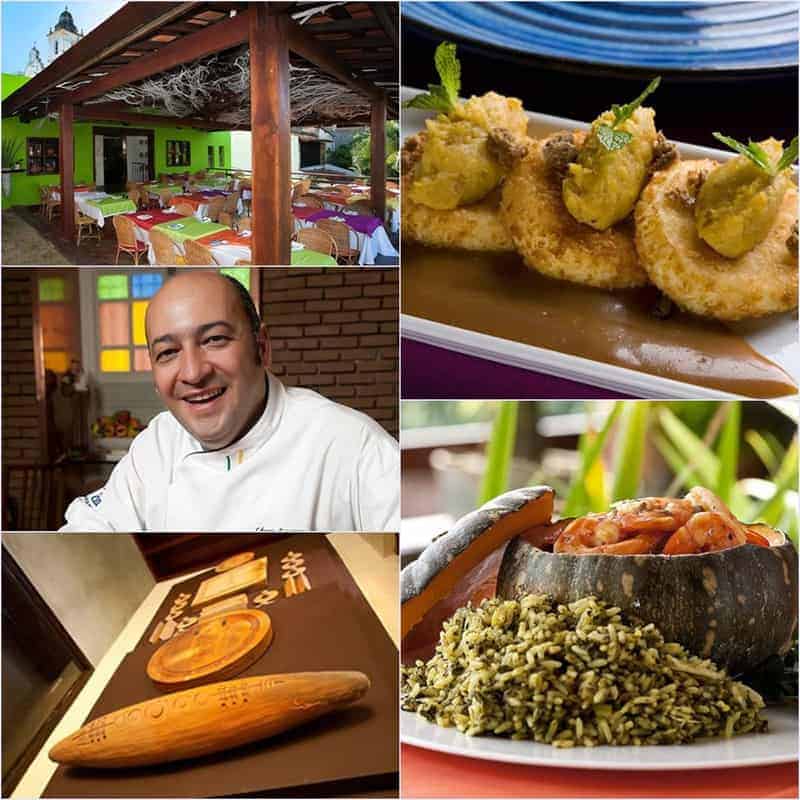 Established by renowned and nationally-acclaimed Chef César Santos, this quaint and cozy restaurant is decorated with local art and colorful tablecloths hand-painted by local artists. There is an outdoor patio that is an attraction all its own, with a stunning view of both Recife and Olinda. Since 1992, Oficina do Sabor has treated its clients to a diverse and exotic menu, where Pernambucan cuisine is the real star. Among its specialties are morangas (hollowed out, baked pumpkin shells) stuffed with assorted fillings such as Crawfish in Creamy Mango Sauce (Jerimum recheado com lagostim ao creme de manga) and South American Jerked Beef in Coconut Milk (Jerimum recheado com charque ao coco), as well as many others. From the seafood menu (frutos do mar), some items not to be missed include Prawns in Tamarind Sauce with Mashed Plantain and Coconut Rice (Camarão Tamarineira), Octopus Carpaccio (Carpaccio de Polvo), and Tilapia Wrapped in Banana Leaves (Manuê de Tilápia). Further, there are many other starters, salads, pastas, gratins, poultry and meats offered on the menu. Of course, travelling to Pernambuco and not having one of its most characteristic dishes (and a personal favorite of mine) -- Sun-Cured Beef (Carne de sol Pernambucana)-- would be like going to Napoli and not sampling its pizza. The restaurant is located at Rua do Amparo, 335 - Olinda.
2. Street Food at the Alto da Sé in Olinda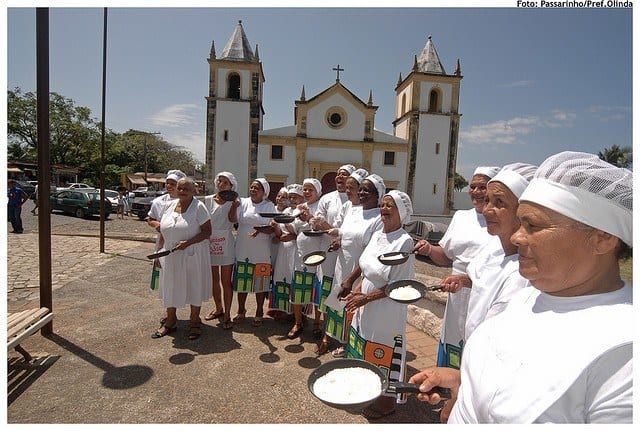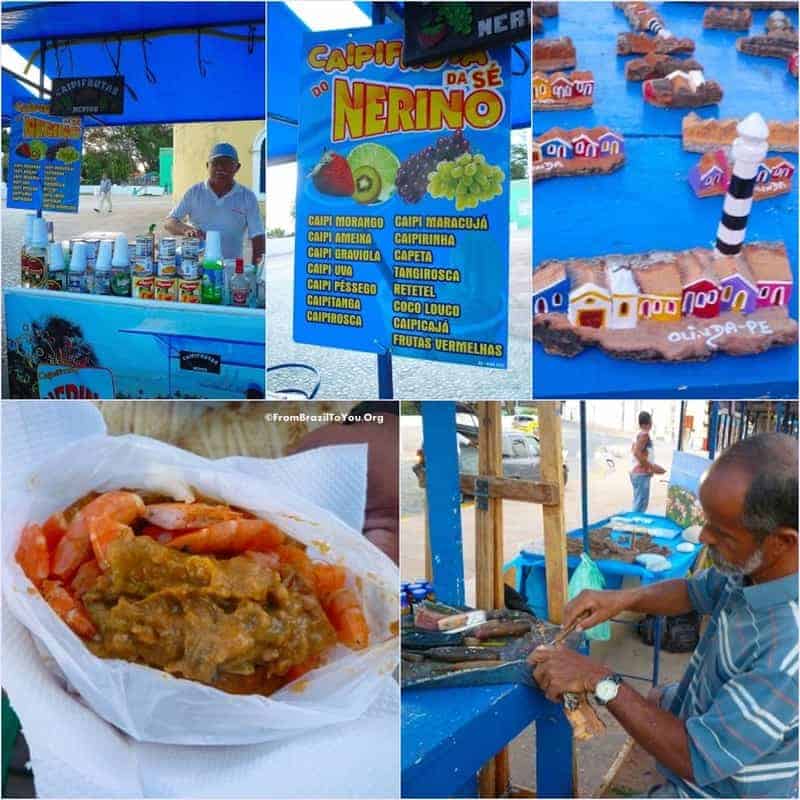 Olinda, a historic town located in the state of Pernambuco, was founded in the 16th century and is listed as a World Heritage Site by UNESCO due to its well-preserved 16th and 17th-century buildings. Olinda also hosts one of Brazil's most famous street carnivals. The square, which is known as the Alto da Sé and sits in front of the Igreja da Sé cathedral, is a great place for sampling many of the best street foods, all while admiring the stunning vistas it affords of Olinda, Recife, and the blue sea. This is the place where the tapioqueiras (tapioca crêpe cooks) sell their delicacies filled with an assortment of sweet and savory flavors such as: coalho cheese tapiocas, Romeo and Juliet (cheese and guava paste), shredded dried beef-and-onion, garlic shrimp, chocolate brigadeiro and banana, etc... The Alto da Sé is also a place to find delicious cocadas (coconut candy with flavors such as burnt coconut, passion fruit, guava, banana, etc), acarajé (black-eye pea fritters), and cooling refreshments such as caipifrutas (both virgin and alcoholic fruit caipirinhas) -- all at very affordable prices. On the weekends, the same square features an open air market with great local arts and crafts at modest prices.
3. Papacapim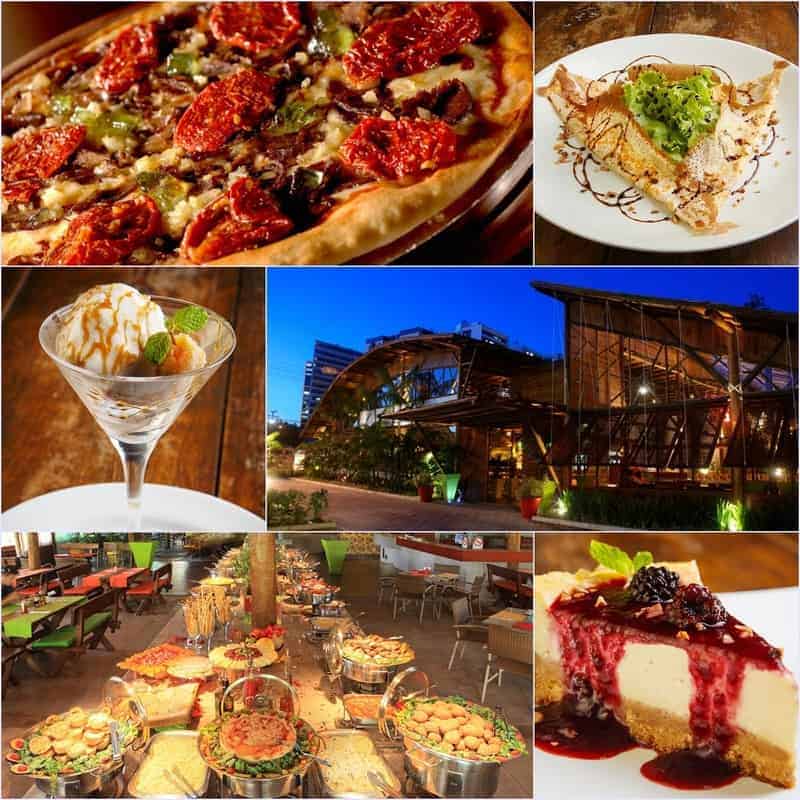 Although styled as a pizzeria and tapioca crêpe shop, Papacapim serves up a diverse lunch buffet every day with both regional and international dishes. They also offer a happy hour, as well as dinner, which is all à la carte, with more than 150 dishes to choose from -- pizza and sandwiches baked in a wood fired oven, colorful salads, sweet and savory tapioca crêpes, and of course, desserts. Established in the Graças neighborhood in 2003, and located in a charming old mansion built in the 1940s, the restaurant is enchanting for its lushly landscaped, serene setting in the middle of cosmopolitan Recife. When visiting Recife, it was so wonderful to relax at a table beneath a neatly-thatched roof of native palm fronds while watching my children playing in the enclosed playground. The restaurant is so highly esteemed by the public that a second location has been opened at Boa Viagem Beach. Papacapim was chosen by VEJA Magazine Recife as the best pizza place in 2004/2005. It is definitely a place not to miss out on!!!
4. Parraxaxá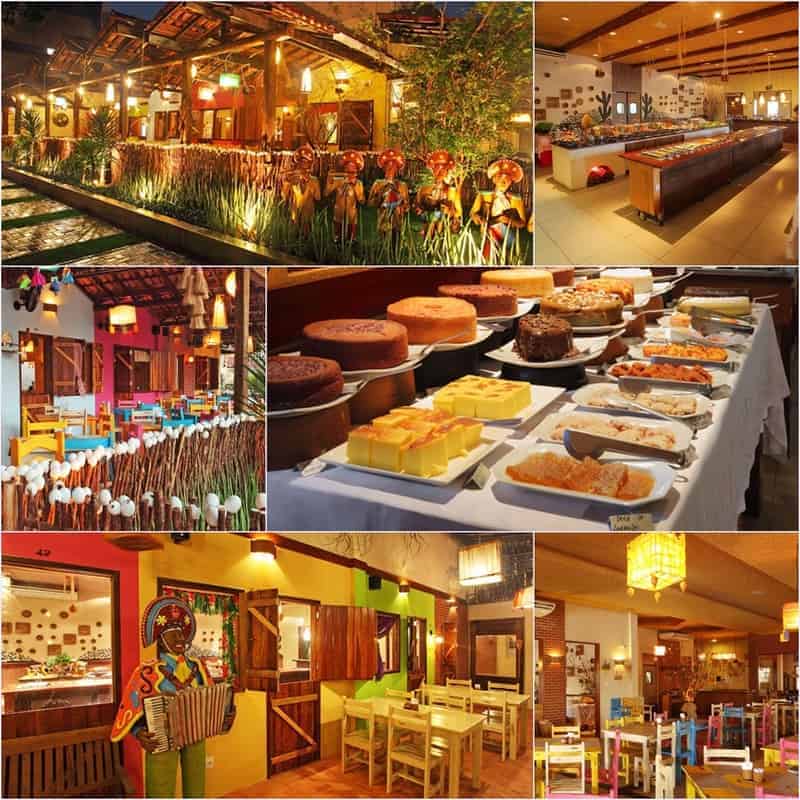 I don't think there is anyone who loves Parraxaxá more than I. Just thinking about its authentic, superb regional cuisine gets me all misty-eyed (in a good way). Oh, how I miss its home-style food, the carefully selected forrozinho pé-de-serra background music, and its rustic ambiance, with brick walls and quince-stake fencing decorated with clay pots. Fortunately this jewel is open for breakfast, lunch, and dinner at two different locations: the Casa Forte and Boa Viagem Beach neighborhoods of Recife. From unique desserts, such as cassava flan and Souza Leão cake, to Brazilian yellow corn tamales (pamonha), savory tapioca crêpes, cartola (fried bananas sprinkled with cinnamon and sugar and topped with coalho cheese) and a diverse buffet comprising about 120 dishes -- the array of food is so dazzling that it is impossible not to come back for seconds -- and thirds. 🙂 Another advantage is that this place has affordable prices, which are reasonably charged according to the weight of the food that you select ("comida por quilo"). Last time that I visited Recife in 2011, I returned not just once but several times to enjoy its delicious dishes, and was always greeted with a smile by its warm staff. Visiting Parraxaxá is like returning to home, sweet home.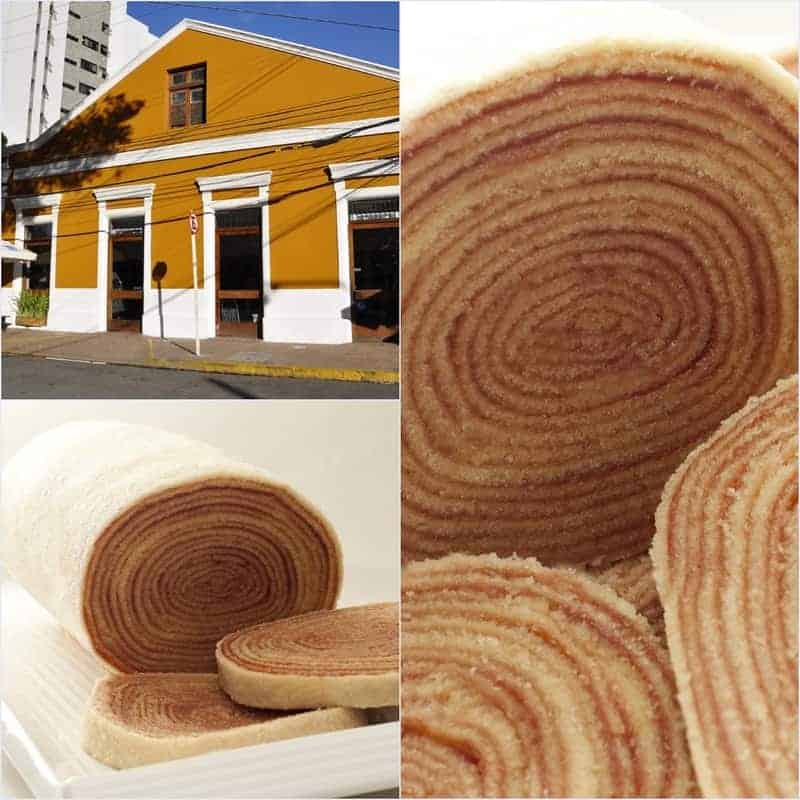 It has been almost 12 years since I immigrated to the United States, and the place that I have missed the most is a Brazilian bakery. I mean, there is no bakery in the world to quite match ours (not even a French one). The diversity of exquisite treats is enough to make one's neck tire of turning in so many different directions in just a matter of seconds... Your eyes dance while your mouth waters and your heart races... it is like going straight to paradise. One of my favorite bakeries in Recife is Casa dos Frios, which is famous for its bolo de rolo (super-thin-layered cake roll, traditionally filled with melted guava paste -- although other flavors such as dulce de leche, chocolate, and passion fruit are also available). Have you ever seen a single roll cake with so many layers? I have counted up to 15 layers (yes, 15!!!). Besides bolo de rolo, at Casa dos Frios you can savor Souza Leão Cake, codfish fritters, apricot cheesecake, empanadas, my absolute favorite chilled passion fruit cake (torta de maracujá), Portuguese egg tart (pastel de nata), slices of our traditional wedding cake made from prunes and wine covered with sugar paste (bolo de noiva), as well as a great selection of wines (numbering one thousand... you read that right!), and many other amazing treats. Do yourself a huge favor: visit Casa dos Frios! Just don't blame me if you come back home as round as a ball. Last year, it was chosen by Guia Veja Comer & Beber Recife as the best gourmet market in the city. It is also noteworthy for having served its famous bolo de rolo (roll cake) to Pope John Paul II during his papal visit in 1980. This culinary jewel has locations in two neighborhoods: Graças (my favorite) and Boa Viagem Beach.
Other great eats worth visiting:
6. Beijupirá in Olinda (one of the best seafood restaurants, with innovative dishes). 7. Restaurante É in Recife (a pricey, high-end, seasonal restaurant from the award-winning Chef Douglas Van Der Ley, our version of Ferran Adrià). 8. Guaiamum Gigante in Recife (a great, casual seafood restaurant with a more traditional approach). 9. Bonaparte in Recife (a chain with both regional and international dishes, often found in the malls), 10. Spettus Steak House (a Brazilian churrascaria steakhouse, for the meat lovers). 11. Buongustaio in Recife (excellent Italian restaurant with quick-service meals, located in malls). 12. Famiglia Giuliano in Recife (tasty Italian restaurant located in a castle at Boa Viagem Beach). 13. Sweets Bakery in Recife (a bakery chain located in malls and a few supermarkets -- It has the best chicken and shrimp coxinha ever!!!). 14. Coconut kiosks at Boa Viagem Beach (where you can sip fresh coconut water directly from the coconut, all while enjoying the stunning ocean view and cooling breeze). 15. Pão de Açucar Supermarket (an excellent opportunity to become familiarized with Brazilian products, especially its exotic fruits).
What are the best eats in your hometown?
Participate in this competition by submitting your own photos on Instagram or Twitter with #myhometownguide!!!
xx
"Show us your favorite spots to eat, stay and play in your hometown and win a getaway to any of the US cities featured in Earth's Finest City Guide! To participate, just upload an image of your favorite spot in your hometown to Twitter or Instagram with hashtag #myhometownguide and tell us where you live and what makes the image special and you will be entered to win automatically."
...the best eats in Recife and Olinda, Brazil!
These are the 5 best eats in Recife and Olinda as well...Enjoy!
Images sources: Photos above were used with written permission from Oficina do Sabor, Papacapim, Parraxaxá, and Casa dos Frios. Tapioqueiras image (Passarinho/Pref. Olinda) is from Creative Commons. All the other images are copyright of From Brazil To You.