Planning to travel to the 'Wonderful City'? Take a peek at this list of 20 Awesome Things to Do in Rio de Janeiro on a Budget. It'll make your eyes sparkle and shine!
Have you been dreaming of a happy summer trip or a warm place to visit during the holidays? Well, Rio is the place to be!
First of all, it's known as the 'Wonderful City' on account of its dazzling setting, outgoing people, and warm temps for most of the year. Plus, many of its tourist sites are either budget-friendly or completely free. Excited?!
Well then check out these 20 awesome things to do in Rio de Janeiro and find out why you may want to return there many times. Spoiler alert: it'll steal your heart!
1. Cristo Redentor (Christ The Redeemer)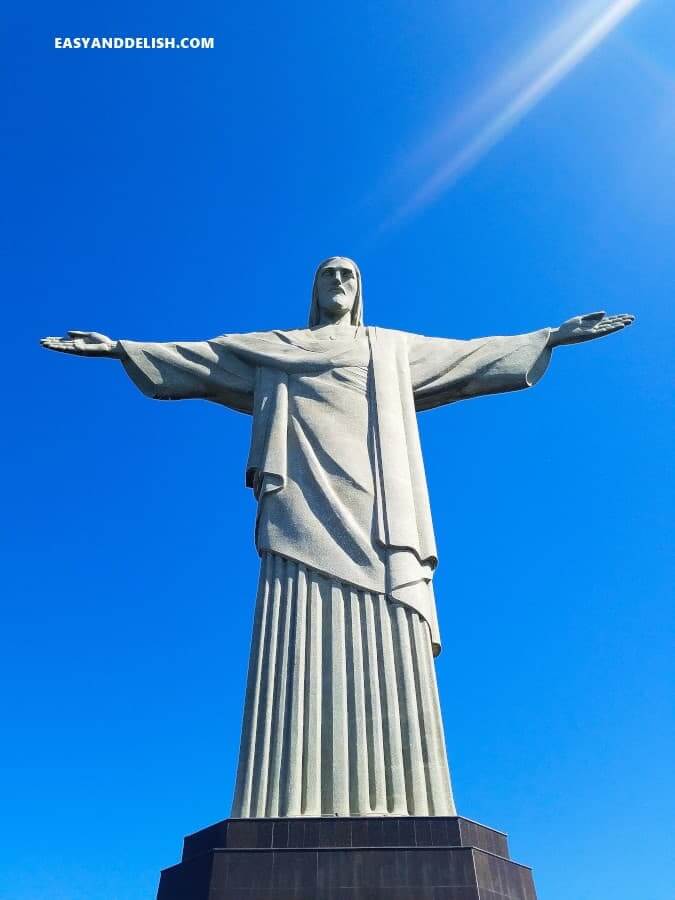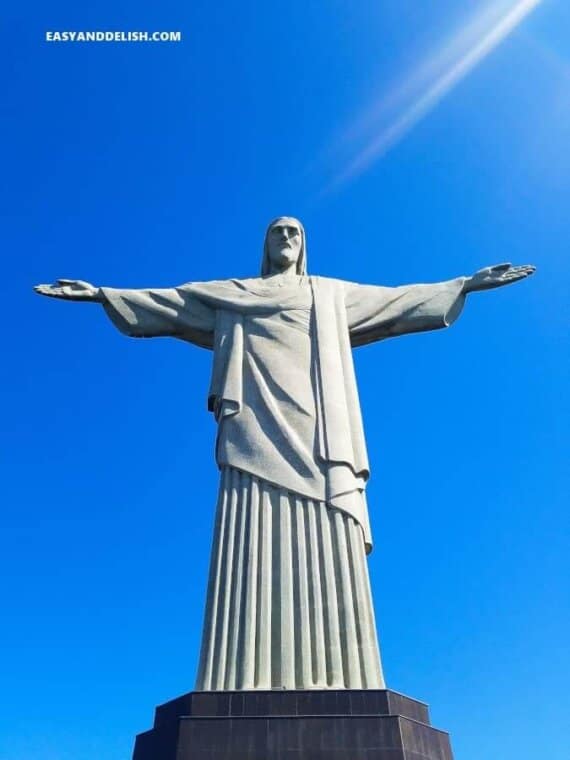 Christ the Redeemer has been the main symbol of the city for decades. It's 30 meters (98 ft.) tall and sits atop the peak of the Corcovado mountain in the Tijuca Forest National Park.
It has come to be thought of as one of the wonders of the world, due to its panoramic view with jaw-dropping vistas from high above the city. A train takes you to the top of the mountain.
2.

Pão

de Acucar (Sugarloaf Mountain)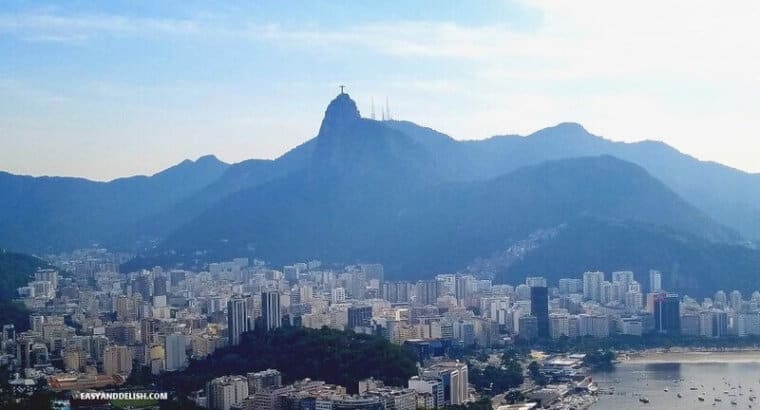 This steep dome rises to nearly 400 meters (1300 ft) above sea level and can be seen afar from Corcovado Mountain, where Christ the Redeemer is located. An all-glass cable car (bondinho) takes you to the top of the mountain, where you can see stunning 360° views of the surrounding city.
It has become part of a World Heritage Site declared by UNESCO in 2012.
3. Santa Teresa (Saint Teresa neighborhood)
Santa Teresa is one of the most bohemian neighborhoods in the city. Besides having gorgeous views, due to its location on top of a mountain, the neighborhood recalls the charm of the "old Rio de Janeiro." It is famous for its quaint air, rich culture, and cable tram (its trademark).
Moreover, Santa Teresa holds a plus for those into historical and cultural tours, such as visits to traditional workshops. Namely, many intellectuals, artists, and academics make their home in Santa Teresa.
4. Escadaria Selarón (Selaron Staircase)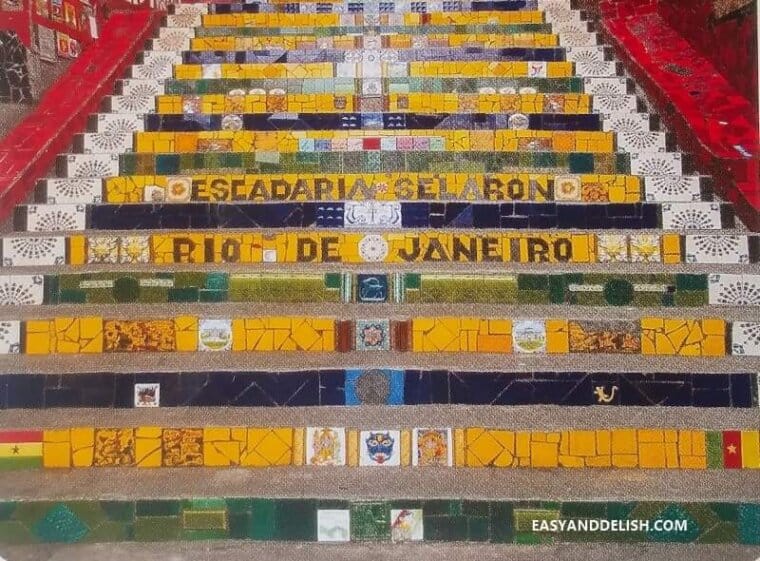 Also known as the 'Selaron Steps,' this world-famous staircase has the colors of the Brazilian flag -- green, yellow, white, and blue.
The steps, which straddle the Lapa and Santa Teresa neighborhoods, were built by the Chilean-born artist Jorge Selarón, who claimed it as his tribute to the Brazilian people.
They are vibrant and fun! Just like Rio itself!
5. Arcos da Lapa (Lapa Arches)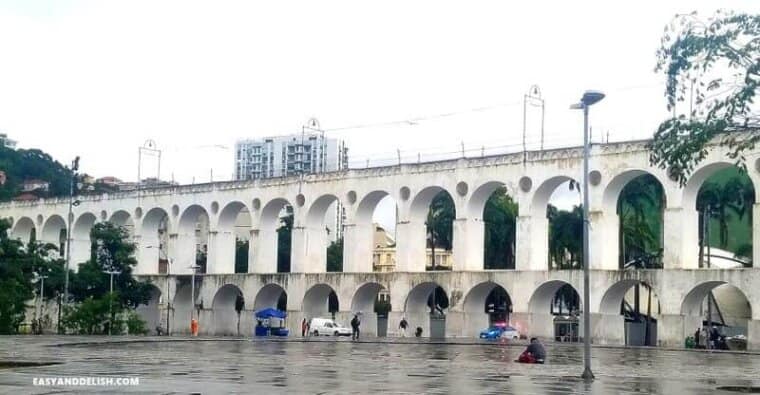 Located in a bohemian area of downtown, the Lapa Arches are in fact an aqueduct built in the mid 18th century in order to bring fresh water from the river to the city. It is a great example of colonial architecture and engineering.
But since the end of the 19th century the aqueduct serves as a bridge for a popular tram, the Santa Teresa trolley, which connects the city center with the Santa Teresa neighborhood up the hill.
6. Floresta da Tijuca (Tijuca Forest)
Also known as "Tijuca National Park," Tijuca Forest is one of the largest urban forests in ​the world and great for those looking for outdoor activities. It offers many nature trails preserved with great landscapes.
Besides the trails, there are caves, waterfalls, rivers, lakes and also places to rest or have a picnic.
7. Lagoa Rodrigo de Freitas (Rodrigo de Freitas Lagoon)
This lake is located in the South Zone of the city, ringed by the famous neighborhoods of Leblon, Copacabana and Ipanema. It is great place for jogging or biking (8 km perimeter), pedaling, sitting back to relax, or enjoying the tasty restaurants around the area.
8. Pedra da Gávea (Gavea Rock)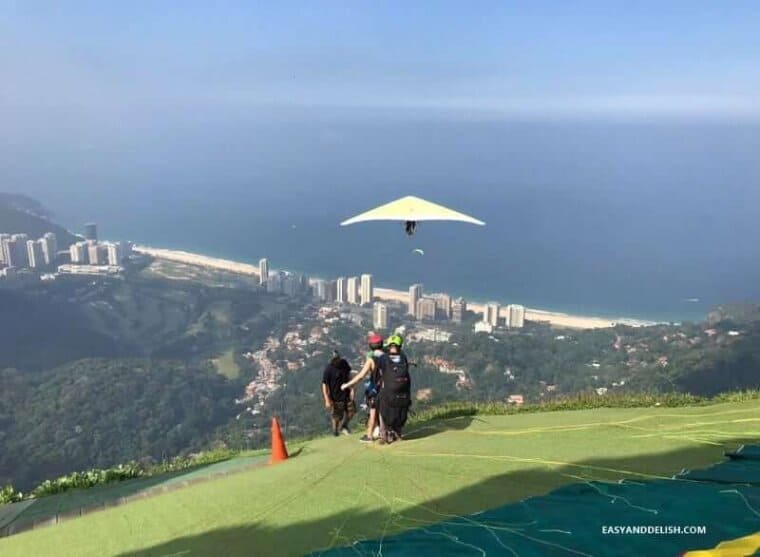 Located in Tijuca National Park, Pedra da Gávea is 844 meters above sea level and best known for its hang gliding. It's perfect for nature trekkers and offers great hiking, climbing and paragliding, all with great views of the city.
9. Jardim Botanico (Botanical Garden)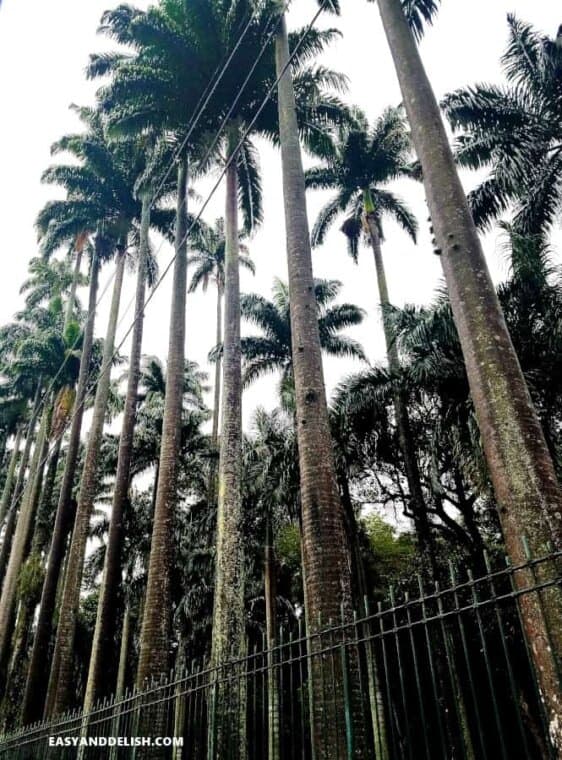 Created in 1808 by Emperor Dom João VI, the Botanical Garden is one of the most green spaces in Rio, with over 40,000 plants of 6,500 different species.
Among its highlights are the gorgeous rose garden, the lake with its Giant Victoria water lilies, as well as the greenhouse with carnivorous plants and the famous orchid garden.
The site also houses a sensory garden, created specially for the sight-impaired, with descriptions in Braille and plants that can be touched. Be sure to visit the Central Fountain, the Pylon House and the Japanese Garden.
10. Forte de Copacabana (Copacabana Fort)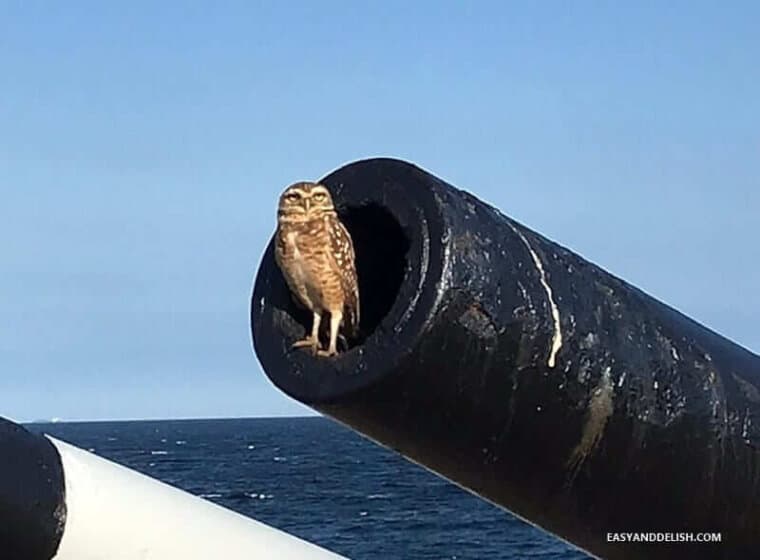 Copacabana Fort is a military area created in the early 20th century to guard the entrance to Guanabara Bay.
It has the great Army History Museum. In addition, it offers a gorgeous view of Copacabana Beach, Leme, and Arpoador beach.
It also has one of the branches of the famous Confeitaria Colombo, with its delicious breakfast goods, baked treats, and even dishes for lunch.
11. Confeitaria Colombo (Colombo Bakery)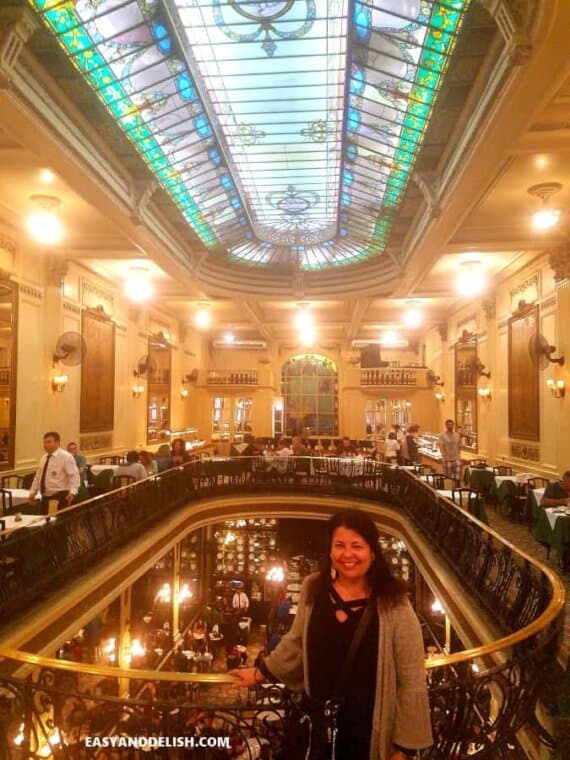 Traveling to Rio de Janeiro? You have to make a stop at Confeitaria Colombo!
Founded in 1894 and located in downtown Rio, it is one of the landmarks of the city and has been named as one of the 10 most beautiful cafés in the world.
It has two levels with imposing European architecture. Among its features are the interior halls' large crystal mirrors, wood furniture carved by artisan Antonio Borsoi, and skylight decorated with stained glass.
The bakery has even received visits by heads of states and famous writers and artists.
It offers a great range of savory and sweet pastries and other baked goods. The price depends on what you order.
Its pastel de nata (Portuguese custard tart) is the best! Above all, be sure to go early-- otherwise you may encounter a huge line that trails outside the bakery!
12. National Library of Brazil
The National Library opened its doors in 1910 and is today considered the largest library in Latin America and the eighth largest in the world. Its holdings total more than 10 million works.
13.

Sambódromo

(Sambodrome)
The Sambadrome opened in 1984 and receives visits from tourists and locals all year round, looking to see in person its 700 meter (half a mile) samba catwalk.
The busiest time of the year is during Carnival, when the samba parades take place.
14. Copacabana (Praia e

Calçada

de Copacabana)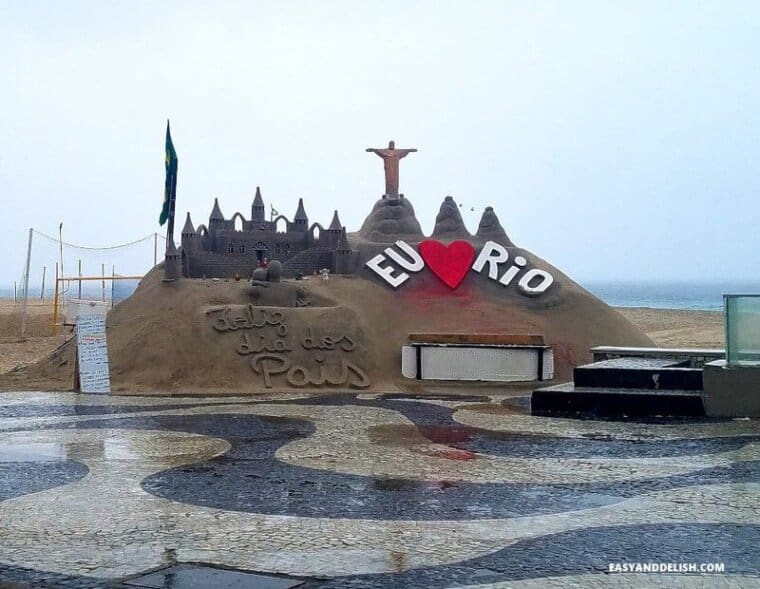 It's the most famous beach in Rio, with a 4 km (2.5 mile) long sidewalk -- known for its black and white Portuguese pavement pattern of geometric waves designed by Roberto Burle Marx.
Copacabana Beach is also famous for women in tiny bikinis in the summertime and for its New Year's Eve celebrations.
15. Mirante Dona Marta (Lookout Dona Marta)
It's more than 360 meters (1180 ft) high, offering a panoramic view of the city, including Christ the Redeemer, Sugar Loaf Mountain, and Guanabara Bay. Moreover, there is also a heliport for a helicopter ride.
16.

Estádio

do Maracan

ã

(Maracana Stadium)
If you are a soccer fan, it is a must to visit the largest stadium in Brazil. Maracanã has become a cultural and tourist destination, welcoming visitors even on days when no games or shows take place.
Take a guided tour to see the lawn, the stands, the locker room, the grandstand, the press room, and especially the Hall of Fame – which has the footprints of famous players.
17. Teatro Municipal (Municipal Theater)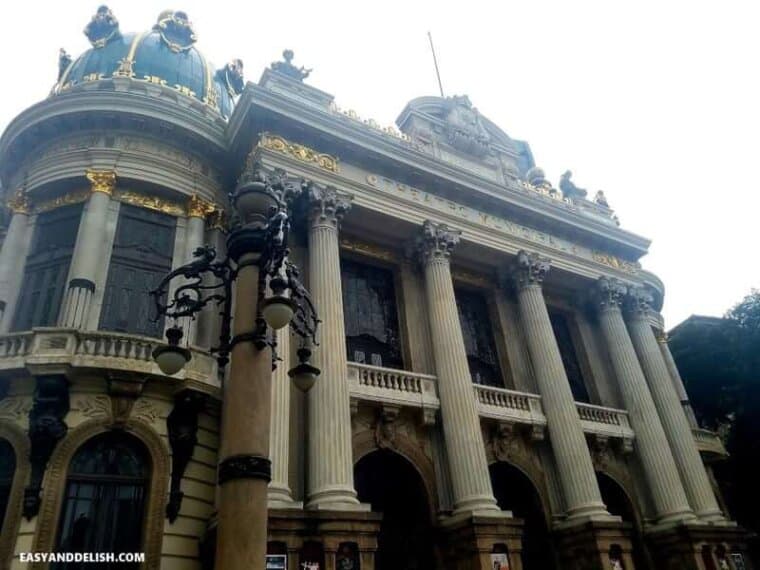 This century-old theater was inspired by the Paris Opera House. It is majestic, with marble columns and staircases, as well as many sculptures and stained glass windows brought over from Europe.
Further, in 2009 it underwent restoration and managed to become even more beautiful.
18. Ipanema Beach
Located in the South Zone of the city, the beach became famous around the world due to the famous bossa nova song, "The Girl from Ipanema" ("Garota de Ipanema"), written by Antônio Carlos Jobim and Vinícius de Moraes.
Ipanema beach has elegant buildings, and pulses with social life. It is a popular spot for the locals, who love to play football (soccer), volleyball, and footvolley (a mixture of volleyball and football).
19. Local Bars and Typical Food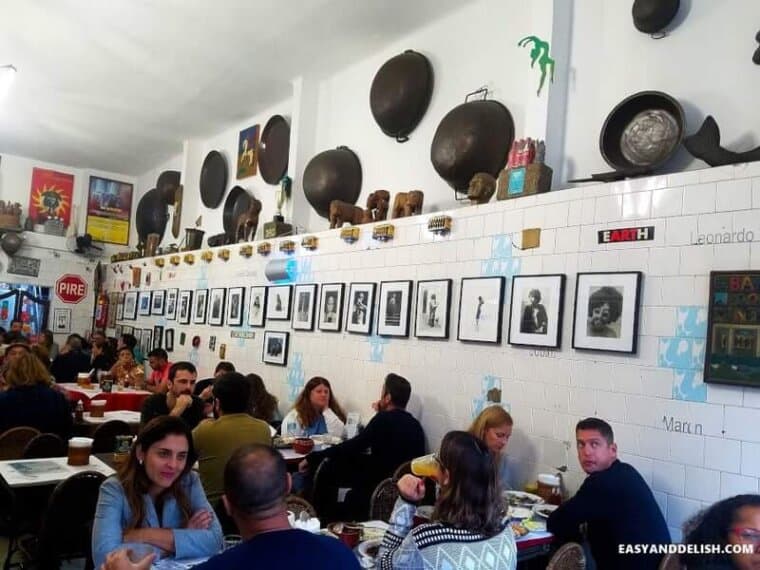 Bars or pubs in Rio are very popular among the locals at night and on weekends. Each person has his or her favorite, located in different neighborhoods.
The food is casual and can range from feijoada (bean and pork stew, considered to be Brazil's national dish) to savory pastries such as coxinha, as well as caipirinha (Brazil's national cocktail), super cold beer, and local music.
Prices depend on what/how much you order and the neighborhood. Moreover, the closer to the beach, the pricier.
Some bars are located in Bohemian neighboorhods like Santa Teresa and others near the beaches. Expect loud conversation and lots of fun!
20. Favela Tours (Slum or Community Tours)
Finally, there are more than 1,000 favelas in Rio itself. As a result of government neglect, they are mainly associated with poverty and drug traffic. But that's not all!
Indeed, some have became famous for their colorful art, homey food, and music -- mostly funk, hip-hop, and samba.
Therefore several favelas offer tours, including Santa Marta where Michael Jackson filmed part of his music video "They Don't care About Us".
I hope you travel there and enjoy these 20 best things to do in Rio de Janeiro!
Other places to visit:
Please also check our annual calendar with Brazilian holidays. It will help you plan your trip better!