Hot, hot, hot... There is nothing better to cool down these soaring summer temperatures than a refreshing drink, don't you think?! Well, I have the perfect one for you - Watermelon Caipisake Shots or Caipisakê de Melancia.
Caipisake is a variation of caipirinha -- Brazil's most famous cocktail drink. Our drink is commonly made with strawberries or kiwi and sake, a Japanese alcoholic beverage made from fermented rice which is sometimes called "rice wine". But today our recipe calls for watermelon instead. This popular Texas summer melon is also one of my favorite tropical fruits too! Although I could have chosen to serve our watermelon caipisake in standard-size glasses, I prefer to serve it in shot glasses – this way the size resembles the traditional Japanase sake cups. However, whatever type of drink ware you choose for your event, caipisake makes a great party drink -- just like caipirinha!
Perhaps you are wondering what Japanese Sake has to do with Brazil? Actually, Brazil is home to the largest Japanese population outside of Japan. Japanese immigrants and their descendants have influenced Brazil's local and even national cuisine (yakisoba and sushi are the most popular Japanese dishes in Brazil)... And caipisake is the refreshing proof of it!!
Whether or not you drink wine or spirits; or even if you are just looking for a lighter summer (virgin) caipisake, make yours with crushed watermelon and fresh mint leaves, a sugar substitute (granulated), crushed ice, and most importantly flavored sparkling water. You will love it!
Stay cool...Cheers!!!
xx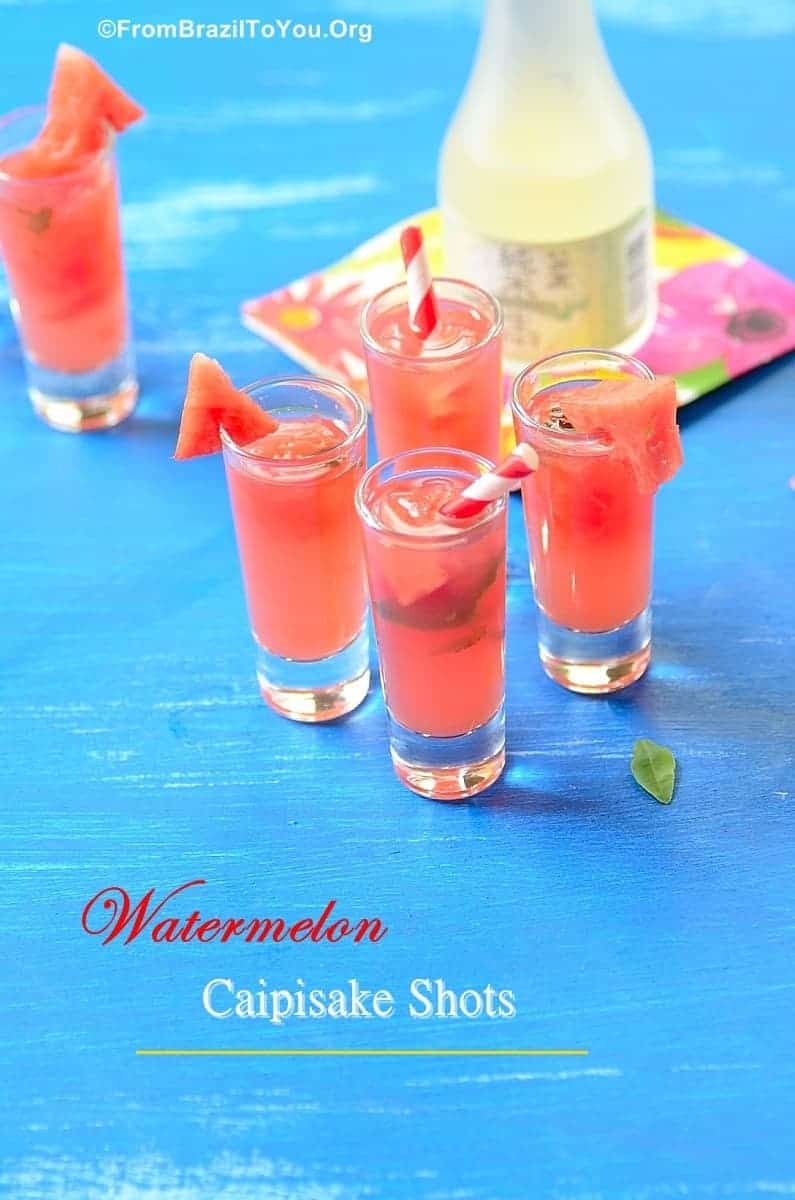 Watermelon Caipisake Shots (Caipisakê de Melancia)
A Brazilian-Japanese drink made from mashed watermeon and sake. A must have for summer parties!
Ingredients
1

cup

seedless watermelon

peeled and cut into small pieces

2-3

tablespoons

sugar

brown or crystalized

Crushed ice

4

tablespoons

sake
Instructions
Place watermelon pieces and sugar into a measuring pitcher or 8-ounce glass. Mash the two ingredients together using a pastle or a wooden spoon. Stir in the sake. Pour caipisake into 8 shot glasses that have been ⅓ filled with crushed ice ahead of time, or leave caipisake into an 8-ouce glass if you are making and serving in it (in this case, stir in ⅓ cup of crushed ice). Cheers! YIELD: 1 (8 oz) glass or 8 mini shots.
** Nutrition labels on easyanddelish.com are for educational purposes only. This info is provided as a courtesy and is only an estimate, since the nutrition content of recipes can vary based on ingredient brand or source, portion sizes, recipe changes/variations, and other factors. We suggest making your own calculations using your preferred calculator, based on which ingredients you use, or consulting with a registered dietitian to determine nutritional values more precisely.
Please note that health-focused and diet information provided on easyanddelish.com is for educational purposes and does not constitute medical advice, nor is it intended to diagnose, treat, cure, or prevent disease. Consult with your doctor or other qualified health professional prior to initiating any significant change in your diet or exercise regimen, or for any other issue necessitating medical advice.
DID YOU MAKE THIS RECIPE?
Comment and rate the recipe. Also follow us on Pinterest at @easyanddelish for more delish recipes.