Yuca quiche with a store-bought pie crust filled with mashed yuca, Italian sausage, and collard greens. It can be served with your favorite leaf salad.
The kitchen is my playground!!! This yuca quiche (quiche trio mineiro) proves it all!
There I feel free to create new recipes, adapt others, and make mistakes. I am always curious about new combinations of flavors and dishes.
This afternoon I returned to the kitchen to play (I mean cook) again, and this time I decided not to play it safe:  meaning that I wanted create to my own original dish or at least use a familiar combination of flavors in a novel way.
It has been a while since I made a quiche, I thought. I still remember that delicious Corn Quiche from a while back... OK, but not this time.
So I created my own quiche-- inspired by the cuisine of my beloved Brazil. I said to myself,  "Denise, what is more Brazilian than Yuca or Cassava, Calabrese Sausage (which we stole from the Italians), and Collard Greens?" 🙂
And so I played (cooked)!
The result?
Well, if you could see my smile now, you would guess the answer.... My palate thanked me and gave a loud cheer, although my hands cursed me quite a bit-- the dishes.... Oh, how I hate to wash them! Don't you too?!
Hummm. Let's not talk about that now.
All that I want to remember is how much I had fun, and the party in my mouth.
Enjoy our yuca quiche!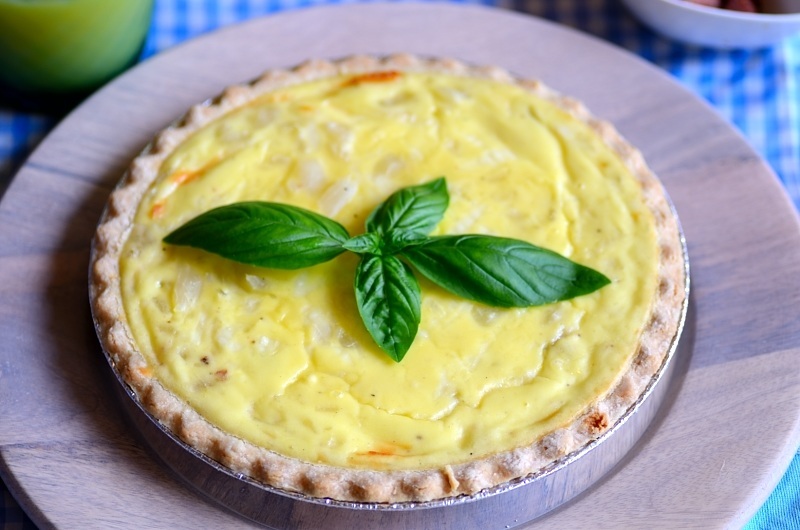 Yuca Quiche (Quiche Trio Mineiro)
Yuca quiche with a store-bought pie crust filled with mashed yuca, Italian sausage, and collard greens. It can be served with your favorite leaf salad.
Ingredients
9

in

pie dough

thawed, about 22 cm

7

oz

yuca or cassava

(peeled, boiled, and mashed) **, 200 g

¼

cup

cream cheese

softened

1

tablespoon

Parmesan cheese

grated

Salt and pepper to taste

3.5

oz

Calabrese sausage

ground or chopped (or any other sweet Italian Sausage), 100 g

1

tablespoon

vegetable oil

¼

medium white onion

small diced

2

garlic cloves

minced

½

cup

kale or collard greens

thinly choped

¼

cup

corn

cooked

2

tablespoons

green olives

sliced

2

tablespoons

green onions

chopped

2

large eggs

¼

cup

milk

½

cup

mozzarella cheese

shredded

½

cup

provolone cheese

shredded

** The Yuca or Cassava is available in supermarkets (fresh) and also at Latin markets (both fresh and frozen), or can be replaced by potatoes if not available.
Instructions
Preheat oven to 350ºF ( 180º C).

Peel, boil, remove the stem, and mash the yuca or cassava while still hot. Mix in the cream cheese, parmesan cheese, salt, and pepper. Stir well until obtaining an homogeneous mixture. Reserve.

In a large stir-fry pan, heat the pan over medium-high heat, add the oil, and sauté the onion. Then, sauté the garlic for about 30 seconds and the sausage for about 5 minutes, stirring occasionally. Add the kale/collard greens and sauté for approximately 2-3 minutes. Remove pan from heat, add the corn, the olives, and the green onions. Stir and reserve.

Beat the eggs with the milk for about 1 minute at medium speed. Add both the mozzarela and provolone cheeses, and the mashed yuca/cassava cheese. Stir until obtaining a homogeneous mixture. Reserve.

Place the Calabrese (Italian) sausage mixture into the pie pan and pour the mashed cassava/eggs/cheese mixture on top. Place pan on a baking sheet and bake for approximately 40 minutes or until firm. Serve warm, accompainied by a fresh salad. Enjoy!
** Nutrition labels on easyanddelish.com are for educational purposes only. This info is provided as a courtesy and is only an estimate, since the nutrition content of recipes can vary based on ingredient brand or source, portion sizes, recipe changes/variations, and other factors. We suggest making your own calculations using your preferred calculator, based on which ingredients you use, or consulting with a registered dietitian to determine nutritional values more precisely.
Please note that health-focused and diet information provided on easyanddelish.com is for educational purposes and does not constitute medical advice, nor is it intended to diagnose, treat, cure, or prevent disease. Consult with your doctor or other qualified health professional prior to initiating any significant change in your diet or exercise regimen, or for any other issue necessitating medical advice.
DID YOU MAKE THIS RECIPE?
Comment and rate the recipe. Also follow us on Pinterest at @easyanddelish for more delish recipes.