Print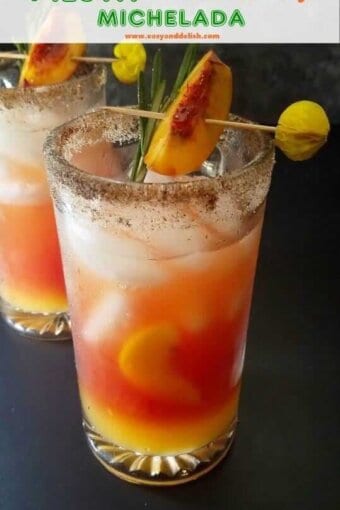 Peach Rosemary Michelada
An easy, quick, and refreshing Peach Rosemary Michelada made from beer, both peach and tomato juices, sugar, and ice. The perfect cocktail for Cinco de Mayo!
Run quartered lime across the rim of each mug.

In a deep plate, combine 1 cup of sugar with 1-2 Tablespoons chili powder. Dip mugs one at a time in the mixture to coat rims evenly.

Add ice cubes and then, combine 8 oz beer, 6 oz Clamato, 3 oz peach juice, juice of half a lime, and 2-3 Tablespoons sugar PER MUG. Stir in a pinch of chili powder if desired.

Garnish each mug with a quartered peach and a sprig of rosemary. Enjoy!
Our Peach Rosemary Michelada can be served with grilled peach and jamon skewers drizzled with a bit of honey -- or any other appetizer of your choice.  Jamon is dry-cured ham similar to prosciutto.