Print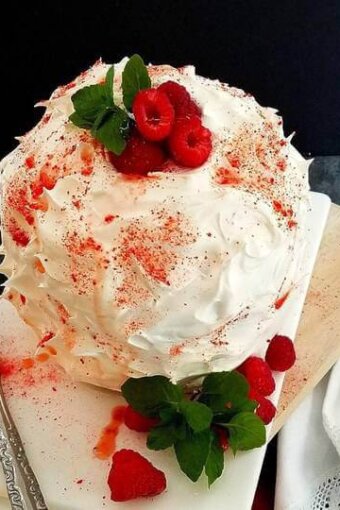 Not Baked Alaska Panettone
Not Baked Alaska Panettone (Sorvete de Panettone or Sorvetone) is a 15-minute Brazilian-inspired frozen dessert made with 3 ingredients: store-bought panettone filled with ice cream and covered with whipped cream.
1 (17.5 oz or 500 g)

store-bought traditional panettone

6-8

scoops

store-bought ice cream of your choice (I used raspberry cheesecake)

Fill the cavity entirely

1 (16 oz)

container

whipped cream, thawed

If desired, stir in a few drops of pure vanilla extract)
Horizontally cut the lid of the panettone off with a serrate knife and reserve. Then, using the same serrated knife, cut out the center of the loaf to form a round cavity or hollow, leaving an outer rim of bread about one inch wide.  Make sure that the cavity does not extend all the way down to the bottom of the loaf, but instead leave intact a one inch thickness of bread between the bottom of the cavity and the very bottom of the panettone loaf.

(Optional) In a small bowl, stir 1/3 cup of water with 3 tablespoons of sugar and make sure to drizzle this all over the inside of the panettone and also the inner surface of the reserved top lid that you sliced off. Although this step is not required, it will prevent the panettone itself from freezing and hardening once placed in the freezer. Sugar (like alcohol) is an anti-freeze of sorts. If you will be not serving children, you can drizzle your panettone with bourbon, champagne, white wine, or some other spirit (or a mixture of a spirit and water).  Basically, the ice cream will freeze without hardened the panettone. This is a secret chef's tip that you will not find easily anywhere else!!!

Finally, fill the panettone cavity with your favorite ice cream or sorbet. Place the lid of the panettone back on top, wrap the whole loaf well with plastic film, and freeze for at least 8 hours on the highest shelf of the freezer.  Right before serving, unwrap and spread thawed whipped cream on top and all around the panettone just like one does with a baked Alaska (the difference here is that our Not Baked Alaska Panettone will not be placed in the oven because we are not using meringue but whipped cream). You can garnish with mint leaves, fresh berries, shaved chocolate, etc. It all depends on the flavor of the ice cream that you used to fill the panettone. Enjoy!
I ground store-bought freeze-dried strawberries to sprinkle over the whipped cream to make prettier. Either cookie crumbs or chocolate shaving would add a nice touch too. replacing the ground dried strawberries.