Print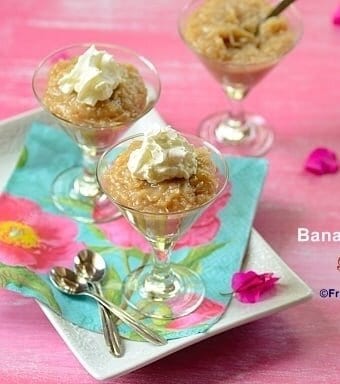 Cocada Cremosa de Banana (Banana-Coconut Pudding) -- A tropical treat to die for!
A tropical, delicious, gluten-free pudding (cocada cremosa), perfect for easy entertainment.
1

can

sweetened condensed milk

14oz or 396 g

2

measures brown sugar

use the empty condensed milk can as measurement

7

ounces

dehydrated or unsweetened coconut flakes

200 g

5

medium ripe bananas

mashed

1/2

teaspoon

ground cinnamon

1/8

teaspoon

ground nutmeg

1/2

teaspoon

pure vanilla extract

1/2

cup

heavy cream
Place all the ingredients, except the vanilla and heavy cream, into a medium saucepan. Cook over medium-low heat, stirring constantly with a wooden spoon until mixture has thickened (approximately 15 minutes). Stir in both the vanilla and heavy cream. Pour mixture into small glasses and decorate as desired. The cocada cremosa (pudding) can be served warm, at room temperature, or even chilled. Because this is a very sweet treat, I serve it in small glasses.
Storage: This cocada cremosa can be kept into a well sealed glass or plastic container in the refrigerator for up to 5 days. If necessary, stir in a bit of heavy cream to soften.